Refreshing cherry blossom syrup and white balls and grains have eaten an exquisite shade ice "summer cherry"


Although it is a shaved ice which is one of summer traditions, it is a long-established store of sweet dishes of the foundation Meiji 28Ginza TanedaShiki ice which can enjoy the taste of spring in spite of summer "Summer cherry tree"Is on sale for a limited time. As I used syrup based on cherry blossoms that represent the spring season, I actually went to eat at a shop because I was concerned about what it would be like when it was combined with shaki that represents the summer It was.

Notice from Ginza Tanno | Ginza Tanano Nozomitsu Manufacturing Sales · Sweet Tea
http://www.ginza-tatsutano.co.jp/news/news_detail_natsuzakura.html

"Ginza Taneda main store" is along Central Street, located in Ginza 7th Street.


Arrived at "Ginza Taneda Main Store".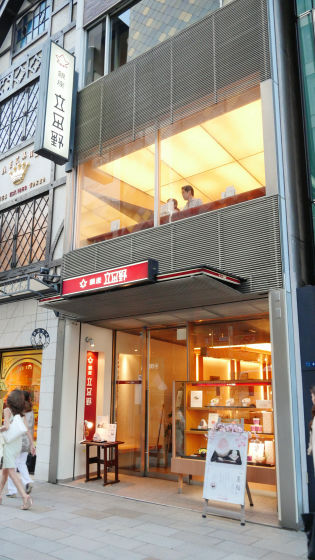 The target for this time is shaved ice "summer cherry" of 918 yen including tax.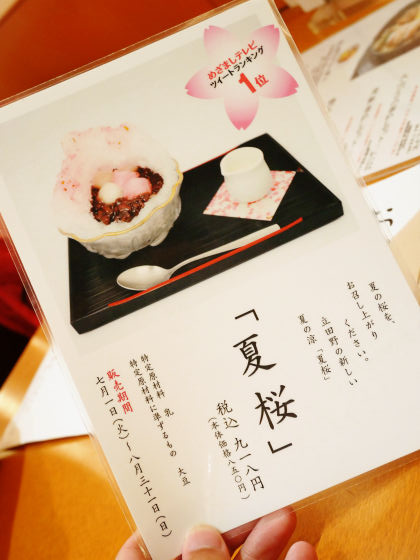 Summer cherry blossoms were brought to the table in few minutes after ordering. The thin pink cherry blossom syrup is elegant. Next to the summer cherry is milk, according to the clerk, it is recommended to eat half after eating.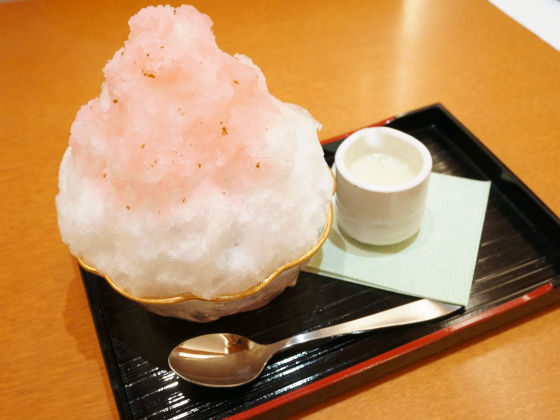 Summer cherry height is about 1.5 times that of iPhone 5.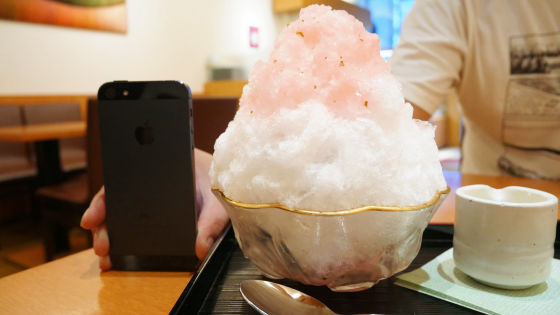 When eating a mouth, moist moist ice melts in the mouth, and the scent of the cherry blossom syrup cherry spreads in the mouth. The syrup is sweet and sour but it is a refreshing mouthfeel with an elegant sweetness.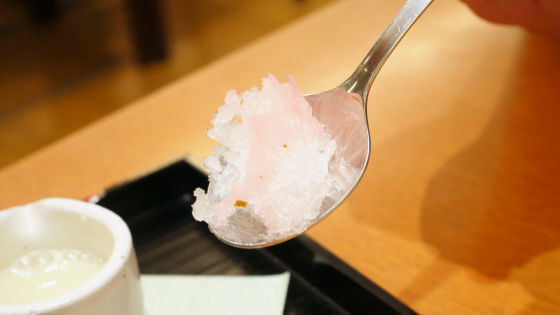 It is the leaves of cherry blossoms interspersed with shaved ice. This may also help to direct the scent of cherry blossoms.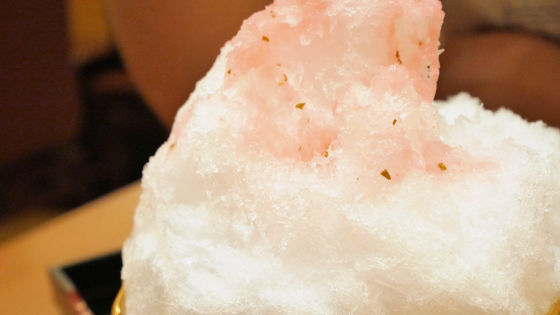 When I ate about a third, I noticed something buried beneath the ice.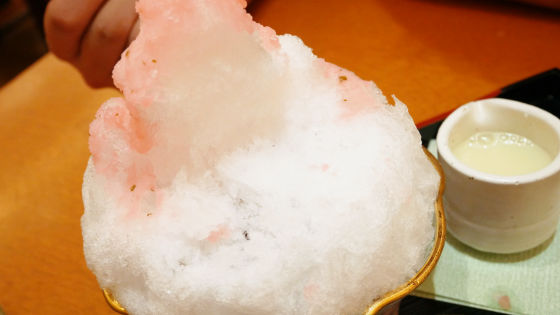 As I continued eating ice, white squirrels and grains, cherry-colored fertilizer appeared from inside.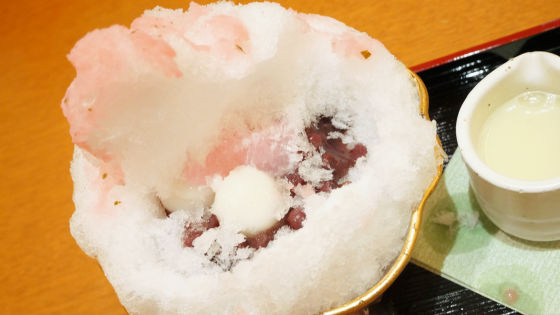 This is the perfect timing for milking. If even milk is applied evenly ......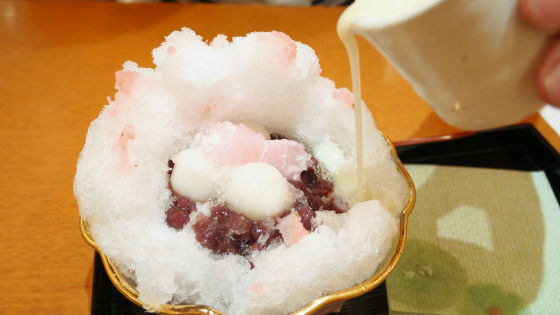 Completion of luxurious Japanese style sweets.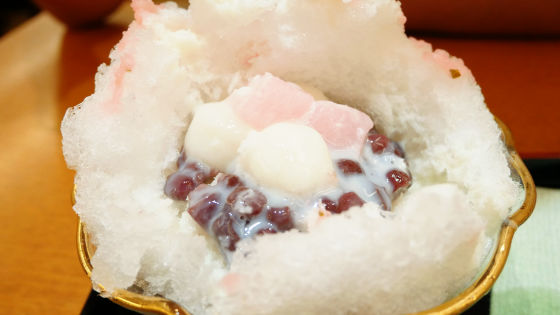 White chicken with sweet texture and sweetness Modest grain, harmony with scent of refreshing cherry blossoms woven by shaving ice wraps the mouth happily.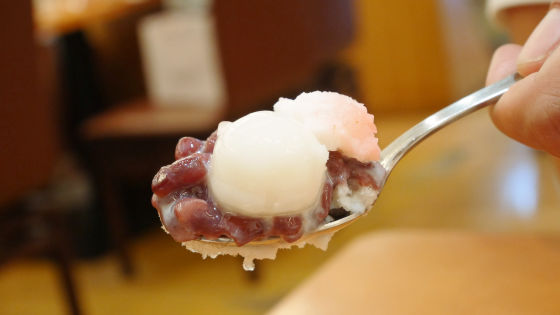 As well as syrup, Takumi is good with the scent of cherry blossoms.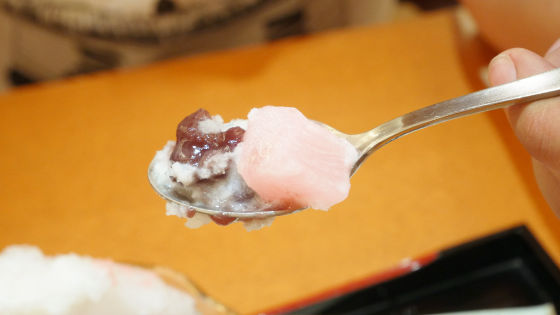 Fasting quickly. The refreshing mouth feel of summer cherry is exactly right in the hot summer. The sweets are sweet and people can not eat everything, so it makes me feel like I'm feeling refreshed in my mouth so I can finish it all by myself.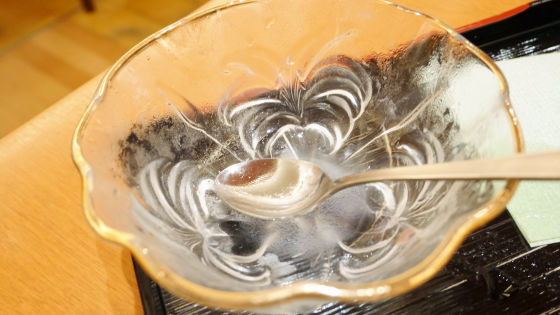 It is still good if you warm the cold body from the inside with green tea after eating.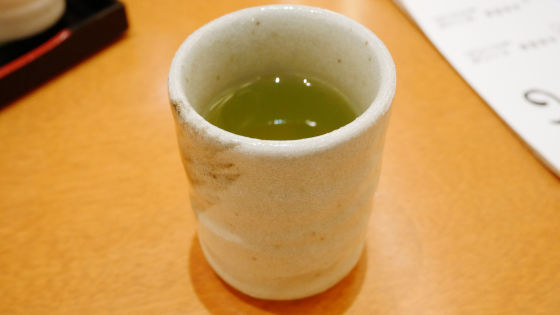 "Summer cherry" is a limited-time sale from July 1, 2014 to August 31, so it seems better to go early if you really want to eat.