"Sounds of Street View" where people can hear ambient sounds such as talking and music in Street View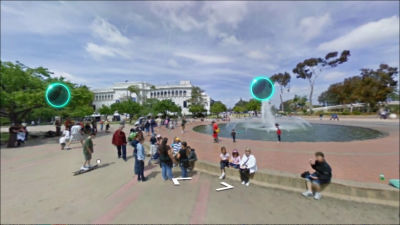 If you look at Street View, which is part of Google Maps' functionality, you can go and see wherever you have never been, but there are more voices people talk from where you are standing in street view · birds chirping · bands You can hear local environmental sounds such as performance "Sounds of Street View"is. Depending on the distance and direction, it is played with 360 degrees from the direction, so it is a service that you can really feel like being in the field.

Sounds of Street View by Amplifon
http://www.amplifon.co.uk/sounds-of-street-view/index.html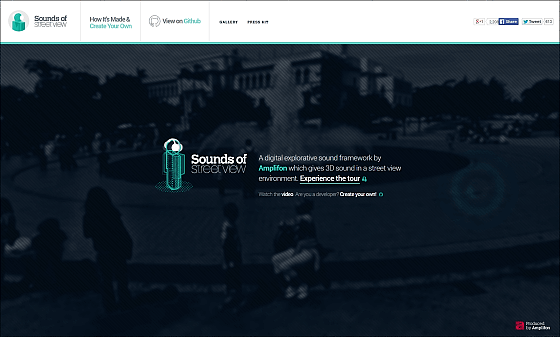 To experience the sample of Sounds of Street View, click "Exprience the tour". Wearing headphones is recommended when using Sounds of Street View.




Then the street view of Place du Palais in France started.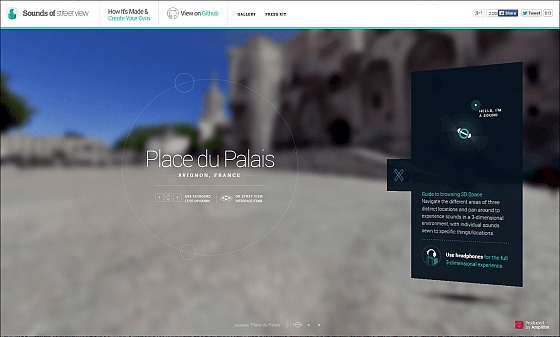 If you go forward in the square, you hear the voice chatting from the left direction where the person is located, the sound of the bell from the right direction of the building, and as you move, the voice and sound will move away.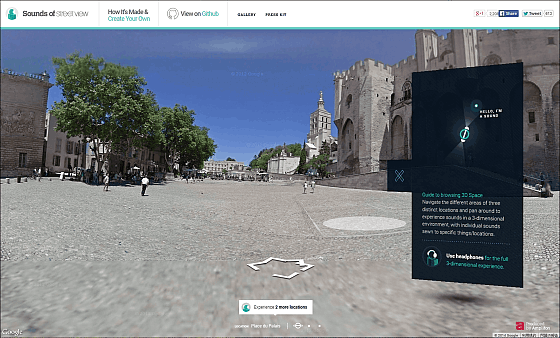 Going to the direction of the sound of the bell, as a whole it gets bigger as "Gone, Gone" and it feels like I'm really strolling in this square.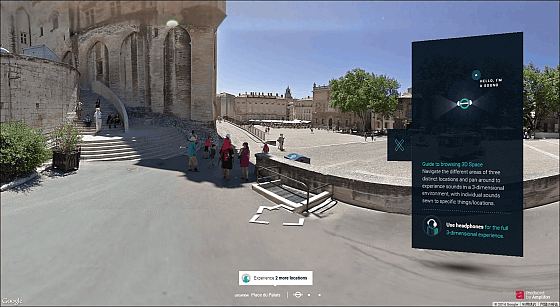 When I went to the middle of the square, people heard a laughing voice.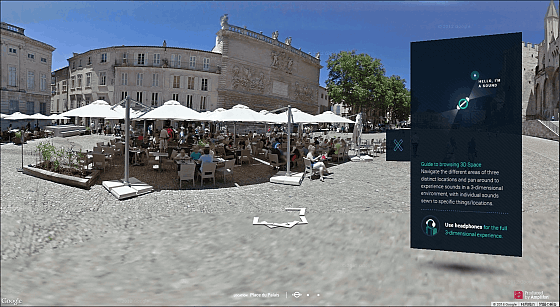 Since all three samples are prepared, next click on the "Hapuna Beach" icon on the bottom of the screen.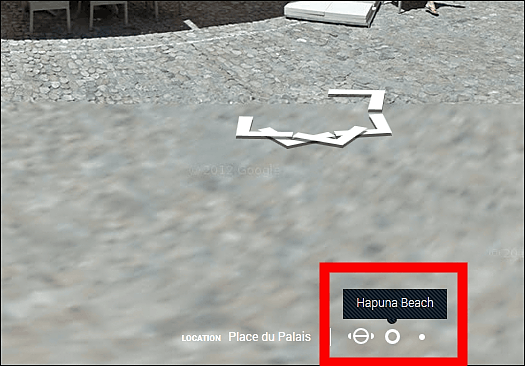 Then, Street View of Hapuna Beach in Hawaii started.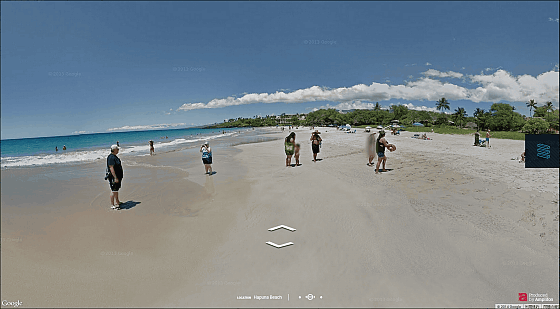 As I faintly walked in the direction of "Kasha ...... Kasha ... ...", I found a man holding a camera. Wherever you go, it is a three-dimensional way of hearing, there is very reality.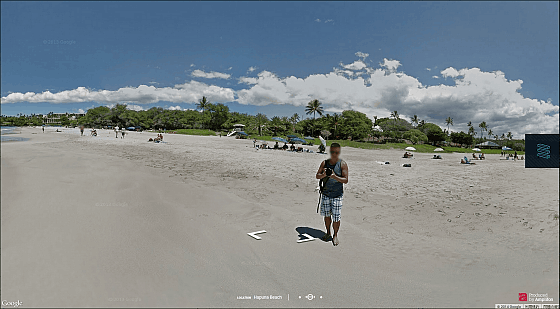 When coming near a woman holding a ball, a sound like "hit the ball of the beach volleyball" and "Bon! Bonn!" Was ringing.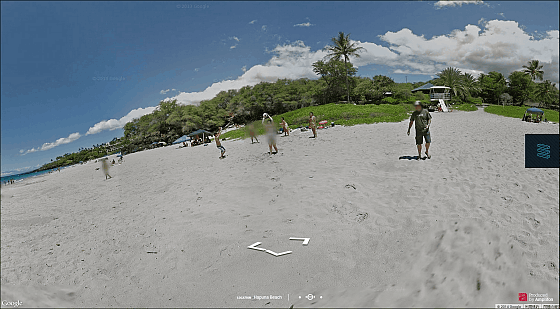 I moved to the third "Balboa Park". In a lively park, you can hear the sound of the fountain, the voice of people talking and birds singing, and from the distance you can hear the performance of wind instruments.



When I went to the direction where the music sounded, I found a performance party. Although you can taste the trip feeling just by looking around the streets that you do not know in Street View, Sounds of Street View makes it possible to grasp a lively atmosphere that you can not understand with still images alone.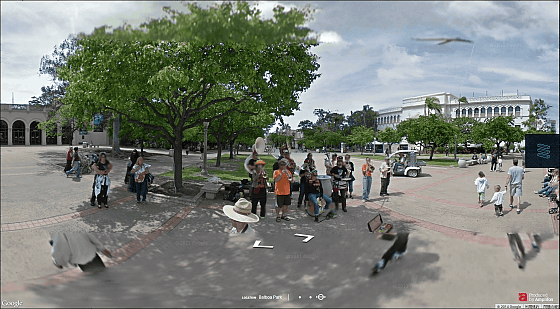 What is the structure of Sounds of Street View? You can see the movie that understands from the following.

Amplifon - Sounds of Street View on Vimeo


Volvoa Park of America that I visited in the sample earlier. Blue balls float on the fountain side and under the trees, respectively, and reproduce environmental sounds in 3D according to the direction and distance of this ball and the user.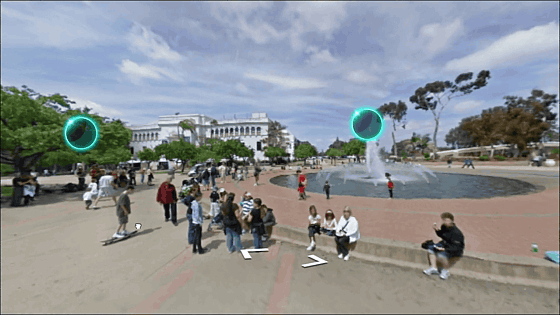 This is Street View andWeb Audio APIWe are making it by combining it.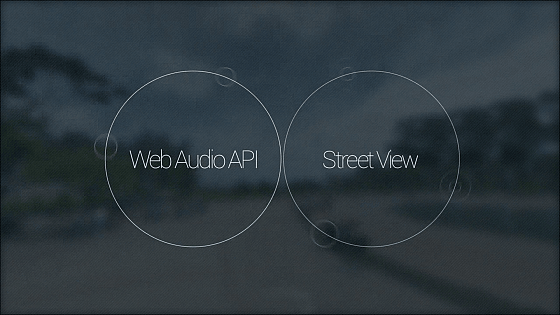 It is a mechanism to accurately reproduce the way of hearing at the right ear and left ear of the sound source that is arranged around from the viewing direction that the user is facing.



Although you can not listen to sounds in Street View where the Sounds of Street View is not located, a kit for placing sounds in your favorite places from the following pages is released for developers.

Amplifon - Sounds of Street View
http://www.amplifon.co.uk/sounds-of-street-view/how-and-create/index.html