More than 75,000 jailbreaked iOS infected with malware 'AdThief'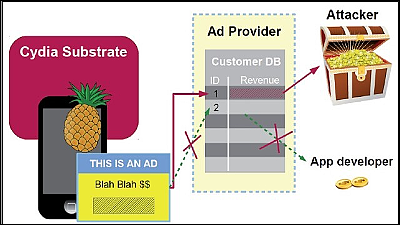 A remodeling act of rewriting the OS so that an application not approved by Apple is installable is "Jailbreak (Jailbreak, Jailbreak)Although it is called, it increases the security risk of infecting viruses and malware. Aimed at such jailbroken iOS device "AdThiefOr "SpadIt is said that more than 75,000 units are infected with malware called "FortinetIt became clear by research of.

AApvrile-July2014-2.indd - vb201408 - AdThief.pdf
(PDF file)https://www.virusbtn.com/pdf/magazine/2014/vb201408-AdThief.pdf

Over 75000 jailbroken iOS devices fall prey to AdThief malware - Neowin
http://www.neowin.net/news/over-75000-jailbroken-ios-devices-fall-prey-to-adthief-malware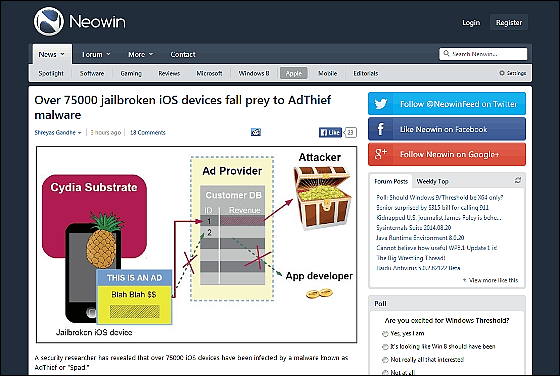 According to Fortinet security researcher Axelle Apvrille, malware that targets jailbreak iOS devices has various advertisementsSDKIt is said that hackers can modify the developer ID (promotion ID) as desired through infected devices, and allow preemption of the profits of developers such as generated advertisement revenue.

Google Mobile Ads SDKThere are 15 advertising SDKs, including infected, and infected with AdThief malware by Weibo. Apvrille knows from the debugging information in the malware source code that the creator of AdThief is a malware developer for Android called "rover 12421" "zerofile".

Rover 12421 developed jailbreaked malware for iOS, expanded the infection extensively, denied that he gained the benefit from more than 22 million advertisements. Although it is known that he created the advertisement ID replacement function, it is possible that another developer may be continuing further development.