I tried using 'high-rising bed tent' which can spend comfortably even with a 5000 yen discoloration with Fuji Rock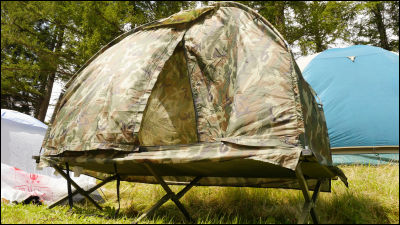 There are kinds from pins to gulls in the tent, although it is difficult to balance comfort and price, in inferior tents it is not possible to rest your body quite easily. So I was looking for a tent with a good cost performance that we can rest restfully in peaceful places even in places where there is a decline and tilt, where the bottom does not reach the ground with a low price of about 5000 yen and pegs are unnecessary so it can be set anywhere "High-floor folding bed tent"It is difficult to put up a tent in a straightforward place in order to ascertain its performanceFuji Rock FestivalI brought it and used it.

The ordering tent arrived in a green bag.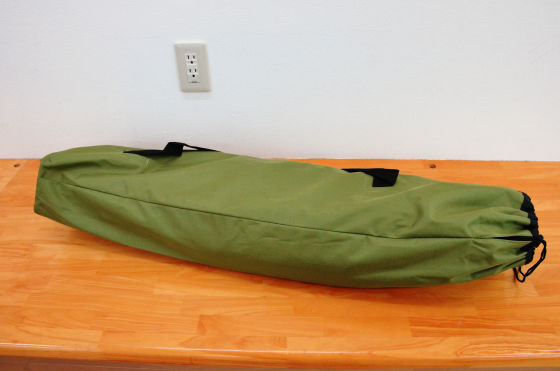 Below is a folding bed / pole / tent / instruction book from the bottom. The loading capacity of the bed part is 110 kg, the material is made of aluminum and steel, the size is 193 × depth 78 × height 160 cm.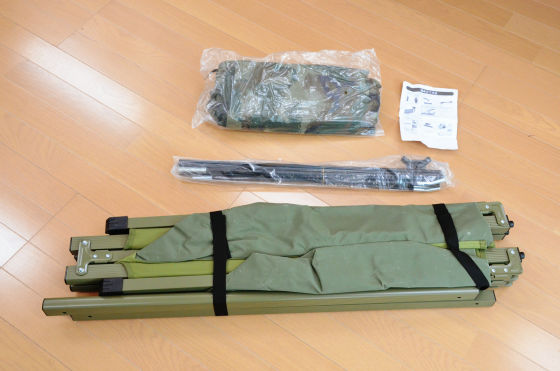 So I brought it to Fuji Rock. Weight was 8.7 kg and it was quite heavy, so we took a folding type carry cart and transported it from Osaka to Niigata by express train movement, but even with other luggage, even the adult male had considerable bones broken ... ....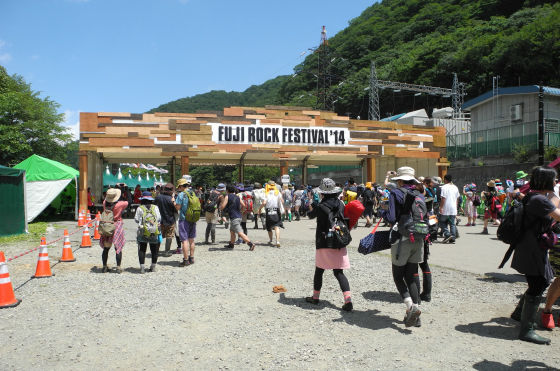 I will set up a tent at the campsite near the Fuji Rock venue. First take out the folding bed ......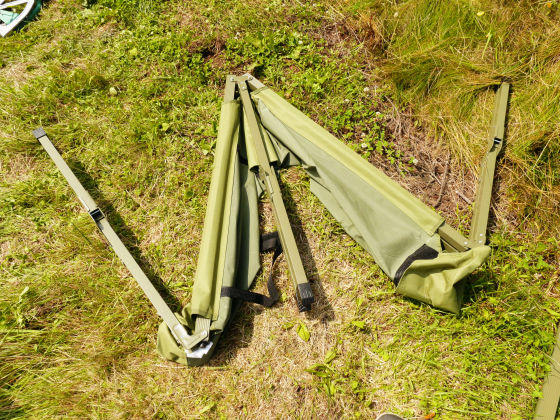 Combine katakana "ko" and alphabet "T" to make it the following form.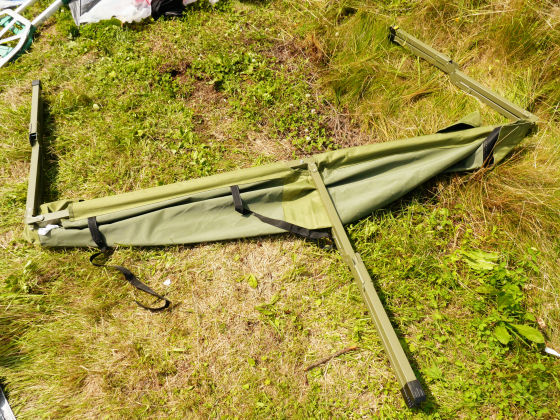 If you rotate the legs of both ends 180 degrees and stand as it is OK.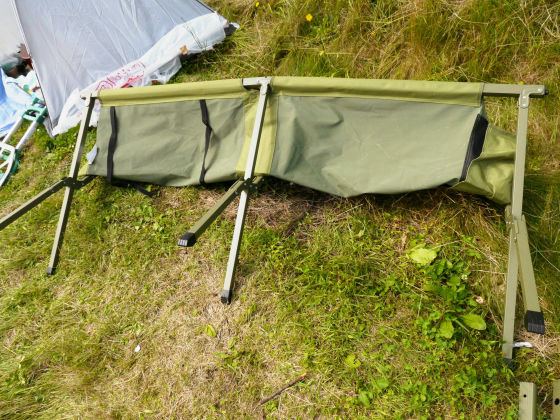 I will insert the rods that will become the supporting posts at both ends into the part where the cloth of the bed is a ring.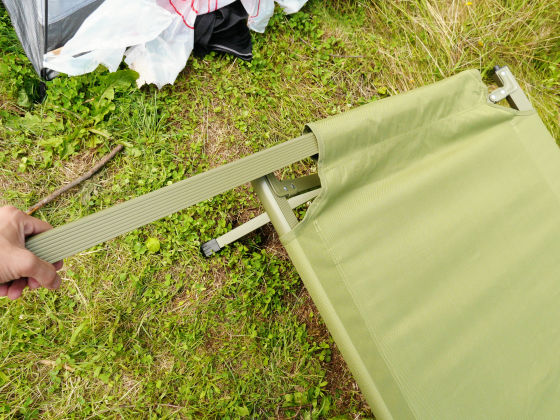 Put the empty hole in the support so that it is inside, insert it into the protrusion on the bed side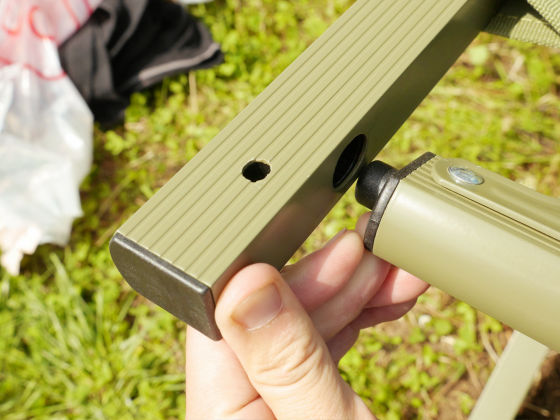 On the other side plug the struts first ... ...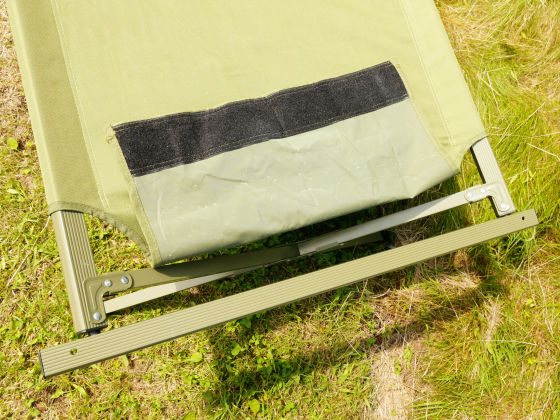 Fix the bed cloth as tightly as possible while securing it on the back with powerful Velcro. In addition, even if we put luggage with one person and spend it for two days, the velcro strap did not come off or seemed to come off.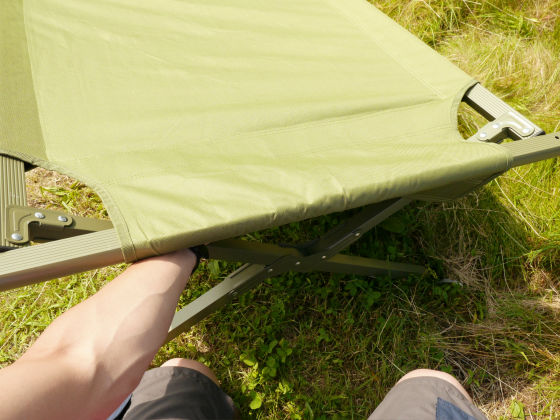 This completes the bed. It can be used as a sturdy bench that can be carried by this alone.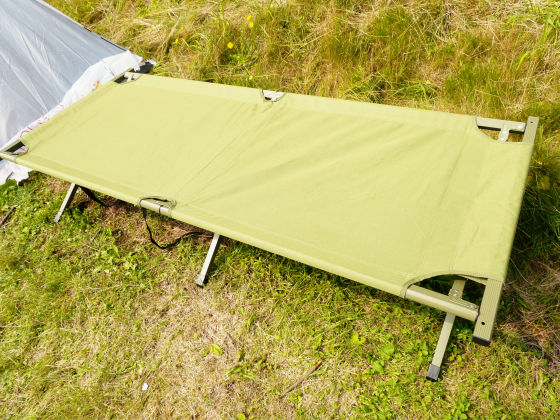 Next, assemble the four poles and place them in the four corners.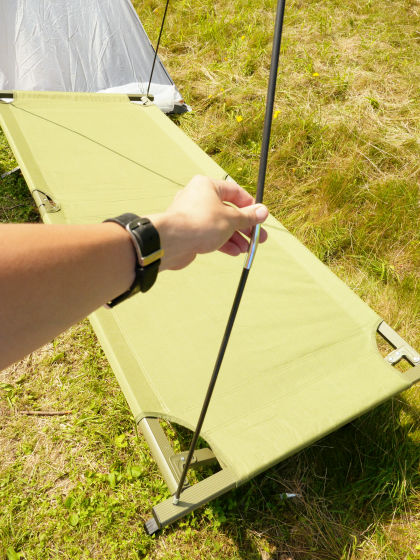 We will combine the ceiling parts with joined parts.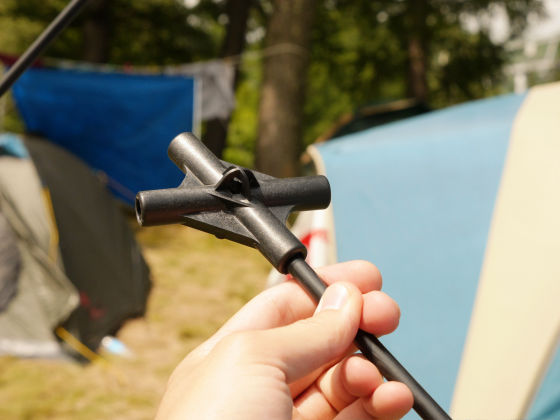 Then the skeleton like this is completed.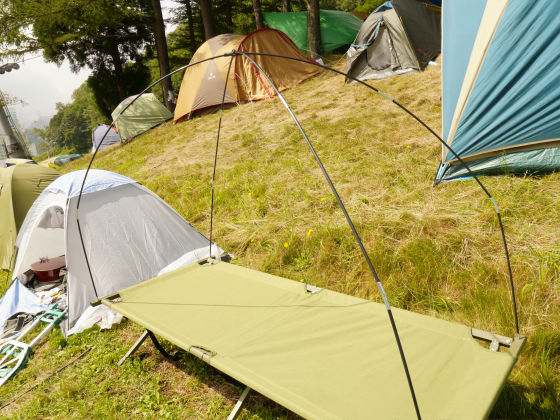 Passing Paul through the cloth of the camouflage tent ... ...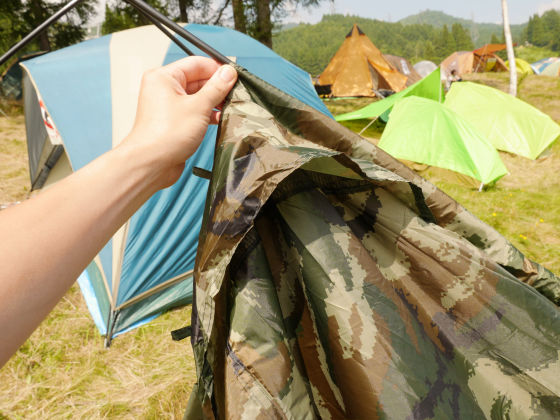 Pass the top pimp through the coupling part.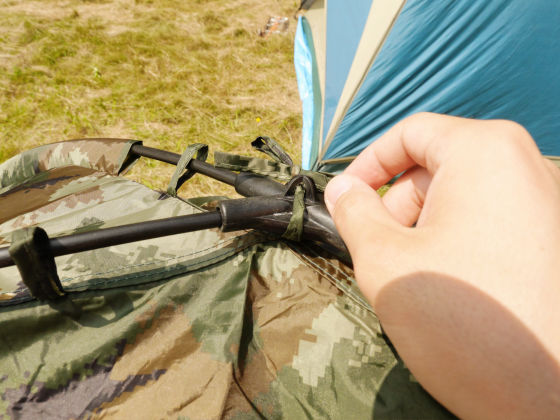 Just put a rubber band over the corners of the bed.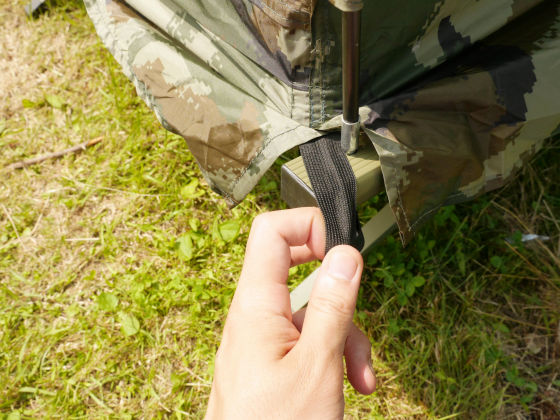 This completes a folding bed tent! I installed it in a place with a little slope, but since the foundation is solid, I will not shake it. There is no particularly difficult procedure for the setting itself, and you can complete it in about 10 minutes if you get used to it. Because you do not have to stab a peg, it will be released from frustration that "the ground is too hard and pegs stick!"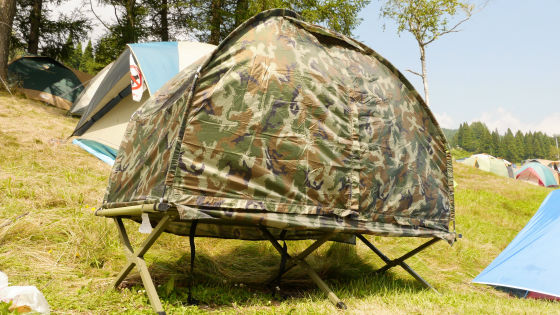 There is a chuck in T letter before, it becomes like this when opened.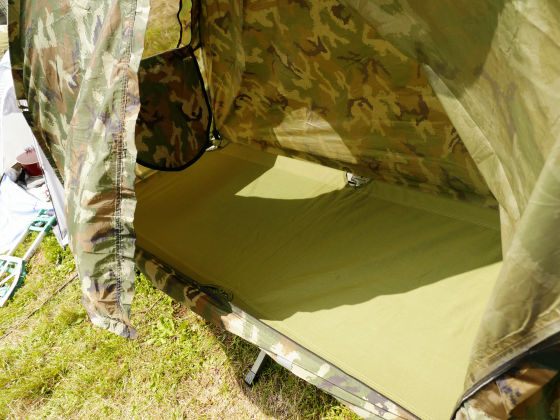 There are two windows on the side, mesh is attached even if you open the chuck.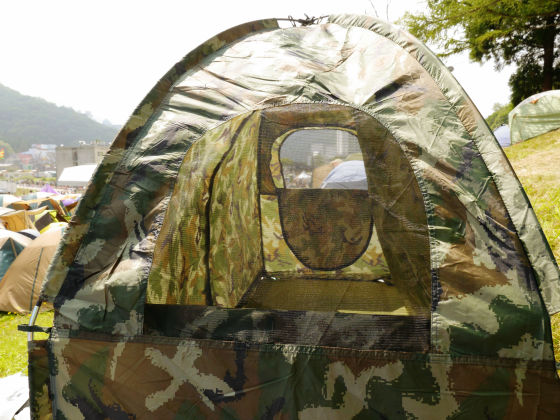 The ceiling part is also a mesh, and it is well ventilated so that insects can not come in.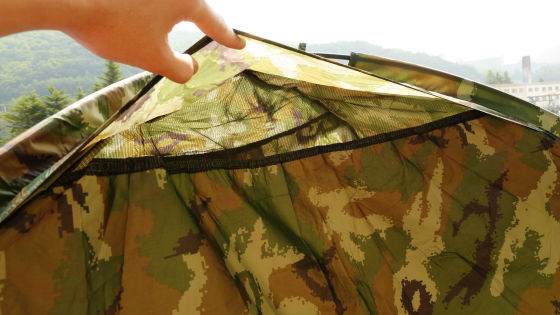 However, there are holes in the four corners of the bed part, there is no way to fix the space between the tent cover and the bed, so it is unfortunate that it is unfortunate that you can insert your hands from anywhere. Since insects are also included, this time I decided to paste cloth tape and fill these gaps.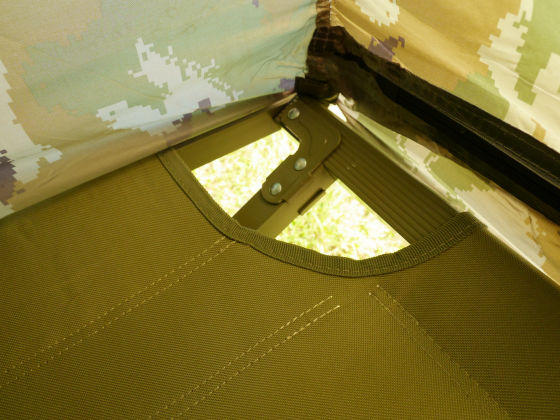 There are no straps in the ceiling inside so you can not hang lanterns etc, but there are two pimples near the window. There is no problem to hang light handlers and garbage bags.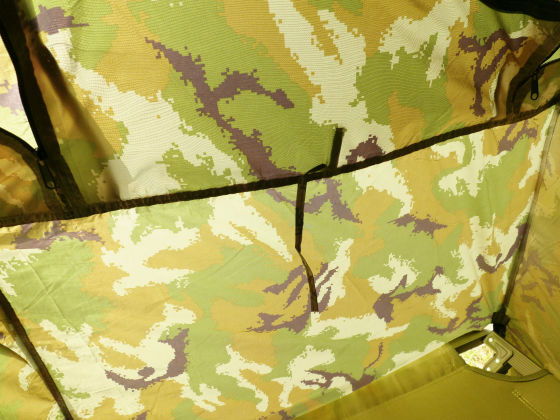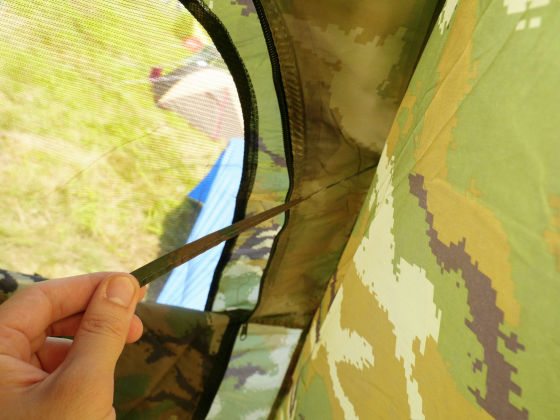 So when I used it for 2 days with Fuji Rock, it is a place where I feel the moisture of the ground and the rough ruggy feeling in a normal tent, but in a bed tent it is super comfortable because I will lie down on a cloth stretched with a pin. There is a clearance, but if you have a sleeping bag, you will think that "it is such a comfortable thing though it is a tent ...". Waterproofing is not applied to the tent cloth or the cloth part of the bed, so it is safe to prepare a waterproof cover for rain when it is used outdoors. In addition, it was 5000 yen with a surprise that it is possible to speak to a passerby several times "This tent is incredible!", I felt "I'm going up".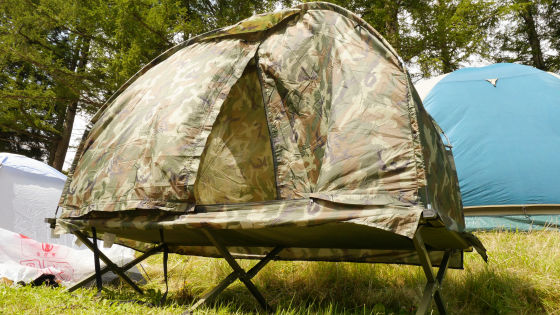 Below is the place where I entered the editorial staff before departure. Within a tent there is space enough to stretch out your legs even if you put a bag or luggage like a 38 liter. For the person who thought that it was exclusively for one person because it felt that it is severe even if it is tough in a couple because it will continue to approach very closely when two people enter in this explanation It looks good. The weight of the main body is neck, but it is not a problem if it can be sent to the site, so bed tents that can stretch tents without mind even on muddy ground or deco-bog road are pretty recommended for those who go outdoors festivals and camping often is.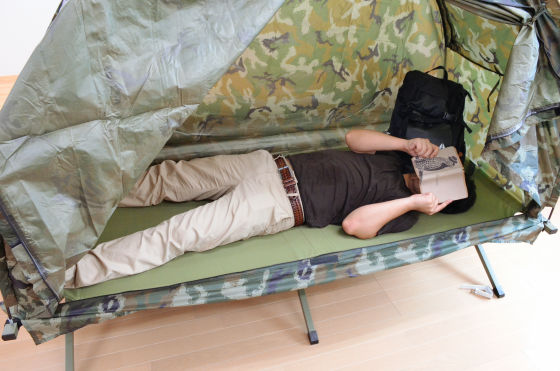 As of the writing of the article, "Bed tent 71108 AL-M camouflage" is on sale at Amazon's following page at 5116 yen (tax included).

Amazon.co.jp: Bed Tent 71108 AL-M Camouflage: Sports & Outdoor