I tried using a completely outdoor specification hammock "Hennessy Hammock" equipped with a roof and a mosquito net that can camp in the air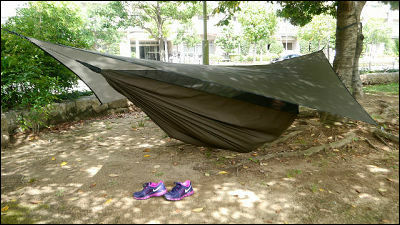 Swiss scientists wentthe studyAccording to the hammock's gentle "shaking", it seems to be a deeper sleep than it can fall asleep faster than sleeping in the bed, but also used a camping hammock that gives such a comfortable sleep I made it possible to "Hennessy Hammock"is.

Hennessy Hammock

When stored it is like this.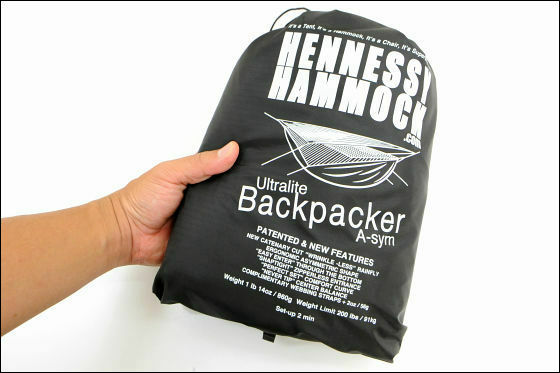 Size one size larger than the original iPad.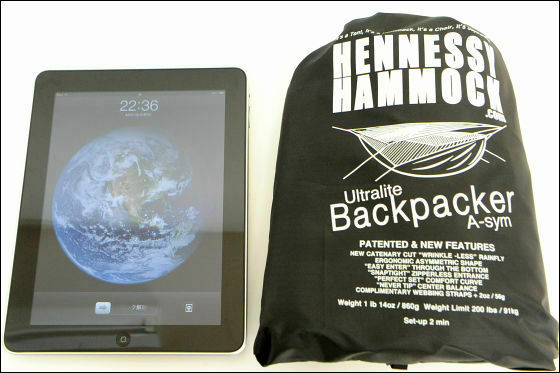 Compact without much thickness.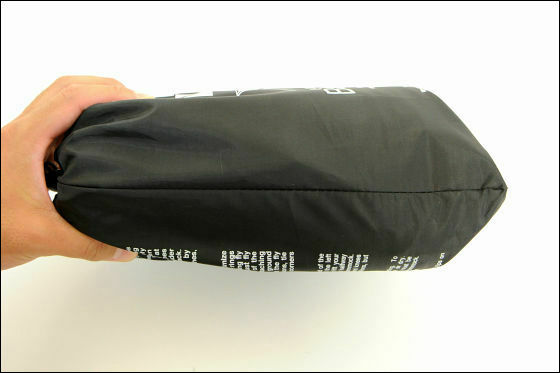 The measured weight is about 860 grams. For general tents there is nothing that cuts 1 kg even for one person, so it enters a fairly lightweight class.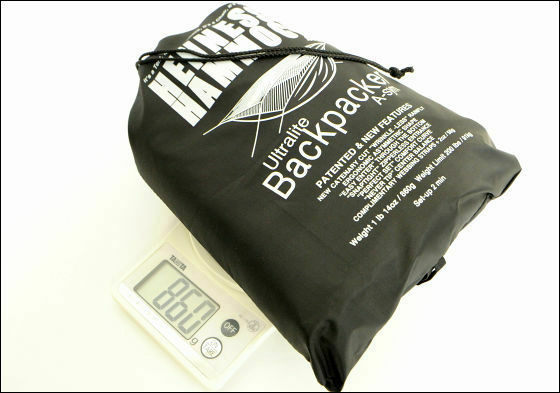 Contents include hammock with tarp (roof) and mosquito net (insect repellent net).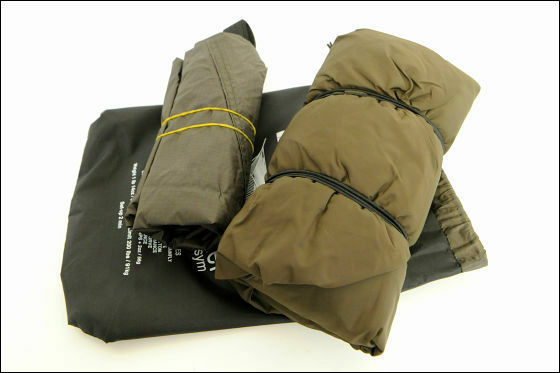 ◆ I actually used it

It spreads like a hammock like this.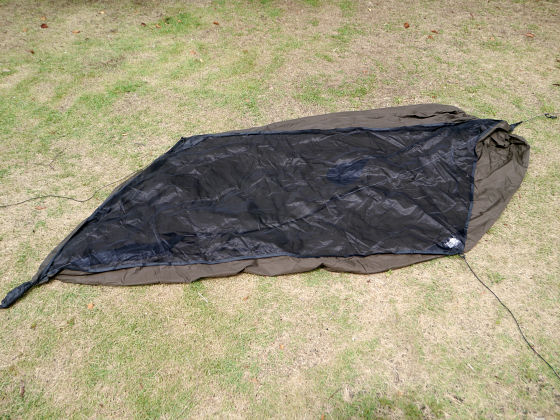 With a mesh-like mosquito net (insect repellent net), it is possible to avoid mosquitoes etc in summer camp.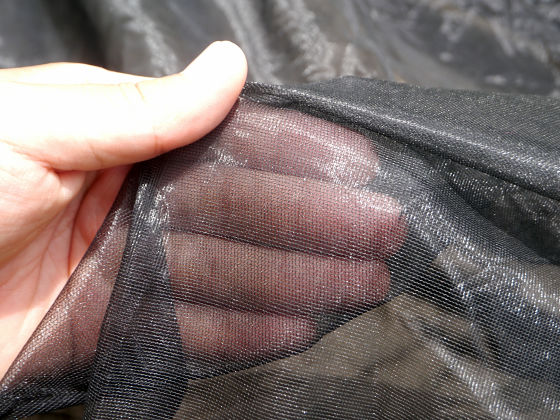 The wide belts for winding on wood are as follows.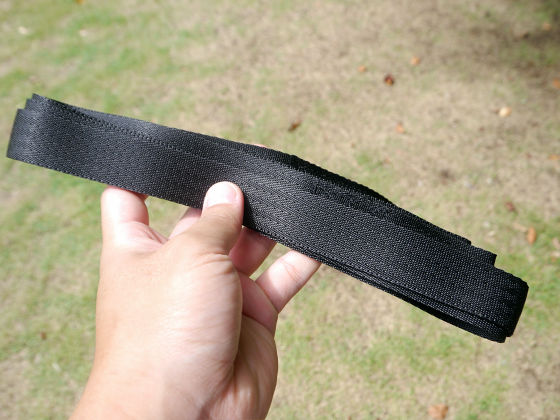 I decided to hang the hammock between the trees growing at intervals of about 2 meters.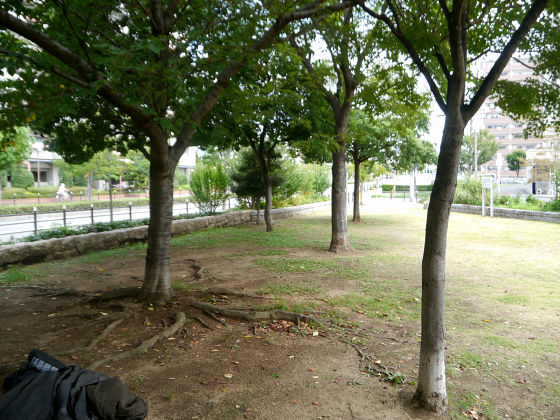 First of all, we wrapped the belt around the gourd and the tree trunk ... ...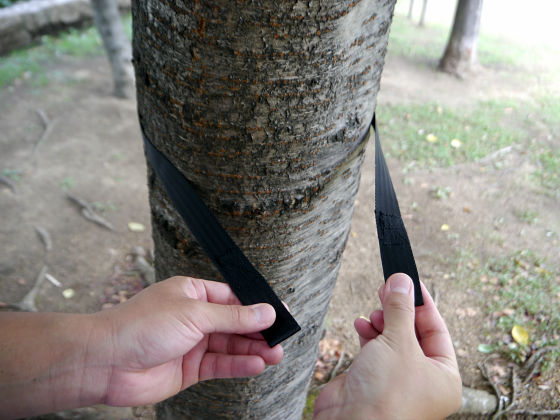 If you tie it through a string coming out from the tip of the hammock OK.



Knot on the other side as well ......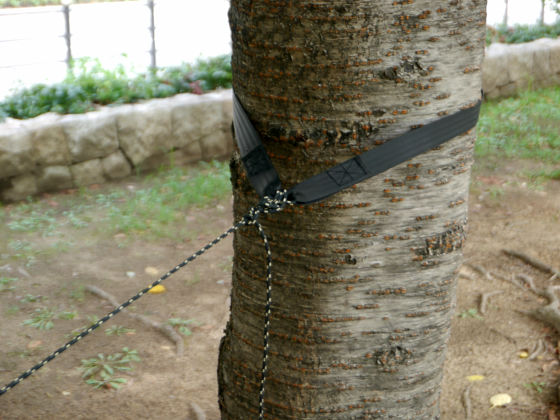 Hang the hammock between the trunk of the tree and the trunk.



Easy to set even where places are uneven on the ground and the back tends to hurt at tent overnight.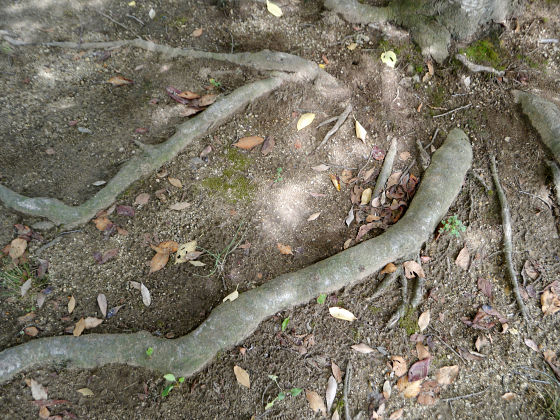 Next is the installation of a fly sheet (roof). Initially it is in a collapsed state as shown below.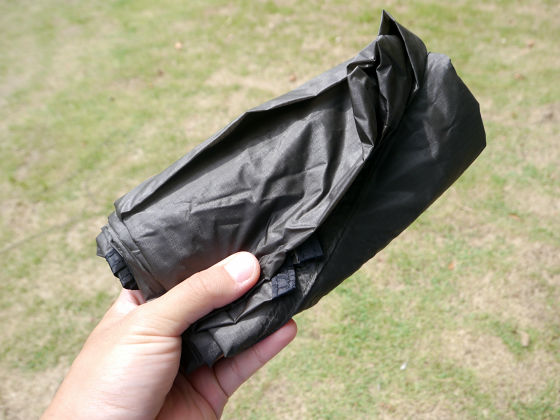 When spreading it is like this.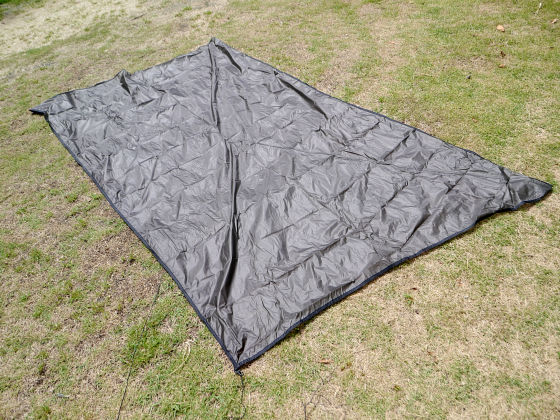 It is made of waterproof nylon with ripstop (tear-off) processing, so it can be used even in rainy weather.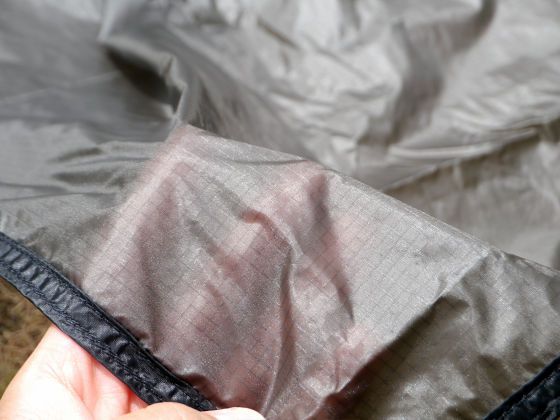 Come on the hammock like this ... ....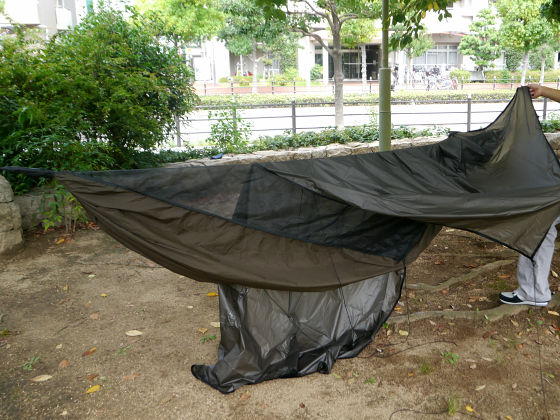 It is OK if you hook the hook to the string that connects to the hammock body you stretched first.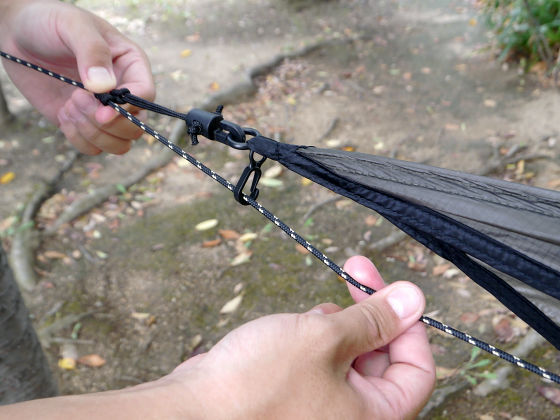 Tension the fabric using pegs (sold separately) to make it easy for rain to flow.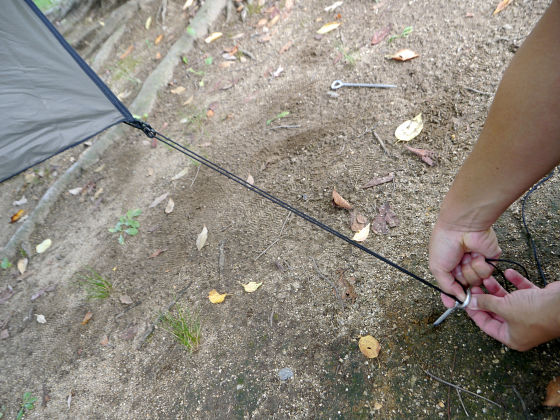 The installation is completed if roof can be formed like this. Easy rope work alone, can be set in about 5 minutes.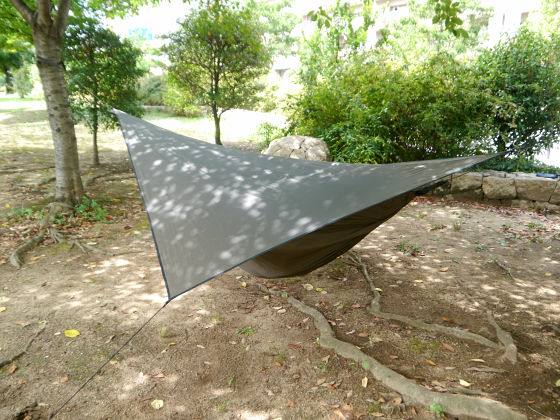 When I look at it a little, I feel that it is blended into the surrounding scenery.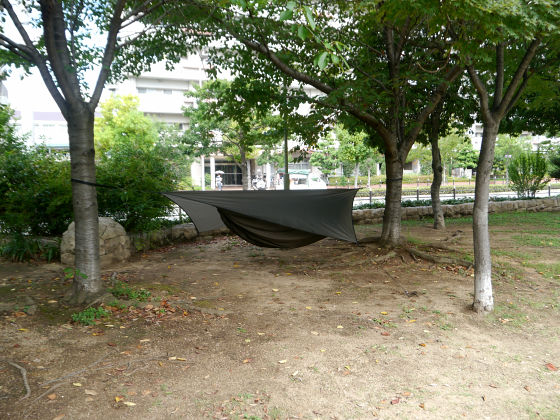 From the bottom it can be seen that it is a shape covered with a roof over the hull bottom of the ship bottom type.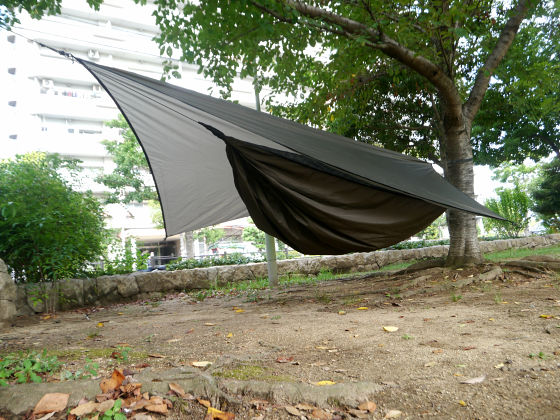 Since a part of "ship bottom" is to be opened at Velcro, it invades Gosso Gosso and inside from this part.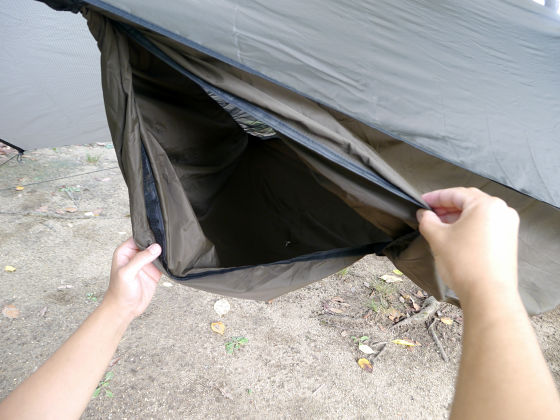 It looks like this when you look inside the hammock from the entrance.



Enter from the buttocks, just sit down and stabilize the center of gravity and then just raise your feet.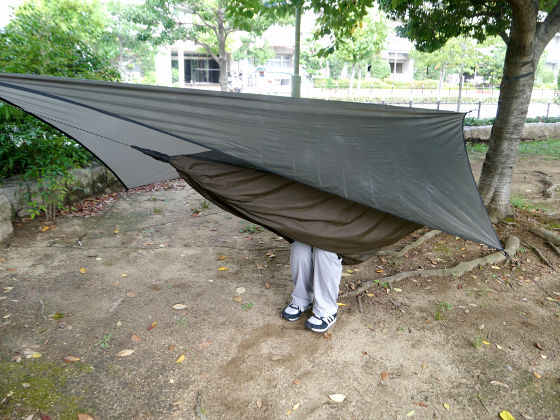 I will put it in a sled.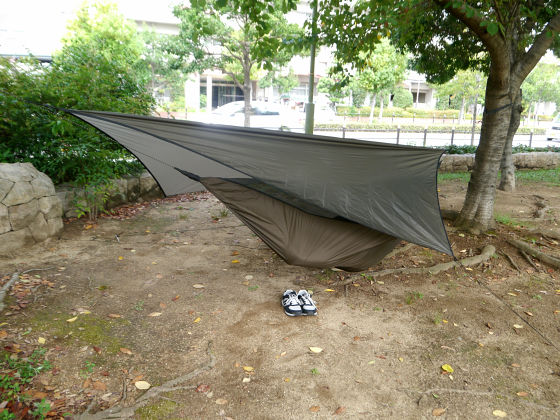 The view from the outside that the person actually is inside is as follows.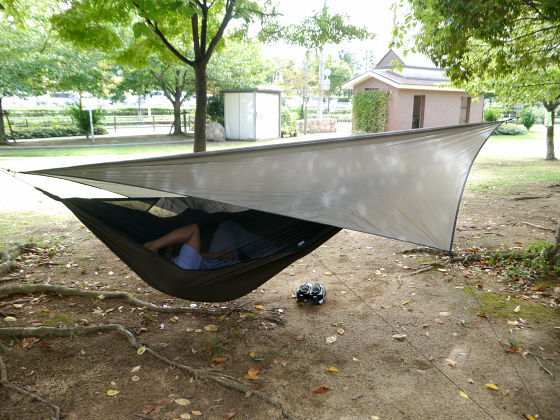 Looking at your feet in a hammock is like this.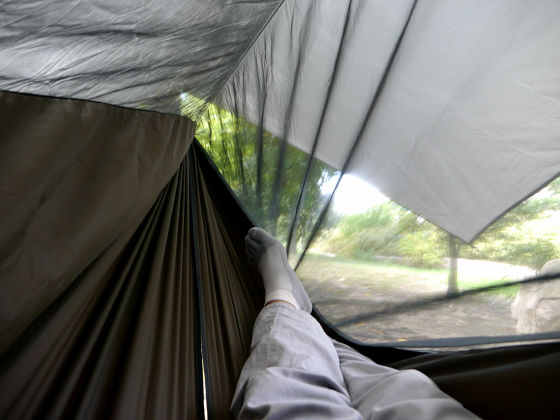 With a head mesh pocket with iPhone etc can be put.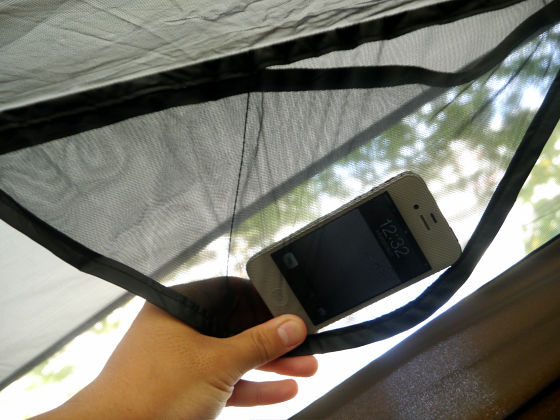 In Japan,A & amp; F COUNTRYYaMountain valleyThe sale has been done, and in the online shop of Yamaki at Rakuten I reviewed this "HENEESSY HAMMOCK Ultra light BP A-symI bought it for 24,530 yen (including tax shipping fee).

So it is quite recommended for people who want to reduce the weight of the tent or camp at a place with irregularities on the ground, as well as those who want to enjoy the outdoors in a slightly strange style.