Device that measures humidity, ultraviolet rays, and air temperature for 24 hours and notifies the weather to the smartphone "CliMate"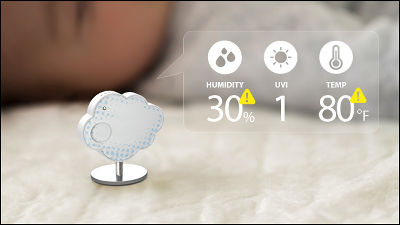 Depending on the changing weather such as sunny weather, cloudy rain, etc., the humidity, ultraviolet rays and temperature will also change in the same way. Although you may suffer damage to the skin by receiving intense ultraviolet rays or the performance of the work may fall due to the humidity which was rising while you did not notice, record the humidity, ultraviolet rays, and the temperature for 24 hours A key holder size device that informs the smartphone of the precise weather and environment of the surroundings "CliMate"We are looking for investment in Kickstarter.

CliMate - Create your own friendly environment by Rooti - Kickstarter
https://www.kickstarter.com/projects/962920513/climate-create-your-own-friendly-environment

You can see how you can check the weather by measuring humidity, ultraviolet light and temperature using CliMate and see the following movie.


The woman woke up.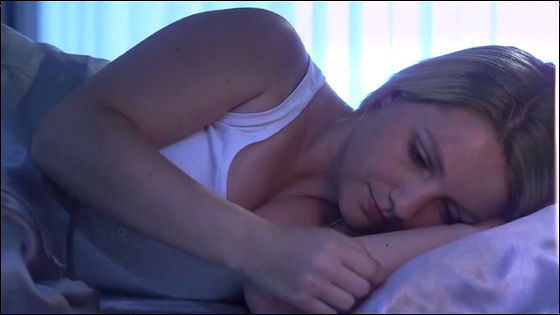 Weather and ultraviolet ray alerts are notified when you check your smartphone. This is the result of CliMate measuring the surrounding environment while sleeping.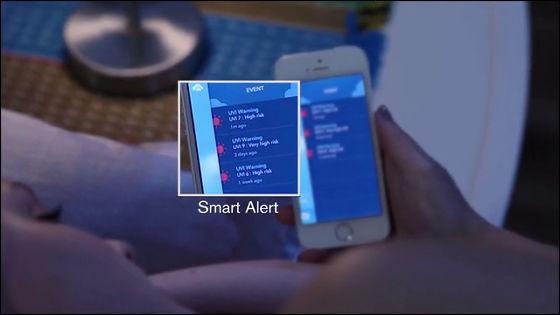 CliMate is a small key holder type device attached to the bag when going out.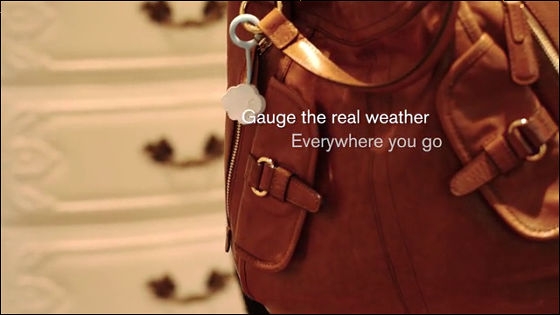 CliMate is a device that measures "humidity", "ultraviolet light", "temperature" and notifies the smartphone of changes in the surrounding environment.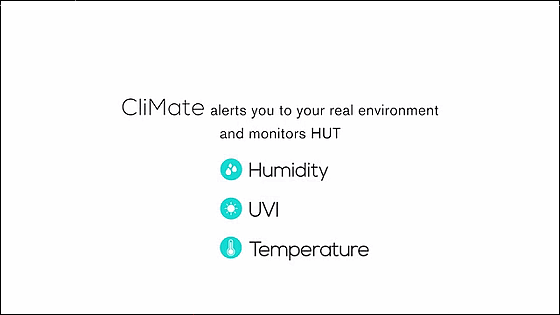 When you are camping, if you install it beside the tent, we will tell you the change of the weather as soon as possible.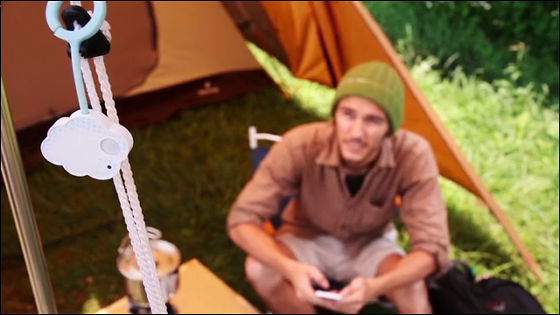 The circumstances have become clear at a glance by the icon of the plant.



Measurement results for each hour can also be displayed.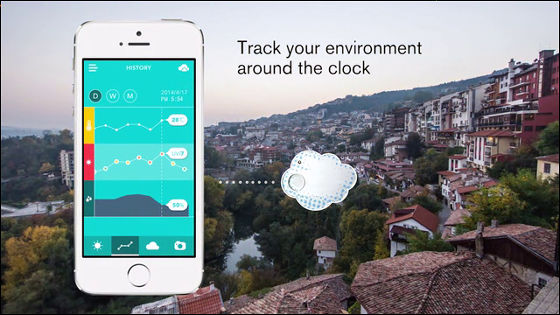 CliMate has one button and it can also be used as a trigger for smartphone camera ......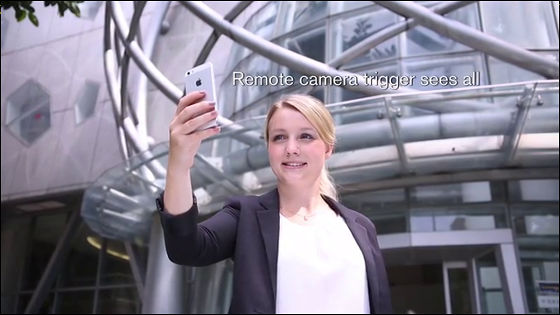 The photographed pictures can be sent to the "weather map" shared with the cloud with the measurement results. By sharing measurement results between users, we can collect more accurate local weather and environmental information.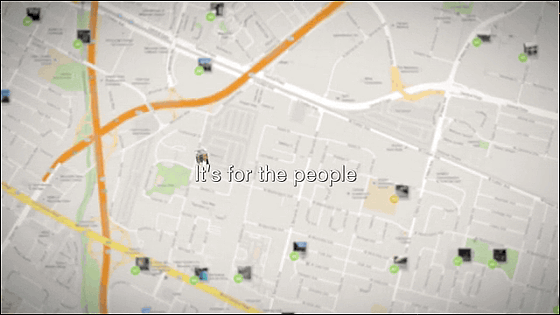 When saying "I do not know where the smartphone went"! ...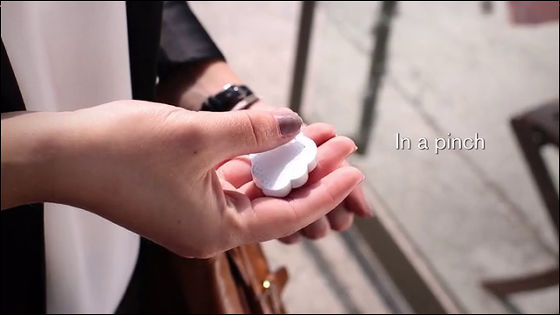 It is also possible to sound by sounding the smartphone by pressing a button.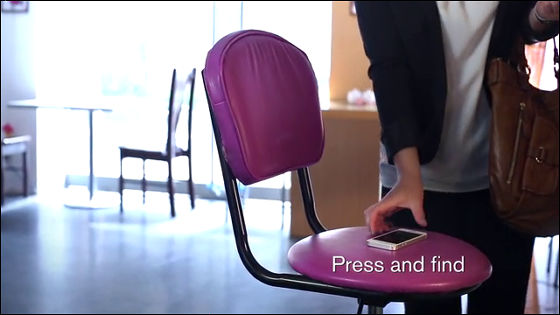 Attach it to your clothes and carry around ... ...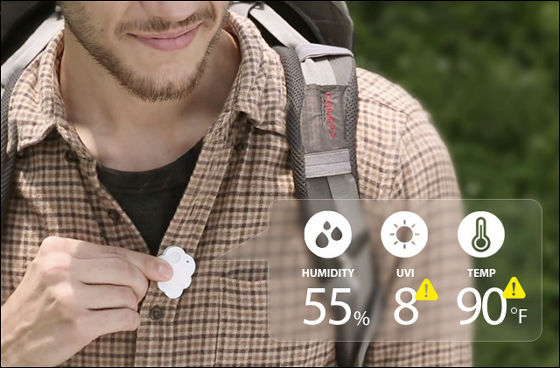 If you leave it in the garden, it can be used for humidity management.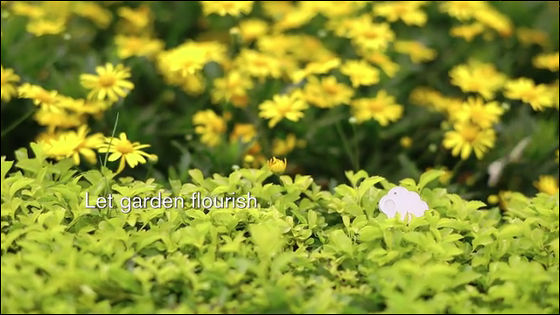 If you attach it to the stroller, you can protect your baby when unexpectedly the ultraviolet rays are rising.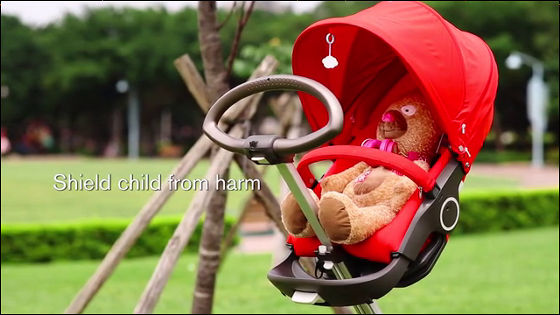 For indoor use, a removable stand is included.



I also stick it to the refrigerator.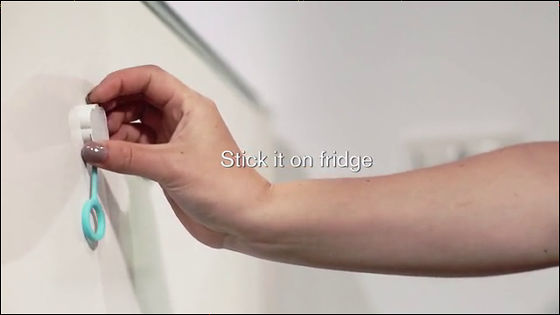 By constantly knowing the surrounding environment and the weather, you can use sunscreen and carry out schedule of camping, and can be useful for deciding on daily behavior.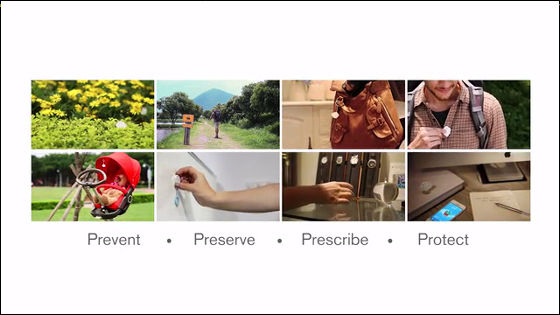 CliMate and smartphone are connected via Bluetooth 4.0, and share the measurement results to the cloud through the application ... ...




We can build a system that we can share on weather map as follows.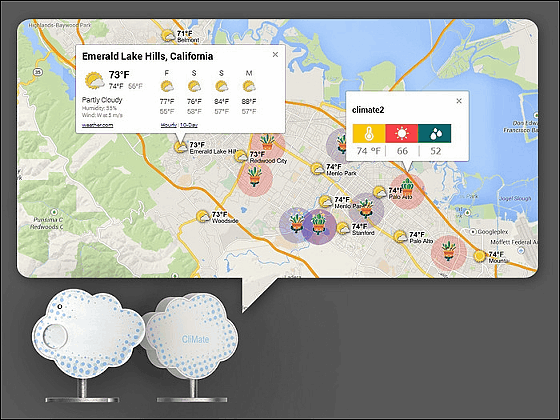 When I take it in my hand it is about this size.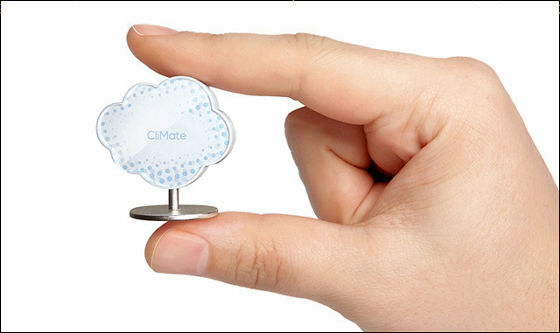 The battery is a button battery, you can replace it by removing the back side.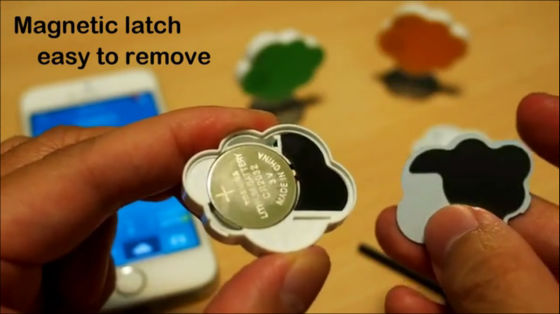 The products that can be obtained for each contribution amount by Kickstarter's project are as follows.
· $ 49 (about 5000 yen):CliMate × 1 (Select from Dawn Yellow · Sunset Red · Bright White · Dusk Blue · Storm Gray)
· $ 55 (about 5600 yen):CliMate × 1 (Green Sky), limited to 399 people
· $ 79 (about 8000 yen):CliMate × 2 (selected from Dawn Yellow · Sunset Red · Bright White · Dusk Blue · Storm Gray)
· $ 99 (approx. 10,000 yen):CliMate × 3 (selected from Dawn Yellow · Sunset Red · Bright White · Dusk Blue · Storm Gray)
· $ 129 (approx. 13,000 yen):CliMate × 4 (Select from Dawn Yellow · Sunset Red · Bright White · Dusk Blue · Storm Gray)
· $ 159: (about 16,000 yen)CliMate × 5 (Select from Dawn Yellow · Sunset Red · Bright White · Dusk Blue · Storm Gray)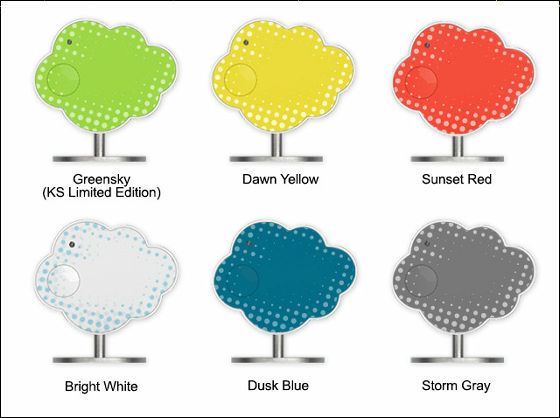 Product shipments are planned around September 2014, and dispatch to the outside of the United States requires a separate $ 10 (about 1000 yen). The contribution deadline is 19:29 on Thursday, July 10, 2014 in Japan time.

CliMate - Create your own friendly environment by Rooti - Kickstarter
https://www.kickstarter.com/projects/962920513/climate-create-your-own-friendly-environment