What does Apple's iWatch do to differentiate it from other companies' smart watches?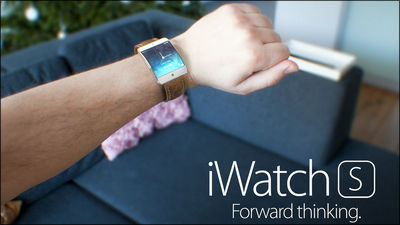 ByMartin Hajek

"IWatch", which is rumored to be released by Apple this autumn,Round faceWell,Wireless charging & solar charging function is installedVarious speculations, such as, are on the verge of flight. How is iWatch going to differentiate itself from other manufacturer smart watches with similar looks and functions,Wall Street Journal(WSJ) and other reports that are being revealed little by little.

Can Apple Crack the Smartwatch Code? - WSJ
http://online.wsj.com/articles/apple-plans-multiple-designs-for-smartwatch-1403245062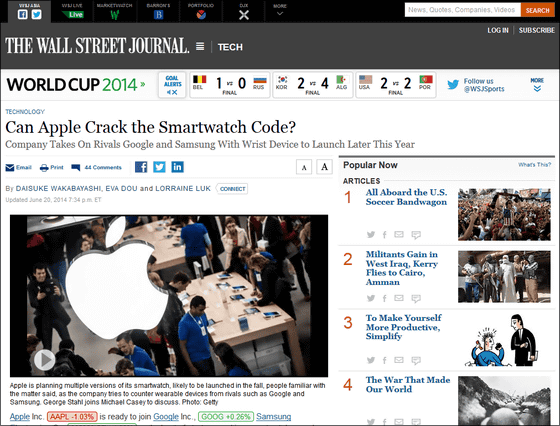 Apple's iWatch may launch in October with 2.5-inch screen, says Reuters | The Verge
http://www.theverge.com/2014/6/19/5825178/apple-iwatch-could-launch-in-october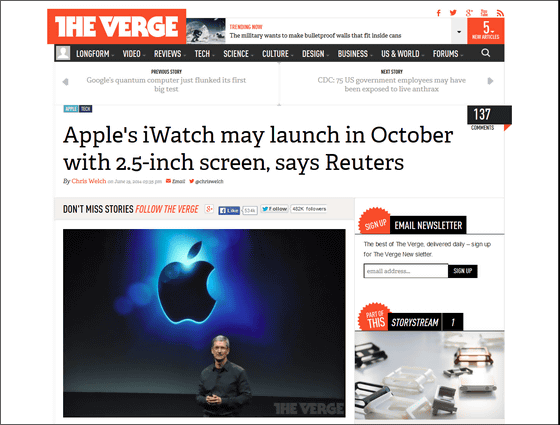 Apple iWatch to feature multiple designs and more than 10 sensors: WSJ | The Verge
http://www.theverge.com/2014/6/20/5826822/apple-iwatch-multiple-designs-10-sensors-report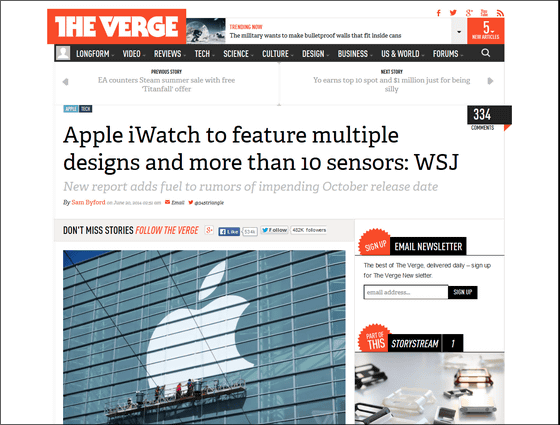 Samsung's current "on the market"GALAXY GearMost smart watches such as "I just transplanted some of the functionality of existing smartphones." In order to differentiate them from these smart watches, Apple's iWatch is thought to have an arched display that is distinct from the existing smartwatch, but this is "to give a totally different function from smartphones It is because it failed in particular, "an information source told WSJ. further,"IWatch display size will be 2.5 inchesAccording to the information obtained by WSJ, there are multiple display sizes of iWatch, and multiple designs may be prepared like the iPhone 5s / 5c.

Apple also sees the smartwatch market as a completely different thing from smartphones and tablet markets that are slowing growth. It seems that thinking that a world that can collect and utilize more data than now can come by installing a small sensor, a flexible display, a wireless connection function etc. by smart watch.

In order to realize this future, Apple carries a lot of sensors such as dual LED and proximity sensor, acceleration sensor, gyroscope, magnetometer, fingerprint sensor for Touch ID in iPhone 5s. In addition, we have made M7 coprocessor specialized in processing data on "motion" obtained from acceleration sensor, gyroscope, magnetometer, etc., to enable more advanced activity measurement. And, the WWDC 14 announced "IOS 8In response to newly added health apps at ", iWatch expects to have more than 10 sensors that are more abundant than existing iPhones, sources said.

Nick Spencer, ABI Research's analyst, analyzes that iWatch will be shipped by the end of 2014 by 10 to 15 million units, but when the original iPhone was released in 2007 it was the first Only 1.1 million units were sold in the quarter.