Wireless power supply technology "Rezence" powers up and notebook PC can also be charged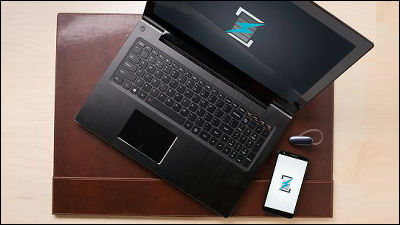 A group promoting standardization of wireless power supply technology "Alliance for Wireless Power: A4WP"Power supply technology announced in December 2013"Rezence(Resence) "to expand its capacity to supply up to 50 W of power supply capacity for the first time in the world, and announced a system capable of wireless charging to tablets and laptops.

Alliance for Wireless Power (A4WP) Announces the Expansion of the Rezence ™ Standard ... - TAIPEI, Taiwan, June 4, 2014 / PRNewswire / -
http://www.prnewswire.com/news-releases/alliance-for-wireless-power-a4wp-announces-the-expansion-of-the-rezence-standard-to-50-watts-to-include-tablets-pcs-and-peripherals-261774371.html

A4WP is an independent non-profit organization that manufacturers such as Dell, Fujitsu, Hon Hai, Lenovo, Logitech, Panasonic, Intel, Qualcomm, Samsung are participating and was established with the aim of integrating wireless power supply among various household appliances . This A4WP announced in December 2013 is wireless power supply technology "Rezence".

As a wireless power supply technology, there is "Qi (Qi)" which has already been put into practical use of the onboard equipment, but in the current standard it is limited to electric power supply of up to 5 W, and in the case of 1 to 1 power supply at a very short distance Only it does not correspond. Rezence is a wireless power supply technology using a coil as well as Qi, but it can be used even if it is separated by about 5 cm by adopting a magnetic field resonance method, and it can charge multiple devices at the same time.

With this expansion of power supply capacity, we are able to supply up to 50 W of electric power, so we can charge not only smartphones but tablets and laptops.

Lenovo's Peter Hortensius Chief Technical Officer (CTO) said, "Since we need to charge USB smart cables every day as we can easily power wirelessly to smart phones and notebook PCs, we release ourselves As a result of verifying various wireless power supply technologies, it can be said that the A4WP system using 6.78 MHz radio waves is most suitable for user's needs. "

In Rezence, you can check the wireless power supply to smartphones and demonstration bulbs in the following movie. This was taken in January 2014.

A4WP Rezence wireless power - YouTube


One table was prepared. It is not a special thing, it is a thing that I bought in IKEA and embedded Rezence charge base. There are two power supply areas "Rezence area" surrounded by a square on the top board.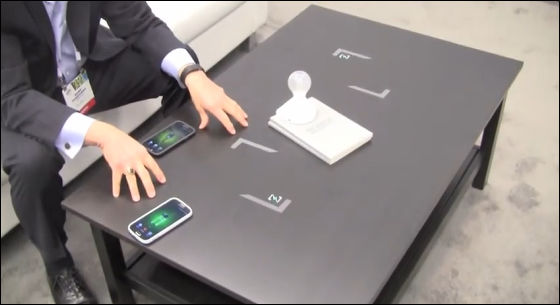 Power supply began as soon as you placed a demonstration smartphone in the Rezence area.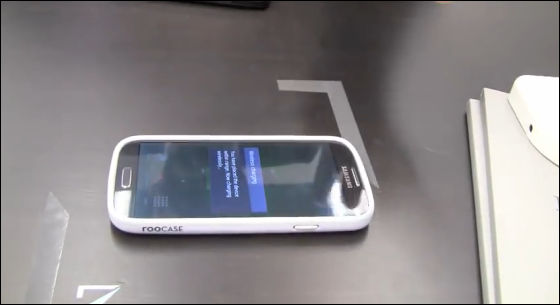 Even if you put two terminals, this is right. Both terminals are in charging state.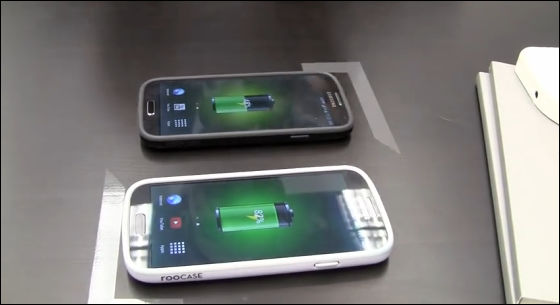 Demonstration light bulbs were prepared. A power receiving system compatible with Rezence is built in the base part, and the light bulb turned on when placed in the Rezence area.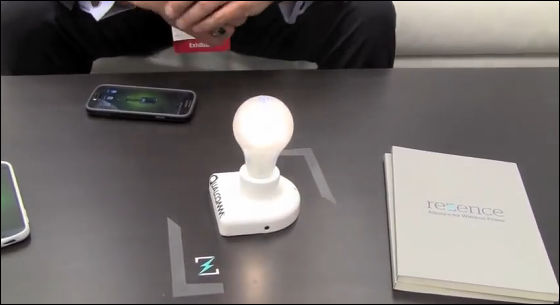 In this way, even when there are obstacles such as books between them, power can be supplied.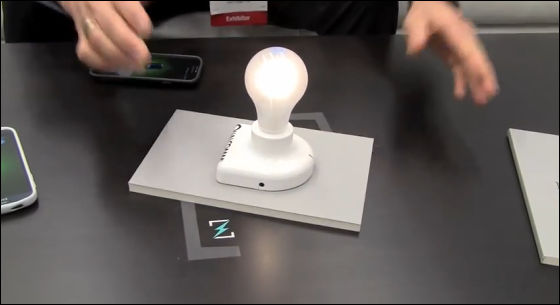 When I lifted it gently, it turned out that the light became weak a little, but it was found that the power supply was possible up to about 10 cm high.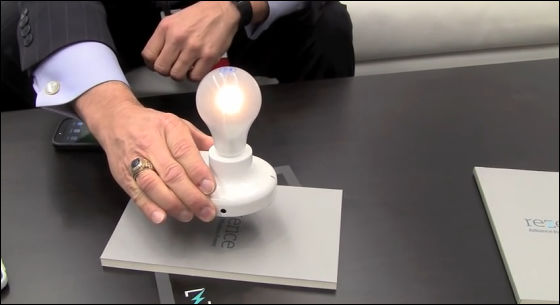 Although the roadmap for concrete practical application etc. is not disclosed, A4WP says that the certification program will be started by the end of 2014.

Meanwhile, Qi currently in practical use is currently planning to expand the power supply capacity up to 5 W to 10 to 15 W at the latest. Beyond that, we are planning to develop standards up to 120 W.

Qi (Qi) - WPC Wireless Power Consortium - Workplan - Wireless Power Consortium
http://www.wirelesspowerconsortium.com/jp/developers/the-wpc-work-plan.html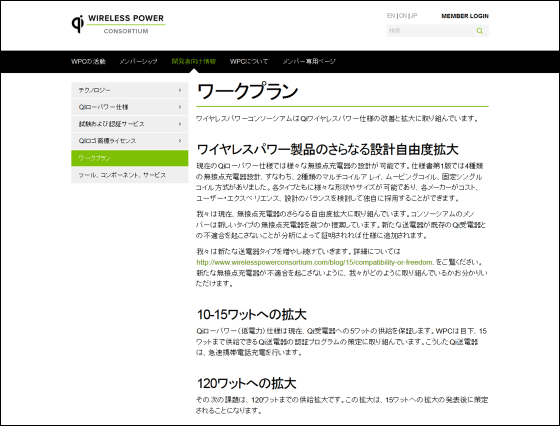 In addition, development of a technology to supply electric power of up to 100 W (20 V / 5 A) by using the existing USB cable is being developed, so that the conventional power adapter disappears and can be charged with one kind of USB cable Maybe the day will come.

News Releases | Renesas Electronics
http://japan.renesas.com/press/news/2014/news20140602.jsp