Amazon set up a huge rocker gift for Nissan's car for free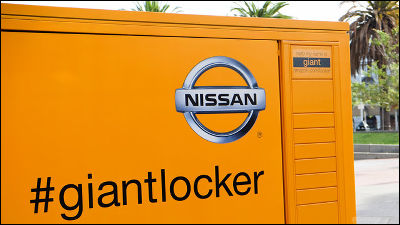 Amazon can receive luggage in public places such as convenience stores in the USA "Amazon Locker"However, on May 15, 2014 Amazon Locker which was enlarged enough to enter one car is installed in San Francisco. Nissan's logo is painted on the exterior, but it is clear what is inside.

What's Amazon Hiding Inside This Giant Orange Locker? - Digits - WSJ
http://blogs.wsj.com/digits/2014/05/15/amazon-delivers-a-mystery-to-downtown-san-francisco/

Amazon's mysterious giant locker in San Francisco will give a birth to a Nissan | The Verge
http://www.theverge.com/2014/5/16/5723852/amazons-mysterious-giant-locker-in-san-francisco-will-give-birth-to-a-Nissan

On the evening of May 15, 2014, Amazon sent San Francisco a huge locker of mysteryJustin Herman PlazaWall Street Journal reported that it installed before. The next day, the hashtag "# giantlocker" and the Nissan logo were painted on the exterior and attracted attention, but Amazon was wrapped in mystery because Amazon declined comment.

beforeNissan USAAs a collaboration project with Amazon,Versa NoteFor sale at Amazon and for buyersPack the entire vehicle with enormous Amazon cardboard and deliver itThere was sometimes a campaign called 'campaign' was held. Therefore, it was predicted that Nissan's vehicles are contained in this huge locker as well.

The next day after setting up a huge rocker, NissanUSA on Twitter "from Amazon's huge lockerNissan RogueAnd many items are hit! And the announcement of the event tweets.

Check out our#GiantLockerIn person at Justin Herman Plaza. You can win a Nissan Rogue or other prizes from Amazon!Pic.twitter.com/6xZxuH6Ncq

- Nissan (@ NissanUSA)2014, May 16
On the day of the event, a long queue occurred before the locker. At the side where I was lined it was able to receive the card with the code and it was an event that hits the item by hitting the code on the touch screen of the box.

The answer to why all these folks were waiting in line in# San FranciscoToday ->http://t.co/fj9c8VPB7H# GiantlockerPic.twitter.com/OMJRdw4BPd

- CCT Night City Desk (@NewsByNight)2014, May 16
If you type the code on the screen, you can open the locker with the corresponding number and you can receive the item inside.BeatsPeople who hit headphones ... ...

Somebody won Beats headphones!# GiantlockerPic.twitter.com/zxl99ggNXv

- Nicolo (@ Nymo)2014, May 16
PS4Some people tweet that they got it. Although it is not as expensive as the car, it seems that a lot of items of tens of thousands of yen were included.

@ NissanThanks for# GiantlockerRaffle. Won a Sony play station 4 !!!Pic.twitter.com/mh0FC9NKNz

- Krishna Ramamurthi (@ Kris Murti)2014, May 16
And finally giant rocker opens, red from insideNissan RogueAppeared. A person who got the car for free really appeared.

Somebody won a new@ NissanUSACar!# GiantlockerPic.twitter.com/6c8wCW878U

- Nicolo (@ Nymo)2014, May 16
Nissan Rogue is currently sold for $ 22,490 (about 2.29 million yen) at Amazon.