In addition to Surface Pro 4, a special event of Microsoft rich Microsoft announcement of smartphones equipped with Windows 10 was held held on October 6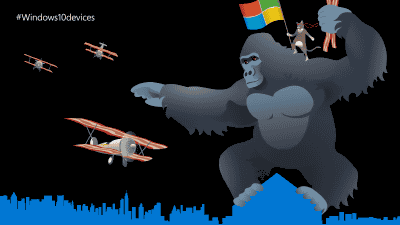 Next SurfaceSurface Pro 4"The introduction of the new product announcement event of Microsoft is sent to the media, and it became clear that the new device equipped with Windows 10 will be announced.

Microsoft to launch Surface Pro 4 and new phones at October 6th event | The Verge
http://www.theverge.com/2015/9/14/9322809/microsoft-surface-pro-4-lumia-950-october-6th-event

# Windows10Devices | Blogging Windows
http://blogs.windows.com/bloggingwindows/windows10devices/

From the information Microsoft sent to the media, the venue for the new product launch is in New York, USASkylight at Moynihan StationIt was revealed that the presentation will be held from 10:00 am on October 6, 2015 (11:00 pm Japan time). There is no description about the specific terminal to be announced in the invitation card.

It has been revealed that multiple terminals will be announced at the recital, and the 6th generation Intel Core processor "Skylake"The appearance of Surface Pro 4 on board is almost fixed. Surface Pro 4 is expected to be equipped with a 4K (3840 x 2160) resolution display and appearance with multiple screen sizes including 14 inch size.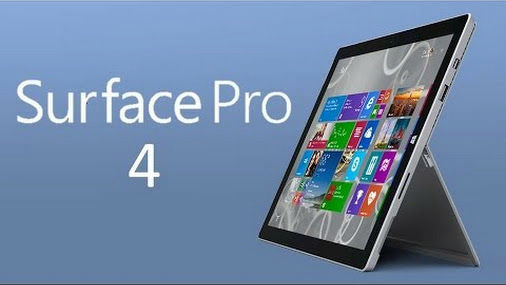 Finally, it is expected that a new smartphone "Windows 950" series with Windows 10 Mobile will be announced, Talkman with a 5.2 inch (2560 × 1440) organic EL display Lumia 950, 5.7 inch (2560 × 1440) There is leaked information that Cityman that is equipped with organic EL display Lumia 950 XL and two kinds of high spec smart phones are prepared.

In addition, leak information of Talkman and Cityman can be confirmed in the following article.

Microsoft's Windows 10 Smaho version equipped High end "Lumia" latest model specifications of two models Spec Leak Summary - GIGAZINE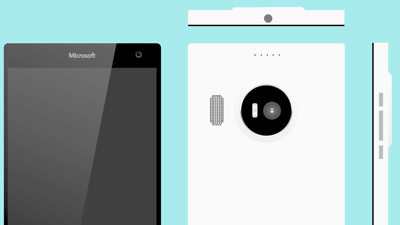 In addition to these, there is also the expectation that the new type "Microsoft Band 2" will appear as a wristband type wearable terminal. However,There is no announcement about thin Xbox OneIt is clearly stated by Microsoft.

In the Microsoft Blog, the following images relating to special eventsNow open. On the shoulder of King Kong is the familiar mascot "Ninjacat" for Windows 10 Insider Program participants. Since three planes can be confirmed, it may be that three types of terminals equipped with Windows 10 are announced.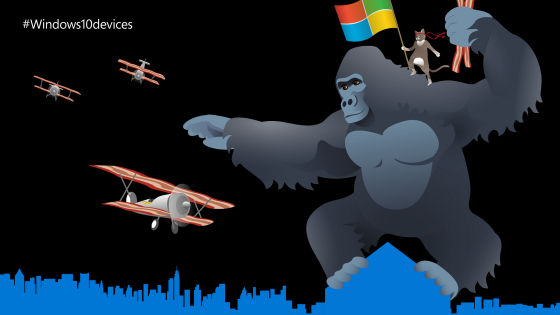 The state of the new product event of Microsoft is scheduled to be streamed on the following site from 11:00 on October 6, 2015 in Japan time.

We have some exciting news to share about Windows 10 devices
http://www.microsoft.com/october2015event/en-us