I tried two kinds of Lawson's croissant donuts which made 48 layers of fabrics


Croissant donuts born in New York, in AprilMister DonutYaBanderolEach company sells a new product, such as selling it. This trend will not miss major chain stores, Lawson will be on May 13th (Tue)Croissant donutsofchocolateWhenstrawberryHas been released. I tried to eat it with coffee because it was made to suit coffee etc.

"Croissant donut" released | News release | Corporate information | Lawson
http://www.lawson.co.jp/company/news/090107/

The croissant donut is in a paper pack, and it is placed in the bread corner at Lawson.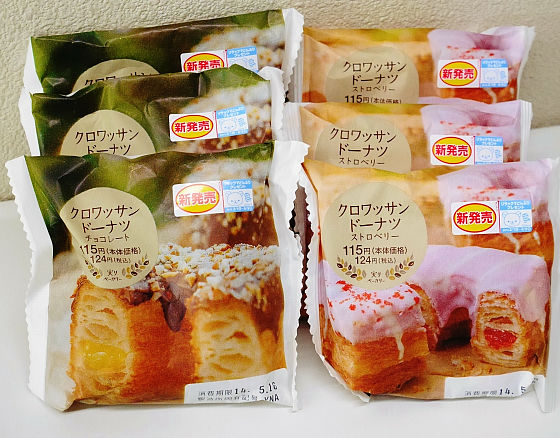 Croissant donut 's chocolate is a package that used green.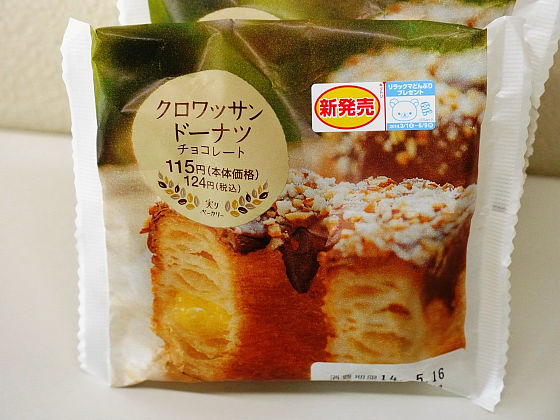 It seems that we are using a package made of paper that moisture hardly keeps to maintain a texture.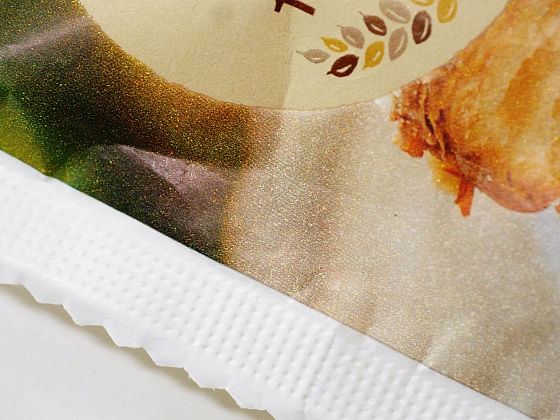 Raw materials such as mix powder, flower paste, shortening, margarine, semi-chocolate, almond etc. The manufacturerYamazaki Bakery Co., Ltd..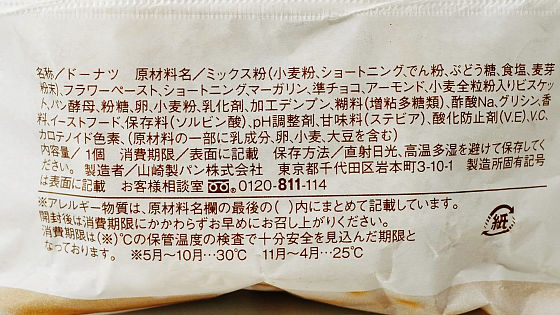 Calories are one 487 kcal, similar mised productsChoco & amp; custard whipHigher than 402 kcal of.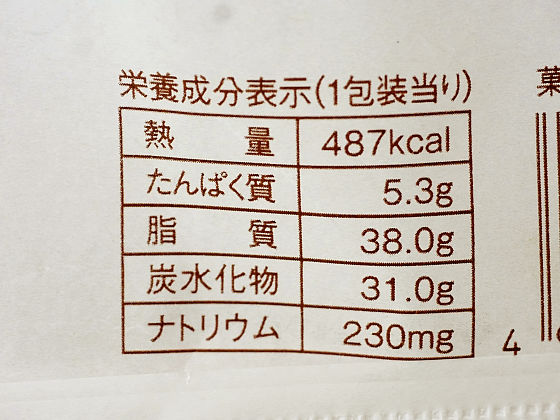 When taking it out of the bag, a croissant donut with chocolate appeared.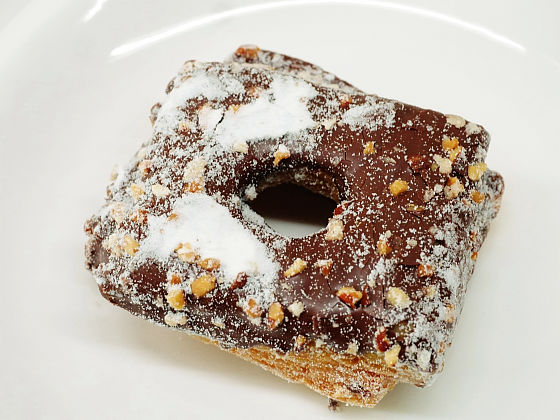 The size is about to be put in my hand, slightly smaller impression than the misted croissant donuts.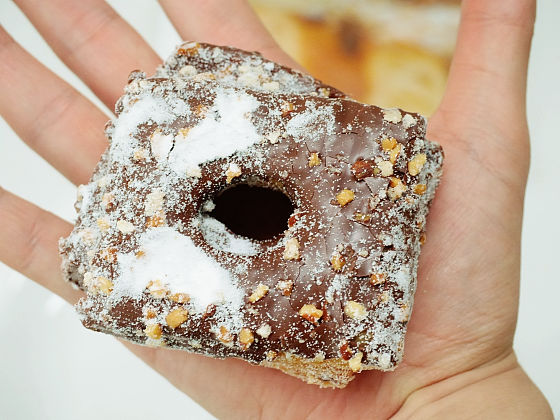 In croissant donuts powder sugar · almonds are topped on chocolate.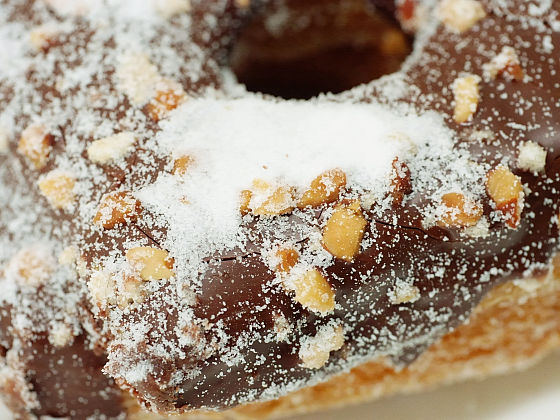 Looking at the part not covered with chocolate, it looks like pie cloth.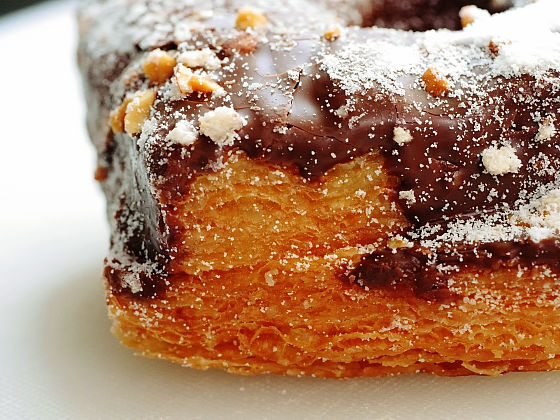 When you cut it, the fabric is folded in many layers, you can see the custard cream inside.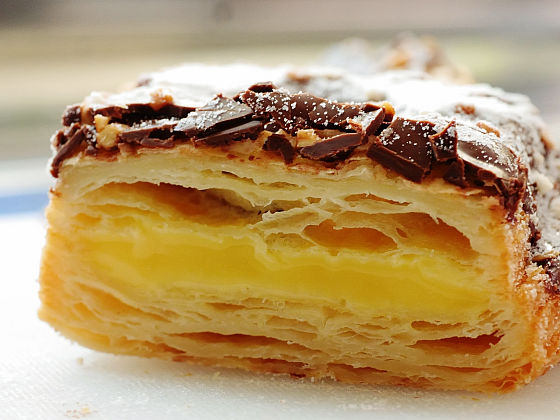 When eating, the crispy feeling is as it is, the fabric itself is like a pie rather than a croissant. The combination of chocolate, almonds, and pie dough does not necessarily match, but it fell far back when we finished eating one. Sweetness is not very strong, but the weight feeling after meals is considerable.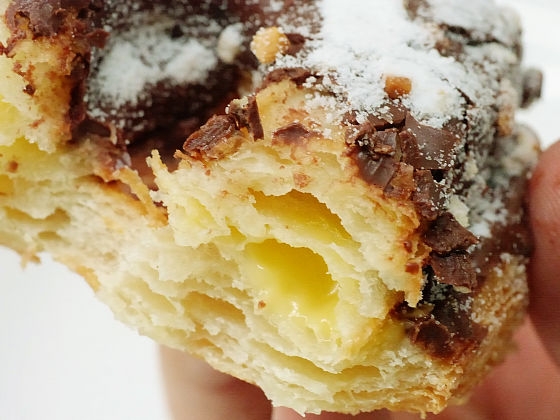 I would like to eat it with coffee as it coincides with eating together with coffee.



The compatibility of chocolate flavored croissant donuts and coffee is good. Coffee seems to be better than those with strong acidity, those with strong bitterness.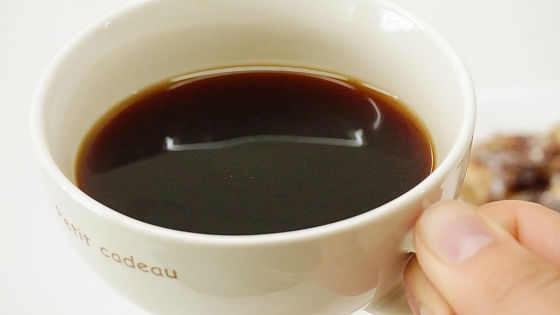 The other croissant donut strawberry is marked with a package printed with a pink croissant donut. The package is also made of paper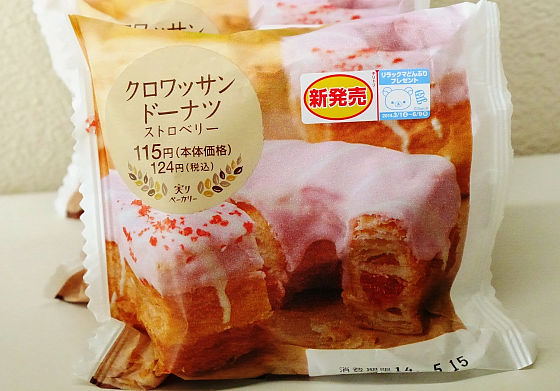 Raw materials can be confirmed mix flour, strawberry jam, shortening, margarine, strawberry chocolate coaching, baker's yeast, etc. Also the manufacturer is Yamazaki made bread.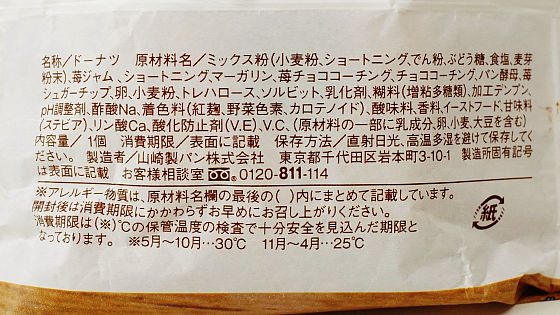 Calories are 445 kcal, modestly lower than the chocolate taste.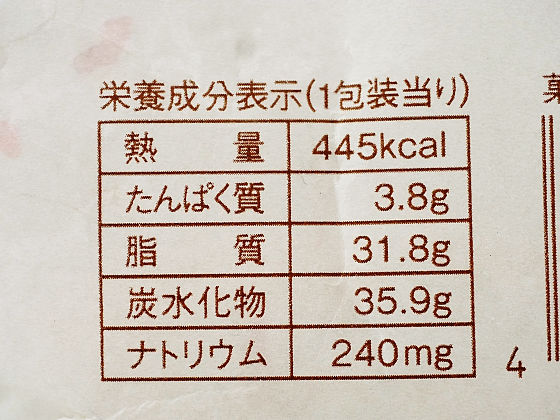 When opening it, the strawberry chocolate and white chocolate draw a border pattern and you can see that freeze-dried strawberries are on a part of the croissant donut.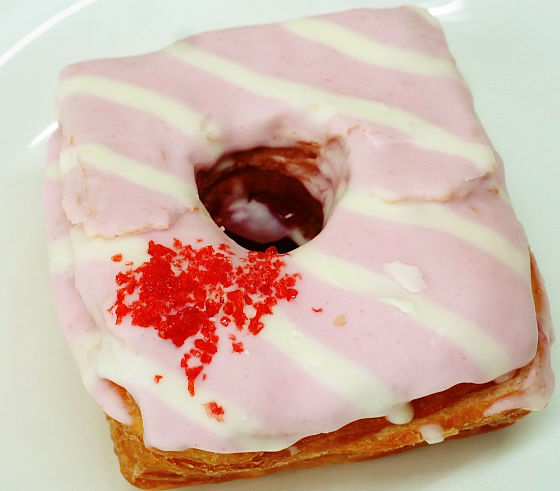 Strawberries in freeze-dried feel unnaturally red.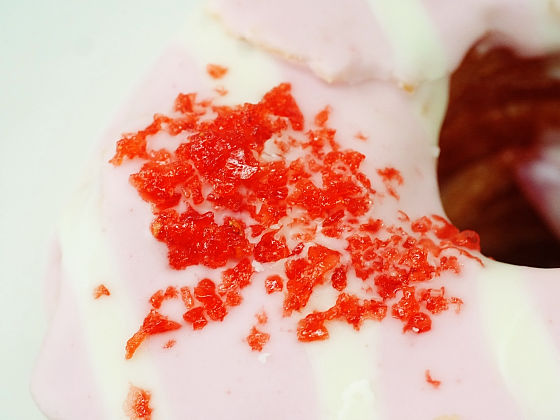 From the side, you can check strawberry sauce using strawberry jam.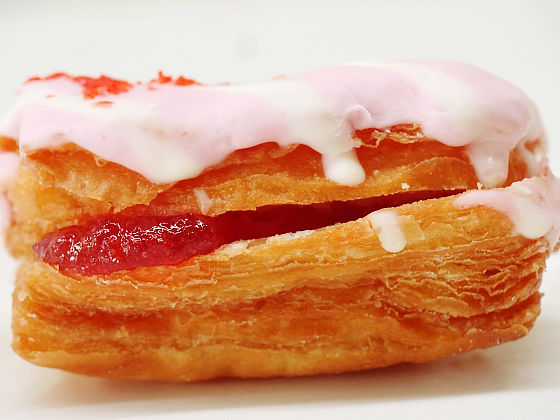 It is the same as the chocolate taste that many layers of fabric are stacked.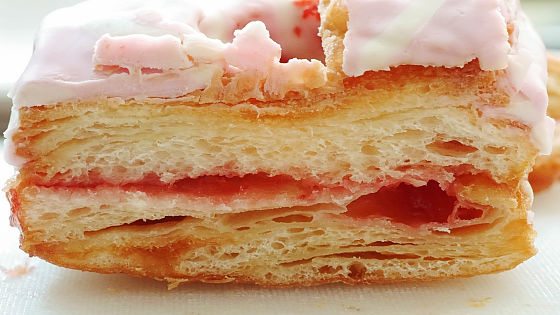 Trying it off, the sourness is somewhat artificial, but the cream is not contained, it is lighter than the chocolate flavored donut. However, because the dough has much oil and it has a heavier weight than ordinary donuts, it seems tough to compare and eat two at a time by one person. Ichigo's taste was so tight, it was an impression that does not fit coffee.



Croissant donut Chocolate and strawberry prices are 124 yen including tax. It is recommended for those who want to enjoy croissant donuts easily.