"Weathermate" which can check the weather forecast for 10 days in 1 hour increments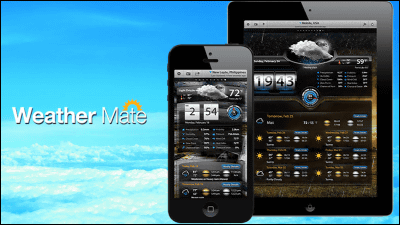 It is common to worry about the weather from several days to a week ahead, such as when you are out and a little traveling. In recent years it has become possible to obtain detailed information even with the weather application installed on smartphones, but weather forecasts including detailed information such as humidity, ultraviolet ray information, atmospheric pressure and the like are checked up to 10 days ahead of time An application you can do is "Weathermate"is.

Weather Mate | The most accurate and beautiful weather app on the app store
http://www.weathermate.net/

In addition to weather information of the day (left), the application can check the weather forecast (hour) hourly in detail in addition to the weather information of the day.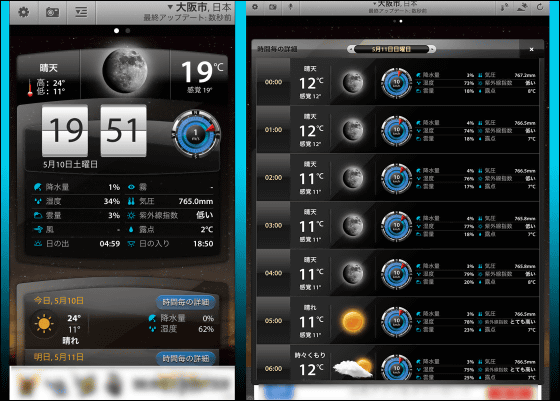 "Weathermate" is an application for iOS, iPhone version and iPad version has been released. To install it, tap the following link.

Weathermate for iPhone, iPod touch, iPad currently on the iTunes App Store - Live weather report, 10 day forecast, and bad weather warning
https://itunes.apple.com/jp/app/u-ezameto-raibu-qi-xiangrepoto/id711410889

Just go to "Free" → "Install" → "Open" and installation will be completed.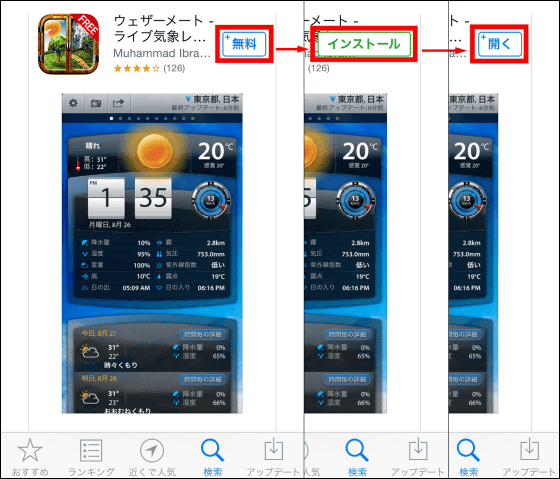 The application launched. When you first start up, "Get current position" is confirmed, so we will display the weather at the current position when you approve.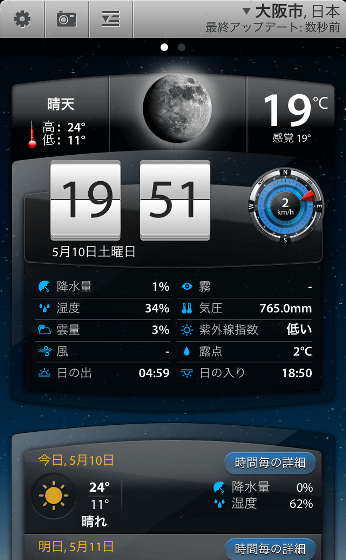 Detailed data such as current weather, temperature, temperature / body temperature, wind speed, etc., rain probability, humidity, cloud amount, mist state, pressure, ultraviolet index etc are displayed.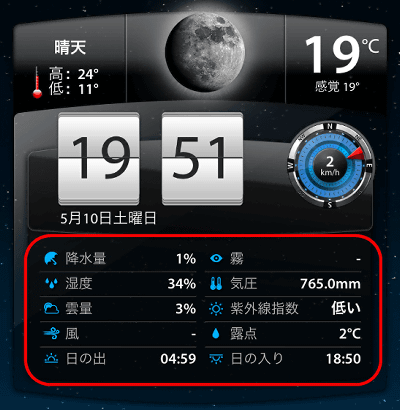 Scroll down to see weather forecasts up to 10 days ahead.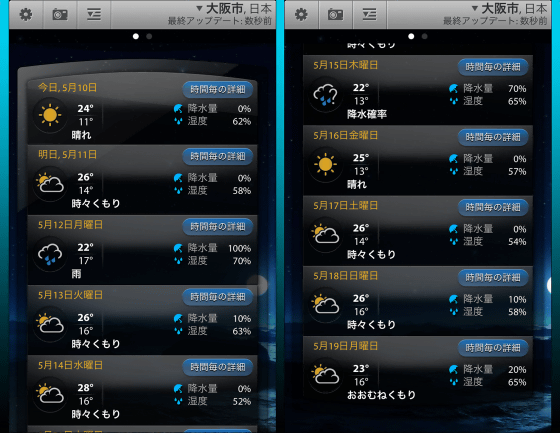 When you tap "Display by hour", a detailed forecast of 1 hour unit was displayed. You can check the weather in one hour unit on the net, but weathermate is the point that displays humidity and ultraviolet ray index etc as well.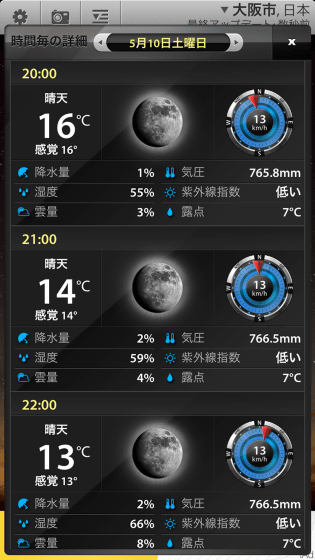 Tap the gear icon at the top left of the screen ......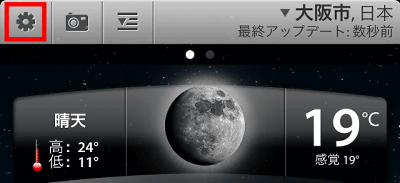 The "Region" tab displaying the currently set region is displayed. In the initial setting, the area of ​​the current position is displayed.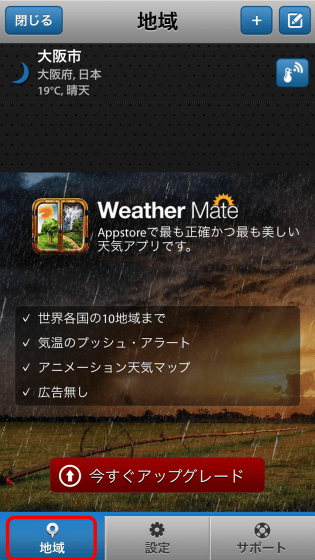 If you want to increase the area you want to display, tap the "+" mark at the top right of the screen.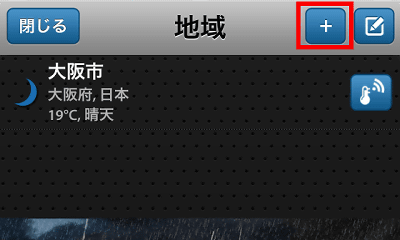 When you enter a place name, a candidate list is displayed, so tap the place name you want.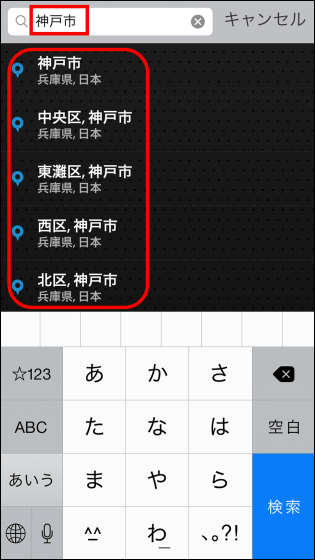 The selected area was added.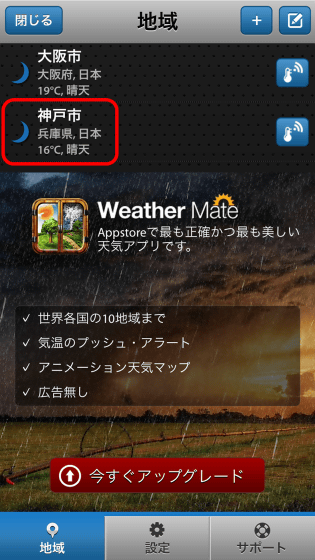 Up to 2 areas can be registered with free weathermate, and if you want to add more, you will need to charge from within the application and upgrade.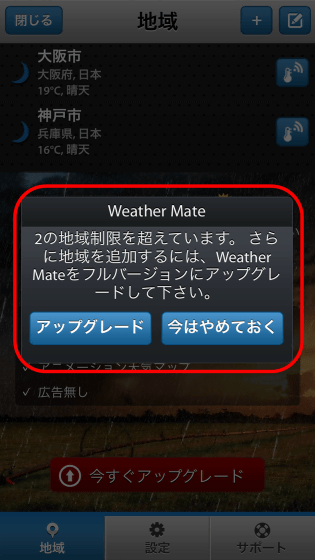 In addition, it is also possible to select overseas regions.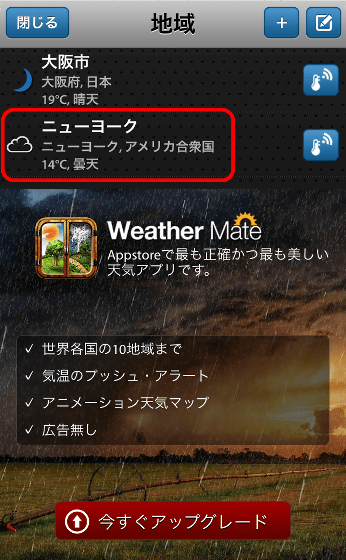 On the screen of New York, "Special Statement" is displayed, it seems that there are some weather information. When you tap it, thick fog information was displayed. Weathermate also has the function of such alarm display.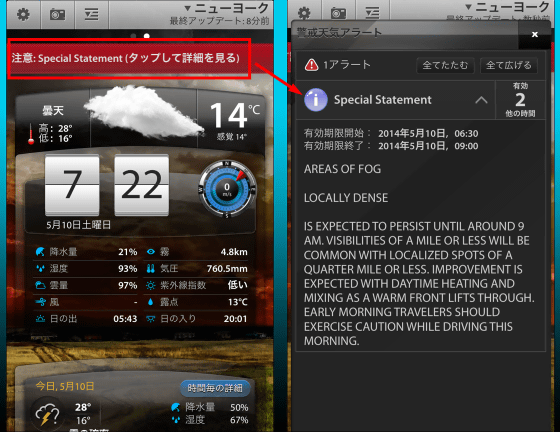 On the "Settings" tab, it is possible to make various settings of the application.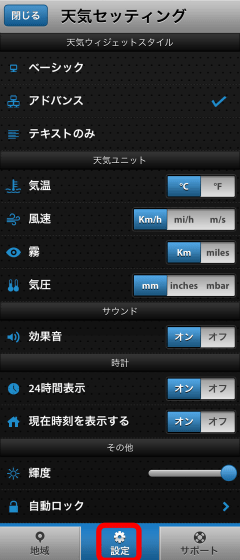 "Weather Widget Style" allows you to change the style of the screen display. In normal, it is set to "advanced", but when you select "Basic" it has been changed to a simplified display without detailed information.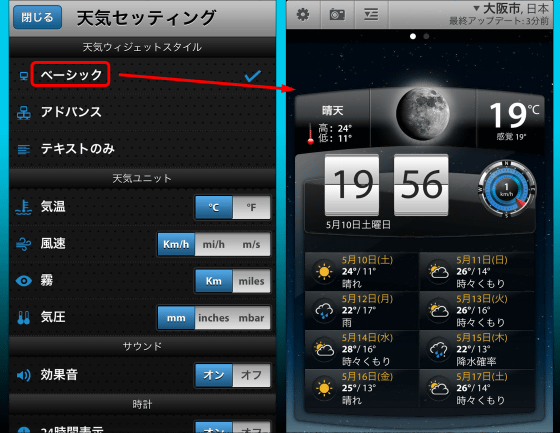 When "text only" was selected, it was changed to the simplest layout. We could also check detailed weather information by tapping the bar on the right of the screen.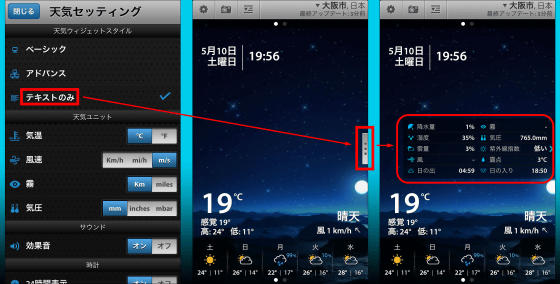 In "Weather Unit", you can change units such as Mr. Se-ka and wind speed. If "wind speed" is changed from "Km / h" to "m / s" ...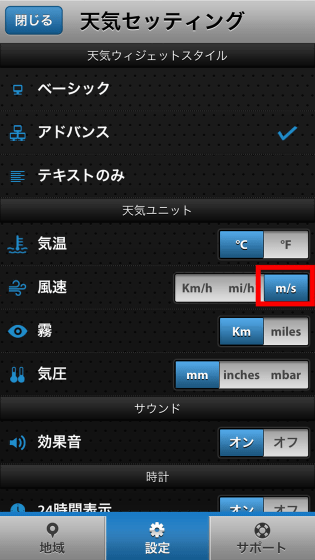 We switched to the display of 'sec speed ○ meter' which we hear frequently in weather forecast etc.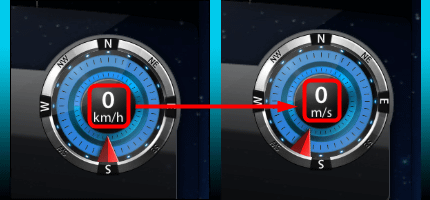 However, regarding atmospheric pressure, we can not choose "Hecto Pascal" which is currently used frequently,Toru(Millimeter of mercury),Inches of mercury, Andbar(Millibar) to choose from three.



With "Sound", you can set the presence or absence of click sound when setting items are turned on / off. "Clock" allows you to switch between 24-hour display and AM / PM display, as well as to change the time display when local time zones are set by local time and current location time.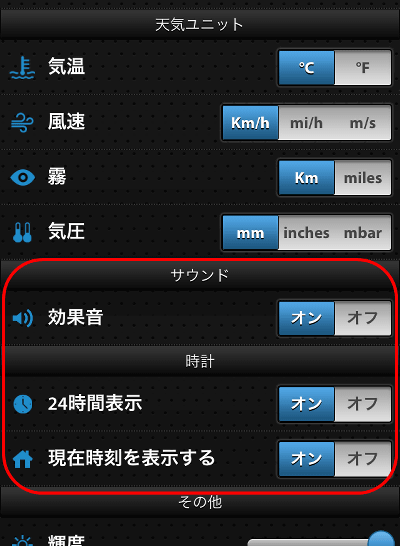 For example, if you set it to a city in the United States, the local time is displayed when it is set to "on", and the different time is displayed like "Japan time" when it is set to "off".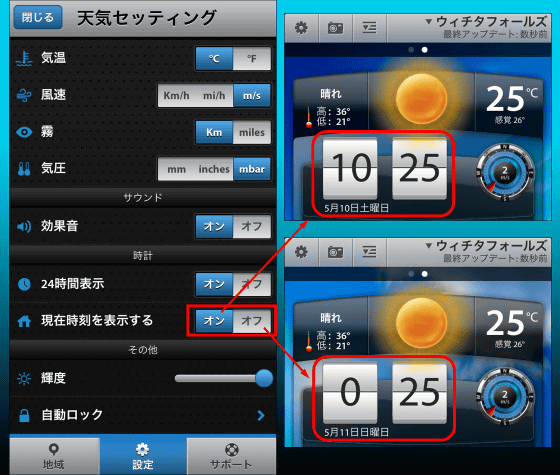 If you move the slide of "brightness", you can set the brightness of the display at startup of the application separately from the main unit setting.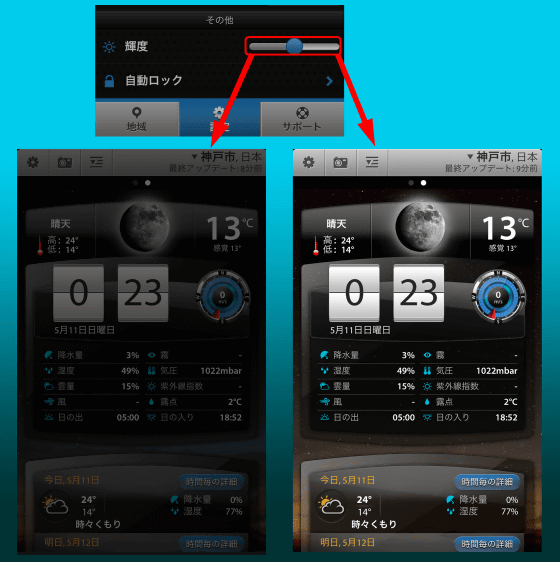 In "Auto Lock", you can set the time until screen locking when battery is operated and when power is connected.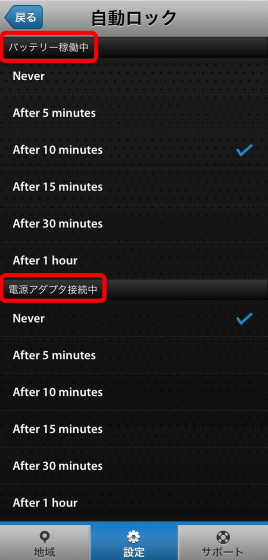 Please note that weathermate has also been released for iPad version.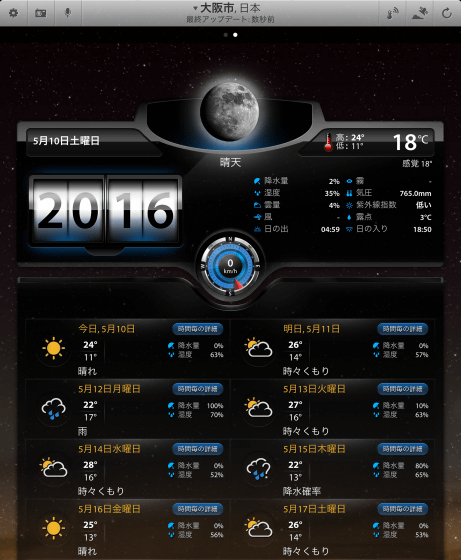 Even if "hourly detail" is displayed, it was a screen that was more easily checked.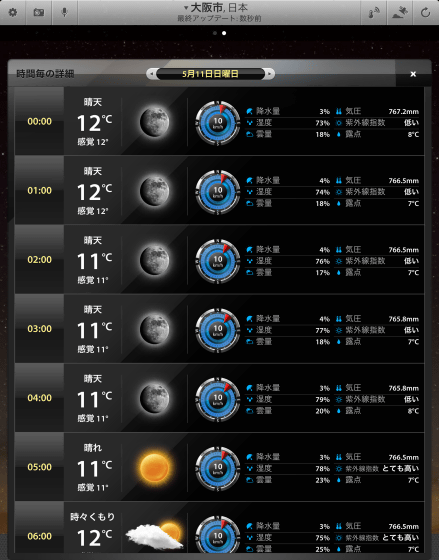 The weather forecast of recent years has improved remarkably and it is easy to obtain even a genuine smartphone application if it is forecast for one week, but there are surprisingly few things that will provide humidity and ultraviolet information thing. It was an application that seems to be convenient to use when you want to know the climate of the destination in detail, such as during the season of holidaymakers or a few days of traveling.