SanDisk Announces microSDXC Card with the World's Largest Capacity of 128 GB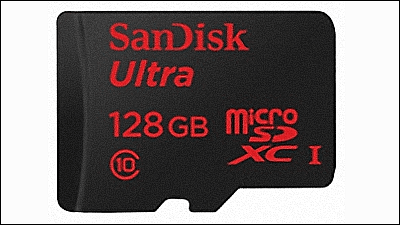 On February 24, 2014, SanDisk released the microSDXC card "Ultra microSDXC UHS-I"The world's largest capacity 128GB model was announced. It can be inserted in a smartphone or tablet, and it is possible to save 16 hours full HD movie, 7,500 songs, 3,200 photos, 125 applications and more with one card.

SANDISK INTRODUCES WORLD'S HIGHEST CAPACITY microSDXC MEMORY CARD AT 128GB
http://www.sandisk.com/about-sandisk/press-room/press-releases/2014/sandisk-introduces-worlds-highest-capacity-microsdxc-memory-card-at-128gb/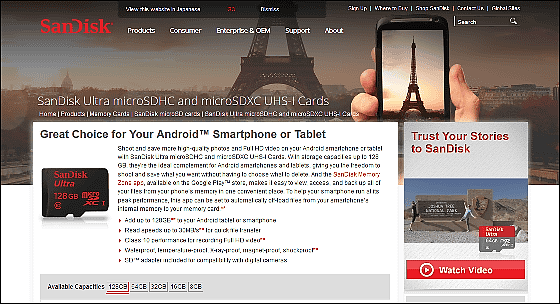 SanDisk announces the world's largest microSDXC card "Ultra microSDXC UHS-I 128GB". Since the first 128MB microSD card was released in 2004, the capacity reached 1000 times in less than 10 years.

Designed for Android-powered smartphones and tablets, it achieves a transfer rate up to 30 MB / sec which is twice as large as that of a normal microSD card. SD Speed ​​Class supports CLASS 10 and supports full HD movie recording. It is possible to store all the data on the portable device in one, and on Android application "SanDisk Memory ZoneBy using the new version of "Data Access, Backup, Save, etc. can be done more easily.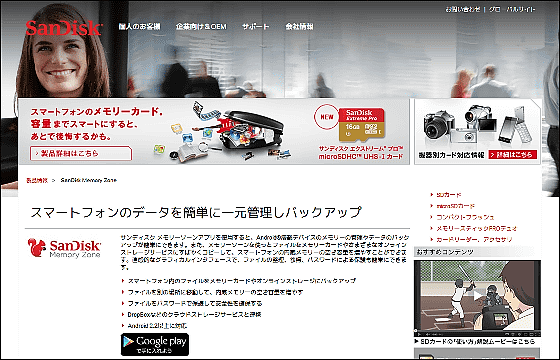 Strategy Analytics"SanDisk Ultra microSDXC, which has a capacity of 128 GB," had the capacity to store data on a large number of devices and clouds, so far, the device memory could not have enough capacity, "said Stuart Robinson, As a quickly accessible data archive, we will change the relationship between consumers and devices. "

Furthermore, "Ultra microSDXC UHS-I 128GB" will be sold at 199 dollar 99 cents (about 20,500 yen).