"SanDisk Extreme Pro SDHC UHS-I Card" which is even faster than before is officially announced, transfer rate achieves a maximum of 45 MB per second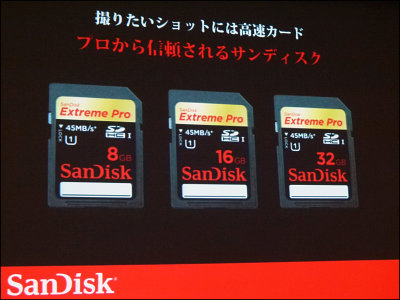 "SPEED CLASS 10" which realizes a transfer speed of about 25 MB per second is the fastest in the conventional SDHC memory card, but the super high speed SDHC memory card supporting the high-speed transfer interface "UHS-I"SanDisk Extreme Pro SDHC UHS-I CardSanDisk announced.

It realizes transfer of up to 45 MB per second, how to shoot high-speed continuous shooting, full high-vision movies, etc., and it is the best card for users who want to transfer to a computer at high speed.

Details are as below.
SanDisk has achieved domestic market share consecutive No. 1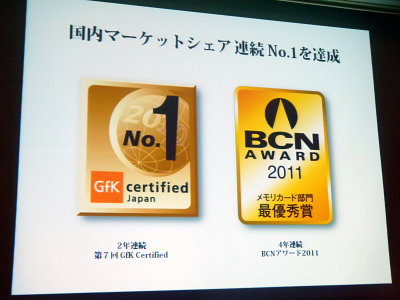 The 128GB model of "SanDisk Extreme Pro Compact Flash Card" which supports the UDMA 7 interface will be released in March. It is said to be an open price, but the market retail price will be around 150,000 yen.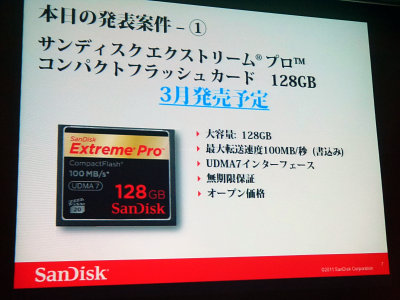 And today we will ship "SanDisk Extreme Pro SDHC UHS-I Card" from today. It conforms to "UHS-I Speed ​​Class 1" and achieves reading and writing speeds of up to 45 MB per second.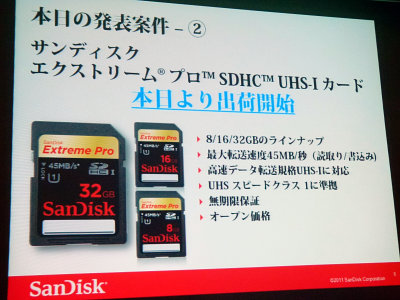 Explanation about "UHS". A new high-speed bus interface conforming to the SD 3.0 standard, the maximum speed on the standard is 104 MB per second.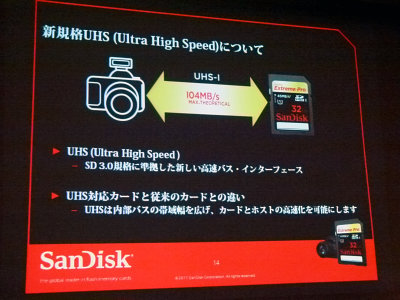 Explanation of the merits that "SanDisk Extreme Pro SDHC UHS-I Card" brings.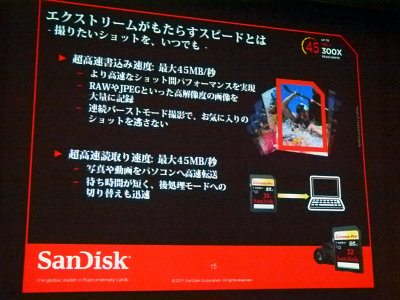 UHS Speed ​​Class is a new speed standard corresponding to full Hi-Vision recording.



The simultaneous access to the 4-layer memory die is possible, and the processing speed is doubled compared with the conventional technology by installing "4 layer stacking processing technology" which can process a large amount of data.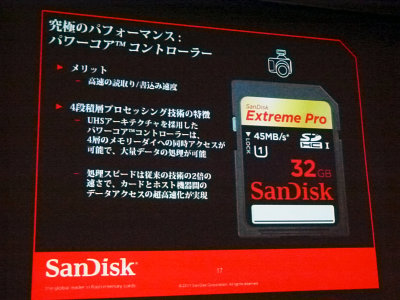 By adopting a technique to optimize the writing to the memory area etc., memory life has also been extended.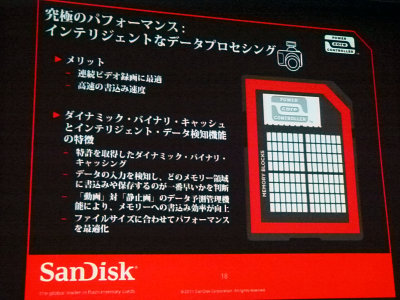 Equipped with functions that can safely protect stored data even if unexpected events such as power failure occur. In addition to high durability, high reliability is realized.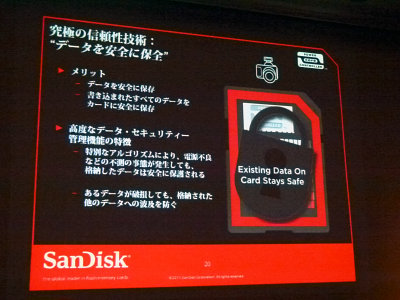 Even at the speed of shooting using Nikon's "D 7000" compliant with UHS, it enables much higher speed than conventional SD memory cards.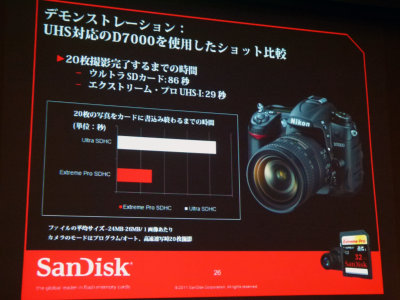 A photo review was delivered immediately.

"SanDisk Extreme Pro SDHC UHS-I Card" realizing high-speed transfer of up to 45 MB per second Quick Photos Photo Review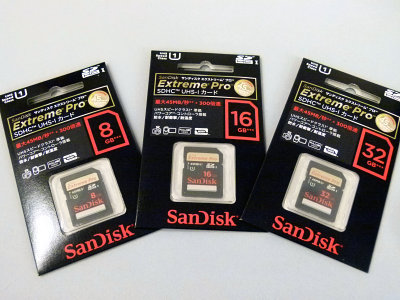 In addition, explanation about price strategy etc. was also done.

SanDisk talks about SDHC memory card pricing strategy and "recommended capacity"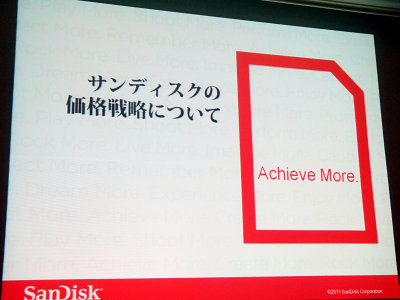 SanDisk | SanDisk Extreme Pro Series