Why is it advantageous for mobile application advertisements? Comparison experiment between Facebook and AdMob looks something like this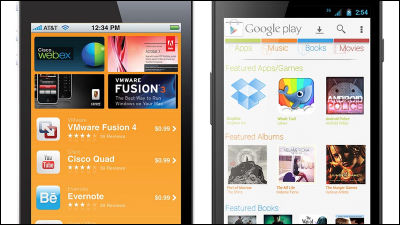 ByIntel Free Press

Promotion (advertising activity) is very important in order for many people to see the developed mobile terminal application. As a means of advertising an applicationFacebook advertisementAnd when you use GoogleAdMobThe result of developers who roughly experiments and compares about which one is useful for monetizing the application with the case of using the service is reported.

Advertising an Android game: Facebook vs. AdMob - War Worlds
http://www.war-worlds.com/blog/2014/01/advertising-an-android-game-facebook-vs-admob

Dean · Harding, an application developer, said that "War WorldsIn order to investigate what advertising platform is effective when promoting an application using the game application named "In-app advertisement platform provided by Facebook" and "AdMob provided by Google", how much revenue It was experimented whether it could be raised.

◆Comparative experiment
First, Mr. Harding asked for advertisement by paying an advertisement fee of $ 20 (about 2000 yen) in 3 weeks to Facebook on the War Worlds application. I use a banner like the picture below as an advertisement. The headline was targeted to American and Australian game lovers primarily in English notation "A new 4X MMO for Android. Explore, Exploit, Expand, Exterminate!"




Meanwhile, AdMob creates a banner like the one below using AdMob's SDK and advertises it. We set the cost to 1 dollar a day (about 100 yen) and set it to be about the same amount as Facebook advertisement.




Since AdMob's terms and conditions require it to register on the Google Play Store, we follow this, and for Facebook we also have a banner on the left side of our War Worlds homepage. Because there is a difference in such promotion contents, Mr. Harding says that this comparative experiment is not so scientific nor elaborate, so I would like you to think in reference level.

◆result
The result is decisive,AdMob's victoryIt was over.

By banner advertisement to Facebook, I got 61 clicks in all three weeks. According to a more detailed report, since the number of impressions (exposure times) is 94,173, it is clicked at a rate of about 0.065%, which is a calculation that cost $ 0.24 (about 24 yen) per click. The number of people actually downloaded the game application from 61 clicks was zero. About this result, Mr. Harding thinks that Facebook's advertisement is exposed to a wide range of people, and the target is not narrowed down to those who are likely to be interested in this application, If you want to throw it away, you'll be spending two times three times more advertising costs. "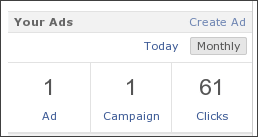 Meanwhile, the result at AdMob was remarkable. The figure below shows the number of impressions from before the experiment to the end of the experiment. The number of clicks in 9 days was 236, the cost per click was cheap as $ 0.04 (about 4 yen), and the download rate was 0.32%, which is surprisingly high.




The graph below shows the number of active users in the War Worlds application in the last 7 days (the absolute value is on the left), the number of active users in the most recent day (the absolute value is the number on the left), yellow on that day The absolute value is the number on the right. The yellow graph is jumping on January 11, 2014, but this is the day when we started advertising with AdMob. It seems that AdMob advertisement has caused the number of users to increase sharply. About this result, Mr. Harding says "I am very satisfied and I am going to continue to advertise for three weeks though it is still on the 9th day."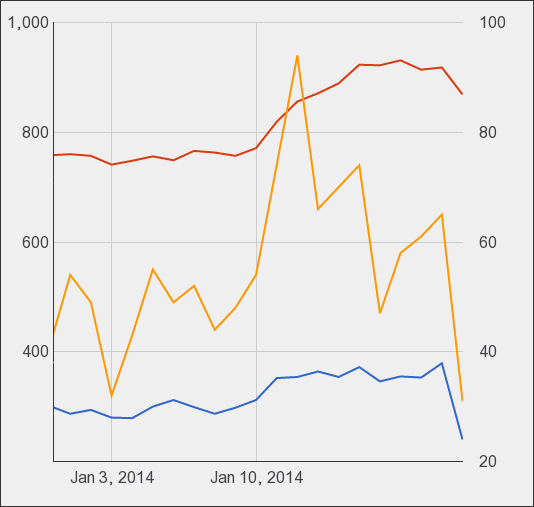 ◆Conclusion
Mr. Harding says that "Advertising to Facebook is useless, but AdMob seems to be useful, after attaching the premise of" in my case "to the end. Of course, if you continue to advertise on Facebook, it may take longer to spend more time, but it is not possible to spend so much time and money in a situation where you are in a hurry to give results, so "Choose AdMob yourself" I am concluding.

Mr. Harding recently learned that there is a mobile-specific advertisement on Facebook and thought this might be effective for those who would like to have the mobile application downloaded more widely like me, It is said that advertisements are being made at the cost of. As we are promising to report on this result soon, the results are a necessity for the results.