Google acquired 50 billion yen of DeepMind, a mysterious artificial intelligence development startup company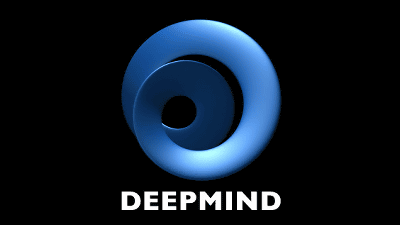 GoogleArtificial intelligence (AI)Venture company that develops "Deep Mind TechnologiesIt was revealed that it acquired over 500 million dollars (about 51 billion yen) or more. I am concerned about the goal of Google acquiring AI technology, but in the first place what kind of company DeepMind originally is not clearly clarified.

Deep Mind Technologies
http://deepmind.com/

Exclusive: Google to Buy Artificial Intelligence Startup DeepMind for $ 400 M | Re / code
http://recode.net/2014/01/26/exclusive-google-to-buy-artificial-intelligence-startup-deepmind-for-400m/

Google Beat Facebook for DeepMind, Creates Ethics Board - The Information
https://www.theinformation.com/Google-beat-Facebook-For-DeepMind-Creates-Ethics-Board

Google Acquires Artificial Intelligence Startup Deep Mind For More Than $ 500 M | TechCrunch
http://techcrunch.com/2014/01/26/google-deepmind/

GoogleRe / codeIn response to the interview, I acknowledged that I acquired the UK startup company DeepMind. About the purchase value The spokesperson avoided the statement, but about the Deep MindFacebook that established a laboratory of artificial intelligenceAccording to information sources, Google's victory over Google that presented $ 450 million (about 46 billion yen) Google's offering was $ 500 million (about 51 billion yen ). It is thought that it was more than.

However, the real image is not well known, what kind of company DeepMind that Google bought until hurting a lot of money is a company.DeepMind's official websiteIt is a state-of-the-art artificial intelligence development company that develops powerful general-purpose learning algorithms by incorporating machine learning and system neuroscience, and the site is located in London, England Although there is a statement that "the scale of business etc. is not made clear. Also, from the profile of LinkedIn, it is only a startup company founded three years.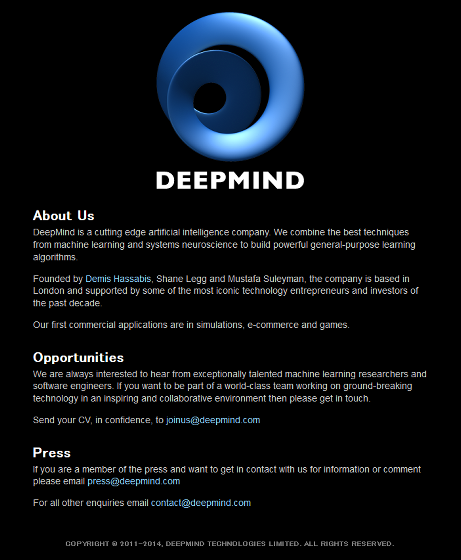 However, this venture company is famous as a chess priest who was described as "the most excellent chess player in history" and acquired a doctorate in cognitive neuroscienceDemis HasbisHe is a developer of Skype · KazaaJean TallinnEstablished by Mr. et al. It is known as an excellent company in the artificial intelligence community, according to sources, at least as of December 2013 seems to have had 75 employees.

Although DeepMind is not clearly understood only by fragmental information being conveyed, according to Re / code acquisition negotiation is Google'sLarry PageHe said that he was led by the CEO himself. The passion for Google's acquisition of DeepMind is transmitted. So, how do you intend to use AI development technology Deep Mind has?

Google is a well-known inventor since 2012Ray KurzweilWe invite him to try to incorporate machine learning and language process into search engines. Mr. Kurzweil stated that he wants to build a search engine that will help like a friend, and DeepMind's AI technology may be used for Mr. Kurzweil's search engine development.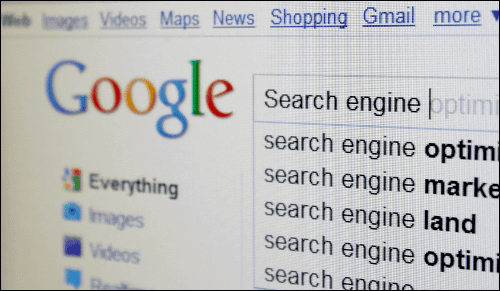 ByMoneyBlogNewz

Also, the acquisition competition with Facebook may be a hint. It is also thought that Facebook will utilize AI to analyze user's behavior data and develop the next necessary new service, and Google will use Google to make the computer think about such a new demand service There is also possibility to utilize DeepMind's AI technology.

In addition, in 2013Acquired Boston · Dynamics to develop walking robot, It is enough to make DeepMind's AI technology apply to robot development. Also, Google is under developmentAutomatic driving carIt seems that we can expect technology to be applied to.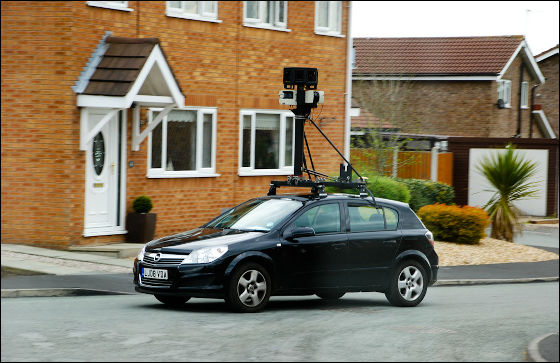 ByJames Green

At this stage, although the purpose and future prospect of Google acquired DeepMind has not been clarified, according to sources, Google has already deeply discussed about how to utilize DeepMind's artificial intelligence development technology, DeepMind · We have already decided to set up the Google Ethics Committee and will resolve concern over abuse of artificial intelligence technology through information disclosure by this committee. It is expected that we will report results from Google due to DeepMind acquisition.

· Continued
What kind of person is Deep Mind's genius Demis Hasabis who leads Google's artificial intelligence development? - GIGAZINE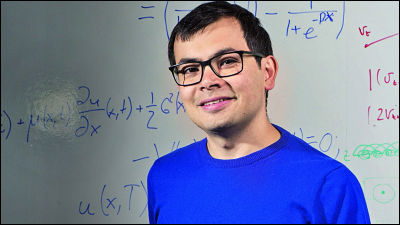 in Note, Posted by darkhorse_log