High-quality, high-quality 7-inch tablet "Kindle Fire HDX 7" review that you can get on the 20,000-yen scale


Dual-band dual antenna with 2.2 GHz quad-core processorMIMO) Wi-Fi compatible, high definition display boasting resolution of 1920 × 1200 and pixel density of 323 ppi,Dolby Digital PlusCompact 7 inch tablet with compatible stereo speakers "Kindle Fire HDX 7"is.

Kindle Fire HDX 7 tablet - lightweight compact ultra high speed tablet
http://www.amazon.co.jp/dp/B00DOQ6L9G

◆ Photo review
The outer box of Kindle Fire HDX 7 looks like this.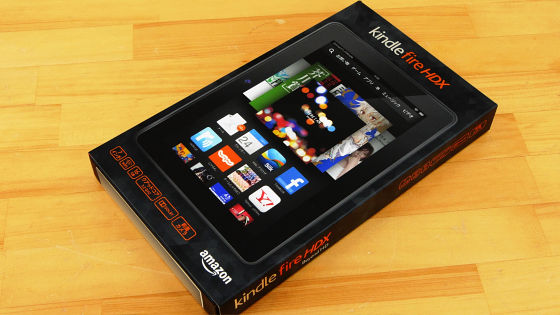 I can open with Pakari.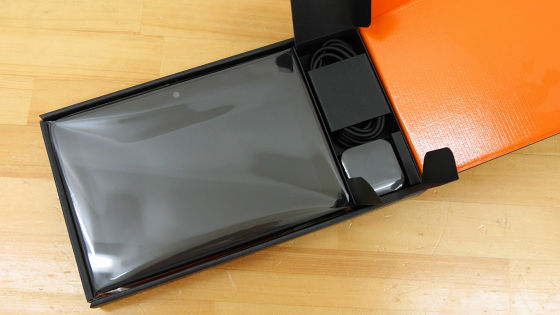 The contents of the box contains a start guide, warranty card, USB cable, 5 W charger, and Kindle Fire HDX 7 tablet.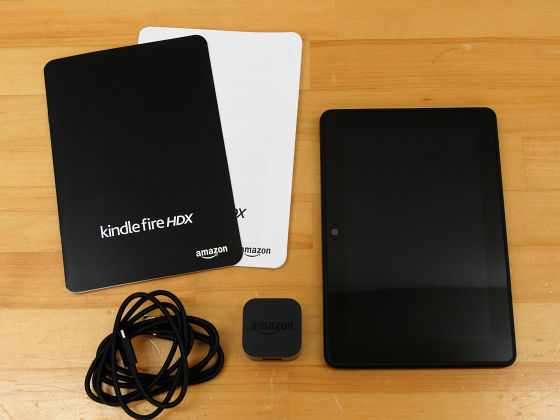 This is Kindle Fire HDX 7.2.2 GHz quad coreSnapdragon 800CPU mounted, memory 2GB. The main body capacity can be selected from 16 GB (usable area of ​​about 10.9 GB) · 32 GB (available area of ​​about 25.1 GB) · 64 GB (available area of ​​about 53.7 GB), the 16 GB model purchased for this review.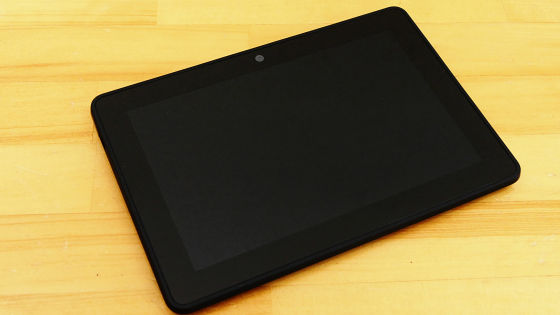 Kindle Fire HD 7Front camera not attached to.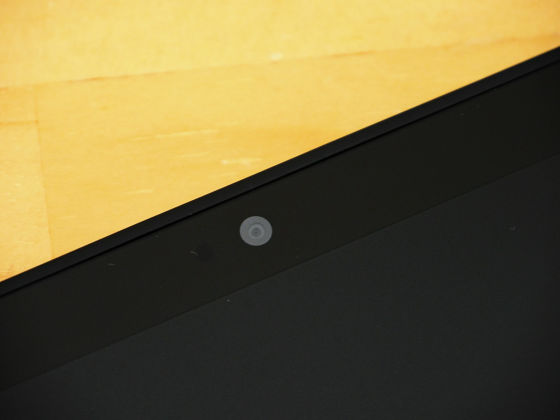 This is a photo taken with this camera (unresolved image of resize only). It is not suitable for shooting landscapes because it is an in-camera, but video calling such as Skype becomes possible.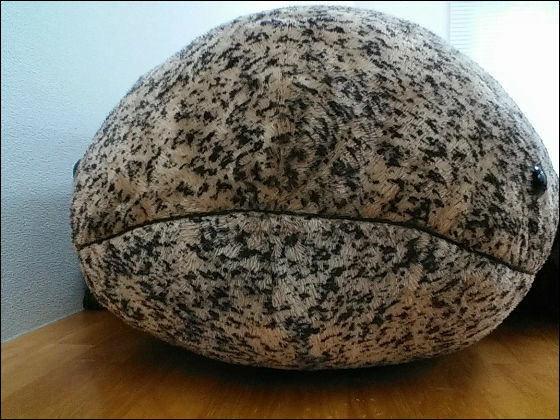 back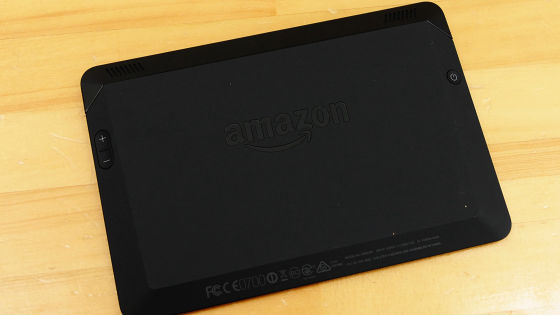 Stereo speaker which adopted Dolby Digital Plus on the back upper part.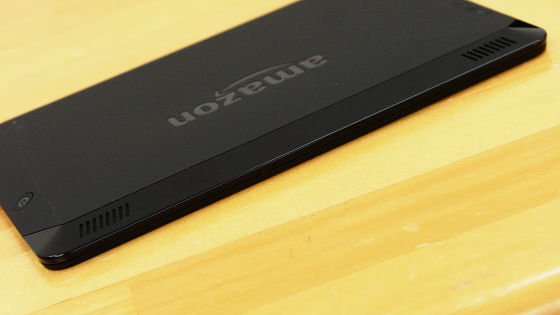 Volume control button on the left side of the back.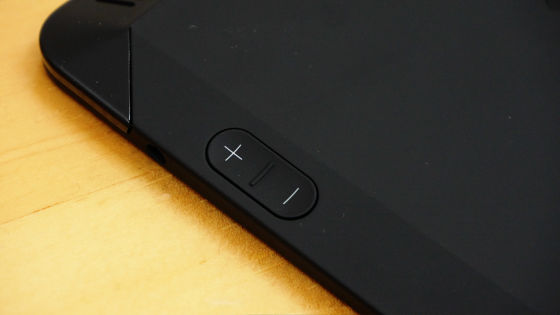 There is a power button at the right end.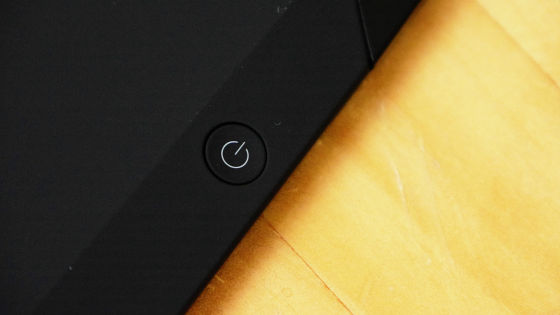 3.5mm stereo jack on the right side of the main unit.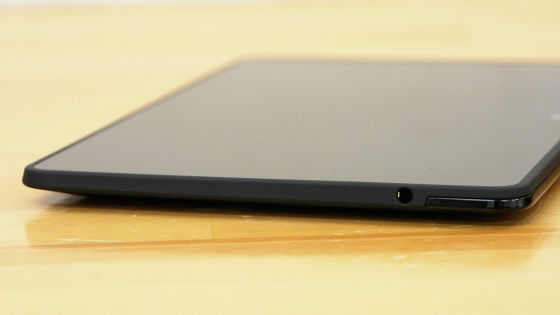 MicroUSB port on the left side. It is charged with a USB cable here, but if you use a dedicated microUSB charger it will be able to charge in about 6 hours, if you use a microUSB charging adapter other than the exclusive use time will take a little longer .



Taking this with one hand is like this, feeling as big as a grip on one hand if you are a man.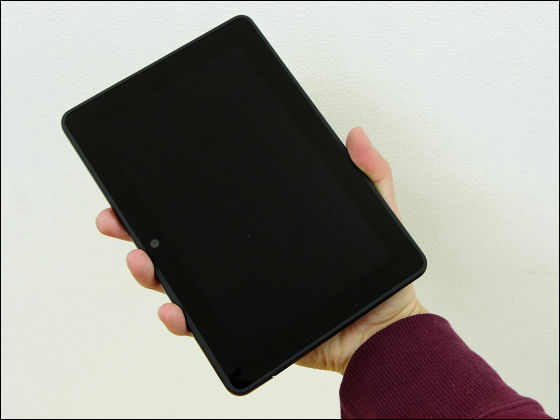 The body thinness is about this. Detailed size is 186 mm in length × 128 mm in width × 9.0 mm in thickness.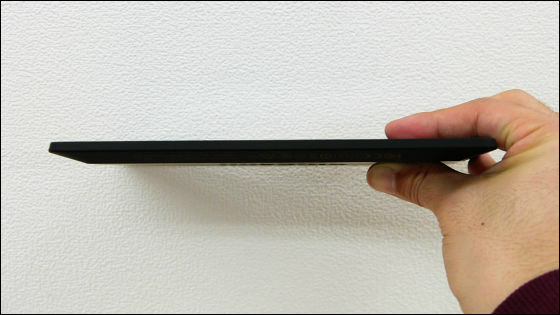 I will start it at once.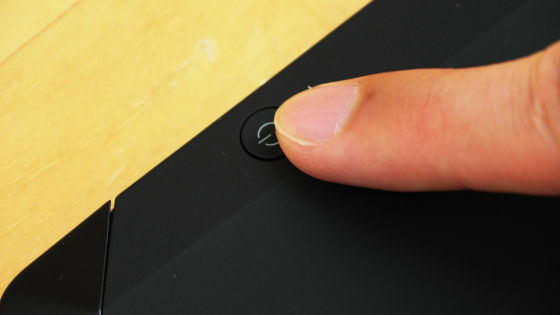 During startup…….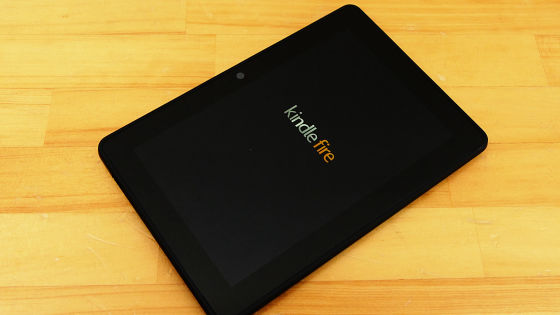 When purchasing a Kindle device from Amazon using an account, at the first login it is confirmed whether you can register the account used to purchase the device with the terminal. It saves me the trouble of entering account information, and I am amazed at Amazon's deepest response.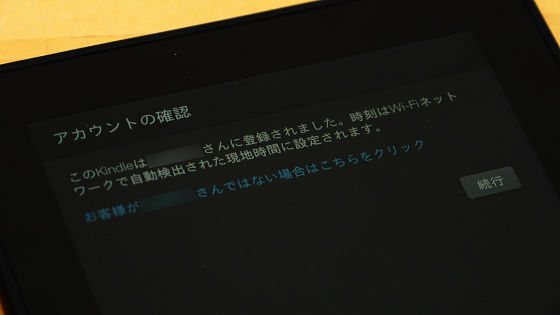 That's why this is the home screen. The Kindle Fire HDX 7 is equipped with a high definition display with resolution 1920 × 1200, 323 ppi.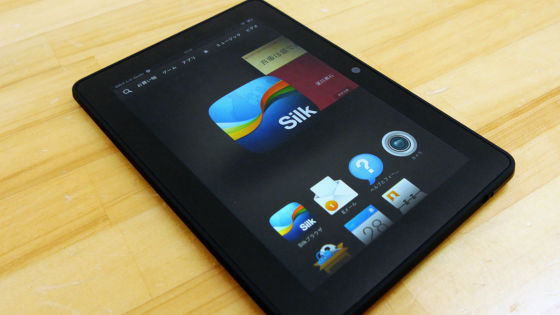 You can see what you can do with Kindle Fire HD 7 from the following articles.

Fire OS 3.0 "Mojito" review on the new Kindle Fire HD 7 Review - GIGAZINE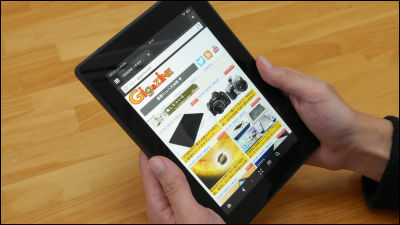 Looking at GIGAZINE with Kindle Fire HDX 7 is like this.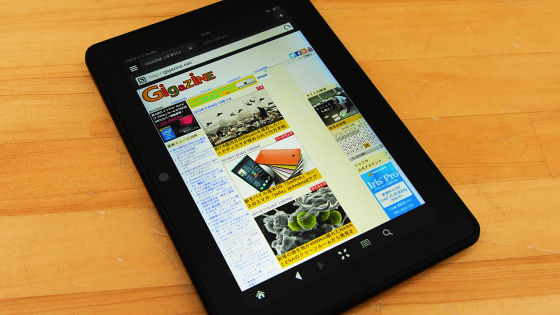 If sideways, this way.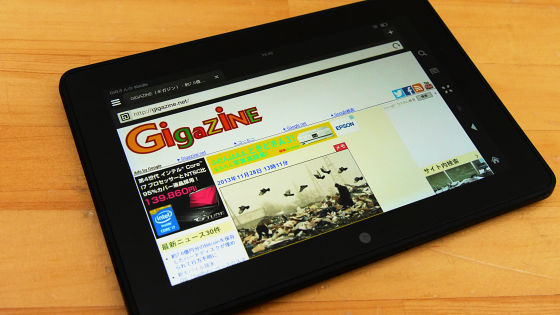 Having it with your hands like this.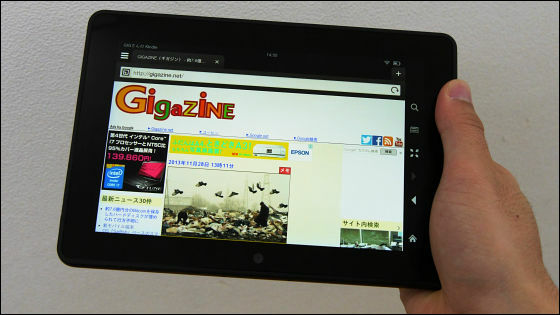 Because it is only 7 inch tablet with only 300 g, it seems to be enjoying reading with ease even with one hand. The main unit battery is available for 11 hours in normal use and 17 hours in case of book only use.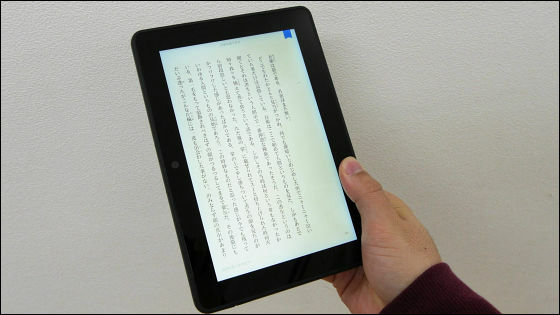 ◆ I compared it with Kindle Fire HD 7
Since 7 inch tablets released from Amazon have Kindle Fire HDX 7 and kindle Fire HD 7, I actually compared the difference between the two.

7 inch tablet "Kindle Fire HD 7" optimal for holding one hand with purchase of 15,500 yen photo review - GIGAZINE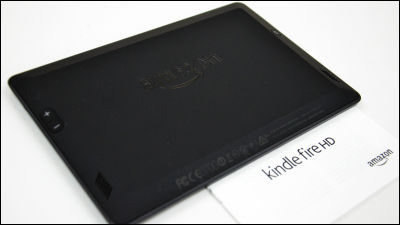 I will try Kindle Fire HD 7 and Kindle Fire HDX 7 side by side. The left is HDX 7 and the right is HD 7. The vertical length of HDX 7 is slightly shorter.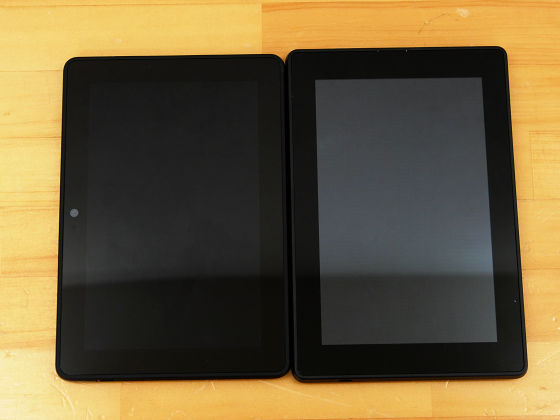 When you overlap HD 7 (top) and HDX 7 (bottom), you can see that HDX 7 is slightly thinner.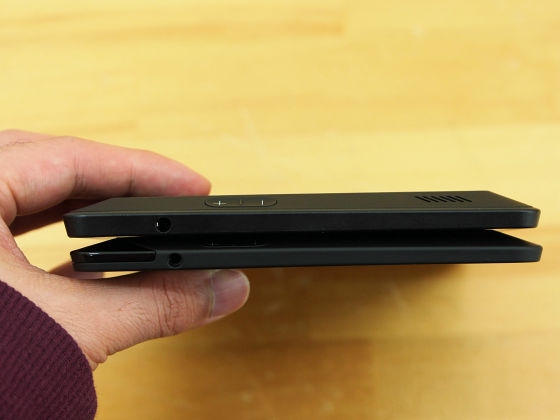 The weight of HDX 7 is 301 g.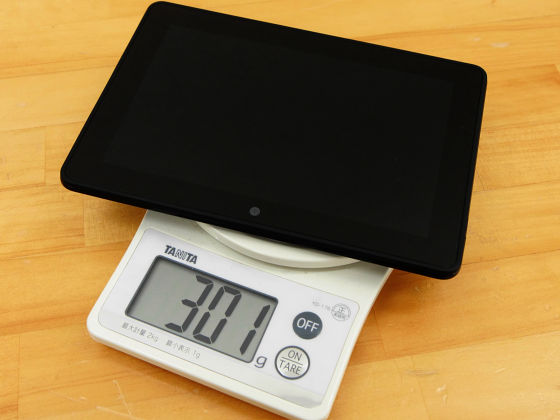 The weight of HD 7 is 337 g. It is a difference of about 30 g, but if you take it by hand, you can clearly see that HDX 7 is lighter.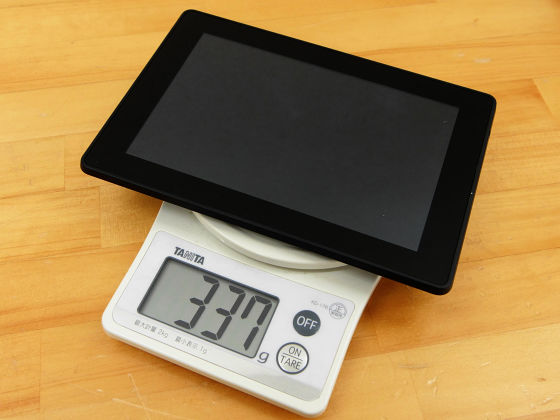 I tried to display GIGAZINE by arranging HDX 7 (left) and HD 7 (right) side by side. HD 7 was considerably whiter than the HDX 7 display.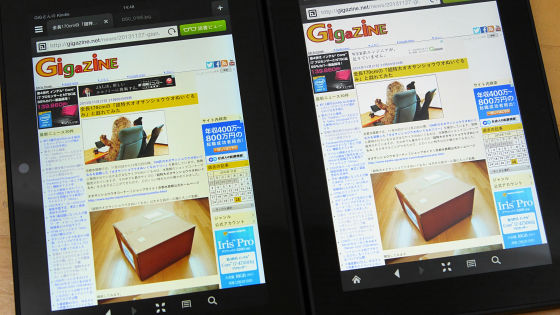 The display of HDX 7 (left) displays 1920 × 1200 and HD 7 (right) displays 1280 × 800 resolution, but it is not as much different that there is overwhelming difference.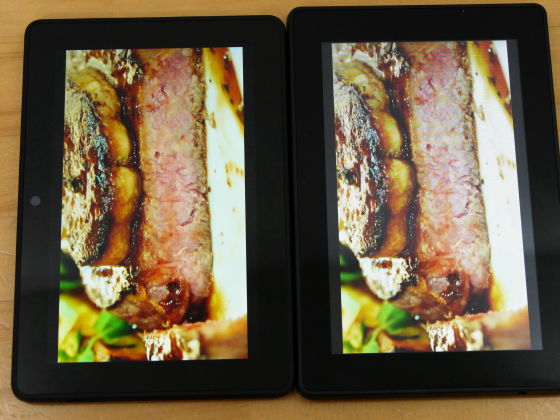 With Kindle Fire HDX 7, thanks to dual band dual antenna (MIMO) Wi-Fi not used in HD 7, we have realized a faster and more stable Wi-Fi environment, and the onboard processor is also equipped with HD 7 1.5 In contrast to the dual core of GHz, the HDX 7 is equipped with a quad core of 2.2 GHz. So, I experimented how much time difference will appear when displaying GIGAZINE at the same time.

I tried Kindle Fire HDX 7 and HD 7 at the same time - YouTube


In fact, if you touch the hand, HDX 7 is much more lightly than HD 7, and there was a clear difference in the speed of displaying the page when connected to the Internet, but the sensitivity of the display of the two terminals I did not feel a big difference in the operation. For that reason, if you want to beat the net by using Bali Bali, HDX 7, it is good to choose HD 7 if you want to use tablet for cheap tablet use anyway with reading main.