Dice with hand-made marble and lava rock around the world and unique gloss and sophistication "Eternity Dice"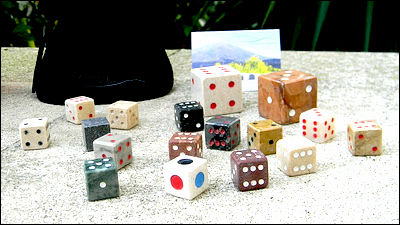 Speaking of diceChin cortexAnd mahjong etc, It is a tool with a strong image used for gambling and table games, but handmade from marble and lava rocks around the world to finish it with what it feels like luxuriousEternity Dice"is.

Eternity Dice - Prestige Edition by Escape Studios - Kickstarter
http://www.kickstarter.com/projects/escape/eternity-dice-prestige-edition


Eternity Dice, which is made completely by hand, has a glossy finish that creates a sense of presence not found in ordinary dice.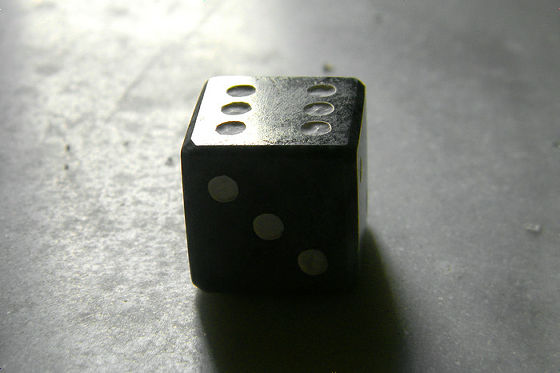 Escape Studios, the creator of Eternity DiceDice made beforeAnd it is placed on the left side dice without shiny feeling. The two dice are dice made of marble called "Verde Alpi", but the new Eternity Dice on the right has a sense of transparency on the surface and I feel like it is not the same material. The dice are made very elaborately one by one, with one side being 16 mm, especially the edge part is elaborately made.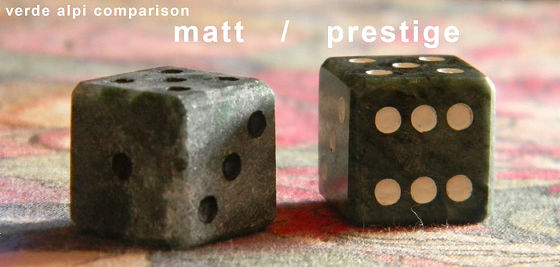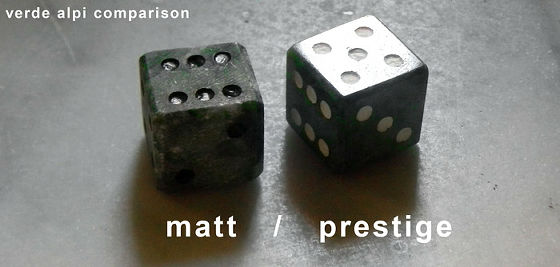 "It was difficult to provide this shiny dice at the same price as before because it takes more time to produce this glossy finish and it will cost more than before because each dice is decorated It is made by cutting and polishing the stone by hand and each dice is shaped using seven types of brushes with different roughness "is the word of Escape Studios which produces a dice.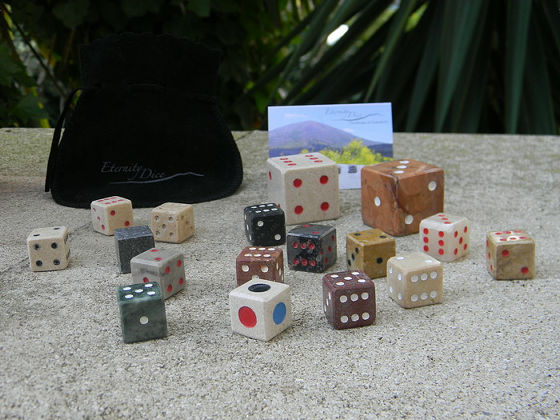 There is also an oversize dice, which is a size of 30 mm on a side.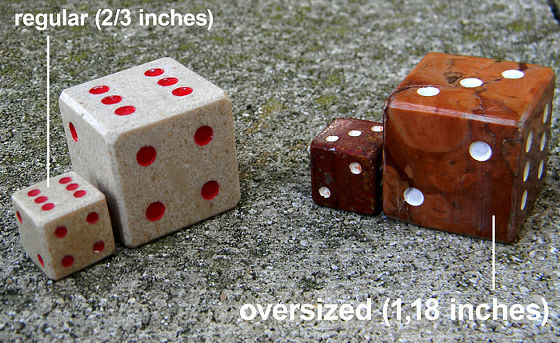 Dice is made of nine kinds of materials, each material is as follows.

◆ Giallo Reale
Giallo Reale is from Siena in Italy and has been one of Italy's most famous and beautiful "colored marble" since ancient times. It is yellow like gold and the sun, it is regarded as a symbol of luxury and power, even military power, has been used as a ceremonial ceremony and a gift for marriage. Because of these reasons, it is also called "stone gold".




◆ Grigio Repen
This is a gray marble with fossil in it. It is a very compact size stone and has long been used as a decoration part of floor materials and buildings since ancient times.




◆ Verde Alpi(Verde Alpi)
Verde Alpi is a traditional Italian marble with deep green and elegant streaklike muscles.




◆ Trani Stone(Trani stone)
Transtone is a carbonate rock and is mined at a quarry near Trani city. This stone is made of calcium carbonate, and includes the Turin Cathedral and the Cesare Bazzani monument,Casa del FascioIt is said that it is used for.




◆ Vesuvian Lava(Lava stone of Vesuvius Volcano)
Mount Vesuvius in Campania, Italy is located in Tokyo DisneySeaPrometheus VolcanoVolcano that is also a model of. Here is a gray lava stone containing less potassium and less silica.




◆ Alabaster(Alabaster)
Alabaster is one of the beautiful white mineral variants and is used as a white stuff.




◆ Portoro
Portoro or Portovenere marble is a very black marble with streaks like gold and silver colored veins. It was taken in La Spezia in Italy, it has been used as a decoration of the church and the interior of the palace and the material of the floor from its beautiful appearance. Geologically it is a limestone containing Jurassic carbonate and its name comes from the French "porte d'or" (golden gate).




Comparing the dice made in Portoro with the old version looks like this.



◆ Travertino Romano
Travertino is a limestone adhering to hot springs, etc. It has a creamy color and it is used everywhere in the ruins in Italy.




◆ Rosso Francia(Rosso Francia)
Rosso Francia is a red colored marble widely used under the rule of Louis XIV, taken in the south of France.Great Trianon PalaceThe details of it are decorated with mantelpiece made by Rosso-Francia.




This dice is nowKickstarterWe are recruiting equity at 22 dollars (about 2200 yen), one dice you like, one dice of oversize at 32 dollars (about 3200 yen), a dice like 69 dollars (about 6800 yen) You can get 5, and if the total investment amount exceeds 40,000 dollars, a wooden box for dice will reach the dice for those who got more than 5 dice. In addition, about 3800 dollars (about 370 thousand yen) exceeding the target amount of 2000 dollars (about 200,000 yen) is gathering at the stage of writing the article. Every time the total amount of investment increases from the target price of 2000 dollars, new dice rolls are added and, finally, if you collect 20 thousand dollars, you can get your favorite dice from 18 dice. In the previous Eternity Dice, funds are collected up to $ 34,000 (about 3.36 million yen), so be careful when you want to get all available dice.

Also, plus a regular size dice at 12 dollars.




Furthermore, it is possible to get an oversized dice (30 mm per side) at plus 22 dollars.




The deadline for investment is until December 1 at 2 pm.

2013/11/21 11:50 Addendum
Detailed image of the wooden box to hold the dice has been uploaded.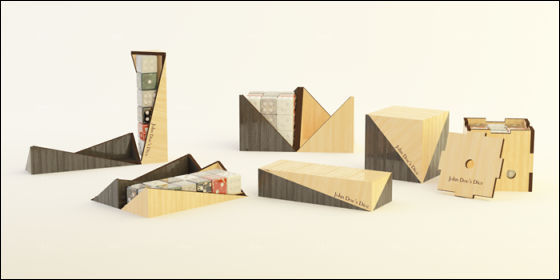 Five types of wooden boxes that can hold 5, 6, 12, and 27 dice are prepared, and wooden boxes for storing 5.6.12 dice are plus $ 10 (about 1000 yen), 27 pieces for storage You can get a wooden box with a contribution of plus $ 15 (about 1500 yen).