I have eaten white chocolate-filled ramen "White chocolate Noodle" whose taste can not be imagined at all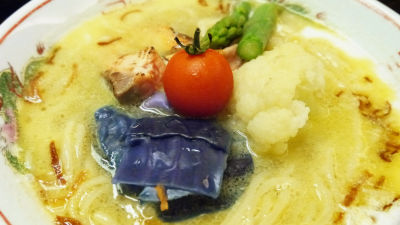 Ramen with chocolate entered, noodle shop Musashi collaborated with Lotte "Miso Ghana"And the clauders (Kurayen) that closed recently"Chocolate Bamboo NoodleThere are such things as "Osaka's"Hurry to the bossThe shop called "My ramen creation Cup! The 0th finalsAs an exhibition ramen "White chocolate Noodle"We sell very unusual ramen using white chocolate. It was limited sale from Saturday, October 19th to November 10th (Sunday), so I was worried because the taste was completely unimaginable, so I went to a shop and ate it.

"My ramen creation Cup!" My work secretariat
http://oresaku.syoyu.net/

Nakazaki Nakazaki Ichinose Nakazaki Shokai Kai 1 - 6 - 18 Ramen shopkeeper Nakazaki Ichigo's blog
http://ameblo.jp/fusukake

Nakazaki Ichigo (peaceful 2891) on Twitter
https://twitter.com/peaceful2891

Arrived at "Nakazaki Ikeda Nakazaki Shokai Kai 1-6-18 Ramen Nakazaki Nakazaki Shokai Kai". There is a nickname "Fusakake".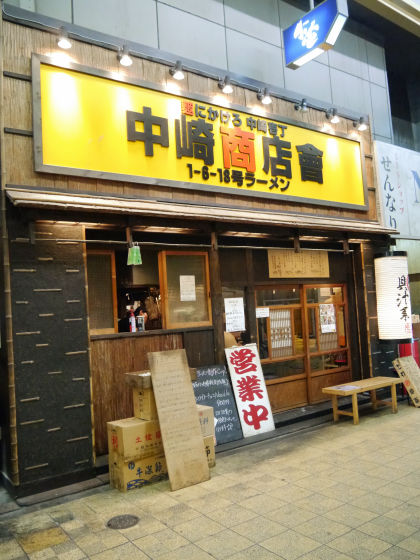 A large lantern written as "fish-dried dried shellfish juice series ramen noodles", a long-established storehouse in Kyoto that lasts more than 80 yearsNoodle Shop ExhaustThe letters of the letter are written.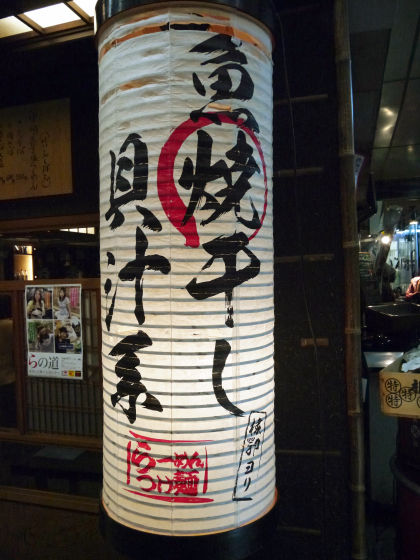 On the back of the signboard you can see the various cardboards of seafood.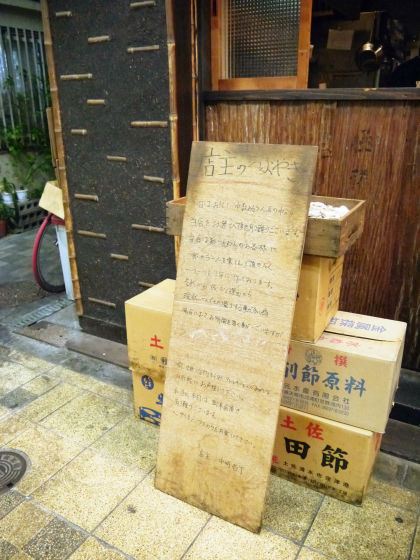 I also found a signboard of the intended white chocolate Noodle. I will go into the store at once.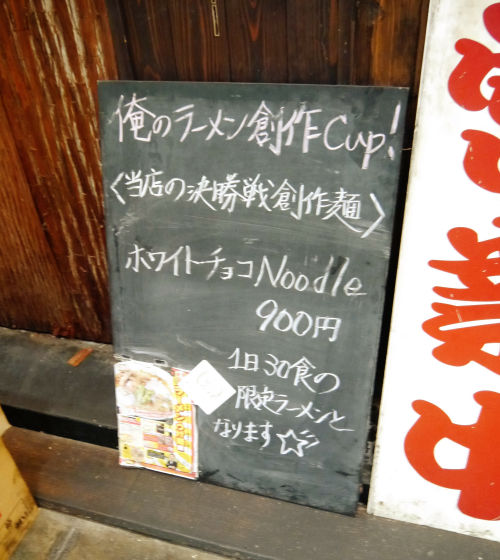 Put in the store and purchase food tickets. This time we will order orthodox "umami kamiyu udon noba soba" (680 yen including tax) and "white chocolate Noodle" (900 yen including tax).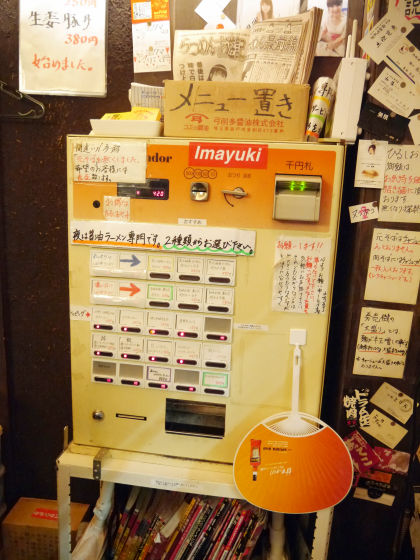 "Umami kotobukiyuu naki soba" can be selected from two types, flat beating straight domestic wheat 100% Hokusui noodles (sulcrum) and flat noisy HW noodles (Churuzuzuzu). This time I chose domestic wheat 100% Hokusui noodles (Suluru). White chocolate Noodle is decided in advance for noodles.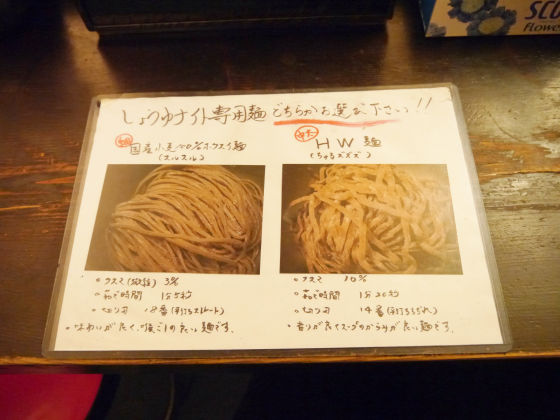 Wait 2 items ordered with less than 10 minutes are completed.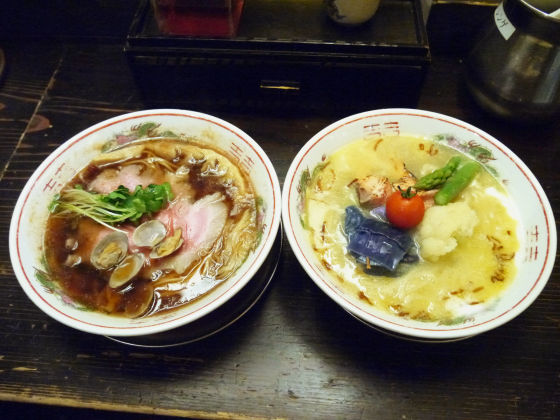 First of all, we decided to eat from orthodox umami regular oil. Chashieu with clamsy red meat and clamsy catch eyes.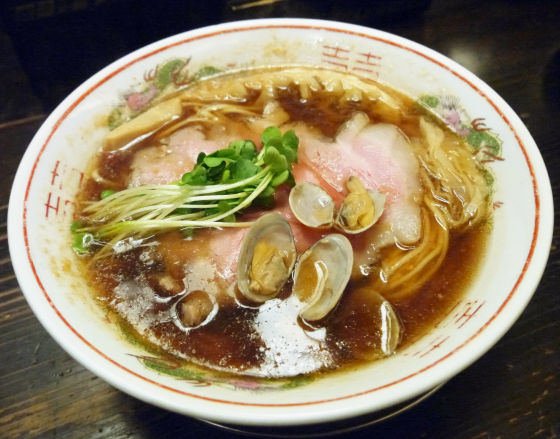 Clams are provided in a state with shells.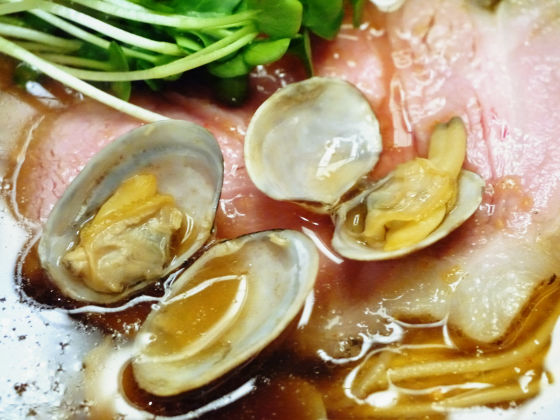 It looks delicious, like a slender large Menma, Kaiwale, and a rice bowl.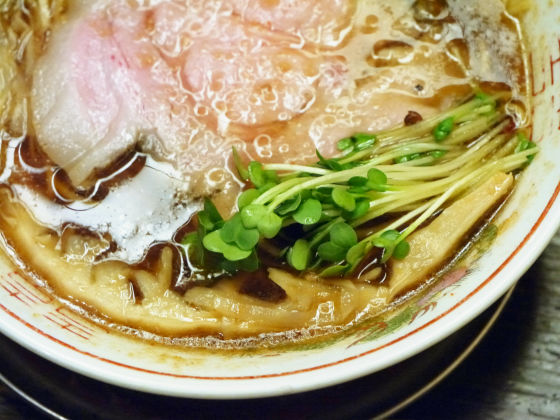 Store name "BossSo I think that you feel the mouthfeel of rough texture and distinctive taste of noodles, the texture made as slurp is pleasant, entangled firmly with the soup. The soup is a soy sauce that feels a little sweet, and a deep taste that multiple fish and shellfish blended in well-balanced without insisting on any taste. Because the taste of soup is quite intense, the taste of Dashi is considerably stronger than soy sauce. Acrylic taste which is piliri of the crayfish is also good accents.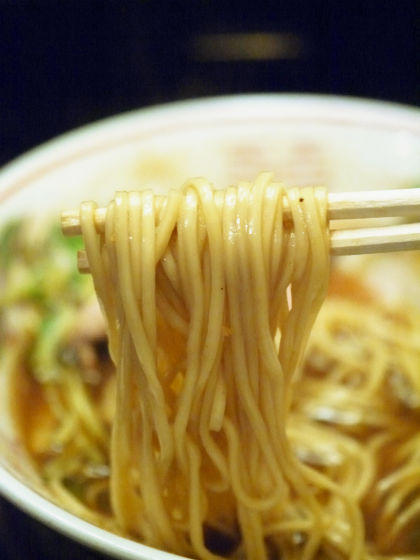 Low temperature cookingLeaves of lean chaefea finished with pork taste is confined and finished with a high level. Besides high quality, it is also a nice place to cover a bowl and have a lot of quantity.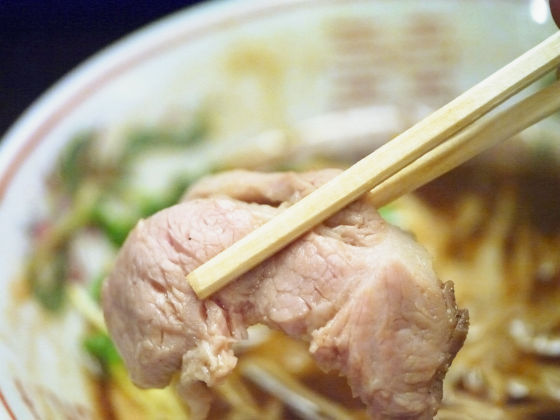 Elongated Menma is soft enough not to eat much at other ramen shops, and people who like Menma add ant topping. As the quality is good so that chashued menma can order on a single item menu, it is also recommended to order beer for these as a knob.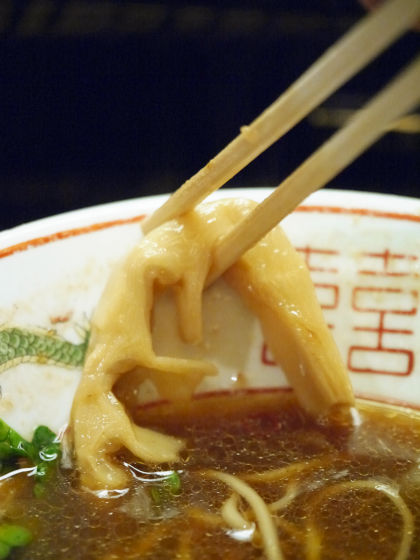 Then white chocolate Noodle.blogAccording to "It is a creation ramen of a new sensation that combines white chocolate with thick chicken serpent", I do not particularly feel the fragrance of intense white chocolate. Which white chocolate I am using is Morinaga'sdozenIt looks like.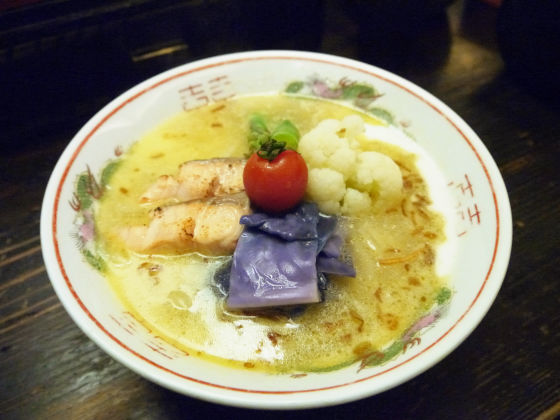 Violet cabbage is very vivid.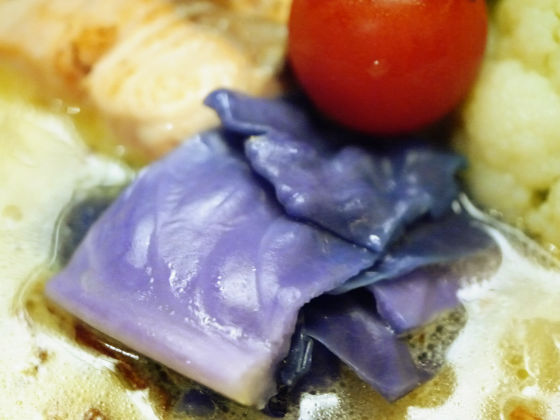 Considering western style ramen or salmon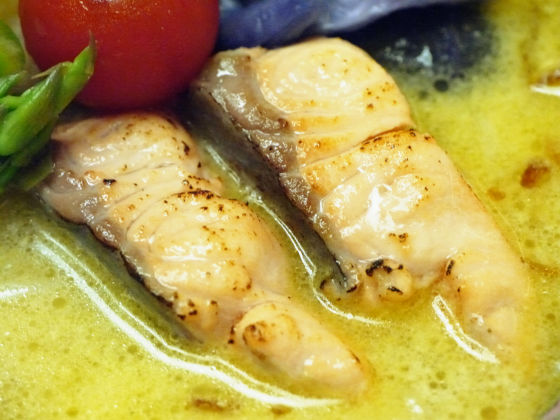 Asparagus and mini tomatoes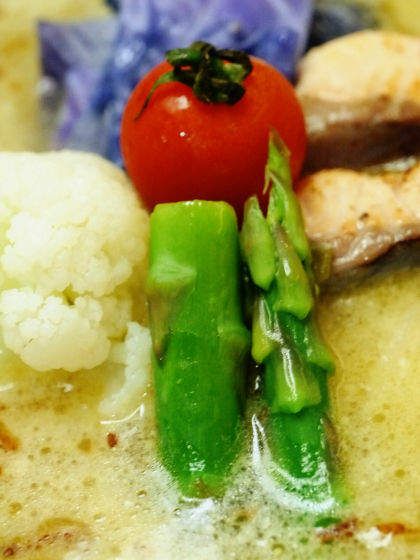 Also cauliflower is on, the ingredients are a little stewy feeling. The fried mustard is also floating.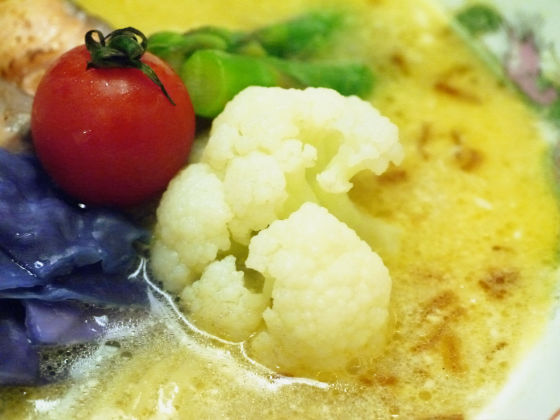 The thickness of noodles is medium thin noodles slightly thicker than that of Nami Soba Normal Flavor. The soup is not the one where the taste of the white chocolate was extruded all over, but the mellow sweetness of chicken and hot chocolate cooked with exquisite balance of chicken and dairy products. Fried omelet gives rich flavor and sweetness to the soup. An image that white chocolate is used as a hidden taste with a taste like a low viscosity stew, if you mention similar things.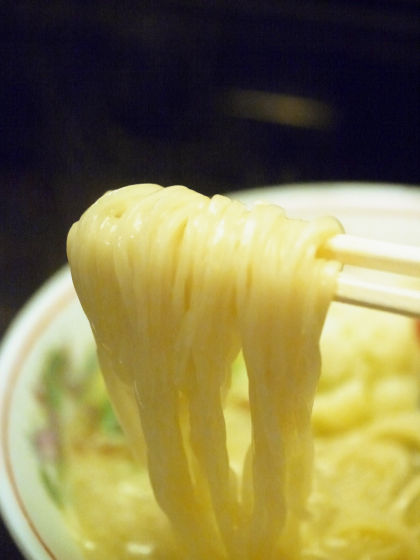 Because saltiness and sweetness are not too strong, it is a reasonable balance so you can drink as much soup as you can. When looking only at the line of characters "white chocolate filled ramen", it seems to be a getteon, but when you taste it, you can feel the spirit of the maker who tries to make innovative and delicious ramen that has never been before.



Salmon is also compatible with soup containing dairy products like what is in stew. It also melts out a little soup and it feels good again.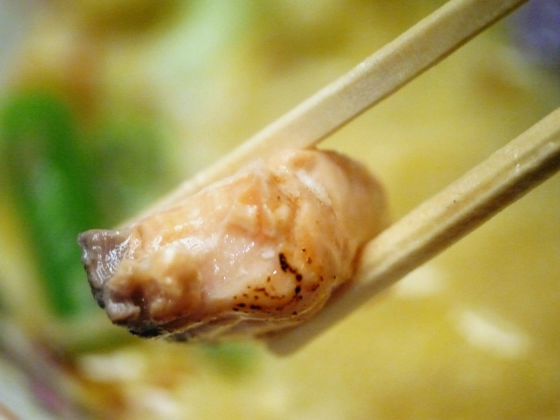 Purple cabbage has a good texture with shakiyaki and it fits well with the taste of soup.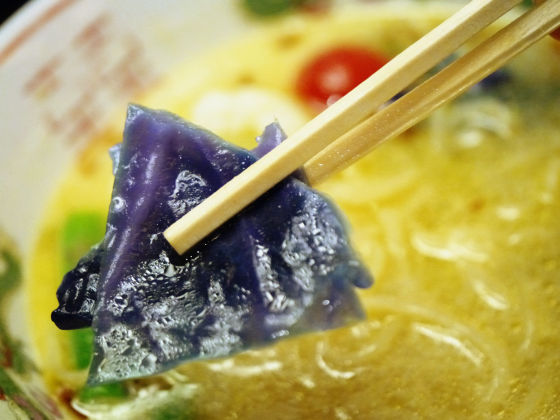 The sourness of mini tomato is also compatible with soup. It seems that not only the appearance but also the taste is made considerably calculated.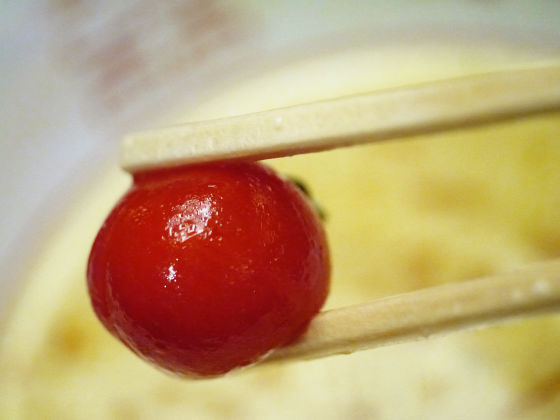 Complete meal without leaving soup. While pursuing personality, the taste was also an impeccable only one noodle.



White chocolate Noodle is limited sale until November 10 (Sunday). "My ramen creation Cup!" Participating "Fusuma Kakera" has finals fighting at 6 stores in Osaka, besidesNoodles and noodlesYou can eat ramen that can not be seen elsewhere, such as "Maiko Dancing Chicken Buckwheat - Containing Oyster's Concert ~" and Ramen Trout 's "Herb Ethnic Chinese Soba".