Anime industry to hold a new event "AnimeJapan 2014" together with TAF and ACE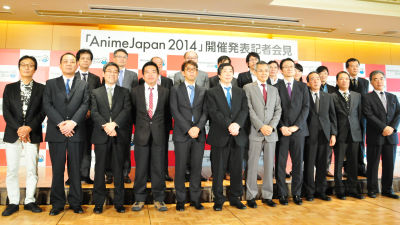 Speaking of big events in the animation industry, there is the "Tokyo International Anime Fair" (TAF) to be held in March, and the event "Anime Content Expo (ACE)" has also been held in the past two years, but from 2014 this Two events are united and the largest event in Japan "AnimeJapanIt was announced that it began. Although it is said that coalescence is not simply a combination, it explains that both events have developed and organized a new executive committee.

Anime Japan 2014
http://anime-japan.jp/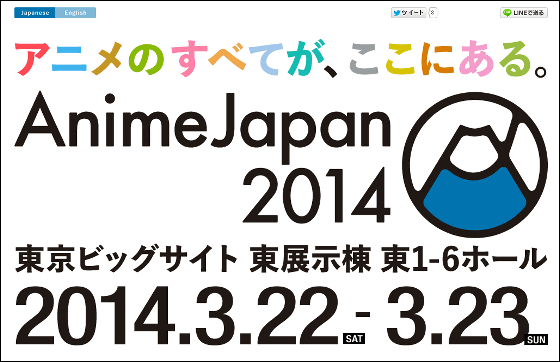 The Tokyo International Anime Fair, Tokyo Governor Governor Shintaro Ishihara proposed to establish a place for sending Japanese animation to the world and a business place, so in 2002 "Tokyo International Anime Fair 21" Event that started. It is held at the Tokyo Big Site every year at the end of March every year except for the year 2011 which was canceled due to the Great East Japan Great Earthquake since becoming the name of "Tokyo International Anime Fair" from the 2nd.

However, in 2010, under the issue of revising ordinance for youth health development regulations, governor Ishihara repeatedly said that it was received as dishonest to the manga / anime producers"Comic 10 society" including Kadokawa Shoten, Kodansha and Shueisha announces refusal to participate in the Tokyo International Anime Fair. Groove was not buried, "animation content expo" was launched mainly in companies belonging to comic 10 society in 2012, and animation events were divided into situations.

"AnimeJapan 2014" announced this time is an event to resolve this split state.

Oh yeah, that's right.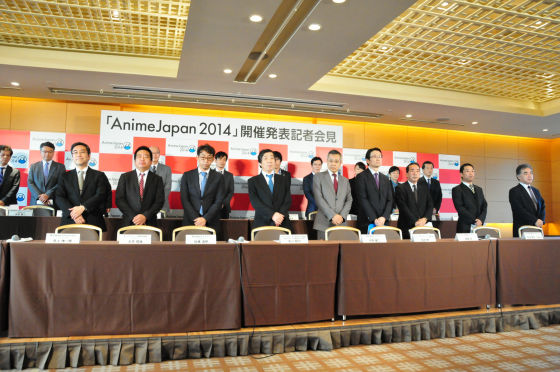 First of all, AnimeJapan Executive Committee Chairperson · Greeting from Mr. Ikuji Fujikawa, Chairman of the Japan Video Association.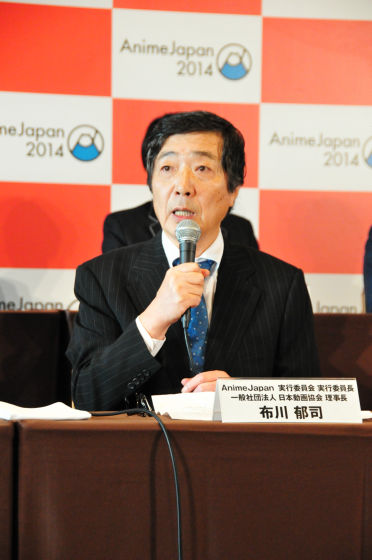 Ikuji Fujikawa Chairperson:
In this way, I can announce the big event of the animation industry, and I feel tight. AnimeJapan is a festival that developed the Tokyo International Anime Fair, well-known both in Japan and abroad, and the Anime Content Expo, which was held in 2012 and 2013 and was supported by fans and has been very successful. During the two-day event, we will organize events for users and businesses, aiming for the world's largest animation event, meaningful to fans, buyers, business users both domestically and abroad.

The name AnimeJapan named this event "I want to be a festival of Japanese representatives of animation" that all the Japanese anime boasts gather. As "Anime" spread as a word showing animation in Japan, I thought that this event will spread to all over the world as the world's biggest anime festival and be recognized. The schedule is March 22 and 23, 2014. It is two days on Saturdays and Sundays. The venue will use Tokyo Big Sight, Eastern Exhibition Hall 1 - 6 Halls. TAF · ACE will be held twice the size of each and we will target over 100,000 paid visitors in 2 days. Organized by 19 executive committee members today and Japan Video Association joined, it will be established as AnimeJapan Executive Committee. Moreover, it will be held under the auspices of the Japan Video Association and comics 11 society.

For the development and promotion of Japanese animation industry and animation related industry, we will work together in industry. Please look forward to AnimeJapan.

◆ Q & A
Nikkan Sports:
I think that the event split is a matter of 2010, and it seems that it was divided into various things, why did it come back to one this time? I think that it was unprecedented mess and I think that it caused confusion for fans and users, so I would like to explain the background.

Event Producer Yuumi Takahashi:
From the end of 2010 to the year 2011 ACE was up there. TAF and ACE have been held twice in 2012 and 2013, but among them, concerning that it holds a single in convincing manner, including those concerned with each industry and fans and buyers who visit , I have continued talking with the Japan Video Association which administers the ACE Executive Committee and the TAF Secretariat even during the whirlpool. Regarding 2014, AnimeJapan made an announcement like this as we concluded that a single developmental holding is possible, including the venue or schedule, and that we can hold it in the best form.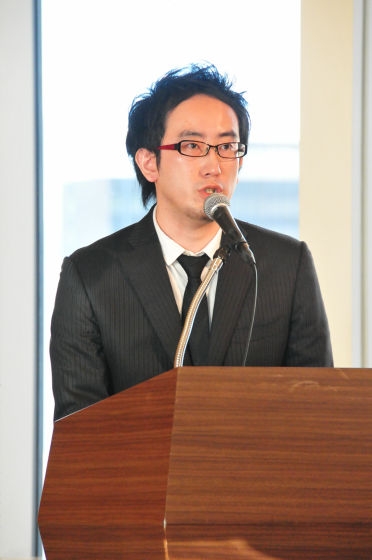 Nikkan Sports:
Please let me know in detail what is the reason for becoming one. Mr. Inoue thought that various comments were made on Twitter.

KADOKAWA Corporation Senior Managing Director Shinichiro Inoue:
It is very big that we were able to confirm that 19 companies here and Japan video association and comic 11 society can operate independently. I think that it is great that we can operate independently.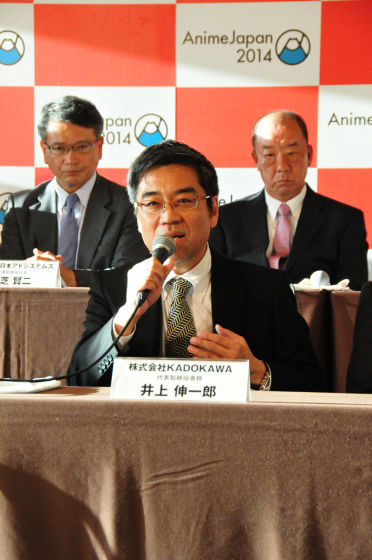 Nikkan Sports:
(It gave way to splitting) Did you lose it?

Inoue:
Although the fundamental part is not melting, if you understand that you can do it by having the executive chairperson do this to Nogawa this way.

Saizo daytime:
The first point, the Tokyo International Anime Fair is Tokyo Governor was the executive chairman, but it seems to be out of place. Second point, please tell us the constituent companies of "Comic 11 Society". Third point, I think that subsidies from the Ministry of Economy, Trade and Industry are available for operation, but how much does it exit concretely?

Event Producer Japan Video Association Kitakami:
Although it is about Tokyo Metropolitan Government, I was talking about going gradually to the private sector from the time of the launch of the 2002 event. Seven years ago, we moved the secretariat to the Motion Picture Association, and the burden money has also decreased. At the stage of this story, as the executive committee decided to move to the private sector, I decided to talk to the capital and move to the private sector.

11 The composition of society is 11 companies to which Japanese literary arts companies have joined the 10 societies of Akita bookstore, Kadokawa shoten, Kodansha, Shueisha, Shogakkan, Shonen Sobo, Shinchosha, Shiraizuma, Futabasha and Lydo.

Inoue:
I am supplementary, since Kadokawa Shoten has become KADOKAWA Co., Ltd. from October 1st, thank you.

Kitakami:
Details of the affairs of the Ministry of Economy, Trade and Industry are not compiled. I will refrain from comment until the contract is settled.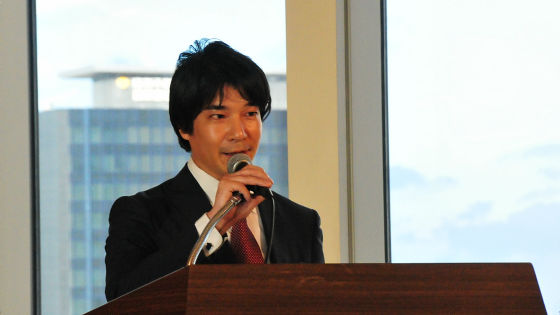 Nico Nico Video Nanao:
About the medium - to long - term strategy. Is this event considered only for domestic holding? Naturally, I think that many people come from overseas, but are you also looking to expand overseas, for example, in collaboration with COOL JAPAN etc?

Takahashi
First of all, we are holding mainly in Japan. Although it was also from Mr. Fujikawa, animation is a word pointing to Japanese animation. We will disseminate it from Japan and abroad. We hope to create a place where all of the animation gather at the event. First of all, when you bring a firm thing to the fans, you are thinking mainly about having them come to this place. With regard to the future, in order to communicate directly with the people who are on the stage today, to communicate animation to the world, even if it is not in the event form, creating a place to send overseas is a long term I think that you can put it in your eyes.

Asahi Newspaper Ohara:
There was "Anime Award" at TAF, but will this be handed over? Does the name change? Moreover, although it is held on Saturdays and Sundays without losing weekday, do you think that there is something to do with the function of the business side?

Kitakami:
The award is being promoted mainly to the Association of Motion Picture Associations, and is scheduled to be announced soon. For two days without business day, it is said that a dense deal will be progressed by firmly establishing a business area while seeing the excitement of BtoC (general). Let's have a good area division, let them see the exciting Japanese anime scene and make business talks.

Yotsunaga Otona Animation Editorial department:
In the materials you receive, the lifting of the stage information will be in late January. Although it was an event with a business aspect when it was TAF, what kind of flashy thing are you thinking about as an event as having a stage? I think that it is a concept stage, but I would like to ask you.

Takahashi:
We are planning to deliver more entertainment and business by using East 1 to 6, setting up 4 or 5 stages in the hall, thinking both for users and for business. The stage is scheduled not only for stages of various works and casts but also for the excitement of BtoB as well as for business seminars and conferences. I think that it is possible to create a place to convey market expansion and thought while touching users to be visited for such business. If you think that it is a form to arrange various things in the place.

Nikkei Newspaper Hirosawa:
To Mr. Norikawa gathered up as a central figure. How was the group looking at the state of being divided into two, and the thought of becoming such a form. Will it affect the overseas strategy by having it settled?

Futagawa:
At that time, the voice "The industry has broken into two" was also in our ears. However, within the industry, the thought that "we must firmly unite" has come from early, and in close collaboration with the establishment of AnimeJapan, it was a briefing today's interview. There are many events related to Japanese animation abroad, but there are also places where it is not known that the situation is domestic. I would like to come from overseas as production and think that I want to come to Japan. I think that these two days want to make it dense. People who came to Business Day if they hold for the past 4 days will go home. I can not see the darkness of the fans of the general day. I would like to hold it in a condensed form.

With the above concluding, the photo session was held with representatives from 19 companies gathered.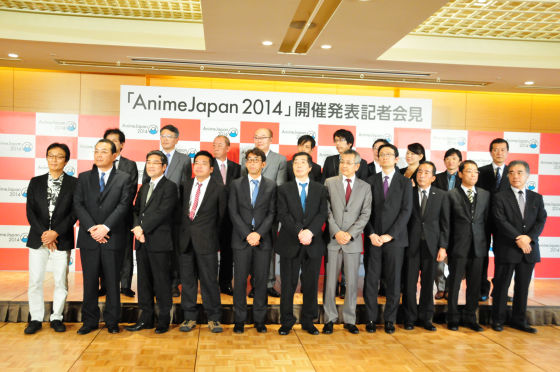 The point of "AnimeJapan" is that the Tokyo metropolitan departed from the organizer, as it is being surrounded in the question and answer. In the big part of the reason why the ACE was originally divided, there is a thing that Mr. Ishihara Munakata, who is supposed to be an event founder, showed a non-honest attitude to the industry. Mr. Inoue of KADOKAWA said "It was confirmed that we can operate independently," and "Transition to the private sector" is a very big point even though it was told irresponsibly. In other words, AnimeJapan is not an equal merger between the two events, it means that ACE has swallowed TAF as well.

Simply, from the point of view of anime fans, it is saved just by solving the situation that two domestic anime events are held at different venues in a very close time period but it is saved, but it is entirely an animation industry It is a place I'd like to expect from how it has become a private event led by, and how it will be improved.