The reality that many people are watching your Facebook posts

BySatish Krishnamurthy

There are over 1 billion Facebook users and a lot of pictures and comments are posted on Facebook everyday, but how many people are checking their posts by Jay Sher, a student at the University of Texas When analyzing it using its own method, interesting results came out.

You Are More Influential Than You Think You Are - Jay Shah
http://jayshah.me/blog/facebook-anayltics-you-are-more-influential-than-you-think-you-are

In order to investigate the number of accesses to her Facebook account, Mr. Shah said "Stalker CheckI tried to use an application that measures who is most closely watching my Facebook page, but it seems that Stalker Check has already been deleted by Facebook.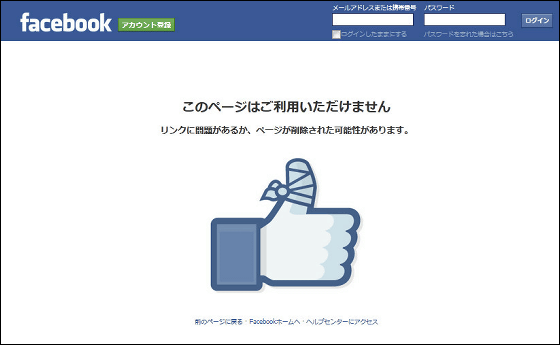 After trial and error, Sheh can measure the number of clicks on the link posted on Facebook "BitlyOn your own Facebook page usingLife · Technology · ResearchPosted a total of 18 articles of three category articles, and analyzed the number of clicks per month for each article.

For reference, Shah's Facebook account details are as follows.

Number of friends: 1176 people
Number of times to check Facebook on 1st: 5-10 times
Age: 21 years old
Mainly used networks: Network of enrolled schools

The number of clicks for each article in a month is as shown in the graph below. The graph shows the number of clicks on the vertical axis and the article on the horizontal axis. The total number of clicks of 18 articles is 1438 times, and the average number of clicks per article is 80 times. The average number of clicks for articles by category was 197 for life, 28 for technology, and 89 articles for survey. The number of the most clicks was "Living With Less"The number of clicks exceeds 250 times in the article saying that about 25% of people included in Shah's friends list clicked. According to Shah,How nice!YacommentThere were no articles that were totally 100 times clicked, which is good! And the number of comments have nothing to do with the number of clicks on posts.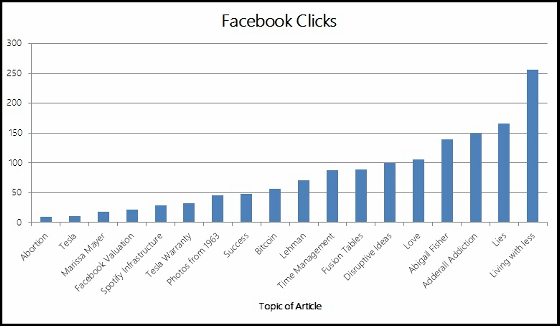 However, in order to investigate how "Living With Less", which was the most popular and had more than 250 clicks, was diffused through SNS, she wanted to do a more detailed analysis, "Living With Less "The number of clicks by time for articles was examined.

The results of the survey are shown in the graph below. The graph shows the number of clicks on the vertical axis and the elapsed time on the horizontal axis. "Living With Less" was posted at 10 am, and at 5 p.m. after 3 p.m., more than 45 clicks were recorded per hour. After 3:00 pm, the number of clicks converged gradually, but the number of clicks again was counted again as 50 times at 4 pm after 30 hours from posting. Actually, at 3 p.m. when I recorded more than 45 clicks, "Living With Less" several timesHow nice!WhencommentHas been posted and displayed again in the timeline's news feed. Also, it seems that it was shared with another SNS by friends at the time when more than 50 clicks were measured. From the second experimental result, the number of clicks of the posted article can be shared by friendsHow nice!It turned out that it was greatly affected by what I did.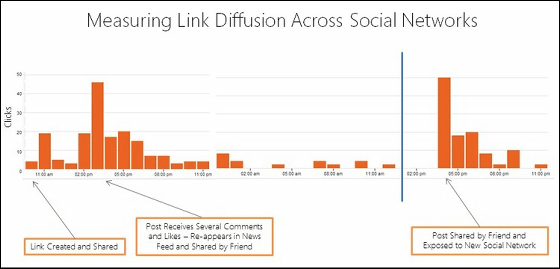 In the first experiment, it is good! And the number of clicks recorded as few as 100 times as well as articles which there were not much comments. However, in the second experiment, click number of articles is good for your friends! , Comments were made, and it was found that it was greatly related to the number of times that it was shared and it was decided to overturn the first experimental result.

Post images and articles on your Facebook page, like it! I am glad that I can recognize the connection between my friends and a lot of comments, but behind it there is a possibility that the contents posted are diffused on the Internet and seen by various people It seems better for SNS users to keep it in mind.
in Note, Posted by darkhorse_log