Since ramen boom has arrived in London, I went to eat "noodle shop 1 point Zhang" which is opening from Japan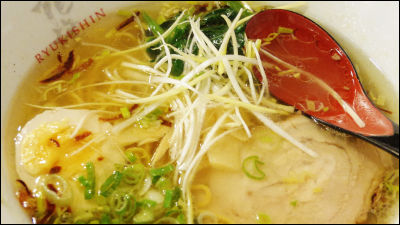 London is one of the most international cities in the world, but food reputation is not very good. However, recently, the number of stores offering Japanese full-fledged ramen has increased, ramen boom is taking place among London children, and it is the major paper in the UKGuardianYaIndependentHe wrote articles about the advancement of a full-fledged ramen shop in London. From Japan, a salt ramen specialty shop located in Sakai "Dragon Qin"In the Soho area of ​​London"One-point noodle shopBecause it is said that it is opening a store with the name of "I actually went to eat.

Noodle shop one point Zhang ITTENBARI
http://ittenbari.co.uk/

Dragon Qin
http://www.ryukishin.com/

Arrived at "noodle shop Zhang Zhang" in soho district where there are many Japanese restaurants such as Osushiya.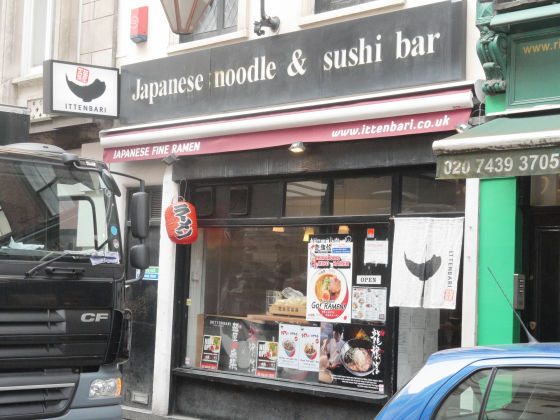 Menu is displayed at the shop front so that you can know the price before entering the store. Although it is supposed to be a full-fledged ramen shop, the set meal, curry, and sushi are arranged side by side in the menu, and a bit unpleasant feeling ... ....
\\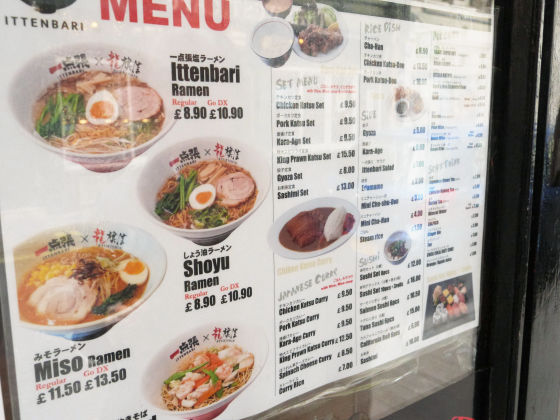 Since the full-fledged Japanese ramen was reflected on the poster of "Ryukyuin" under the menu, I feel a bit relieved.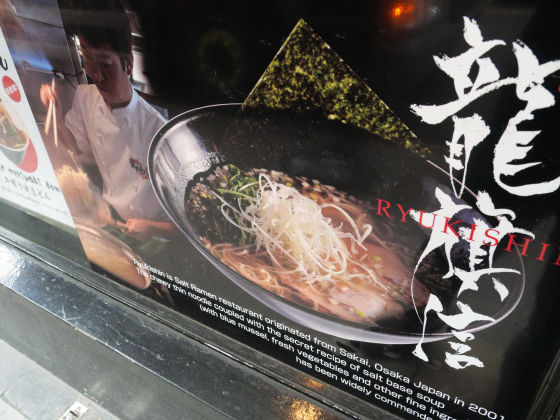 A red lantern written as "Ramen" at the eaves of the shop.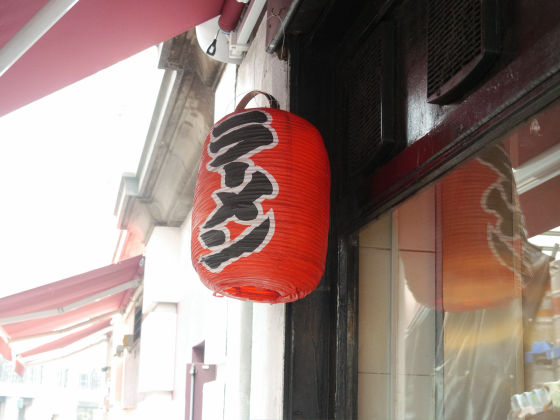 The kitchen is on the glass so that it can be seen from the outside, and found a noodle written as "Ryugaku noodle".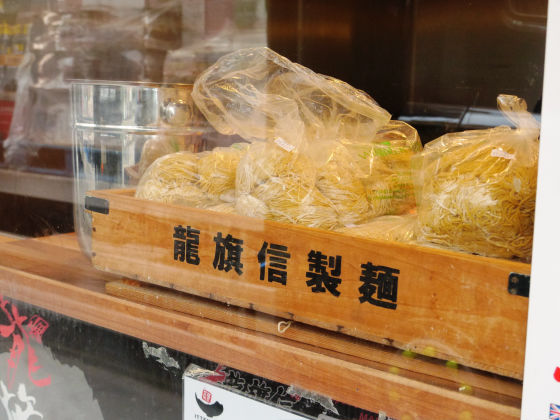 At the entrance, I found "good" goodwill printed in writing style and enter the store immediately.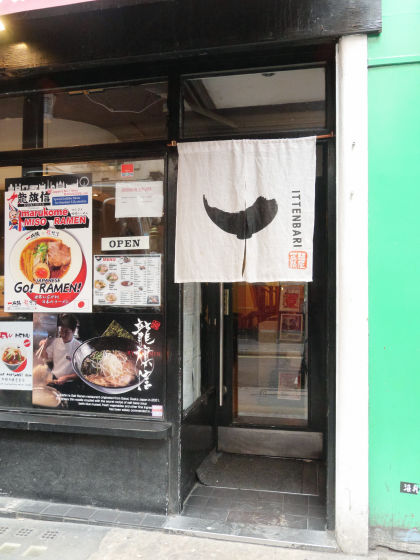 In the shop like this, it was not lunch time for lunch, so customers are few.



In the menu, "three points" was mentioned as "one point sticking commitment". The first thing is to boil down European mussels thoroughly with sake and to use salted fish combined with Japanese dashi and natural salt. The second thing is a clear soup made with plenty of local British chicken, chicken breasts, and vegetables, taking odor using a sun-dried burdock, the third attention is local attention I used a special Japanese noodle made from a partnership with a noodle shop, and it seems that noodles are made from the site, not from Japan.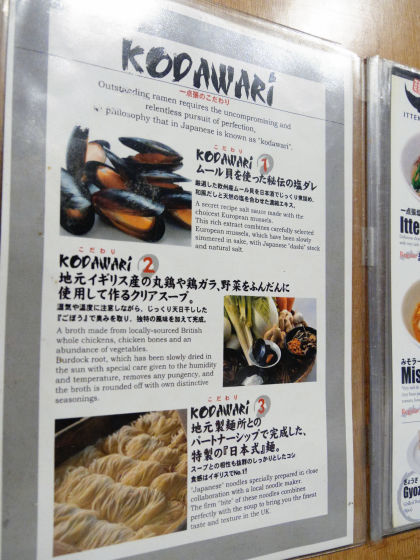 The menu of ramen is like this, "One point Zhang salt ramen"Is 8.90 pounds (about 1330 yen) in regular size and 10.90 pounds (about 1630 yen) in deluxe size. In addition to one point Zhang salt ramen, an orthodox "Soy sauce ramen"Or"Miso ramen"Also,"Seafood YakisobaThere is also. By the way, the substitute for ramen is 1.50 pounds (about 220 yen), the side menu is "Gyouza" 5.00 pounds (about 750 yen), "mini chasewow rice" 3.00 pounds (about 450 yen) as well. Is it matching the prices of Britain, or higher price setting than general ramen shop you eat in Japan? Since this time it is said that Ryuhaku believe is also a salty ramen specialty store, we ordered one point Zhang salt ramen.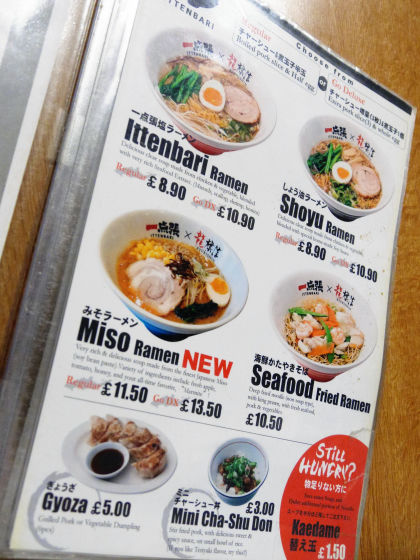 On top of the table, there are black rectangular chopstick holders that you often see in Japan and soy sauce written in English "KIKKOMAN" side by side.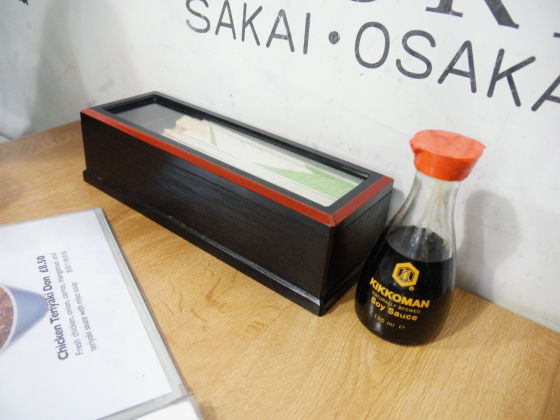 Zhang salt ramen arrives one point after about 5 minutes from ordering. It is considerably earlier compared to restaurants in Europe and the US which normally take 10 minutes or more after ordering food. One point Zhang salt ramen contains boiled eggs, green onions, white onions, spinach, fried onions, and chashu.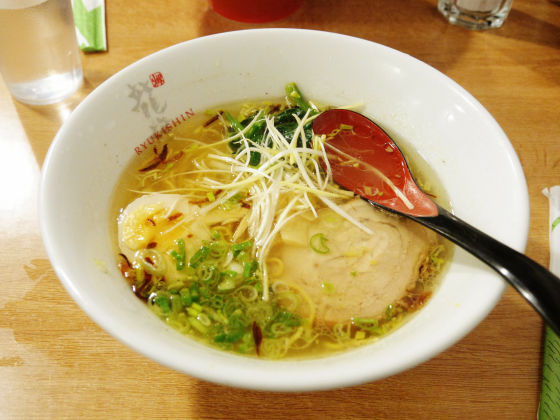 The smell of chicken scallops smelling faintly and the fragrant smell of fried onions inspires the appetite.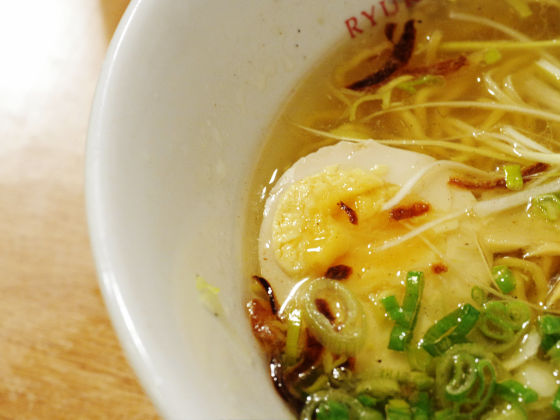 The soup is transparent, and when it talks, there is a rich chicken stock of solid chicken, and it is good to put deep into the salty soup which was rough.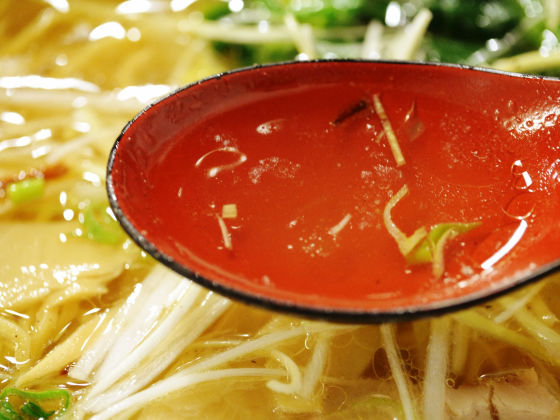 It seems that the taste of pork is superior to salty taste.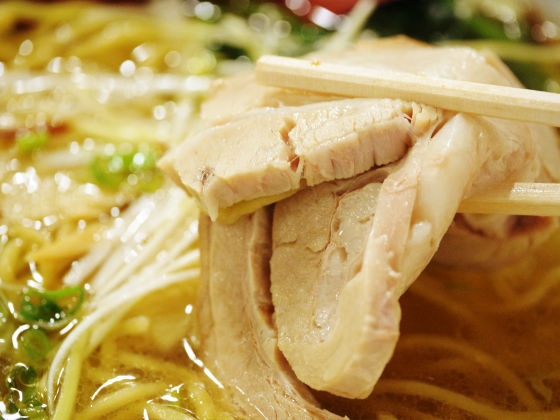 When trying to eat boiled eggs, seasoning is impregnated only on the surface like a barbecue and it is different from a brownish boiled egg that you get at a general Japanese noodle shop, but in accordance with a savory salty soup Maybe you are.



The noodles are medium sized noodles with moderate elasticity and a little chirped, and the compatibility with the soup was very good. As a whole, in the UK where there are a lot of eating out dishes such as fried potatoes and hamburgers, the taste that can be relieved relieved. It is quite different from the noodle which Japanese food restaurant in London has with one hand, you can taste quite serious Japanese ramen. It is a ramen boom arriving in London, but I do not want it to be a temporary epidemic, but I want one to grow into one of the general eating out.