Discovery in Australia is a startling fact that it is cheaper to buy Adobe CS 6 by flying to the USA by airplane

ByCaribb

As Apple, Microsoft, and Adobe software are being sold at a price that is too expensive in Australia, companies are to be summoned at a public hearing held on 22 March. Adobe software in Australia, in particular, is very expensive, the more it is cheaper to go to the United States by airplane purchase, the discontented voice is rising among the people.

Apple, Microsoft, Adobe Called By Lawmakers To Defend Higher Prices In Australia | TechCrunch
http://techcrunch.com/2013/02/10/apple-microsoft-adobe-called-by-lawmakers-to-defend-higher-prices-in-australia/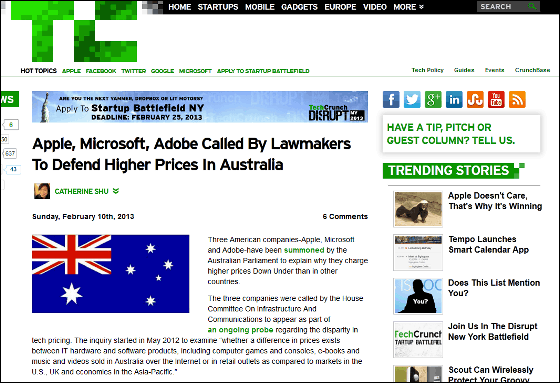 Do not Believe The Adobe Price Cut Hype, It's Still Gouging You Silly | Gizmodo Australia
http://www.gizmodo.com.au/2013/02/dont-believe-the-adobe-price-cut-hype-its-still-gauging-you-silly/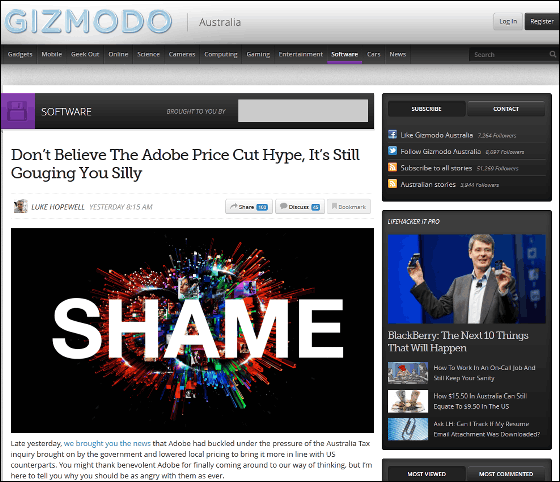 The Australian Congress is concerned about the fact that these companies have exclusive technology, and at the hearing on March 22, "The price rise of products in Australia is too big" I will ask questions. Investigation by Congress is the first attempt in the world.

In response to this, Adobe announced the release of the online version of the softwarePrice cut price. In the annual plan up to the present time it was full package of $ 62.99 per month (about 6100 yen) for 42.99 dollars (about 4200 yen), and in the case of the monthly pricing system also from $ 94.99 (about 9200 yen) to $ 74.99 (about 7300 yen) . In addition, individual software such as Photoshop, Illustrator, InDesign, Dreamweaver, Flash Pro, Premiere Pro, After Effects, Audition, Speedgrade, Acrobat Pro etc are also cut down and prices are reduced from $ 24.99 per month (about 2400 yen) to $ 19.99 ) Has been changed to. On the other hand, prices are not changed for products sold at stores.

Taking the Creative Suite 6 Master Collection as an example, products are set at $ 4,344 (about 420,000 yen) in Australian stores, while $ 2599 (about 240,000 yen) when purchased in the USAThere is also a difference of $ 1735 (about 160,000 yen)It is. Virgin Australia Because the price of return flights to the USA is 1147.58 dollars (about 110,000 yen), it flew from Sydney to Los Angeles and purchased software, and even if I returned to Sydney, it cost $ 601 (about 60,000 yen)I can go fishprice. Incidentally,Price .comAs a result of purchase in Japan, the lowest price was 264,185 yen.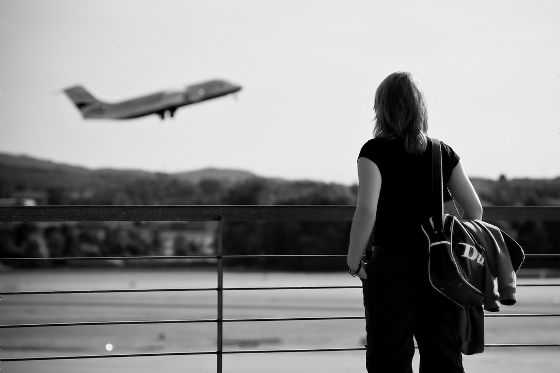 ByMatthias Rhomberg

Adobe does not comment on "Why software in Australia is expensive?" According to Suzy Brady, a communication manager, software price cuts were planned for several months about. "This will attract new customers and will put momentum on the market," he said.