"My daughter-in-law comes out from the screen" When I love my bride with the AR robot development kit, it looks like this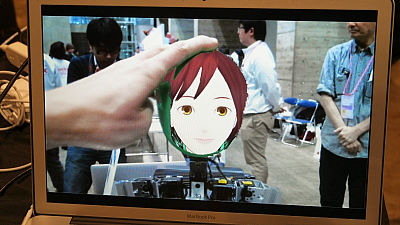 With the robotAR technologyTechnology that enables you to love your own daughter-in-law in 3D "Virtual humanoid"is. Exhibits are being held in One Festival 2013 [Winter], the bride does not come out of the screen,Should I push it from the head on the screen?It may be able to solve a serious daughter 's lack of worried person ... ... so I've been wondering what it really is like.

Wingover.jp | Main / Virtual humanoid
http://wingover.jp/index.php?n=Main.JapanesePages

This is a different booth of Co., Ltd. which exhibits virtual humanoids.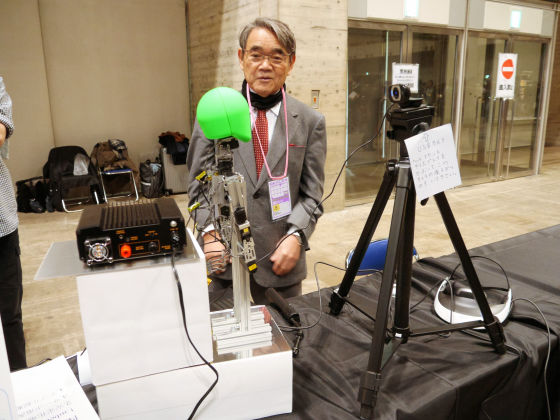 There is a device with a something like a green ball on the desk.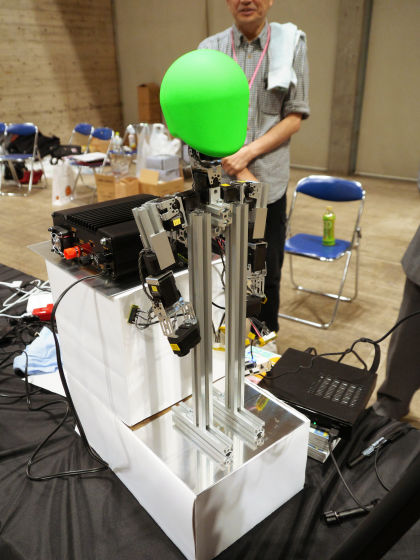 And in front is a camera, a tripod and video goggles installed.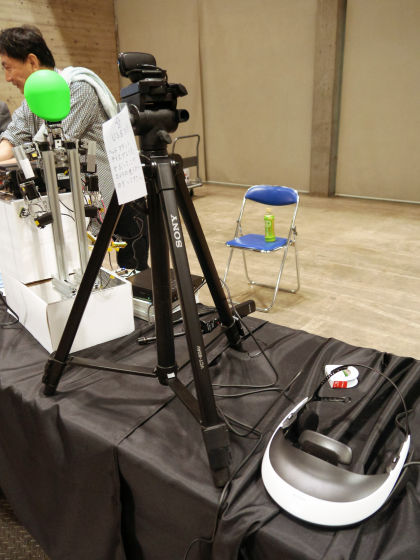 This is a robot in front of you turns into a person of CG when you put on goggles. If you extend your hand and touch the robot, you can really love your wife in three dimensions.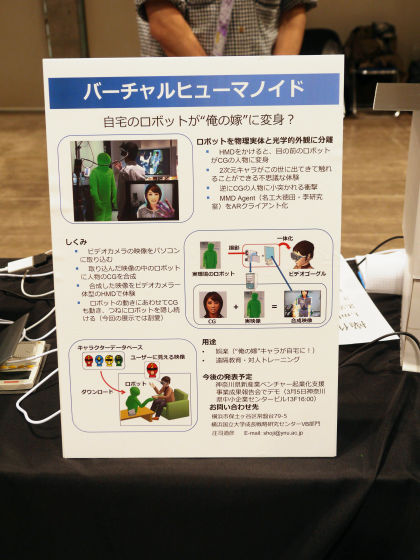 Illustrated like this. Sending the video of the robot taken with the video camera to the PC, synthesized with the bride's CG. Experience the synthesized video with goggles that are set with the video camera.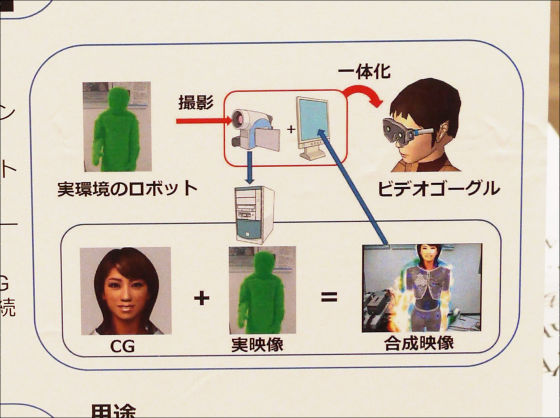 This is a goggle.Products that I've seen somewhere in SonyI feel that, if you think about meeting a bride, such a thing is a trivial matter.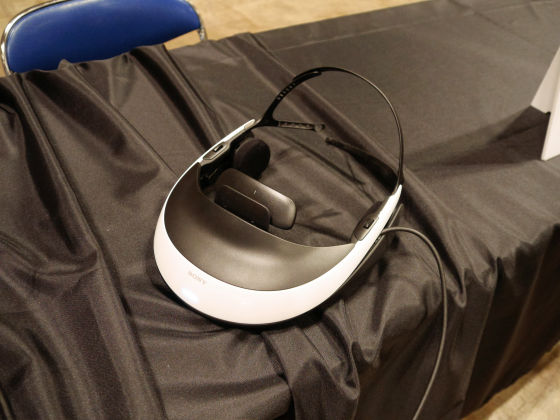 The situation of actually experiencing with goggles attached is as follows.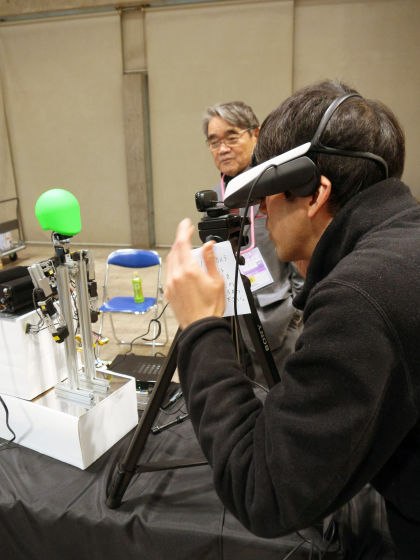 I reach out to the robot.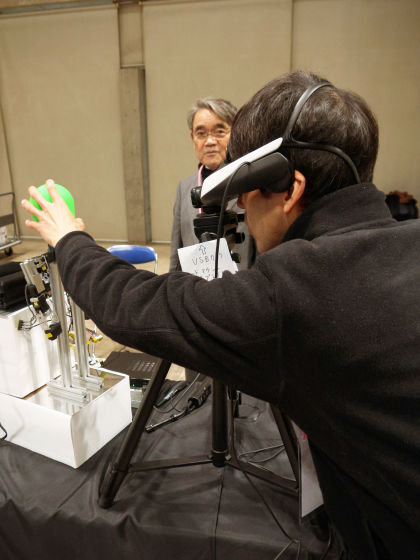 Then, the robot looks like this to the person wearing the goggles. Reach out for CG ......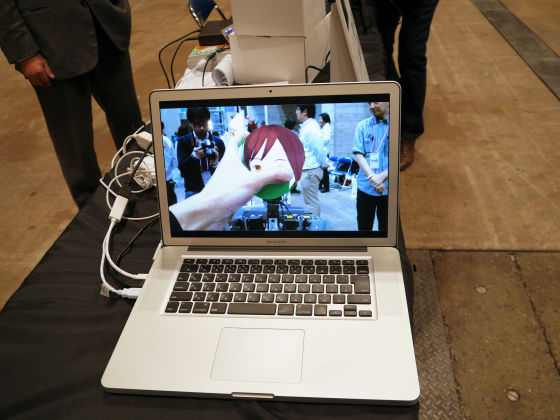 Nadenade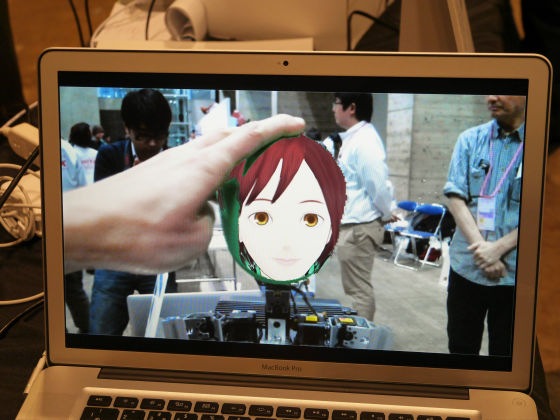 The test movie can also be seen from the following.

U - Tsu - Shi - O - Mi at ASIAGRAPH 2007 - YouTube


Currently it is only the head, but mobile neck, shoulder, elbow, wrist will be attached in the future, and the height of the virtual humanoid after completion will be about 40 cm (upper body only). In addition, it uses voice interaction system construction software "MMD Agent" to voice of the synthesized character to the robot, and can also exchange conversation.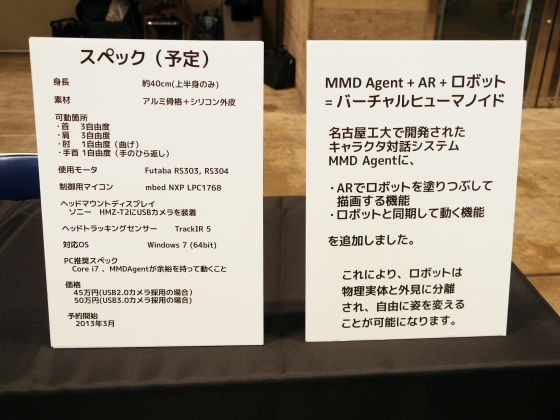 In addition, it is planned to actually sell, the reservation starts from March 2013. The price is 450,000 yen when adopting the USB 2.0 camera, and 500,000 yen when adopting the USB 3.0 camera.