Change of food additives used by PepsiCo by signature of 200,000 girls high school students gathered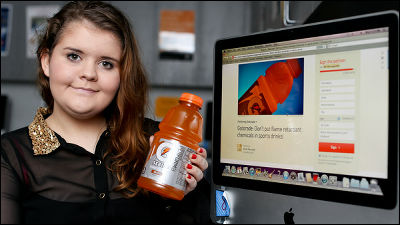 America's known for Pepsi ColaPepsiCoThe company receives a petition for a 16-year-old girls high school student, and it is a soft drink in the futureGatoradeIn food additivesBrominated vegetable oil(BVO) will not be used.

Petition | Gatorade: Do not put flame retardant chemicals in sports drinks! | Change.org
http://www.change.org/petitions/gatorade-don-t-put-flame-retardant-chemicals-in-sports-drinks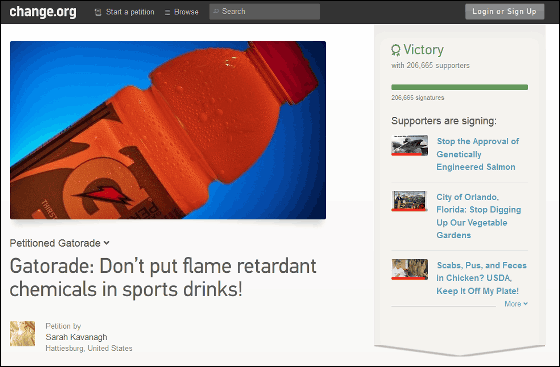 Another Look at a Drink Ingredient, Brominated Vegetable Oil - NYTimes.com
http://www.nytimes.com/2012/12/13/business/another-look-at-a-drink-ingredient-brominated-vegetable-oil.html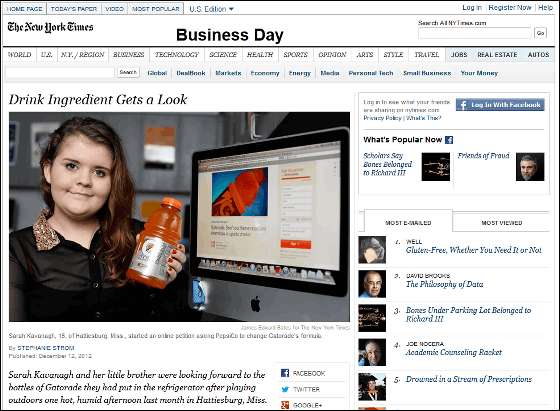 PepsiCo Will Halt Use of Additive in Gatorade - NYTimes.com
http://dinersjournal.blogs.nytimes.com/2013/01/25/gatorade-listens-to-a-teen-and-changes-its-formula/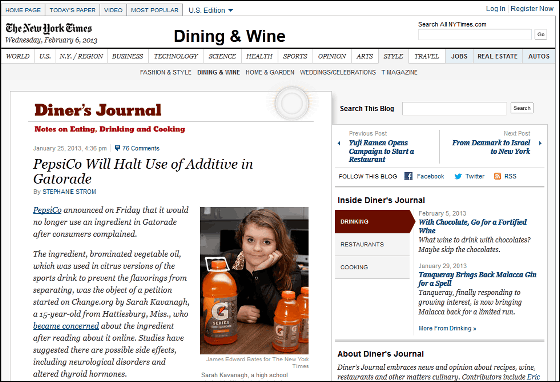 BVO has been used in the United States since 1931, and now is a beverage stabilizer used in 10% of the whole beverage. It is also included in Coca-Cola, Sprite, Fanta Orange, etc. There is generally no health problem. Although it is legal, it is prohibited to use it for food in Europe and Japan as it may cause skin alteration, memory disturbance, fatigue, tremor, headache and so on. It is also used for plastic products, cushions, synthetic fibers and so on as flame retardants that prevent flames from burning out other than food.

Mr. Sarah Kavanagh, a high school student in the state of Mississippi, is a vegetarian and I'm using a label to check if foods contain animal food, but when I checked Gatorade's label last summer I was not familiar with "Brominated Vegetable oil (brominated vegetable oil) "was found.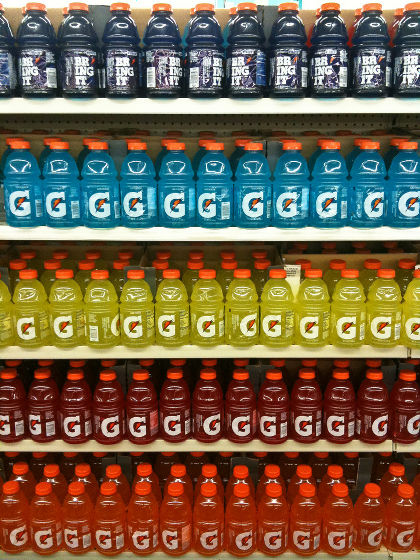 ByJeremy Brooks

As a result of examining what it is like on the Internet, I learned that there are many side effects including neurodevelopmental disorder and degeneration of thyroid hormone, and immediately discarded Gatorade who was in the refrigerator. And I want you to change the components contained in Gatorade and social platformChange.orgHe gathered as many as 200,000 signatures. Kavanagh's argument is that Gatorade of the UK does not use BVO and that it should be able to make the same product without BVO in the United States.

PepsiCo declined to consider this problem before petition began, and in the future BVO used for Gatorade will be referred to as sucrose acetate isobutylateFDAWe announced on January 25 that we will replace it with additives that are recognized as safe by. In addition, the FDA says that BVO is safe if using a small amount.

According to PepsiCoSucrose Acetate Isobutylate (SAIB)It is said that it is used in Gatorade's Orange, Citrus and Lemonade flavors, but as of now the annual sales of 1 billion yenMountain DewThere are no plans to be used in Diet Mountain Dew.