Even with the presence of water droplets Easy operation, domestest fastest Xi correspondence "Ascend D 2 HW - 03E" haste photo review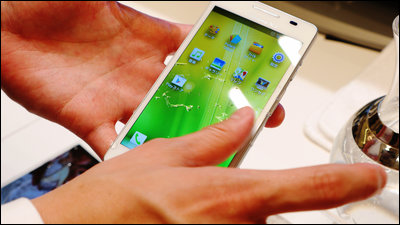 Even with wet hands it is comfortable to operate Water droplet Clear touch panel and it does not cause malfunction even if water droplet is attachedAscend D2 HW-03E". It is a 4.7 inch (720 × 1280 dot) HD display that supports the fastest Xi in Japan with a maximum downlink transmission rate of 112.5 Mbps (upstream maximum of 37.5 Mbps).

New product list: Ascend D2 HW-03E | 2013 SPRING COLLECTION | Products | NTT DoCoMo
http://www.nttdocomo.co.jp/product/2013_spring_feature/lineup/hw03e.html

The actual machine is like this.



The best feature is that it is compatible with waterdrop clear touch panel. There are many things with waterproof function, but comfortable operation can not be done when waterdrops are on the surface of the touch panel.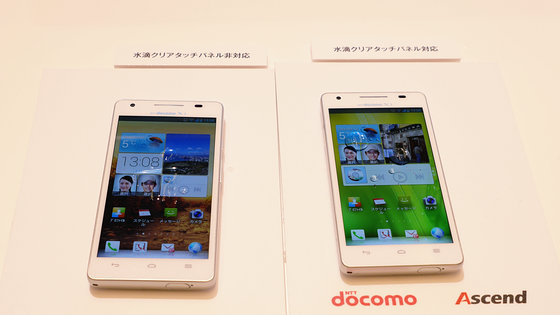 Put on water ...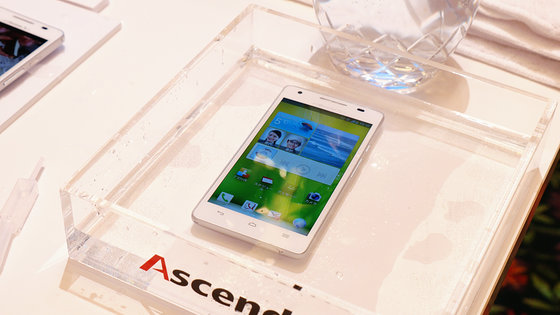 Even when water droplets are on, it reacts properly as the finger moves. Water droplet clear If you are not compatible with the touch panel, water droplets will disturb you and you can not operate it well. With this function you will be able to operate comfortably even during bathing or cooking.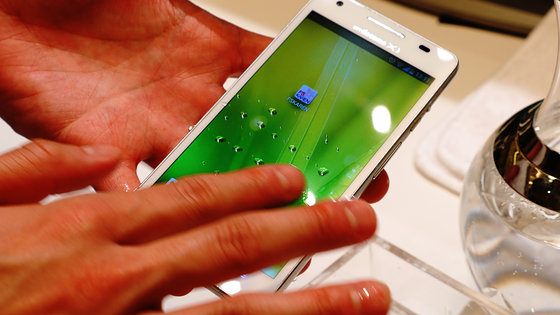 Also, the inner camera is a CMOS camera with about 1 million pixels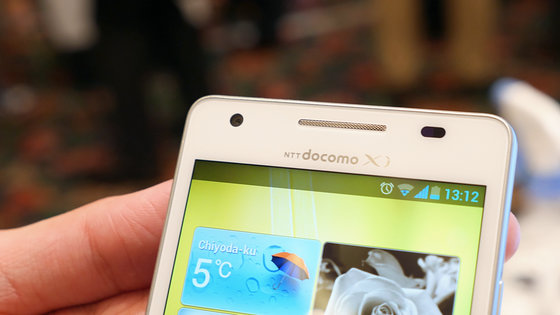 back



The rear camera is 13.1 million pixels, with backside illuminated CMOS sensor. It is a high sensitivity camera adopting a bright lens, and you can shoot even in dark places.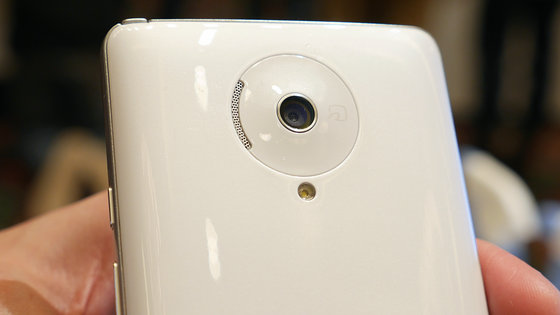 When shooting movies, colorful movie shooting with HDR is also possible.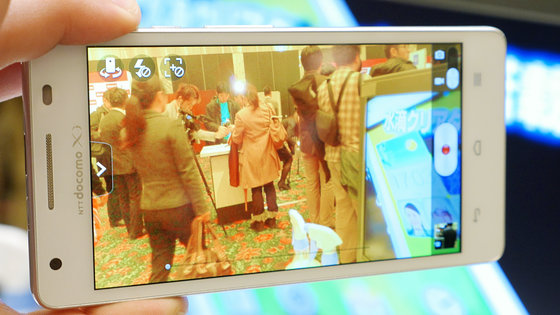 side. Supports microSD (2GB) · microSDHC (32GB). There is no cover on the charging jack, and it is safe to put on water in this state.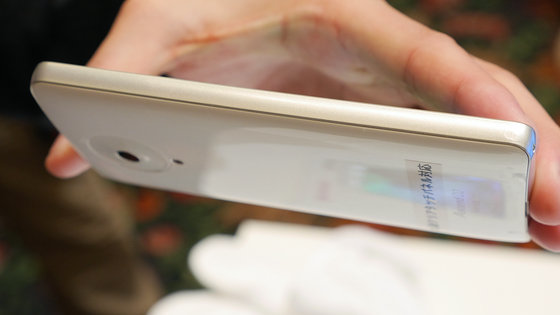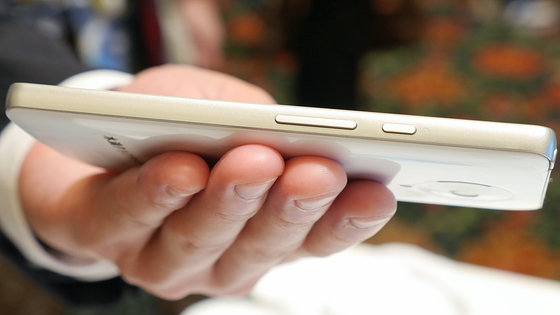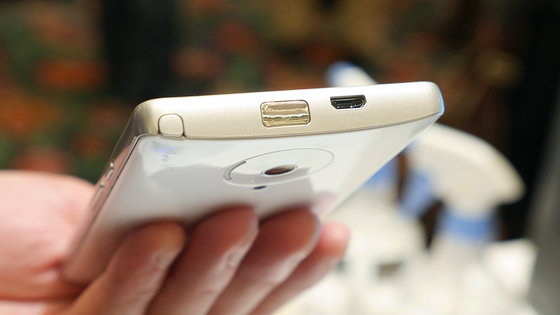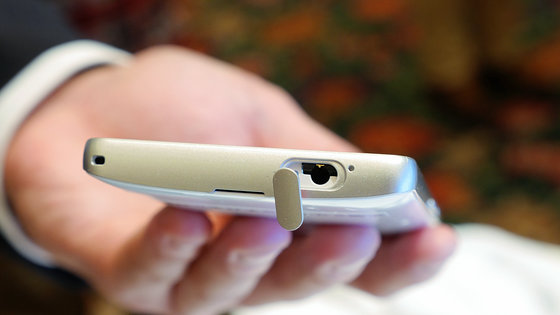 When I put out an antenna, it looks something like this.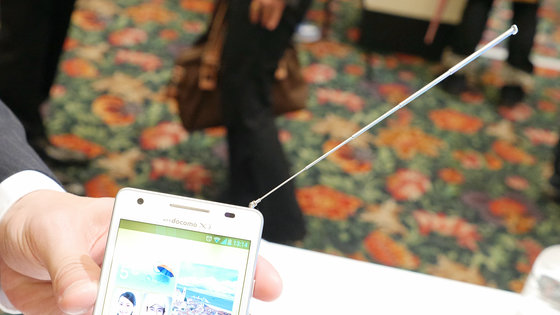 I tried to display GIGAZINE. Maximum of 112.5 Mbps in domestic fastest Xi reception, access is comfortable and crisp. Moreover, with 1.5 Ghz quad core CPU adoption, it can operate without stress.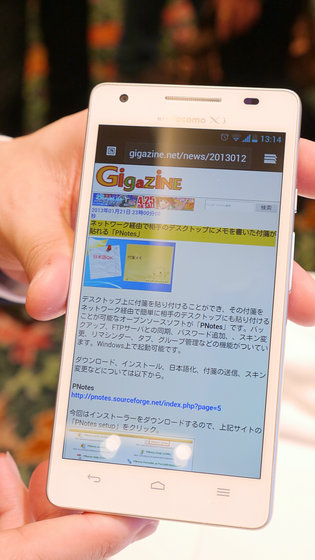 If it is landscape it will be like this.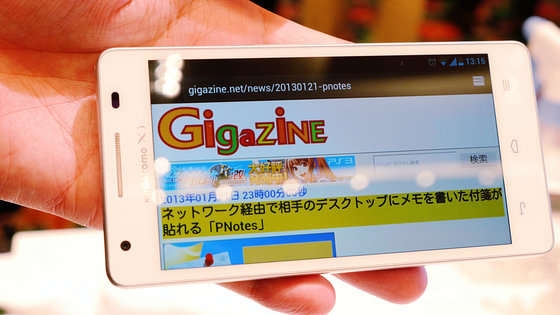 It is comfortable to operate while there are water droplets, and it is attractive that 112.5 Mbps compatible downlink is supported. In addition, waterproof, one-segment, NOTTV, infrared communication, Osaifu-Keitai etc. all enter and entertainment models are also fulfilling.