I have eaten "sweet chicken" of sweet peppers using apple and peach & "grilled rice ball" of fragrant soup with KFC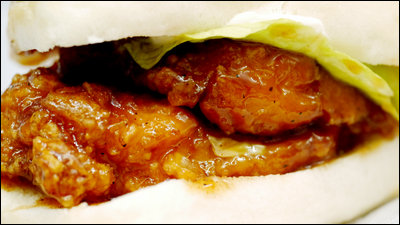 Crisp fried chicken is based on heavy-duty soy sauce, rich and fruit such as peach and rich vegetables are added, rice cracker added accent with chilli peppers, then black pepper & white pepperSweet and crunchy chicken"(260 yen including tax) was released from Kentucky. "Sweet and squeezed chicken sand" (380 yen including tax) using chicken fillet fried in the same recipe, "Grilled rice balls"(130 yen including tax) was also released at the same time, so we decided to eat all in bulk.

Fruits and flavors Chicken with luxurious flavor appeared with peppery flavored with the taste of vegetables! "Sweet spicy crunchy chicken" December 26 New release - New sand of luxurious taste "sweet chicken sand", resurrected with popularity! Simultaneous release of side menu "Yakimonogi rice" suitable for chicken ~
http://japan.kfc.co.jp/news/news121204kfc.html

Arrived in Kentucky.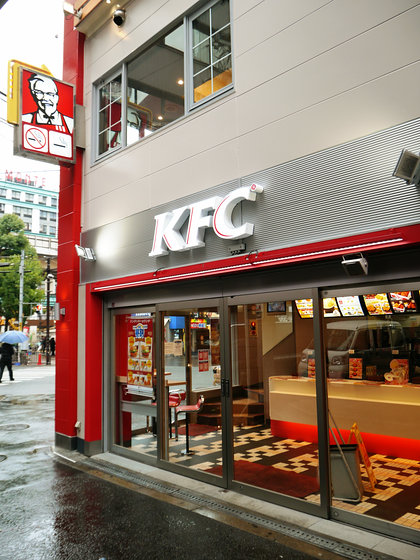 I ordered it all at once, I got it in a hurry without waiting.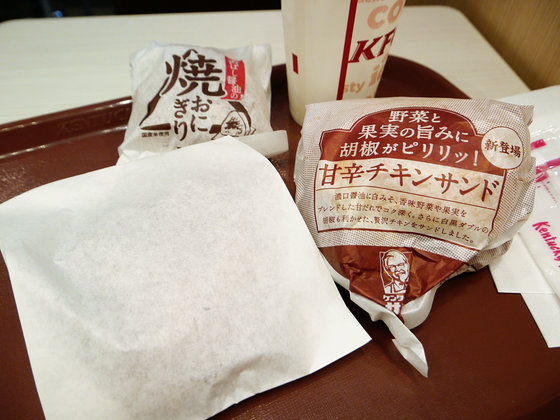 First of all, "Sweet and crunchy chicken". As you can see, the surface of chicken is covered with sauce and it is shiny. It is better to leave the hand towel at hand as it can hardly be taken when you get it.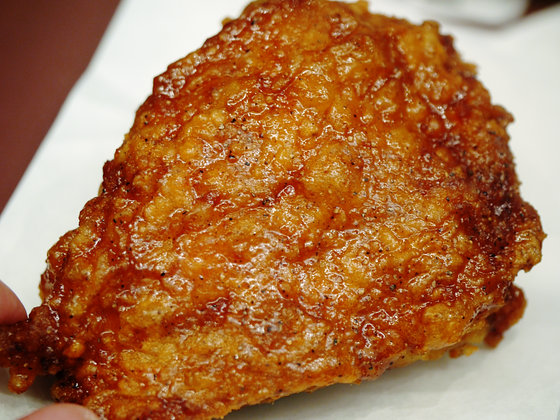 Looking closely, you can see small granules, but this is black pepper and white pepper.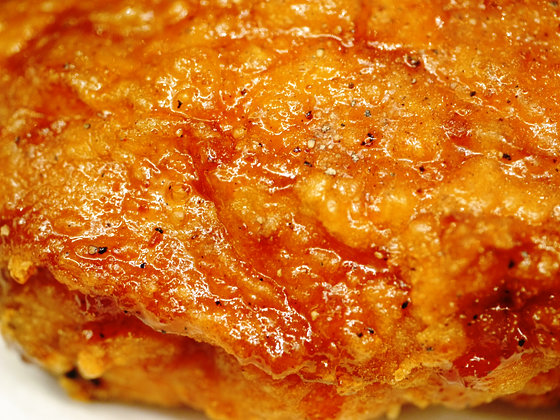 When you try to eat and approach the mouth, sweet scent already drifts softly. The sweet sauce is not as hot as I thought, and the feeling that sweetness is better than either way. At first, the sweetness of the sauce spreads over the tongue, after which the umami of chicken spreads out and the stronger pepper flavor is felt. The crisp crust of the crisp skin is also good. It may be unsatisfactory for those who expect spicy, but it seems to be good for those who like the taste of pepper.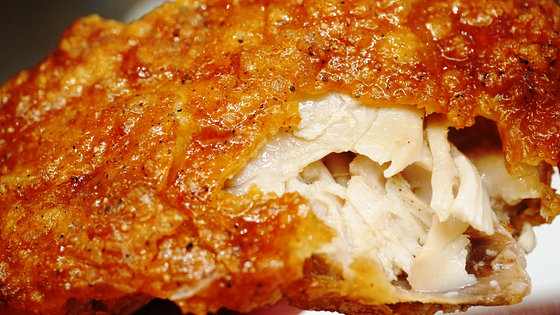 I also challenge sweet and sour chicken sandwiches.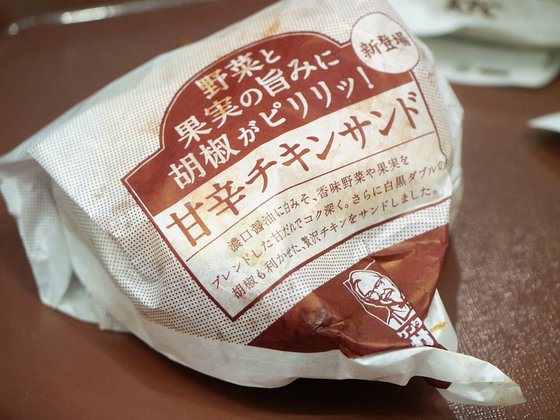 Sauce that seems to be sweet from viewing is plentiful than "Sweet and crunchy chicken".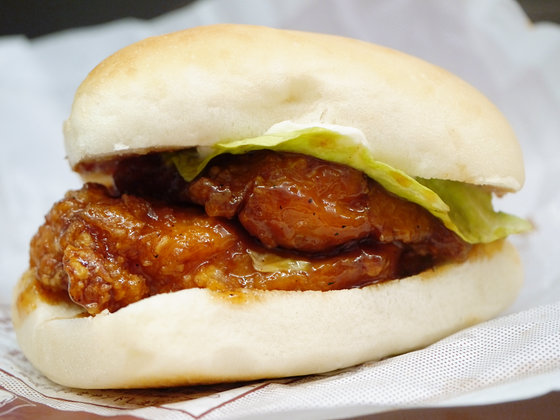 Lettuce is sorry.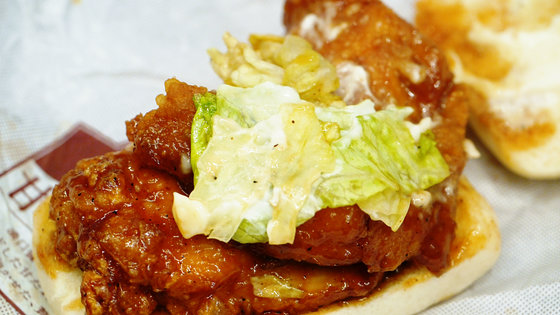 However, chicken has a volume of chicken fillets and is used. Even so, there are plenty of sauces.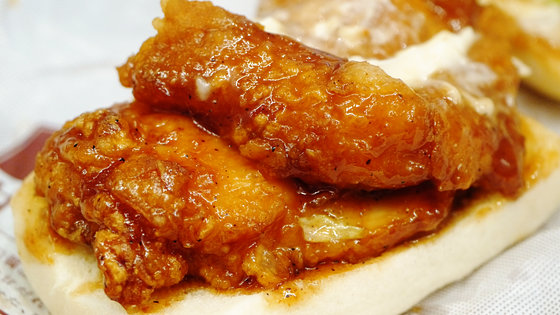 It was felt that the sweetness increased much more than "Sweet and crunchy chicken". Although the hotness is not so much the same as before, it is good that the taste of the fillet meat which was pretty sweet like a teriyaki sauce was excelled well and it is good. If you eat this chicken alone, you will feel the taste of the sauce slightly, but if you eat it with fluffy bread, bread is a good cushion and it is just fine.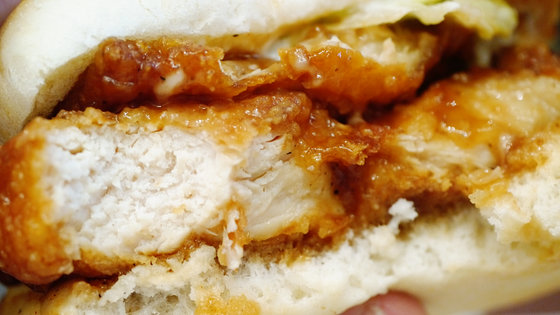 The end is grilled rice balls. It was released before but it seems to have revived as a rice menu for the first time in 4 years.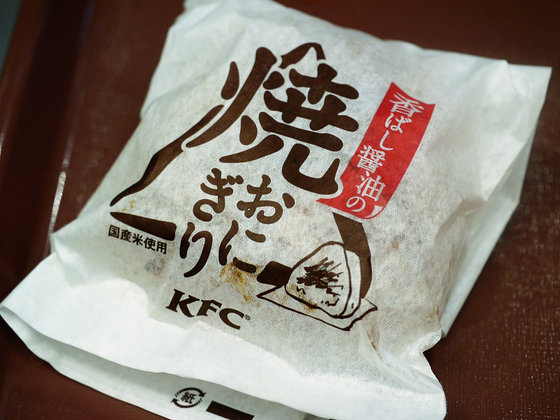 It seems that it seems to be scented as it gets caught. I applied special oil made from spearmint oil to the surface and baked it thoroughly.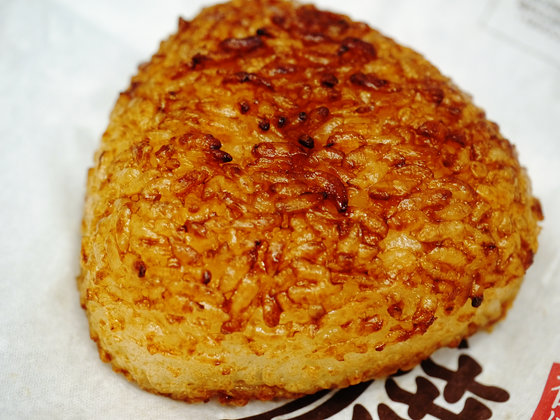 The taste of soy sauce is not so strong, it tastes smoother than I thought. However, if you say grilled rice balls, you expect the fragrant smell of freshly burned scented soy sauce, so you may want a little warmer to make you feel the flavor better. Eating it with chicken etc on a volume basis is just right amount for lunch.