New generation Megaupload "MEGA" starts on January 19, 2013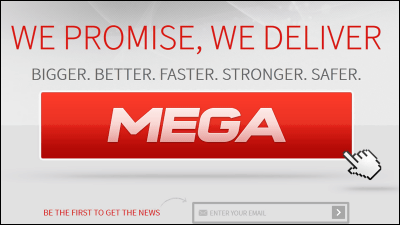 It was the world's largest online storage service"Megaupload" is closed, the operators arrestedIt was in January 2012 that it was done. after that,Conditional and bailKim Dae-com, the founder of the company, started preparing for the next site and in SeptemberNew "Megaupload" preparation is completedI announced what I did, but that new Megaupload "MEGAIt is clear that it will start on January 19, 2013.

MEGA
http://me.ga/



When accessing this URL at the present time "http://kim.com/mega/"It is supposed to be redirected to, but the contents are to inform about the new" MEGA ".

According to this, it is necessary to install dedicated software in order to safely transfer confidential information, and installation of "Mega Manager" was indispensable also for Megaupload for convenient use. However, in MEGA, encryption and decryption are performed only with the browser, and the key that is required will be stored not by MEGA but by the user on the cloud. Also, MEGA allows uploading and downloading to be performed in parallel at high speed and resuming is also possible.

MEGA can create folders that can be easily shared with multiple accounts on the cloud and can connect to this cloud drive in the same way as a local drive.

Earlier Megaupload had a handful of storage in expensive data centers, but thanks to encryption technology, MEGA is able to obtain numerous hosting partners all over the world without worrying about privacy violations I could do it. As you can see above, the files uploaded to MEGA are encrypted by the user's key, so MEGA and the hosting side do not know what it is. Thanks to many collaborators, data transfer will be further accelerated.

Although MEGA got a partner and was able to collect funds for starting service in this way, Mr. dot com wants to provide MEGA free for a while even if it is a person who wants to help the success story in the future We are looking for more partner, a server that will become a node of storage if you want to contact us. In addition, we are also offering comprehensive software development kit, so we are also looking for third party client development.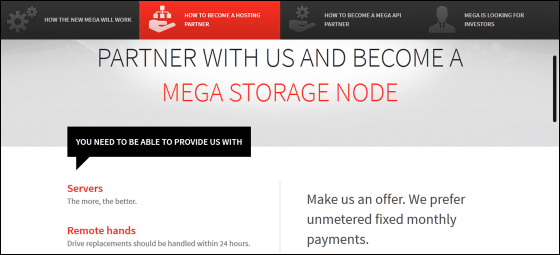 The closure of Megaupload had a great impact on the online storage area and was also a major online storage service"FileSonic" disables the file sharing functionAside from doing that, the site that responded similarly continued.

It is one of themRapidshareInitially, we addressed by turning off the file sharing function, but after that, as a countermeasure against piracyMeasures to reduce the speed for free users to 30 kbs as analog modemwas doing. However, this measureWith "there are counters that can counteract copyright infringement more efficiently", it was abolished at the end of OctoberIt is being done. What that counter is said to be revealed around the end of the year.

From the end of 2012 to 2013, it seems that big changes will occur in the online storage area.