"IPad mini" vs "Nexus 7" actual machine confrontation, size, weight, ease of holding etc. thorough comparison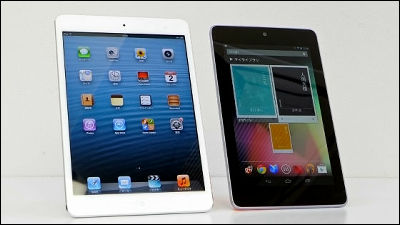 Apple's 7.9 inch tablet "IPad mini"Arrived at the editorial department, Google also 7 inch size, one of rival machines Google's"Nexus 7"And decided to compare the details by aligning the actual machines.

Apple - iPad mini - Features

Nexus 7 (16 GB) - Google Play

The package is "iPad mini" (left) is white and "Nexus 7" is main gray.



Lock screen.



The screen right after unlocking is as follows. In the default state, "iPad mini" (left) is a partial screen with icons of application, but it is arranged so that the cover of e-book reads first.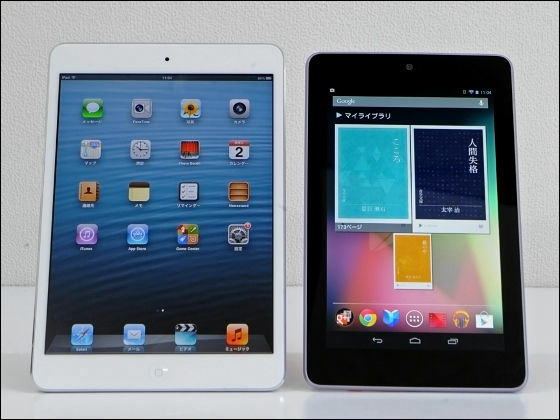 Looking sideways and looking like this. "IPad mini" (back) is slightly larger.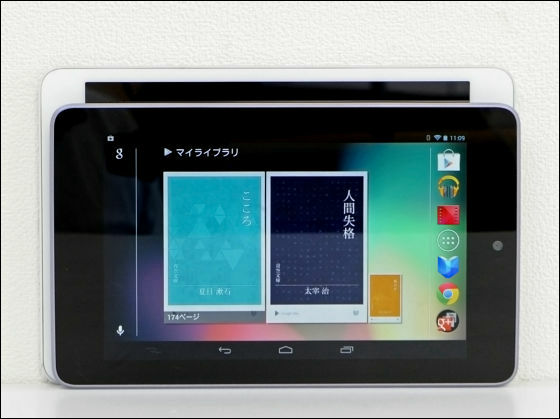 The thickness is "iPad mini" (left) is 7.2 mm and "Nexus 7" is 10.45 mm. Although it is a difference of only 3.25 mm when it is a number, if you actually arrange it, you can feel a lot of difference.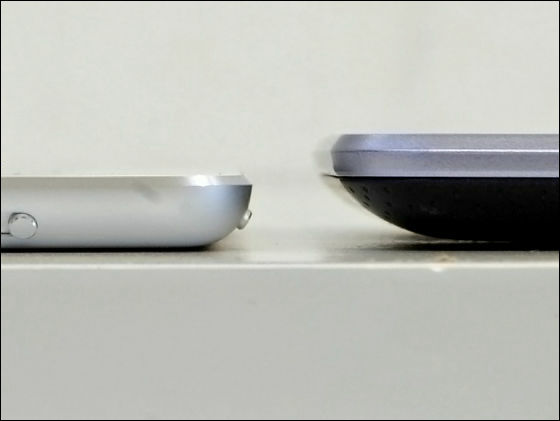 Looking from the top of the terminal with the top and bottom overlapping is as follows. Since "iPad mini" (bottom) has a horizontal width, the impression that thinness is emphasized.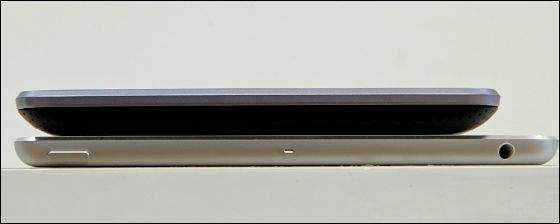 The measured weight is "iPad mini" about 306 grams.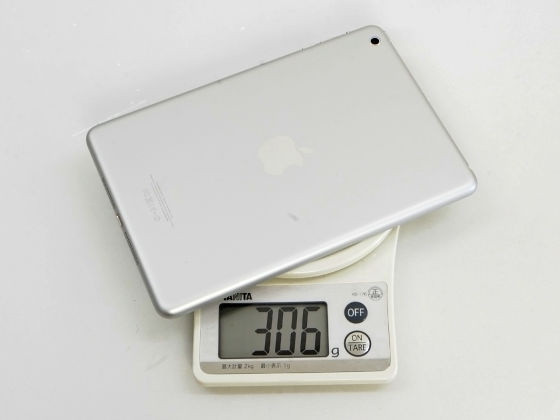 "Nexus 7" is about 334 grams, 28 grams heavier than "iPad mini". Can you feel the difference with this degree? I also thought, but when I actually took it in hand, I found out the difference firmly and unexpectedly. In case you use it with holding one hand for 20 to 30 minutes while catching on the fishing leather in the train, it may be the difference that will work with jiwiwa.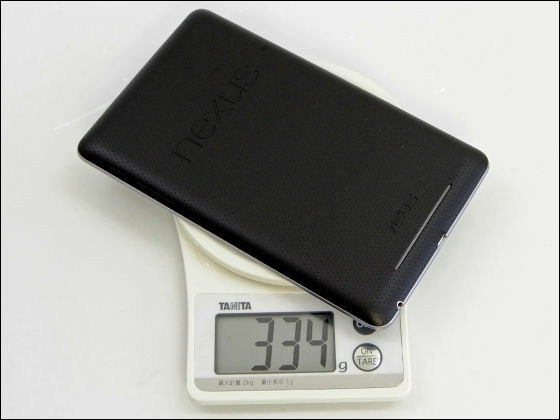 Opened my hand and grasped both ends of the terminal as follows. "IPad mini" has a horizontal width that can be grasped only by the hand of an adult male.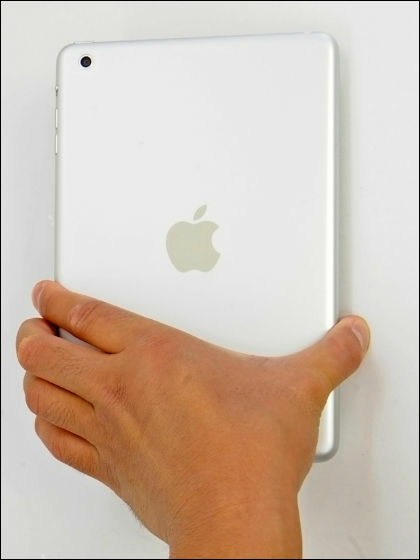 "Nexus 7" is relatively slim so you can grasp it securely.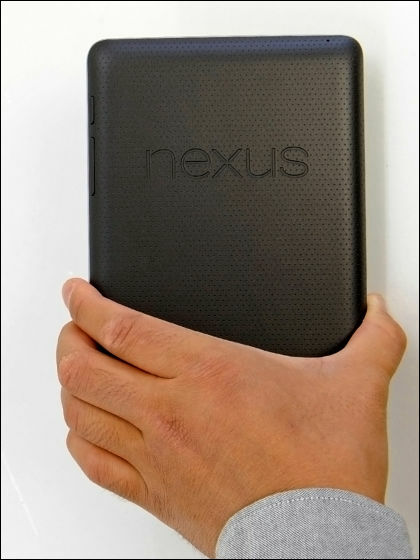 It is like this when trying to display GIGAZINE in portrait orientation. Because of the relationship of the page design, the difference in the width does not influence so much so big differences are not felt.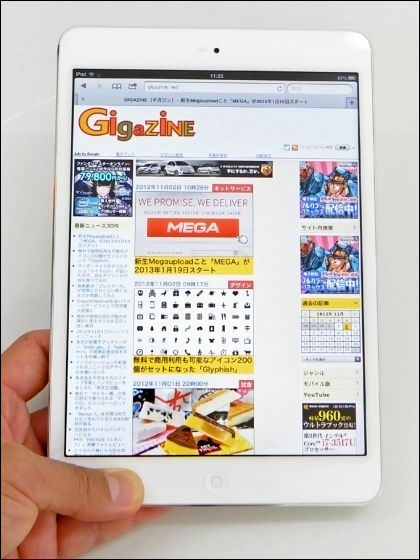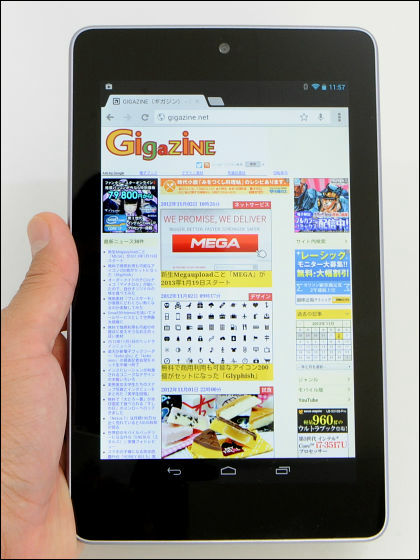 Where you display GIGAZINE in landscape orientation is like this.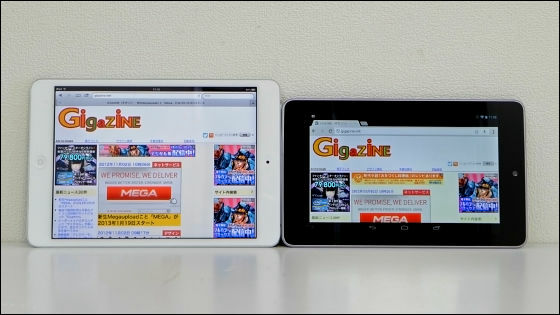 Hibiya High School is supposed to be in the premises of the official residence for some reason when displaying the area around the Prime Minister's official residence of Japan with the map application of "iPad mini". previousarticleAs it is also found in Apple's map application installed from 'iOS 6', the perfection degree is not sufficient, so these misrepresentations are scattered, and even in 'iPad mini' It does not seem to have changed.



The display of Google Maps is properly "Prime Minister's official residence".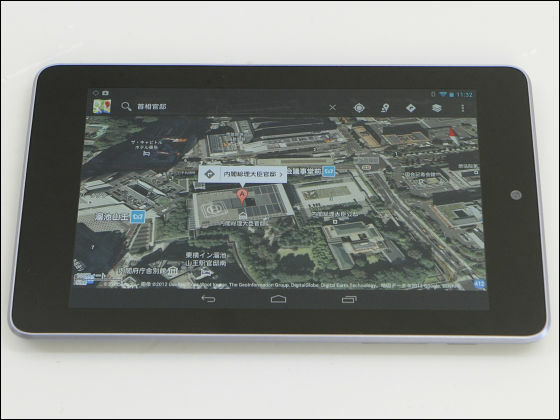 It is like this when arranging both. Although there are some problems in the display, the iOS 6 map is clearer in expressing the stereoscopic effect, so it seems that usability will improve if accuracy of display and search accuracy are improved.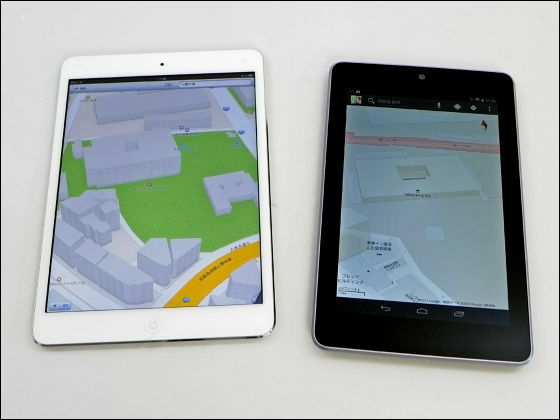 "IPad mini" can shoot with a 5 million pixel rear camera, but "Nexus 7" is only equipped with a front camera, so it is quite difficult to use as a camera.



"IPad mini" uses iTunes for content download, and "Nexus 7" uses Google Play for downloading content.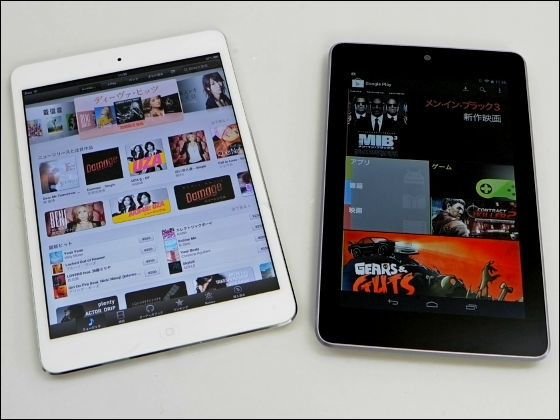 The total score compared using benchmark application "PerformanceTest Mobile" which can compare performance between iOS device and Android terminal is "iPad mini" (left) 2049 and "Nexus 7" 2082.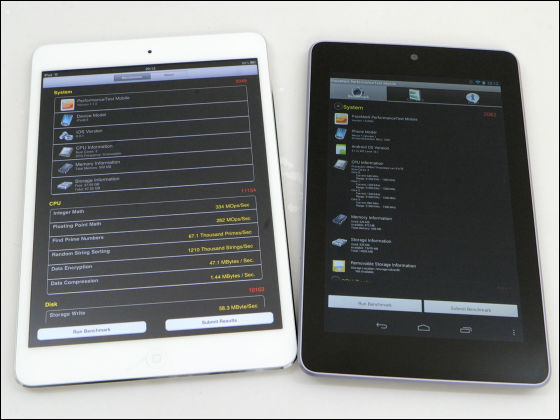 It seems a bit surprising that "Nexus 7" and "iPad mini" that are superior to the number of CPU cores and installed memory are about the same score, but feeling a big difference in the sensible speed when actually operating There was no.

The main specifications of both are as follows.

◆ "IPad mini(White & Silver 64GB WiFi model) main specs
OS: iOS 6
Body size: width 134.7 × height 200 × thickness 7.2 mm
Display: 7.9 inches (1024 × 768 pixels / 163 ppi)
Weight: 312 g
Battery: Up to 10 hours driving (16.3 Wh)
Camera: 5 million pixels on the back side, 1.2 million pixels on the front side
CPU: A5 chip (dual core)
Memory: 512 MB
Storage: 64 GB
Wireless LAN: 802.11a / b / g / n (802.11n is 2.4 GHz / 5 GHz)
Port: Lightning connector

◆ "Nexus 7(16GB WiFi model) main specifications
OS: Android 4.1 (Jelly Bean)
Body size: width 120 × height 198.5 × thickness 10.45 mm
Display: 7 inches (1280 x 800 pixels / 216 ppi)
Weight: 340 g
Battery: Up to 8 hours driving (4325 mAh)
Camera: No back, front 1.2 million pixels
CPU: NVIDIA Tegra 3 (quad core)
Memory: 1 GB RAM
Storage: 16 GB
Wireless LAN: 802.11 b / g / n
Port: micro USB

· Next article
Evolution of the "iPad" series from the first generation to the mini series All the success models that clearly shows the true value Total arranged side by side Review - GIGAZINE