Rakuten acknowledges the fact that the number of original Japanese books of the electronic book "kobo" was inflated more than 10,000 books, apologizing, how many books at the moment?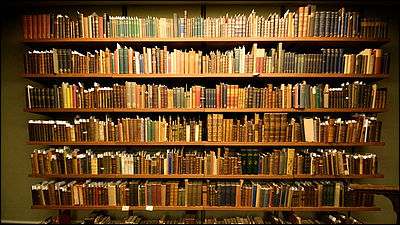 ByAmelia-Jane

It was revealed that Rakuten received guidance as there was an inappropriate part on the number display of electronic books from the Consumer Agency in accordance with the premium labeling law.

【Rakuten Co., Ltd.】 News release - About guidance from consumer agency
http://corp.rakuten.co.jp/newsrelease/2012/1026.html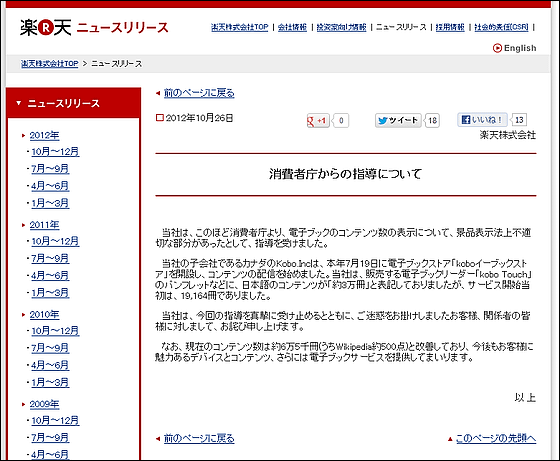 As for contents, although Rakuten described as "about 30,000 volumes" of Japanese content at the beginning of the ebook store "kobo e book store", in fact it was 19164 books . Rakuten is releasing "We apologize to our customers for this incident as we take this guidance seriously and apologize to everyone concerned about the inconvenience," we apologize.

However, it continues further "furthermore, the current number of contents has improved to about 65,000 books (of which about 500 Wikipedia), and we will continue to offer customers appealing devices and contents, as well as e-book service Indeed, in this approximately 65,000 volumes, not only Wikipedia but also Aozora Bunko is included, and furthermore on the official website as follows "Japan titles over 60,000 volumes "More than 1 million titles of free titles" are specified, but if you look closely it is said to be "※ 2: Including overseas content" for free titles of 1 million books, and the very confusing state continues.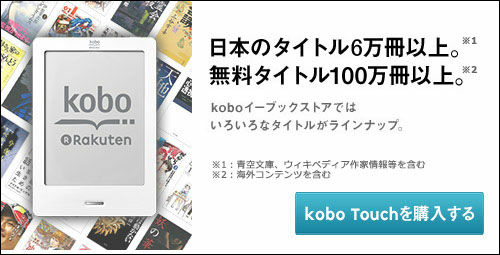 You can check how much pace has been increased to this number on the following page.

News release: Ebook Rakuten
http://kobo.rakuten.co.jp/news/

October 10, 2012 【Content Release】 Added 890 volumes of Shueisha comics including "ONE PIECE" and "JoJo's Bizarre Adventure".
September 25, 2012 【Content Release】 The number of books in Japanese exceeded 60,000 volumes.
2012 September 25 [Content release] 559 volumes including "To You" at Gentosha and "Hanger / Game" at Media Factory were added.
September 19, 2012 [Start distribution of author information] We started distributing Wikipedia's author information.
Please deepen your understanding of the era of writers and works and enjoy more fulfilling reading.
September 07, 2012 【Content release】 Bungeishunju "1828 volumes including" Fushima Production / Satomi Hakkenden "added
September 03, 2012 [Content release] 687 volumes including Kodansha "Mainly crying Volume 7"
August 28, 2012 【Content release】 New lecturer "Added 1140 volumes including" To throw away "" Lifestyle makes life easier ""
August 22, 2012 [Content release] 202 volumes including commercial world "MUJI's world strategy and management reform" added
August 10, 2012 【Content release】 Hayakawa Shobo "Fahrenheit 451 degrees", "418 volumes" added
August 09, 2012 【Content release】 1620 volumes including Bungeishunju "Evil scripture" and Japanese literary company "Minami no Emperor"
August 06, 2012 [Content Release] Add 825 volumes including Shodensha "Summer Snow Rendezvous", Wanibooks "Ikki Tousen"
August 03, 2012 【Content release】 552 volumes including "Oda Nobu no Ambition 6" and "I have few friends 8"
July 31, 2012 【Content Release】 Approximately 2000 volumes including Takeshobo, Frontier Works, Okura Publishing etc.
July 26, 2012 【Content Release】 Fujimi Shobo "Is this a zombie?" "509 volumes added

Looking at this, it is increasing steadily, but if you look at the breakdown, "count as one book even though there is only one photo" "score music score as a Japanese book" "count Wikipedia as a Japanese book" It seems that it is frequently a problem because it seems like "Aozora Bunko also counts books".

◆ August 28
Rakuten 'Kobo e book store' Japanese title breaks 30,000 volumes! Of the 1978 volumes, one photograph is counted as a Japanese book: Market situation Kabu full force 2 stories
http://kabumatome.doorblog.jp/archives/65705184.html

As for the above matter, it is increasing further at the present time,2330 volumes are 1 photoIt is becoming.

◆ August 31
Rakuten "Kobo e book store" got 6363 guitar chords recorded in Japanese titles Count: Market situation Kabu full force 2 stories
http://kabumatome.doorblog.jp/archives/65705602.html

At the moment concerning the above-mentioned matter, Kore also increases,12,230 volumes of music score of guitar chordsis.

◆ September 20
Rakuten "Wiki Valley" Chairman's official recognition "Kobo eBook Store" Wikipedia Personal name Bookmarking starts, allegations of violating licensing that arbitrarily DRM is raised: Market situation Kabu full force 2 stories
http://kabumatome.doorblog.jp/archives/65709303.html

At the moment the license violation has been resolved, and about 500 points are the contents of Wikipedia.

Also, it is clearly shown on the Rakuten kobo official website that about 10,000 volumes are in Aozora Bunko.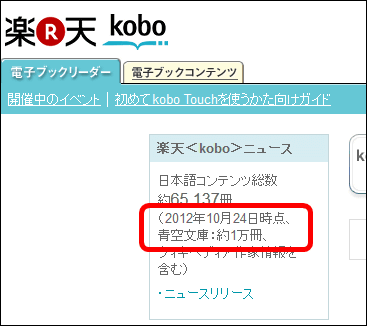 After all,Of the current Japanese content of about 61,500 volumes, it is doubtful whether it can be said that about 20 thousand 7060 volumes = about 2330 books + 14,230 pieces of music score + about 500 Wikipedia books + blue sky books books = "books" Is not it?It is such a thing, it is the reality of Rakuten kobo that what is not well understood is whether or not it is possible to say "book" near real book store nearly one third of the whole.

Rakuten is aiming for 60,000 volumes by the end of August in the initial target, 200,000 volumes by the end of December, but in view of the above facts,At the present time about 30,880 volumes are real numbers of Rakuten koboIt is reasonable to think that Amazon's Kindle appeared (about 50,000 volumes of Japanese books and about 10,000 free books out of them), so Rakuten has launched just before Kindle appeared as follows Although "Although sending a kobo terminal despite not clearly showing the intention of application to Rakuten cardmember" is also insidious at first sight, in the sense that "let's increase readers anyway first" Ru Rakuten should have thought that it is ant.

Black ship of Amazon "Kindle" arrived, while in domestic cases Rakuten "Kobo" could send himself to Rakuten card member arbitrarily: Market situation Kabu full force 2 stories
http://kabumatome.doorblog.jp/archives/65715653.html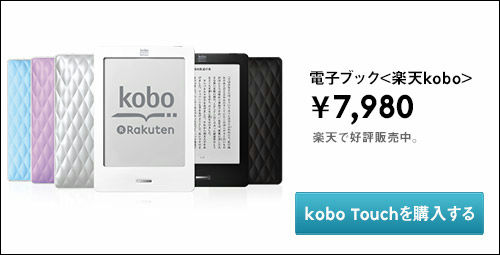 This is because if the number of readers increases, it will be possible to encourage publishers to increase the number of e-books by using that as pressure, in fact Amazon also currently has the following buttons Has been added, and materials are collected that "Amazon users wanting electronic books for Kindle are like this".




Later question from here, will Rakuten's kobo win against Amazon's Kindle? The point. Rakuten is going ahead in time, but in the deployment of kobo Rakuten's e-book service "Raboo" was closed in March 2013, the books purchased after that "Unable to download againThat means that it is not integrated with kobo. On the other hand, by integrating Kindle 's account purchased on Amazon.com overseas and Kindle' s account in Japan, we managed to avoid situations where one side became invalid, but with only the number of volumes It seems that the difference in detailed accumulation of convenience that faces these users will not decide the final winner.