Let's see how big the influence of Nokia is with the penetration rate of Windows Phone 7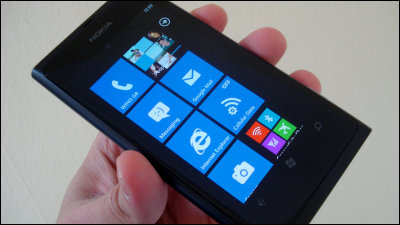 ByJohn.Karakatsanis

I withdrew from the Japanese mobile phone marketNokia (Nokia)However, we still boast the world's second largest market in the world market. How much is the magnitude of its influence,Windows PhoneThere is a graph that I checked with the penetration rate of.

The Nokia effect - Finland is Windows Phone's strongest market by far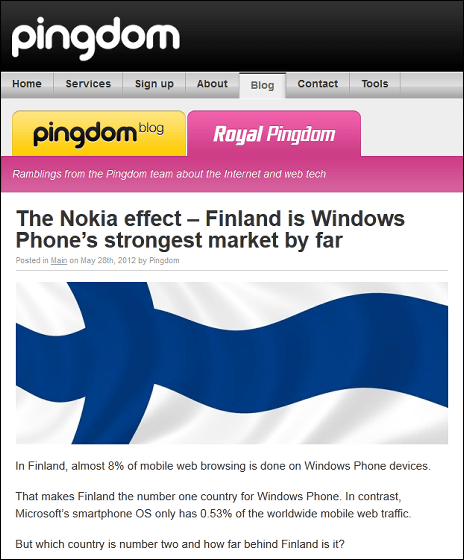 The share of Windows Phone in the entire mobile phone market is not a big one at all, it accounts for 0.53% of mobile phone traffic. However, when StatCounter investigated in May 2012, it seems that Nokia has finished its share of 7.59% in Finland, which is the knee. This is enough to unleash the second place with a triple score.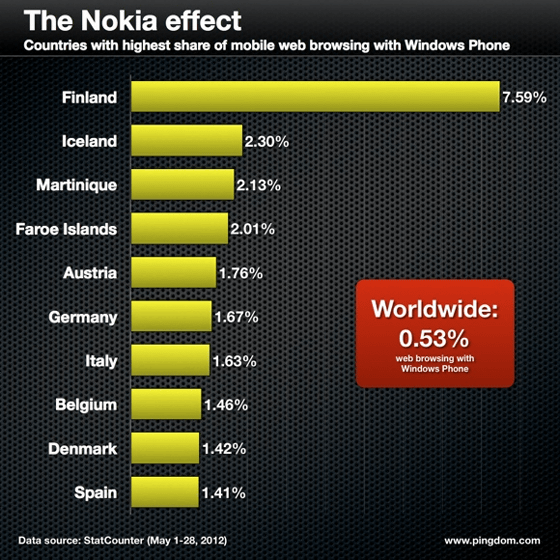 By the way the ranking after the second place is as follows.
No. 2: Iceland 2.30%
3rd place: Martinique (French overseas department in the Caribbean Sea) 2.13%
No. 4: Faroe Islands (Danish self-governing body in the North Atlantic Ocean) 2.01%
No. 5: Austria 1.76%
No. 6: Germany 1.67%
No. 7: Italy 1.63%
No. 8: Belgium 1.46%
No. 9: Denmark 1.42%
No. 10: Spain 1.41%

As overseas counties and local governments are counting, these figures are based on traffic, a different number from market share. According to IDC, Windows Phone seems to have a 2.2% share in terms of market share in the first quarter of 2012.

By the way,NTT DoCoMo considers Windows Phone as a new model line-up in winter 2012As it is said that it is doing, the market share in Japan may grow a bit.