Microsoft gave up on Nokia acquisition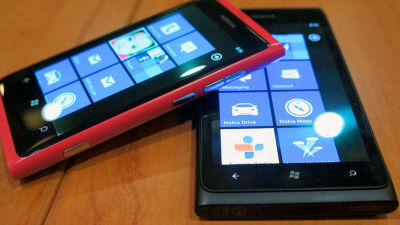 ByVernon Chan

It seems that China's communication equipment manufacturer Huawei is interested in acquiring NokiaHuawei's president pointed out that "we will pay the license fee for small shares like Windows Phone", but Microsoft, the licensee of that Windows Phone, also acquired Nokia It was revealed that he was engaged in an effort to do it.

Microsoft Explored Deal for Nokia - WSJ.com
http://online.wsj.com/article/SB10001424127887323393804578555783340654630.html

That Microsoft-Nokia merger you've been predicting? It's no go • The Register
http://www.theregister.co.uk/2013/06/20/microsoft_nokia_merger_no_go/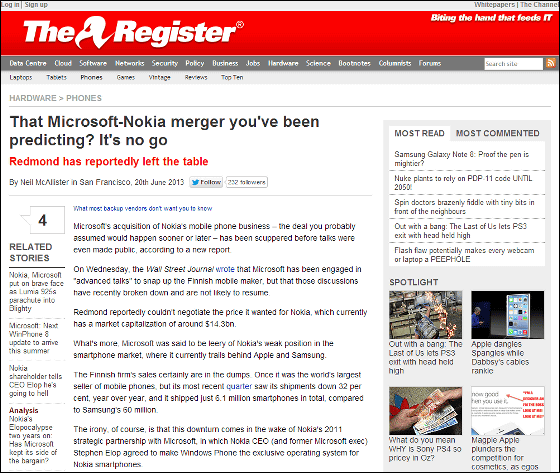 This was revealed by the Wall Street Journal and Microsoft set up a discussion ground for the acquisition of Nokia but considerable consideration for Nokia's rating of market value of $ 14.3 billion (about 1.38 trillion yen) It is said that the negotiations ended poorly because they could not pay.

Nokia was once the world's largest mobile phone maker, but recently it has declined markedly, shipping volume is about 10% of Samsung, the world's No. 1 mobile phone maker at the moment, wearing a big back dust.

First of all, one reason why Nokia fell so far is the strategic partnership with Microsoft that we signed up in 2011. Stephen Elop, CEO and former Microsoft executive at Nokia, adopted a strategy to handle Windows Phone-powered devices as the top priority, but Windows Phone's share has been sluggish, and Nokia also pulled downward to follow it became.

No comment on Microsoft and Nokia talking about it. Nokia commented, "Since the two companies are in a cooperative relationship, it is not uncommon to meet regularly."

By the way, the OS of the current mobile terminal is mostly filled with iOS and Android terminal, and the remaining OS is competing with the remaining small share. In such a situation,Windows Phone overtakes BlackBerry in April 2013Although it is small, it is gradually increasing the number.

Data that Gartner announced in May 2013Although it loses by 0.1 point difference to BlackBerry, compared with the shipment quantity of 1st quarter of 2012 and 1st quarter of 2013, BlackBerry is about 30 million decrease, while Windows Phone is 22m increase , It seems certain that it is in good condition. Research company IDC in 2011We have made a forecast that "the last Windows Phone pulls the iPhone away, Windows Phone may be out of the stagnation period to expand its market share, and Nokia may also regain its momentum along with it.
in Note, Posted by logc_nt