Microsoft acquires Nokia's mobile phone business and map license for a total of 700 billion yen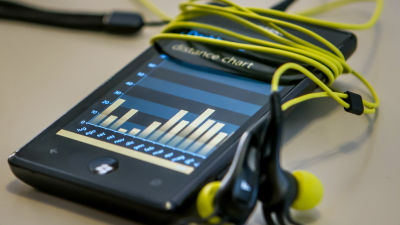 ByN i c o l a

Male · Nokia, a mobile phone maker who lost the momentum of the past,Chinese communication equipment manufacturer · Huawei is interested in acquiringAlthough it was reported as such, Today, Microsoft announced that it will acquire Nokia's mobile phone business (terminal and service division). Nokia is a map serviceGlobal map following Google, AppleHowever, by obtaining a license for this patent, the total amount of transactions will exceed 700 billion yen.

Microsoft to acquire Nokia's devices & services business, license Nokia's patents and mapping services
http://www.microsoft.com/en-us/news/press/2013/Sep13/09-02AnnouncementPR.aspx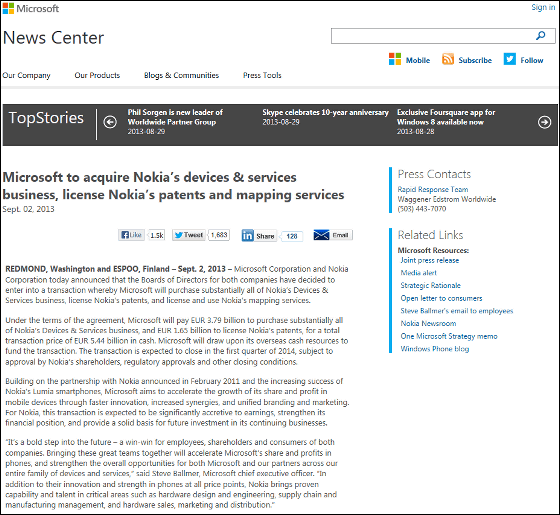 According to the announcement, the acquisition amount of the terminal and service division is 3.790 billion euros (about 4968 billion yen), the license of the patent is 1.65 billion euros (about 216.3 billion yen), the total amount is 5,440 million euros 713.1 billion yen).

While many mobile phone manufacturers have adopted Android as OS, Nokia has been fighting as one of the few Windows Phone's forts, but it had been hard for a long time to lead to market share expansion. OS, the manufacturer of the OS, in collaboration with Nokia in February 2011, has cooperated with various strategies including branding of the smartphone "Lumia" series, but has also cooperated on its own as a hardware manufacturer on its own It seems he decided to push forward the Phone.

By the way, this was not the first time that Microsoft thought about Nokia acquisition, and in June 2013I abandoned the acquisition negotiationThere was a story saying. At this time, Nokia had reported that the negotiations ended poorly because the market capitalization was 14.3 billion dollars (about 1.38 trillion yen) and it was not possible to pay as much as this amount.