Television evolves so far From the 145-inch Super Hi-Vision display to the research as SF, from the number of exhibits showing the seriousness of NHK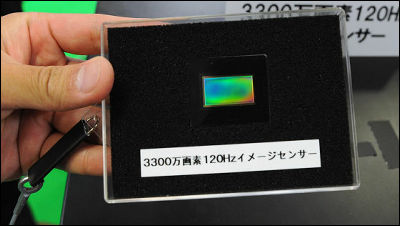 As the only research institute in Japan covering broadcasting technology in general, we are conducting research and research related to the advancement of broadcasting "Broadcasting Technology Laboratory, Commonly known as "Giken" will publish the results of its research to the general public "STRL Open 2012So I decided to go to the scene and see what kind of technology will be used for the future TV.

Building of "Giken" in Kinuta, Setagaya-ku, Tokyo.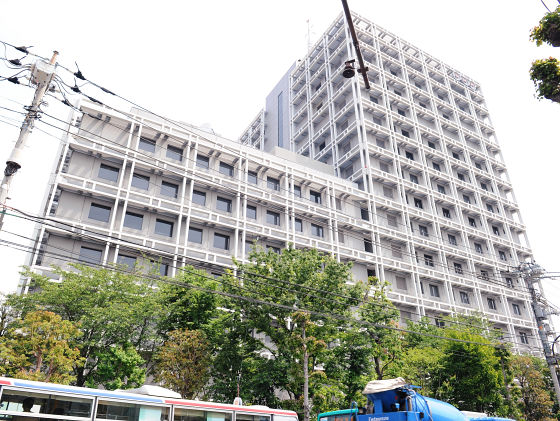 At the same time as opening, popular booths are flooded with people and crowded.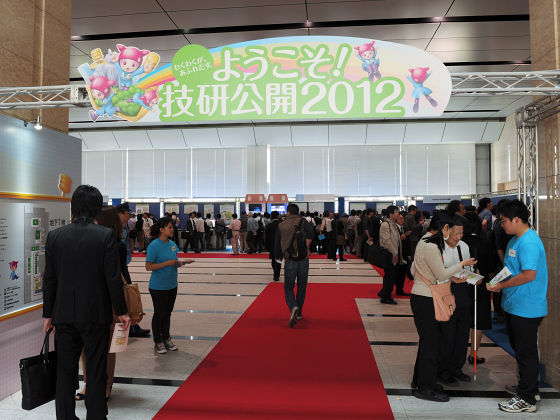 Throughout the entire exhibition, the main feel of NHK was the "Super Hi-Vision" related booth. The results of the research that has been conducted in a wide area from photographing equipment to broadcasting and viewing mechanisms until just practical use have been announced and it was content that realized that "television will evolve so far ... soon!"!

◆ Road Map

He said that he is studying Super Hi-Vision in 2020 and stereoscopic TV in 2030.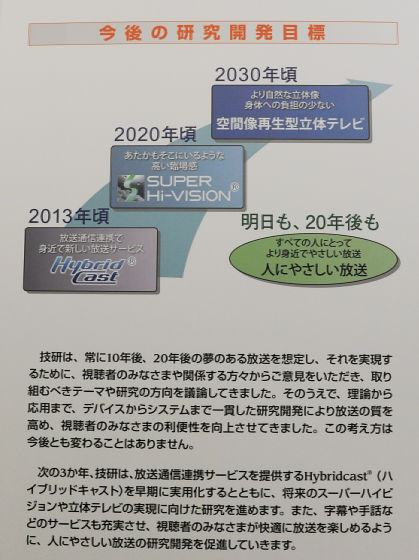 It seems that preparation for the Super Hi-Vision that watches the video with 3.2 dimensional channels of 22,2 channel total pixel number 33 million pixels is preparing for the test broadcast in 8 years.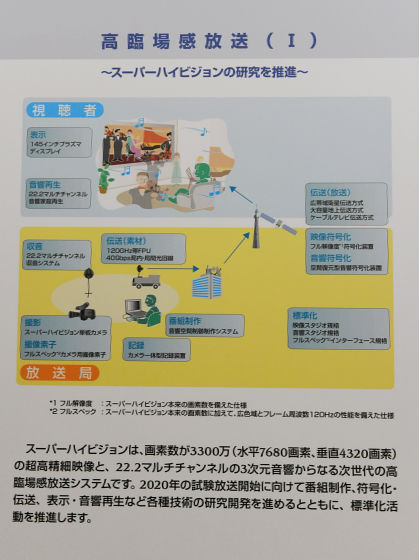 Beyond that, we are also studying as SF, aiming to realize broadcasting incorporating stereoscopic display by holography.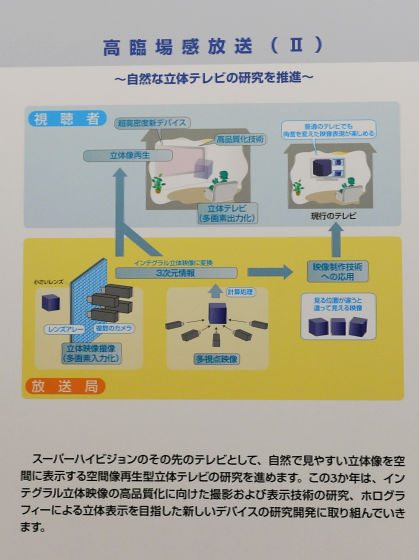 ◆ Display

NHK Giken Public Open 2012 (5 / 24-27) | Exhibit items

A research aiming at realizing a high-definition Super Hi-Vision display aiming at ultrahigh definition of a plasma display and advancing a large screen, research result of signal processing for plasma display compatible with Super Hi-Vision image is 145 inches (7680 Super Hi-Vision images are shown on the screen.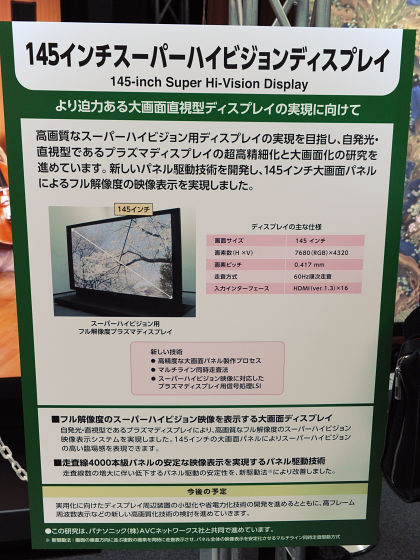 People looking into high-definition screens to forget to be "video".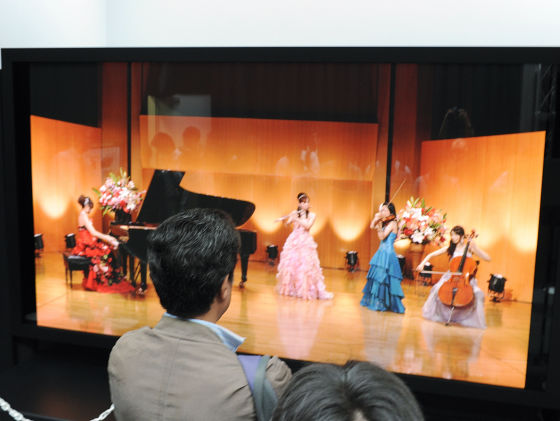 Enlarging a part of the screen looks like this. Up to 1 tiny peacock tail is clearly visible.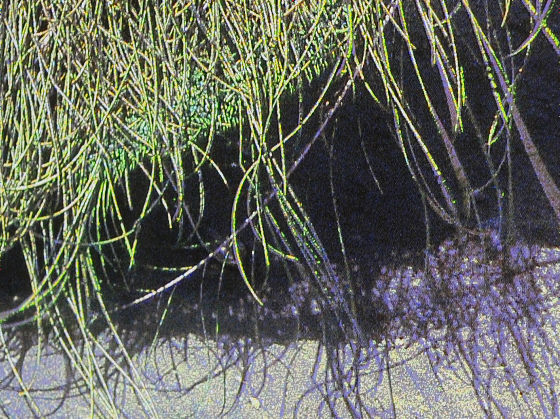 Even when taking pictures by zooming to about 1 / 50th of the screen size, rainbow trout and ground muddy are clearly visible.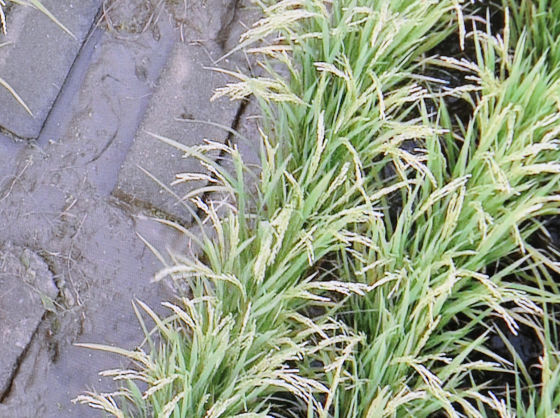 ◆ Imaging device

NHK Giken Public Open 2012 (5 / 24-27) | Exhibit items

Sensors that realize 33 million pixels equivalent to high-end DSLR cameras and 120 Hz frame rate which is twice that of general home video cameras are displayed.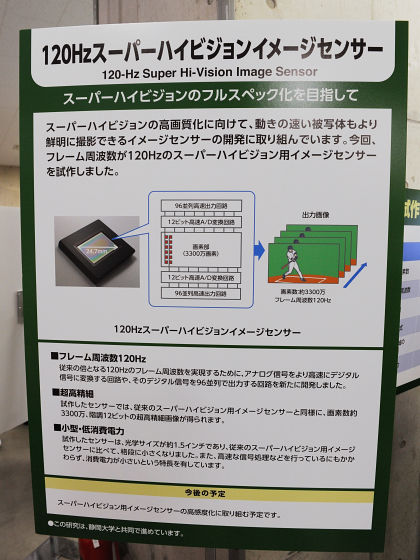 The size is unexpectedly compact.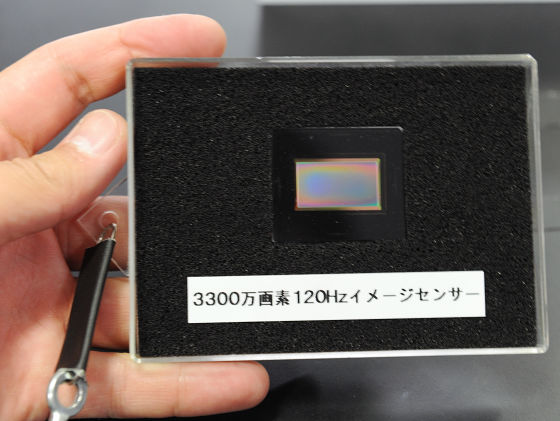 It seems that the actual camera has three sensors for red, blue and green.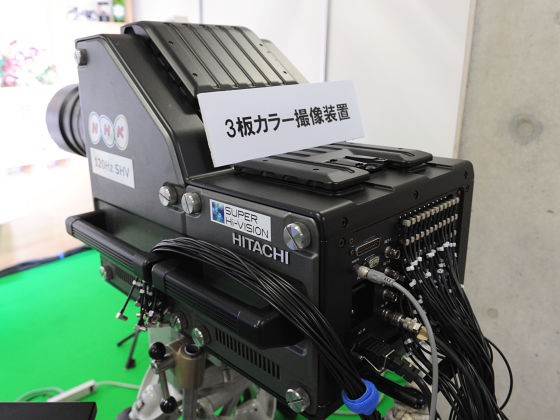 The number of output cables is supposed to be ridiculous.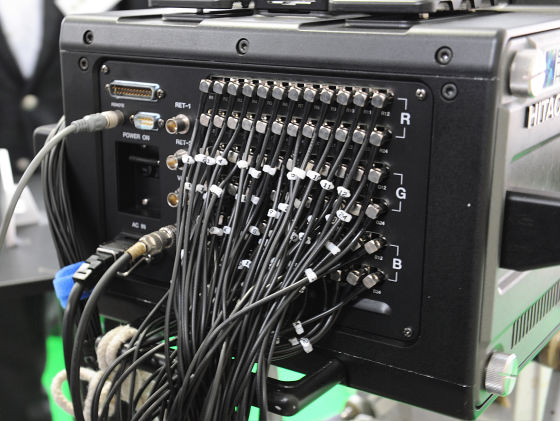 Specifications are as follows. It has become possible to shoot fast moving pictures such as sports and much more smoothly with the number of frames higher than the old sensors.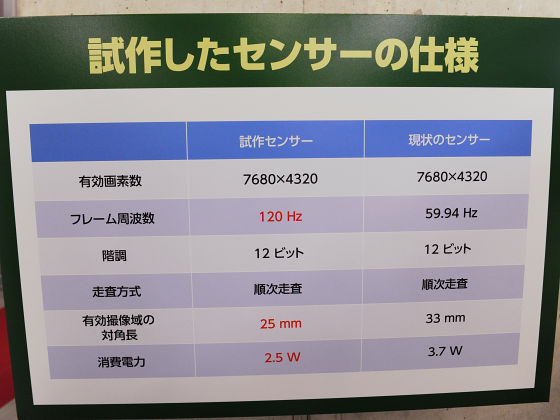 ◆ Miniaturization of camera

NHK Giken Public Open 2012 (5 / 24-27) | Exhibit items

A research on the purpose of trying to miniaturize a Super Hi-Vision camera for shooting which was even huge even with one person to realize dynamic shooting is as follows.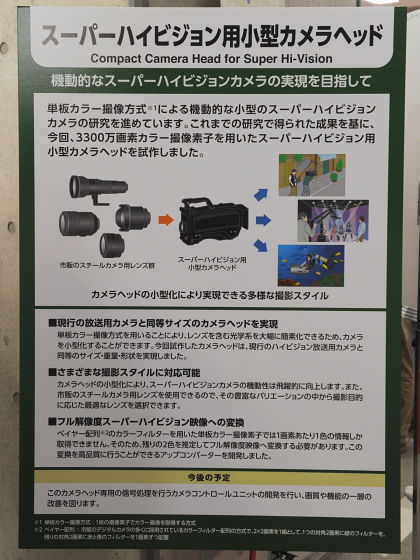 Old-style camera is about this size.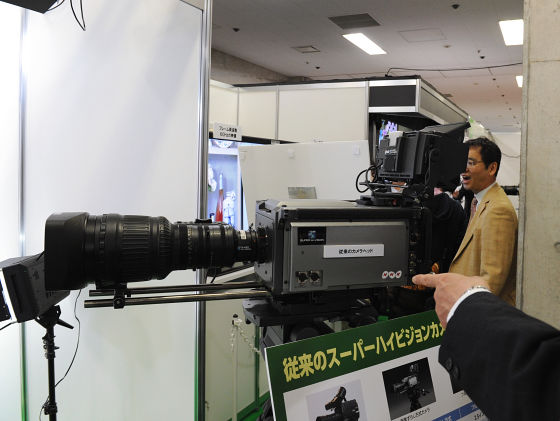 Meanwhile, the new model has become compact to the level that it can be carried on the shoulder and carry around.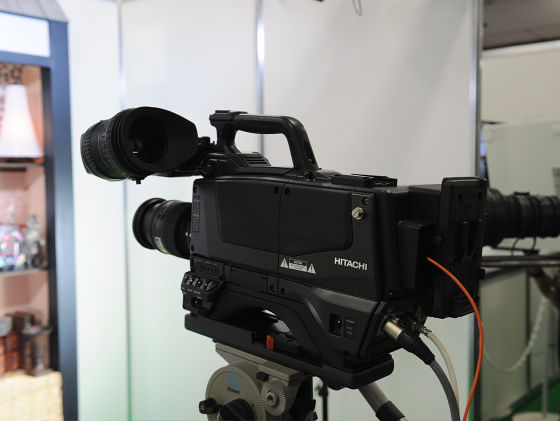 ◆ terrestrial broadcasting

NHK Giken Public Open 2012 (5 / 24-27) | Exhibit items

Research is also underway to deliver Super Hi - Vision with increased data volume due to high image quality with radio waves. The following is an exhibition on bulk transmission realizing 184 Mbps transmission capacity using two channels of the UHF band.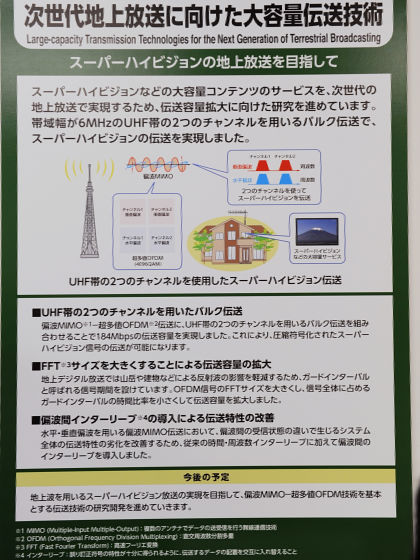 The receiving antenna looks something like this.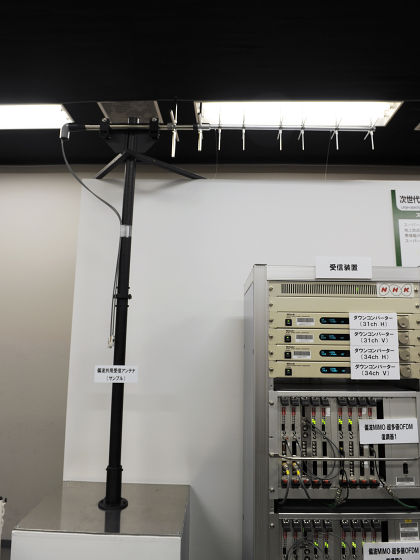 The down converter is a rack mount type.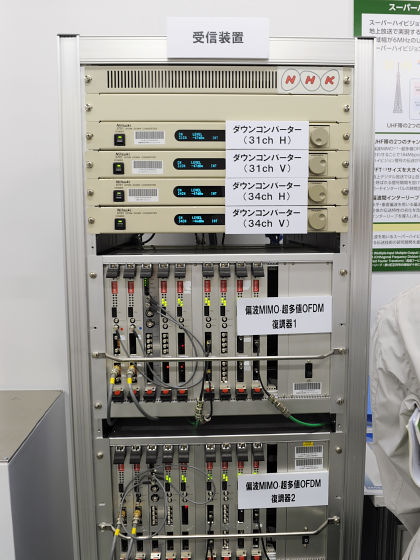 The decoder is huge.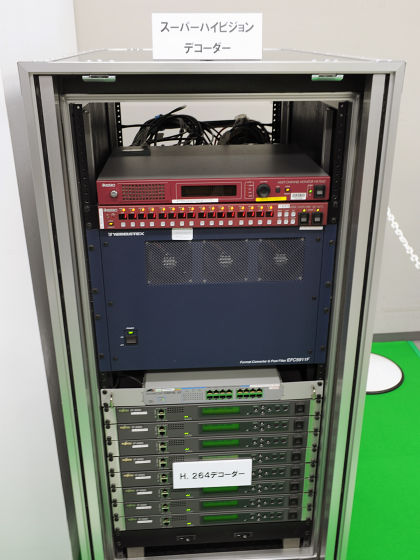 ◆ Satellite broadcasting

NHK Giken Public Open 2012 (5 / 24-27) | Exhibit items

A study to broadcast Super Hi-Vision with not only terrestrial but also radio waves from artificial satellite is like this.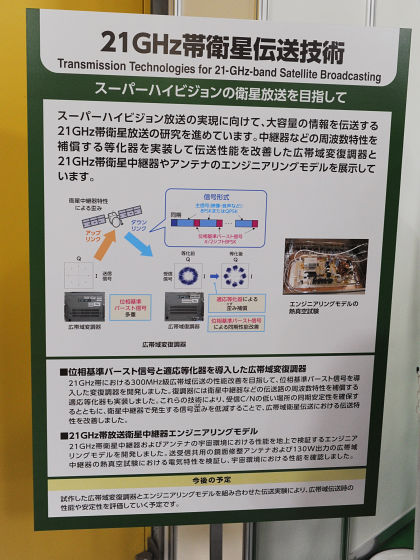 The engineering model of the receiving parabola antenna is as follows.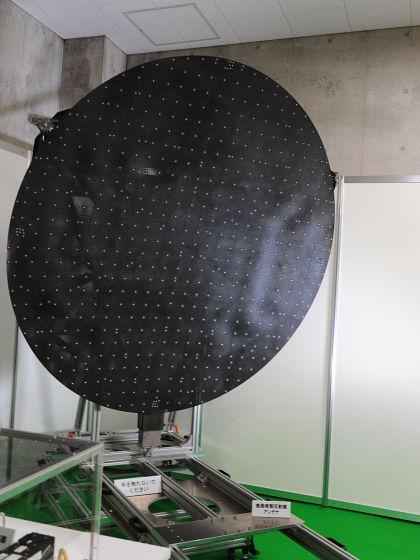 "STRL Open 2012Since it is held until May 27th (Sunday), those who are interested in cutting-edge technologies related to video and broadcasting should visit.