Au Summer new model "HTC J" haste photo review, high-speed camera startup of 0.7 seconds · One-segment · Osaifu-Keitai · Infrared mounted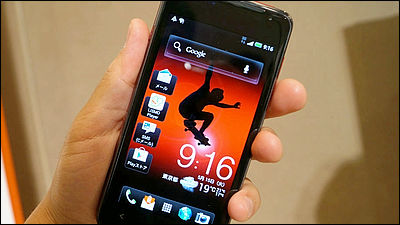 At the announcement venue of au "HTC J ISW 13 HTSince it was announced, I decided to take a picture with a haste and do a photo review. It will be on sale after late May 2012.

HTC J ISW 13HT | Smartphone | au
http://www.au.kddi.com/seihin/ichiran/smartphone/isw13ht/index.html

Beats by Dr. Dre.De in ear headphones included, including 0.75 second high-speed camera startup and 0.2 second auto focus function, which means "sound, camera, incompetence, for the sake of you enjoying it" faithfully reproduce every sound , A bright lens for gathering a lot of light, and even Japan's standard functions such as One Seg, Osaifu-Keitai, Infrared and E-mail are also included.

The screen is about 4.3 inch organic EL / q HD, memory 16 GB, weighs about 142 g, size 66 (W) × 132 (H) × 10.0 (D) mm, battery capacity 1810 mAh, CPU 1.5 GHz, OS is Android 4.0.