Glee requests suspension and deletion of auction sales to real money / trade specialized businesses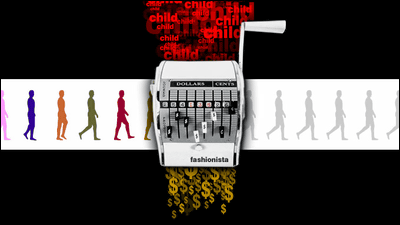 ByThe | G | ™

What is real money money trading (RMT), in the case of this Glee, cashing by selling items such as items on Glee's social game, such as rare cards on social games.

Actually in February 2012 this RMT also evolved into a massive problem as follows.

The painful news (No ∀ `): 【GREE】" Dorirando ", trade function stopped by the illegal duplication method of rare cards ... People earned tens of millions of yen - Livedoor blog
http://blog.livedoor.jp/dqnplus/archives/1697409.html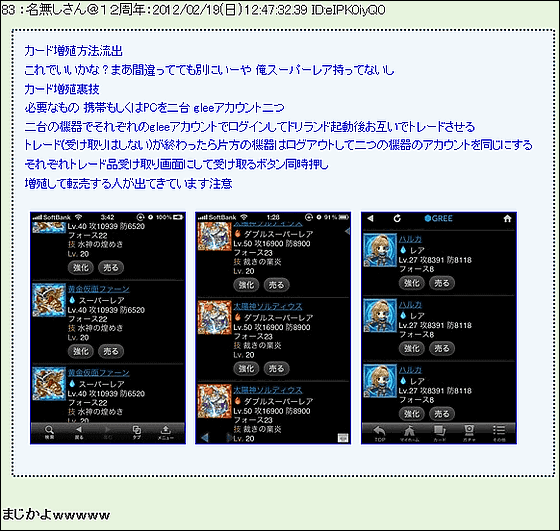 The simple background is as follows.


1: Below, VIP will send it as nameless: 2012/02/19 (Sunday) 12: 06: 43.83 ID: 5kMjYHcM0
I exposed the card growth method with this thread!
↓
Successor successor
↓
Ten buyer exposure age
↓
Charged kitchen warranty wwwwwwwwww
↓
GREE stops trade
As a result, it was discovered that Gory was doing things that exceeded the level of RMT so far, such as rushing 30 million yen in five months, although it was nominally "free game", but in reality Tens of thousands of yen, or hundreds of thousands of yen is necessary to get the rare card, so if you sell one rare card with tens of thousands of yen using internet auction etc., people who buy it As a result, RMT was established as a result.

However, as it has become such a situation, I no longer feel overlooked by Glee, and finally today I announced that I began to take a step back and started countermeasures.

GREE Inc. | News Releases | Press Release 2012 | Apply to Gree, Real Money · Trade Specialist
http://www.gree.co.jp/news/press/2012/0330_01.html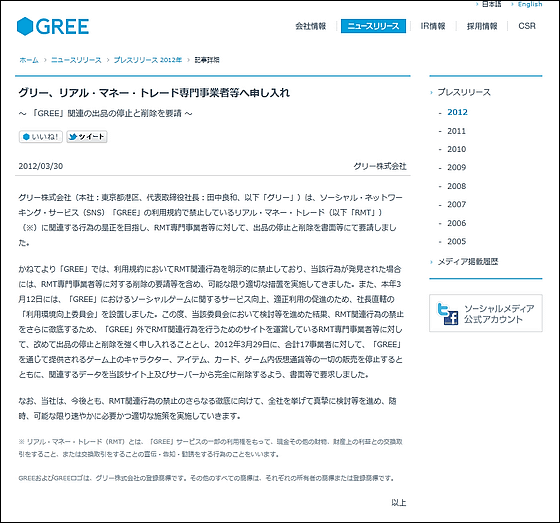 Gree Inc. (Headquarters: Minato-ku, Tokyo, President and CEO: Yoshikazu Tanaka, hereinafter "Glee") is a real money trade prohibited under the terms of use of the social networking service (SNS) "GREE" Hereinafter referred to as "RMT") (*), we requested RMT specialists, etc. to suspend and delete exhibits in written form etc.

For some time "GREE" explicitly prohibits RMT-related actions in the Terms of Use, and in the event that such action is found, it is appropriate as far as possible including requests for deletion to RMT specialized businesses etc. We have implemented measures. In addition, on March 12 this year, we established the "Usage Environment Improvement Committee" under the direct control of the president in order to promote the improvement and appropriate use of social games in "GREE". As a result of advancing consideration etc. at the committee, in order to further thoroughly prohibit RMT-related acts, we have requested RMT specialized business operators who operate the site for conducting RMT related activities outside "GREE" , We strongly requested suspension and deletion of exhibition again, and on March 29, 2012, we will inform 17 business enterprises in total, the game characters, items, cards, in-game virtual currency etc provided through "GREE" , We requested in writing, etc, to completely delete relevant data from the site and the server.

In addition, in order to further thoroughly ban the RMT-related acts, we will continue to study seriously with the whole company, and from time to time we will implement necessary and appropriate measures as soon as possible.
The point is "In order to further thoroughly prohibit RMT related activities, we strongly request to RMT experts who operate the site for conducting RMT related activities outside "GREE" to stop and delete exhibition again, On March 29, 2012, we suspended sales of all characters, items, cards, in-game virtual currency etc. provided through "GREE" to 17 business enterprises in total, and related data I requested to delete completely from the site and the server in writing etc.That is the point.

Why is it so strict about RMT so far because of the report as follows?

Mitsubishi UFJ Morgan, Upgrading Social Game Market Size Forecast Upward ... But with the Pachinko as Comparison Targets Stock Price and Rating Reduction | Social Game Info

Meanwhile, at the same securities, we reviewed the target stock price and ratings of social game companies. Although it regarded as "social game = online game" as before, it says that it was caught as "social game ≒ pachinko". The reason is that the incentive to hit the big money from the expectation of RMT works, the fact that it is a change of the same system, paying gacha is similar to pachinko in enjoying the probability of a big hit.
In other words, RMT is a pachinko3 store systemIt is similar to the fact that money is being cashed in the same way, the mechanism that fucking shoes at Paid Gacha looks exactly like a pachinko, and in addition to diverting the same system so that it is commonly seen especially in card games etc., Because it is similar to pachinko, it is caught from authorities as de facto "like pachinko" (illegal except for pachinko in the three store format), additionally because it is top in the industry now in the industry , I got extra attention.

In addition, since it is said that "further prohibition of RMT-related acts" will continue in future, it may be putting out more fundamental countermeasures.