Broadcasting station "NOTTV" for smartphones that never puncture started, corresponding models also appeared in March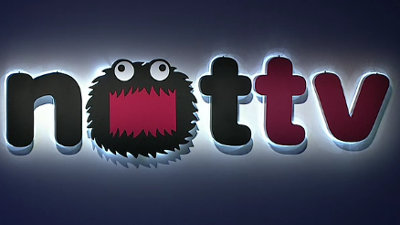 A broadcasting station for smartphones, "NOTTV (Nottye)" that used bands that analog broadcasting had been using, will be launched on April 1st. Today, the presentation was held, as NTT DoCoMo released two types of terminals compatible with this NOTTV.

NOTTV Launch · NTT Docomo New Product Presentation | NTT DoCoMo

First of all it was announced that NOTTV was opened on April 1, 2012.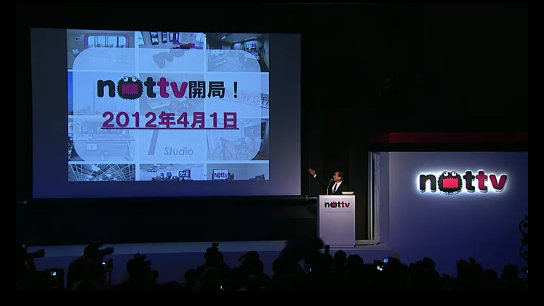 What is NOTTV in the first place ...?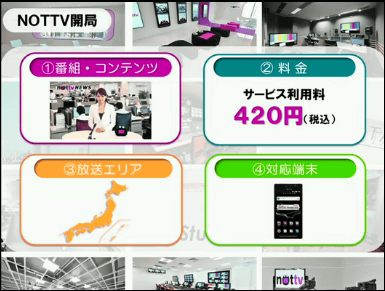 It is a broadcasting station for smartphones and it will be an interactive social TV that makes the most of 100% online.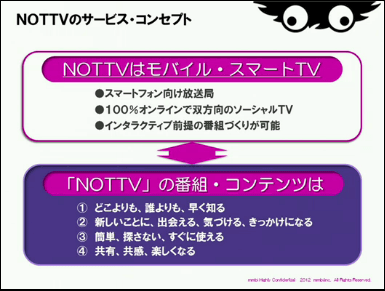 The program is divided into real-time type broadcasting and storage type broadcasting, and "nottv 1" broadcasts information programs, sports and entertainment programs 24 hours. The live broadcasting time seems to reach 284 hours in a week.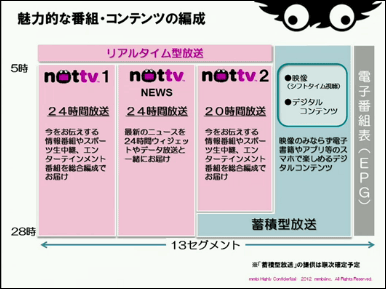 The usage fee is 420 yen per month, and some premium content requires additional fee.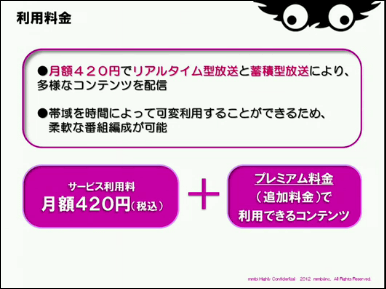 Broadcast area started at the time of opening in Minami Kanto, Aichi, Mie, Osaka, Kyoto, Hyogo, Shiga, Nara, Fukuoka, Okinawa. After that, it plans to expand gradually.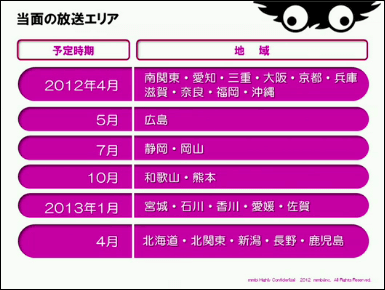 What kind of things are broadcasted?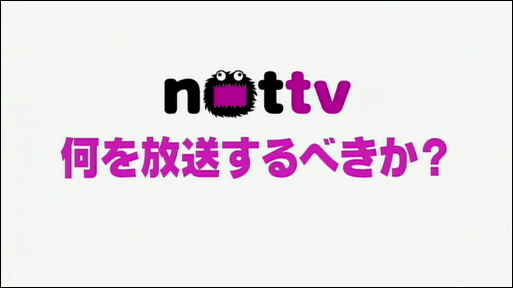 There are various services that already provide video content for smartphones, but since they use communication, they are interrupted when congestion occurs. However, since NOTTV is "broadcast" that uses the free bandwidth originally used by analog broadcasting, congestion does not occur.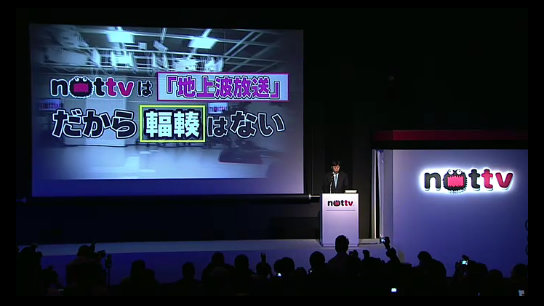 As a program, we will receive TBS News Bird program offering until October as 24-hour news. From November to the following March Nittele NEWS 24 will be offered.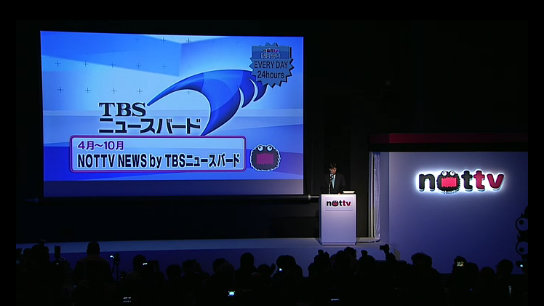 Sports broadcasting will be held for both J League and professional baseball. For example, home games of Yokohama DeNA Baystars are all live coverage. Professional baseball is scheduled to relay a maximum of 122 games, and the J League also utilizes 2 channels and simultaneously broadcasts up to 5 games on weekends. People in the stadium can also see how other teams' matches are watching, even if 60,000 people connect at the same time it is said that they will not puncture.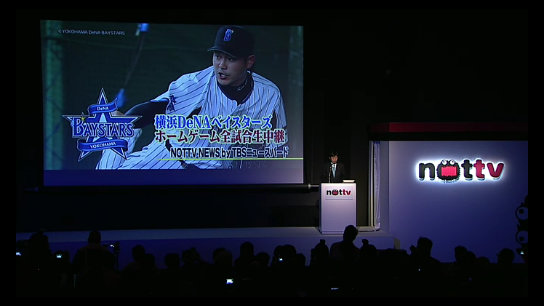 Paid channels of BS and CS have not been available from smartphones until now, but paid channels are available for NOTTV.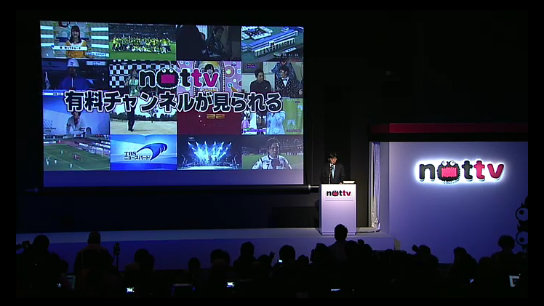 In animation, broadcasting of animation which starts in January, such as "fake stories", "foxho x me SS", is scheduled.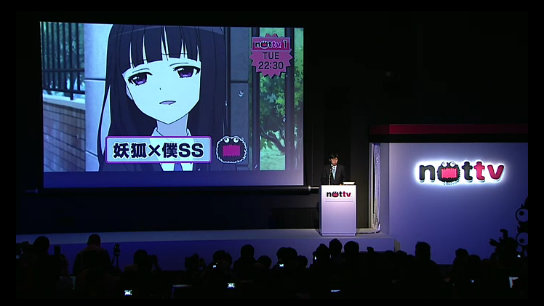 "Eureka Seven AO" is a line-up in the new work which started in April. The animation's broadcasting frame is called 22:30 on weekdays, and in terrestrial waves, animation is not well organized.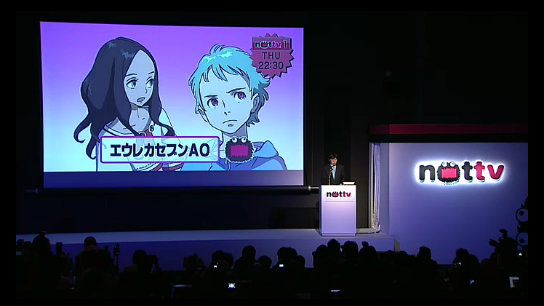 In the event of a disaster typified by 3.11, although it was a mobile phone that I was wearing, a lot of circumstances occurred that communication could not be done. NOTTV has the advantage of "broadcasting" in such a case, and it can be seen always if radio waves arrive. In the event of a disaster, it will become a no-scramble broadcast, and emergency information will be sent.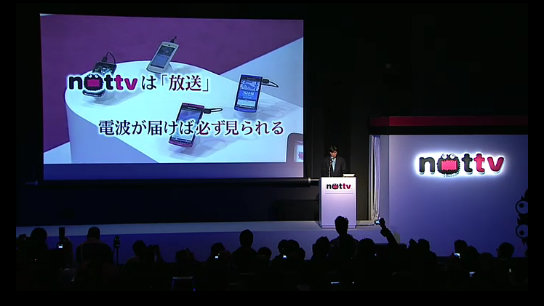 Two types of models compatible with this NOTTV were released from NTT DoCoMo.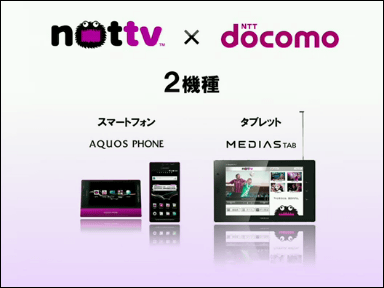 As a smartphoneAQUOS PHONE SH-06D.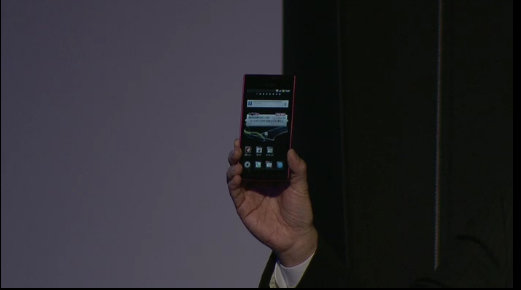 4.5 inch display, high definition HD liquid crystal, high image quality engine are carried.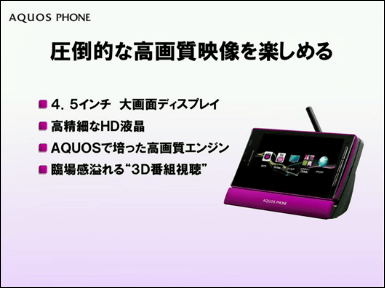 There are 3 types of color variations. Besides waterproof function, it also supports Osaifu-Keitai, One Seg, Infrared. Scheduled to be released in March.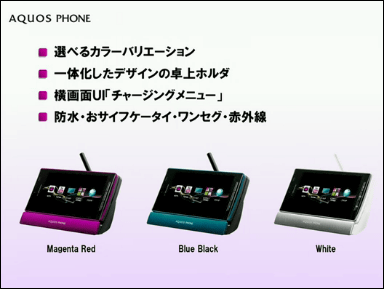 Here is a tablet,MEDIAS TAB N-06D.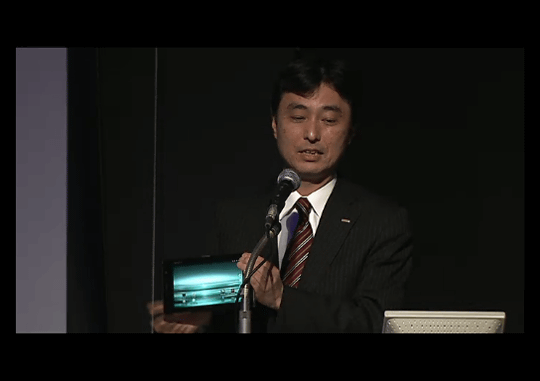 Equipped with high-quality stereo speakers, you can enjoy images and sound with better quality.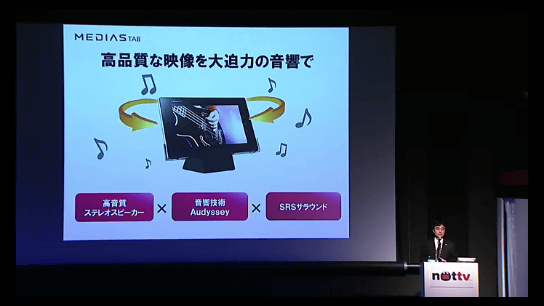 With full spec waterproof Xi tablet, the release is scheduled for April.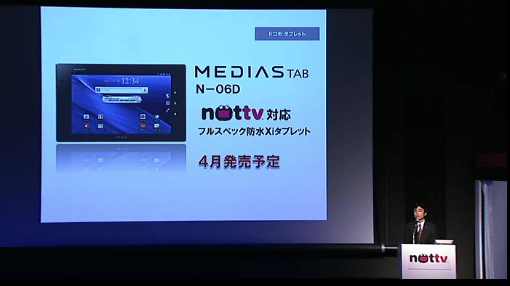 In addition, five models will be added in the first half of 2012.



As a monitor campaign until 30th September, 20 thousand monitors will be rented nationwide for 2 weeks.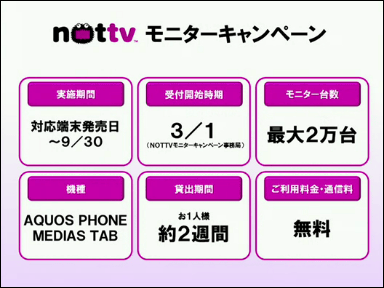 The question and answer is as follows.

Nikkei Newspaper:
The goal was to spread 1 million units first, but what is the biggest challenge? Also, how far was it possible to measure radio waves in base stations' difficulty viewing areas, which was pointed out in radio wave acquisition competition?

Mmbi President Kazuki Niki:
First of all, terminal sales will become a major premise, but DoCoMo will be able to issue more than 1 million units. And we have to enter NOTTV service. For that reason, we are going to promote "NOTTV is like this". When I go to DoCoMo shop, I would like the staff to enter saying, "Oh, that's it," if you say, "How about joining NOTTV?" Since the service will be paid monthly fee, it is the timing when crossing the month leads to cancellation. So, considering a formation that would make you want to see it next time, I want to make it hard to get out and get connected to one million contracts. The service fee of 420 yen is never expensive (as explained by Mr. Komaki) and it may be cheap.

The base station is finally in a state where radio waves are coming out, so I will conduct various investigations from now on. I think that it will fit or not match our calculations, but we will keep it there. In the future, I think that there are cases seen in the home, so we will take necessary measures while conducting surveys.

Yomiuri Newspaper:
Is it said that the London Olympic Games is held in the summer and NOTTV is also subject to a sub license?

Mmbi Jiro Komaki, Managing Director
I am applying to become a member of the commercial broadcaster. Since it can not be next until it is over ... ... I'd really like it if I get asked if I want the Olympic broadcasting rights.

Yomiuri Newspaper:
When it comes to concrete broadcasting, does it become a preliminary match or a minor competition that commercial services do not do?

Komaki:
Even if it is assumed assumption, everything is from now on. It is not packed as an assumption.

Yomiuri:
When it comes to doing the London Olympics, is it essential to become a member of the public corporation?

Komaki:
Japan ConsortiumAs I interpret it, I think that joining the TBD is a condition when considering commenting on live commentary and commentary.

Kyodo News:
While saying that "storage type broadcasting" is a feature, there are very few lineups. The pamphlet also says "newspaper", but what about the future schedule?

Komaki:
It is surprisingly difficult (laugh) Although I am planning to start from a sure place at the beginning, there is sometimes I want to chase the contents of newspapers and books, etc. soon, even if it is not the first week of April, as soon as possible It's all about the type that comes out. I want to do a newspaper. Final adjustment is in progress now.

Joint
Other than that, what is it that accumulates programs that are broadcast on NOTTV?

Komaki:
As a usage method of the band that was originally supposed, the ratio of accumulation type was large. However, as smartphones become so popular, their strengths will still be live and real time will be effective, which means that they will use a lot of bandwidth in real time and the bandwidth that can be used for the remaining accumulation type will be narrowed. When the bandwidth becomes narrow, it takes time to send one piece of content. Therefore, it is relatively small start. Since the band can be freely changed within 13 segments, in the future I would like to make use of the best form of bandwidth by referring to real-time reactions and accumulation reactions.

Impress:
How much user viewing time per day do you expect? Also, what kind of image do you want to listen to, what is it, or is it shredded? What are the schedule for deployment to car navigation systems other than smartphones and tablets?

Komaki:
I do not speculate the assumption of viewing time in particular, I think that the longer it is, the better. The image of the usage scene is 7 hours continuous live broadcasting, so it can be seen for seven hours, but I think that you can come in on the way or leave on the way. Until now, contents for mobile have been cut for a short time and it is in the form of 5 minutes if it is 5 minutes, but since we are a form of a real time channel to the last, we are thinking that it can be viewed from anywhere.

What is frequently asked is "Is not it to arrange shorter contents?", But mobile terminals are already able to withstand viewing for a long time. So, you can do it for 30 minutes of animation, 1 hour drama, 2 hours movie. The thing that reduced the fine time is that you can have it seen from anywhere and if you can see it for a long time.

Niki
There are things about how to receive NOTTV broadcasting on devices other than smartphones and tablets. There is also a way to put in the reception function, but there are also things that you receive on smartphones and tablets via WiFi, and there are things to do via routers. Since this is assumed variously, I would like to develop something that is feasible and easy to use. I'd like to wait for the timing.

Yomiuri:
As a management plan, please tell me about the investment amount and what point can you pay in?

Niki
I think that the number of contracts will be involved, but in 2015, three years as a guideline ahead of time, we are forecasting that if we secure about 5 million contracts it will be in a single year surplus.Japan Mobile CastingThe infrastructure part to do and mmbi's broadcasting equipment, which is not an investment, but it also costs parts to make the program. In that sense, we need about 45 billion yen investment for infrastructure, we plan to place about 126 stations. While looking at the situation afterwards, we will deal flexibly.

At a recital announced as "completely new media", it was a presentation that clarified the drawbacks that "the cover rate is not 100%" and "that it does not have its own coverage network", but at Ustream The user's response is quite cool. Wider dissemination of hardware is now to come, how many people are interested in NOTTV and will join is a completely unknown number. Keisuke Iwata, president of AT-X, which is also the provider of content,Touch the data of this mobile multimedia broadcast market among animation · business forum · 2012, "Within the industry," Opinions saying "This is not painful?" "This is not going well" is overwhelmingly strong "was commented.

But,The number of mobile phones and tablets exceeds the world's population during this yearNow that the packet flat rate system is abolished abroad due to the enormous popularity of the communication volume and the traffic volume is so enormous, it is a big merit that it is "broadcasting" rather than "communication".