NTT DoCoMo 's Summer 2012 model announcement launched live on the net → end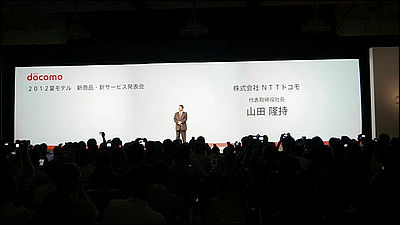 "NTT Docomo 2012 Summer Model New Product / New Service Presentation" started today at 12 o'clock. Live broadcast by Ustream and NicoNico Live Broadcasting, the GIGAZINE Editorial Department sneaked into the venue this time as well as the other day, and the crisp cracks and review articles have been updated.

◆ New model review
DoCoMo New model of summer "Galaxy S Ⅲ SC-06D" haste photo review, compatible with the first Osaifu-Keitai series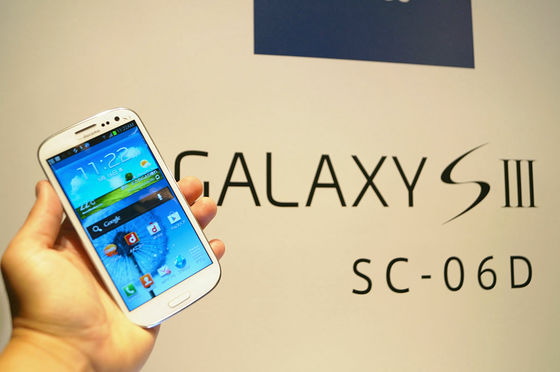 Docomo Summer New Model "ARROWS X F-10D" Quick Review Photo Review, Quad-core CPU + Waterproof Dustproof + Fingerprint Sensor + One Seg + Osaifu-Keitai + Infrared All Included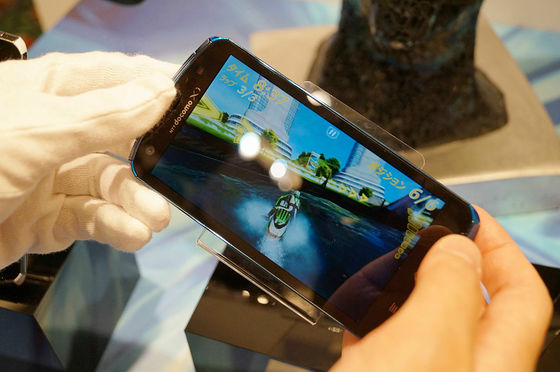 DoCoMo New model of summer "Xperia GX SO-04D" haste photo review, Xi correspondence + WiFi tethering + F 2.4 lens



DoCoMo New model of summer "Optimus Vu L-06D" haste photo review, 5 inch 4: 3 ratio large screen + touch pen + Xi + NOTTV + waterproof + Osaifu-Keitai + 1 segment + Infrared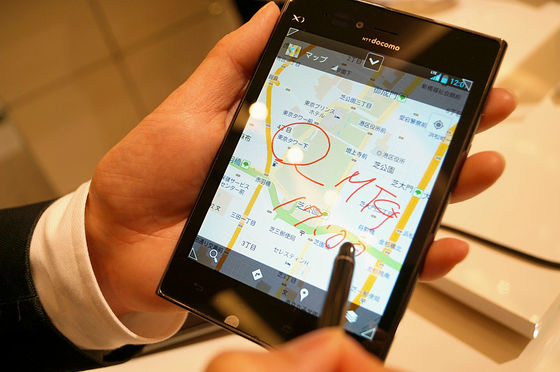 DoCoMo New model of summer "REGZA Phone T-02D" haste photo review, anyway high image quality + Xi compatible + ATOK + waterproof dust + one seg + infrared + Osaifu-Keitai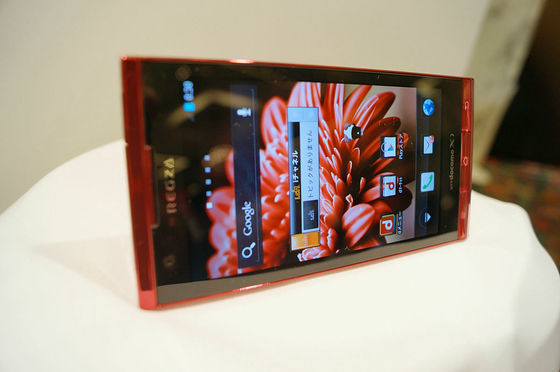 DoCoMo New model of summer "MEDIAS X N-07D" haste photo review, quick charge up to 50% in about 30 minutes + Xi + waterproof + Osaifu-Keitai + One Seg + Infrared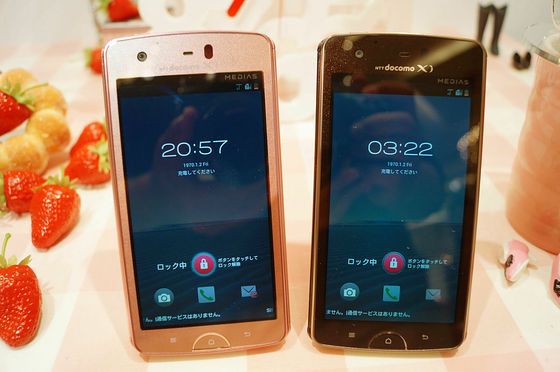 Jojo Collaboration Sumaho "L-06D JOJO" Haste photo review, "F - MEGA" application of Hanazonisha and Derby + Widgets widget widgets + Heaven 's Door' s memo pad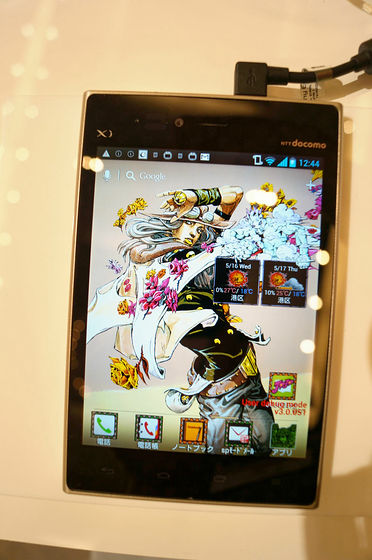 DoCoMo New model of summer "AQUOS PHONE ZETA SH - 09D" Quick haste photo review, newly developed energy saving LCD + waterproof + Osaifu Keitai + Infrared + One Seg + only charge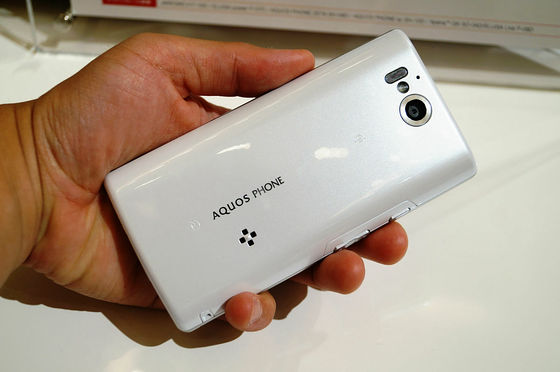 DoCoMo New model in summer "ELUGA power P-07D" Quick photo review, waterproof dust-proof + quick charge + Xi + IC card lock + Let's note cooperation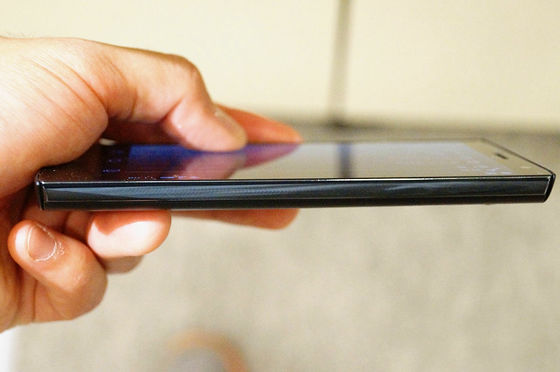 DoCoMo new model of summer "AQUOS PHONE sv SH - 10D" haste photo review, polygon shell design + waterproof + Osaifu Keitai + infrared + one seg - GIGAZINE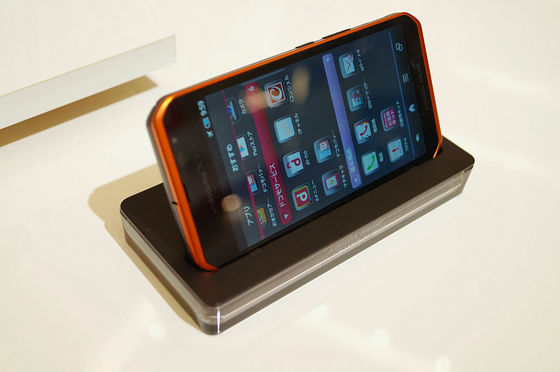 Xi-compatible mobile Wi-Fi router "L-04D" capable of displaying data traffic volume, compatible with Xi monthly 7 GB limit since October 2012 - GIGAZINE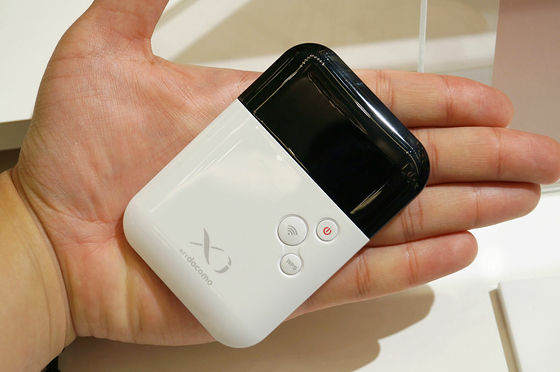 DoCoMo tablet, Easy smartphone, Kids 'cell phone etc. NTT docomo' s 2012 summer model new model and all the rest Remaining all together Photo review - GIGAZINE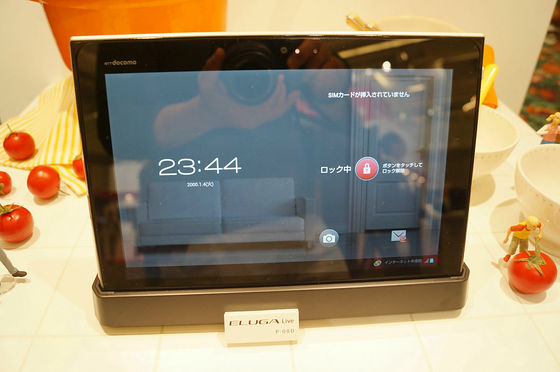 Movie that understands how to use LTE compatible "Xperia GX" with a TV to look like a PC - GIGAZINE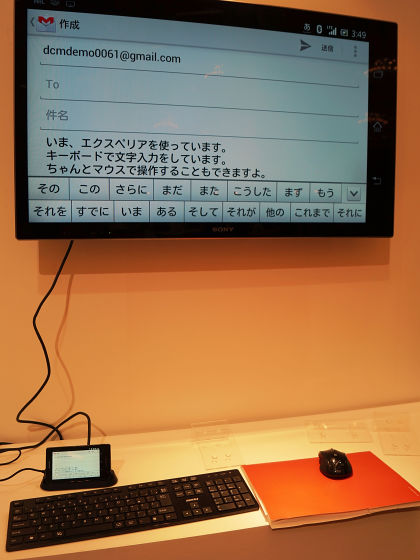 Check movie with "Galaxy S Ⅲ" function which can play movie and browse web at the same time - GIGAZINE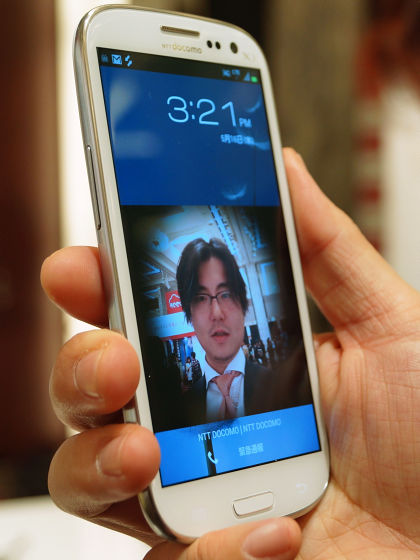 Collabo Maho "L-06D JOJO" Movie Review that Enables You to Fulfill the World View of "Jojo" with Ripples, Name Conversion, Map, etc. Movie Review - GIGAZINE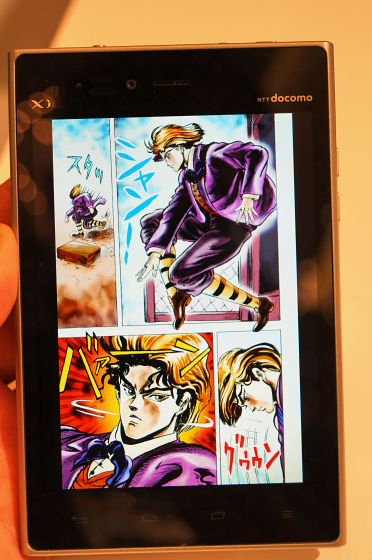 "Evangelion" and Docomo's collaboration model "NERV special specification smart phone" Actual machine Photo & amp; Movie Review - GIGAZINE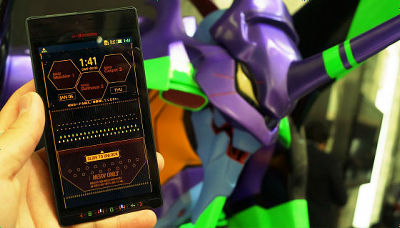 The new models released this time are as follows.

◆ docomo with series
MEDIAS X N-07D
Optimus it L-05D
Xperia SX SO-05D
F - 09 D ANTEPRIMA
ARROWS Me F-11D
ELUGA V P - 06 D
AQUOS PHONE ST SH-07D

◆ docomo NEXT series
Galaxy S Ⅲ SC-06D
ARROWS X F-10D
AQUOS PHONE sv SH - 10D
REGZA Phone T-02D
Optimus Vu: L-06D
L-06D JOJO
AQUOS PHONE ZETA SH-09D
ELUGA power P-07D
Xperia GX SO-04D

◆ Docomo Tablet
ELUGA Live P-08D

◆ docomo Raku Raku Phone series
Easy smartphone (F - 12D)

◆ Kids Cell Phone
Kids Mobile HW-01D

Key Features of the 2012 Summer Model | Products | NTT DoCoMo
http://www.nttdocomo.co.jp/product/2012_summer_feature/index.html

The following is a record of the state of the day.

Live broadcast can be viewed on the following site.

USTREAM: NTT Docomo 2012 Summer Model New Product / New Service Presentation: NTT DoCoMo 2012 Summer Model New Product / New Service Presentation will be relayed from Wednesday, 16th May 2012 (Wednesday). . ...
http://www.ustream.tv/channel/docomoofficial

NTT docomo 2012 summer model New product · New service presentation - Nico Nico Live broadcast
http://live.nicovideo.jp/watch/lv91511868

The recital started.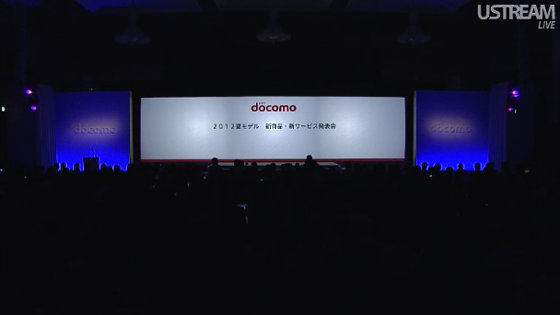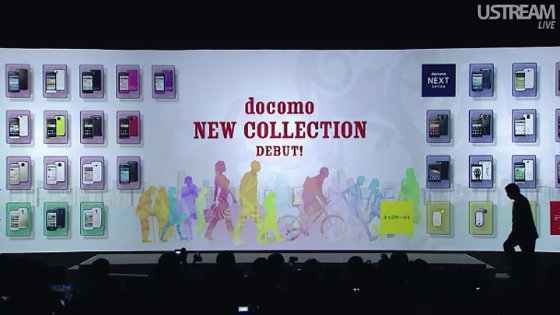 President Yamada attended.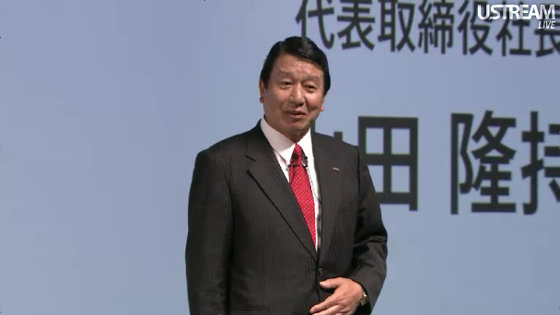 DoCoMo annual smartphone sales will reach 13 million units in FY2012.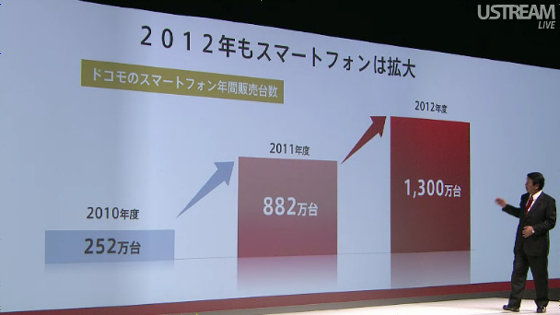 This time we have launched 17 types of smartphones, all equipped with Android 4.0.



12 Xi-compliant smartphones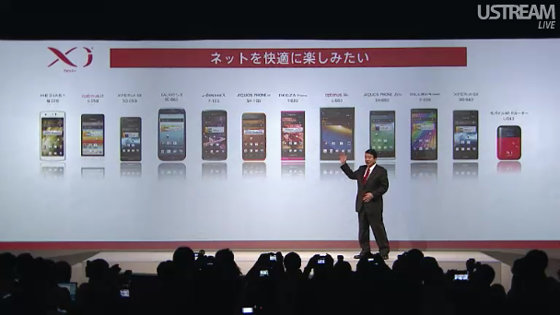 Galaxy S Ⅲ is the first Osaifu-Keitai model for the series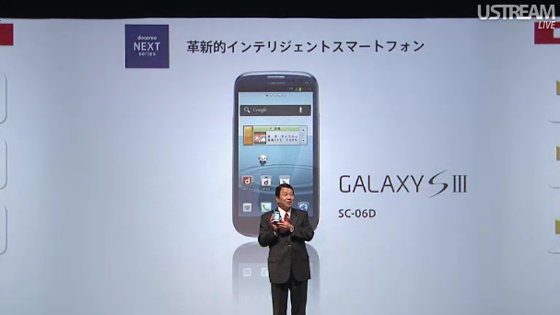 Xperia is a popular arc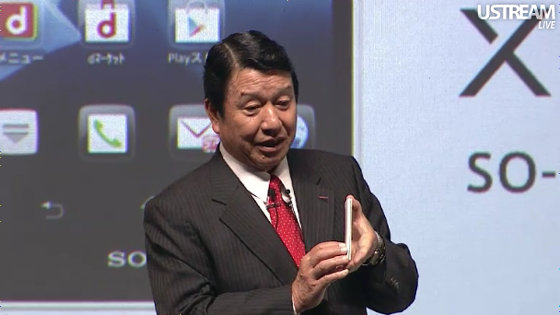 All 5 types of NOTTV compatible models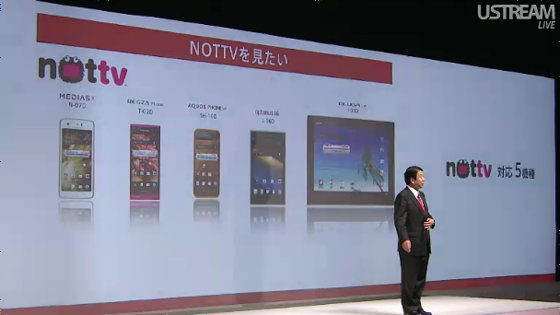 Variety of size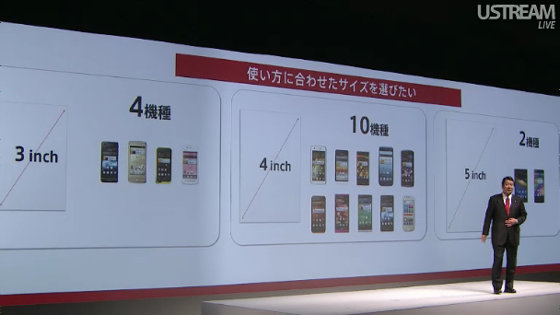 Optimus Vu: screen size is 5 inches, screen ratio is 4: 3 slightly different kind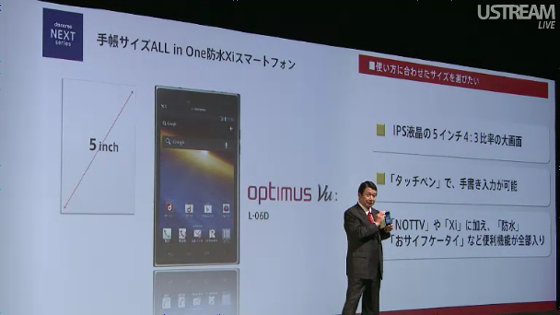 For those who want to enjoy high-quality movies, quad-core ARROWS X F-10D



Easy-to-use "Easy Smartphone" appears in Raku Raku Hong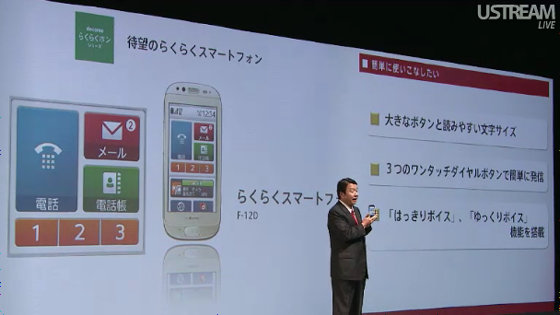 Plan for Easy Smartphone "Rakuraku Pake · Hodai" will be offered at a monthly charge of 2980 yen.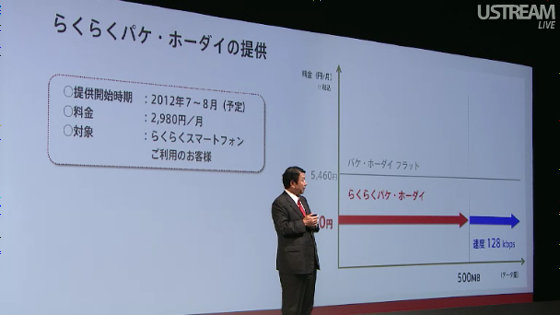 We are planning to work on improving the smoothness of the screen scrolling, while in 2011 the average of the representative models was 25.62 fps, whereas in the summer 2012 model all models 50 fps or more.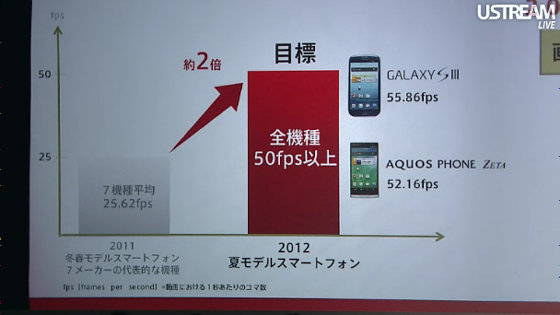 Collaboration model followed Evangelion in spring, collaboration with fashion brand ANTEPRIMA, "JoJo's Bizarre Adventure"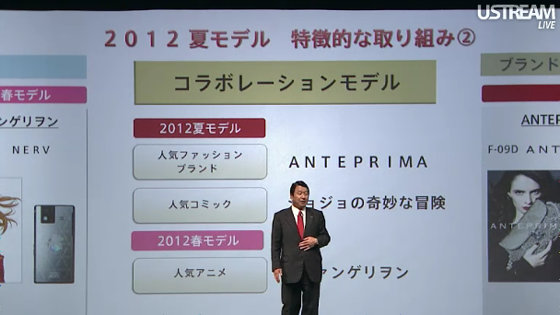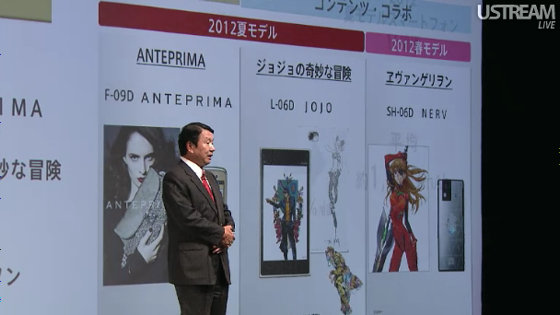 "Select from" spec "From smartphone" How to use "to select smartphone"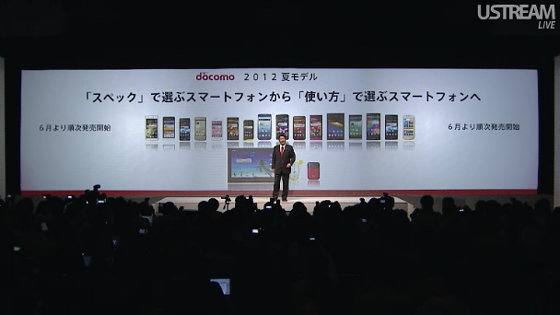 Following the new model, new service announcement.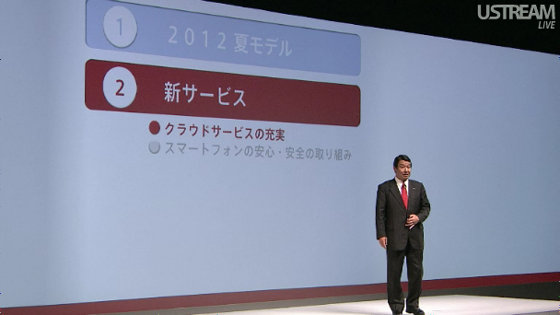 ·Question-and-answer session
Free Inoue:
Judging that there is no marketability that there is no i-mode terminal in the summer model? Or will you respond with the spring model?

Yamada President:
Although it says that it shifted to the smart phone, like the latter, the i-mode machine wants to correspond for about a year in the previous model. It does not mean that the i-mode machine has lost marketability.

Free Kamio:
About the cartoon store, how much is the initial target goal number? How do you think about cooperation with NOTTV business?

Yamada:
I'd like to aim for one million contracts in about 1-2 years. Although it is not directly related to NOTTV, I would like to introduce anime program with NOTTV by synergistic effect.

TV Asahi:
Among the announcements this time, "Easy Smartphone" is for seniors, beginners, but what do you think about acquiring the senior class? Will smartphone for seniors be expanded?

Yamada:
Customers at the senior level are also interested in smartphones. While I am watching at the shop, I go to the smartphone corner first, but some people finally buy i-mode terminals. Easy to use is quite difficult, the price is high, the two are big. We started offering by saying that we want customers to use smartphones. There are 20 million Raku - Raku, and I think there are about 10 million customers. We also want people to switch to smartphones, so that you can do a lot of things, big screen. I also want to expand the senior citizenship.

TV Asahi:
Is the terminal expanded?

Yamada:
Raku Raku Hong series are steadily upgrading. I would like to put user interface that is easy to use even for seniors to other terminals.

Nikkei Newspaper Kaneko:
Regarding the packet flat rate for Easy Smartphones, a packet flat rate of about 3 GB was previously set as a threshold, but a threshold of 500 MB was set. Background changed to 500 MB?

Yamada:
I will correct this slightly. 3 GB is for those who currently use Xi and who are not so used. 3GB and this easy smartphone are completely different things. The reason I set it to 500 MB is that the charge was made to 2980 yen, and the average packet usage amount of customers using EasyPHON is about 200 MB. I think that there will be most customers in it if there is 500 MB.

Nikkei Shimbun Endo:
Service represented by "Anime store", how much is this revenue now about sales? How much will you expect to increase service-related income in the future?

Yamada:
First of all, I explained that the way of charging is different between "d menu" and "d market". In d menu, we receive money as a handling fee. On the other hand, since the d market is a direct sales store of docomo, it enters all of them. Therefore, income is over 10 billion yen. The number of members of the video store is around 120 to 1.3 million people. That customer is 6000 yen a year, so if it is 1 million people it will be 6 billion yen income. The service income of various '○ ○ Markets' will continue to work hard in the future.

Free Yamaguchi:
As for Windows Phone, I think that there was a remark saying that it will be released around the summer of 2012 or earlier, but is there a possibility of release?

Yamada:
It is not decided. There are not many models as to whether it can be introduced from around the winter model, but we are considering it. I have not made a final decision.

Nikkei Shimbun Onishi:
About fee measures. Although it is a new measure of 2980 yen in the Easy Phone series, there is an image that from the user the smartphone is high. While raising the profit of 900 billion yen as a company, I think whether there is a voice that customers can make it a little cheaper, but are there plans to make cheap plans?

Yamada:
The fee itself becomes competition with other carriers. The Xi charge is constant up to 7 GB, and the speed is declining or the charge becomes high from there, but it seems that it is considering that the basic charge is cheaper instead of 3 GB instead of 7 GB fact. Because the leftmost wing of the person using the smartphone is Easy phone, the most right wing is the Xi smart phone, I would like to consider the middle place as well.

TV Tokyo:
How about introducing iPhone?

Yamada:
Every time I say it, making the network intelligence, earthing. DoCoMo wants to provide intelligence and service at the terminal, for example "can talk and concier" can be Galaxy or ARROWS. If you want to do so, the OS wants to focus on the open OS Android. It is difficult to introduce iPhone in the current environment.

Freelance Hiraka:
I think there is a service called "Why do carriers work?" Although it competes with the top players of the net, why can docomo provide a good cloud service?

Yamada:
There are three clouds, one of which is a network cloud. It is better to have this in the network, for example, an interpreter phone or interpreter mail. Other carriers also do it, but we have done that kind of service, and if DoCoMo customers can do it all together in docomo. Because not everything can be done with docomo, there is a separation.

Internet com Eguchi:
There are 5 types of NOTTV compatible terminals, 8 collaborative models and front models are also included, but the position of NOTTV in your strategy is.

Yamada:
NOTTV is putting in force. As a product strategy, I would like to make NOTTV correspondence as standard equipment in the future. To do that, it is NOTTV compliant and it will not be expensive, I would like to lower the cost. I want to make sure that you can see NOTTV when you buy a normal smartphone. I would like to do so from the winter model.

(Question):
Although the Xi terminal expands, there is an image that Xi is comfortable being deteriorated. There are places where the SP mode is severe, the network state, and the area slows down from a certain time. Battery maintenance is bad at cell edge (boundary of base station area). As Xi terminals are getting more and more, what kind of countermeasures are available?

Yamada:
I would like to spread Xi, but for that purpose I have to make an area earlier. It is not good if Xi is crowded. I want to manage the crowded condition of Xi. This time around 170 billion yen will be used, cumulative 300 billion yen will be invested in Xi. Including area promotion, we will do it. Also quality improvement.

Q:
Is it a point to measure speedup? Although tethering thinks that it is not satisfying for heavy users that SP mode binding is to be done.

Maruyama product manager:
Basically, smartphones are planning to do it in SP mode. Although it is fact that it caused inconvenience such as not being able to connect SP mode, we will offer it in a satisfying format.