Men who started business around the world in Central America Guatemala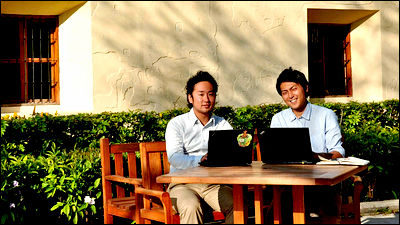 A Spanish online learning site launched when a traveler entrepreneurs while traveling around the world"Spanissimo". The business that started from Guatemala without shankless connection will also be officially opened on January 21, 2012. I went to see the men struggling in foreign land.

Hello.World newspaperIt is Matsuzaki Atsushi of. I am in the whole world around the world, now I am in Tegucigalpa, the capital city of Honduras. At the end of January it is planned to round out Central America to South America.

Pink is your current location, blue is the way point

On a larger mapYour locationShow

Well, this week about a bit unusual traveler. Guatemala went to an interview in a hurry because there are men who started a Spanish online learning service around the world in a Japanese inn in Antigua.

Antigua around here

On a larger mapAntiguaShow

Japanese lodging in petit Tashiro in Antigua, ancient capital of Guatemala. On the rooftop there is a cum / bed for travelers. On a simple bed is a laptop computer "I got it from a sponsor", a battery for some reason on a floor, a sticky note on the work content is on the wall. Teruro Arimura's mobile phone, which is the landlord, rings all the time. Partner Yoshikawa Kyohei Body. "After 3 hours, we will hold a celebration at Skype with the university students who will support the project in Japan." It is said that they are making arrangements for that appearance.

The office and bedding that can be seen in the back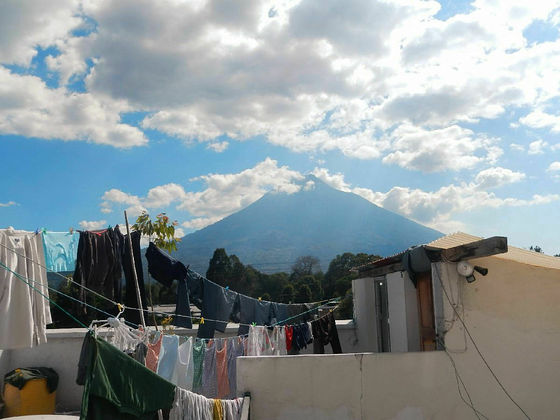 The one in front is the guest's laundry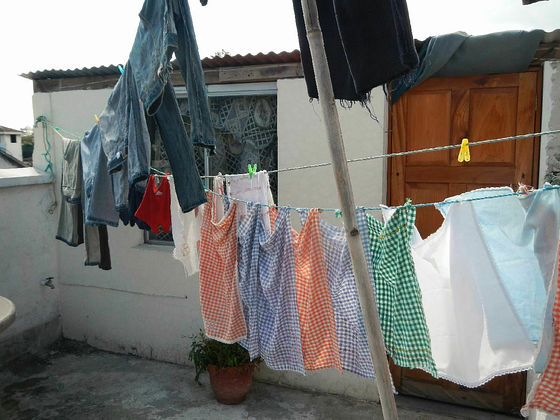 In the room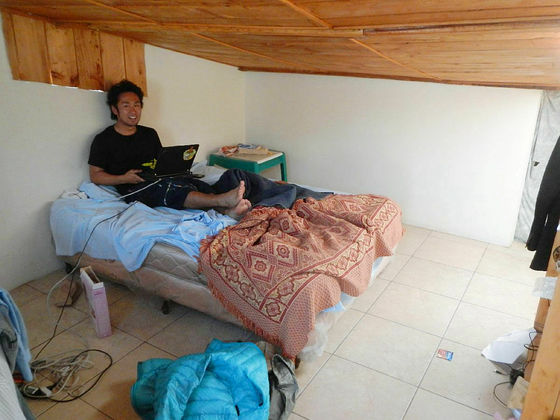 Be cluttered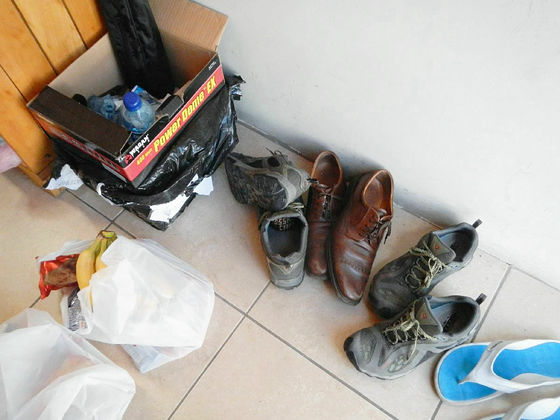 Sticky notes on the wall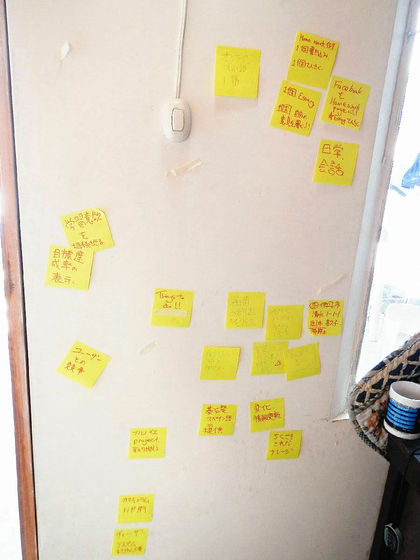 Keep goal visible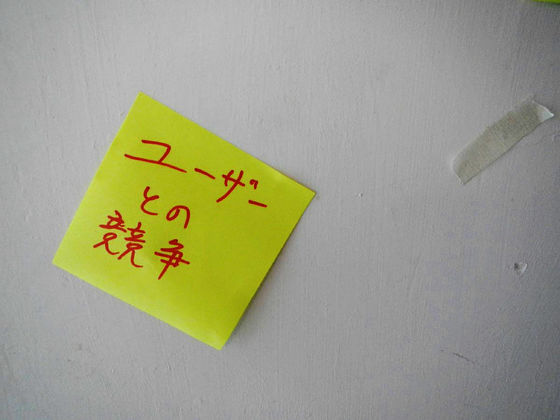 "We are travelers to the last, this entrepreneur is also one factor of our journey." On January 21, 2012, the service they have prepared over three months will start. Spanish online learning site "Spanishmo". We talked to Takuro Arimura, "traveler" who started business in "traveling" in Central America Guatemala.

Working Arimura-kun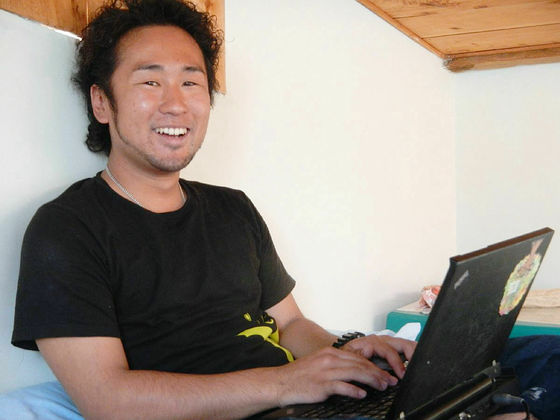 World newspaper company (hereinafter abbreviated as the world)
- I'd like to check first, but I am a traveler, are not you?

Arimura (hereinafter, abbreviated as):
Yes (haha). Other travelers say "You are not travelers, you are not travelers" (laugh).

world:
Since when did you travel?

Yes
It is from last January. I have been traveling to Latin America for 9 months and have been in Antigua for three months in preparation for this startup. I intended to go around the world in a year ....

world:
Why do you start your business again on your journey?

Yes
I went on a journey with three friends from my school days, but the concept of the trip that everyone decided is "to spread their views". I do not mind challenging for that. Therefore, this entrepreneurial business is one of its challenges.

world:
Well ... What kind of trip is it specifically?

Yes
It is not interesting just by traveling normally, in any case you would like to know the country you travel deeply. I want to know not only sightseeing but also the situation and social background of the country. Specifically, I am traveling with the help of JICA's project. I went to the scene of the country (Central America) supported by JICA and got interviewed and disseminated information via video and so on.

world:
That's why to start a business! Is it?

Yes
I went to Spanish language school for a month and a half in Guatemala before traveling in Central and South America. Thanks to that, I can talk about everyday conversation as much as I can. I was deeply moved by how easy it is to teach this teacher. At that time, everyone was talking about "I wonder if anything can be done".

world:
So with that?

Yes
While I was leaning down from Central America from Guatemala, I felt that "I want to study Spanish again" rapidly. But in any country school tuition fee is high and I can not communicate. But wait .... I thought that this is the same for people in Japan. I would like to learn Spanish but there are a lot of people who are going to study abroad with expenses becoming hurdles. Also, I thought that existing Spanish language learning services are high and usability is also inconvenient, so I thought if we could cooperate with our teachers and make services that we can appreciate.

world:
Even so ... well ... well done.

Yes
"Challenge" is the concept of our trip, so if you can grow by starting a business, "Let's do it".

I shared the room in Japan with the two who joined together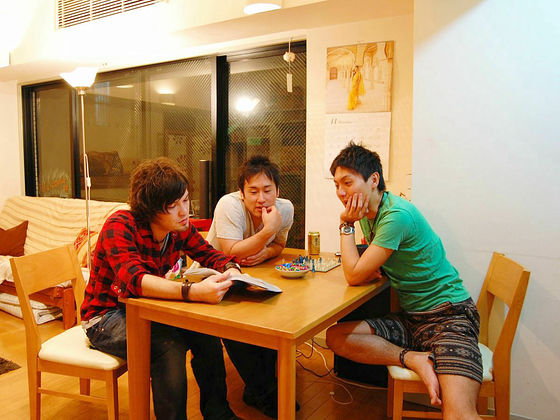 I talked about entrepreneurship in Cuba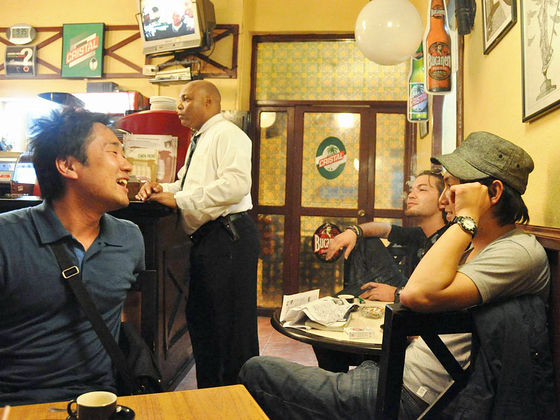 Cuba at a restaurant in Trinidad.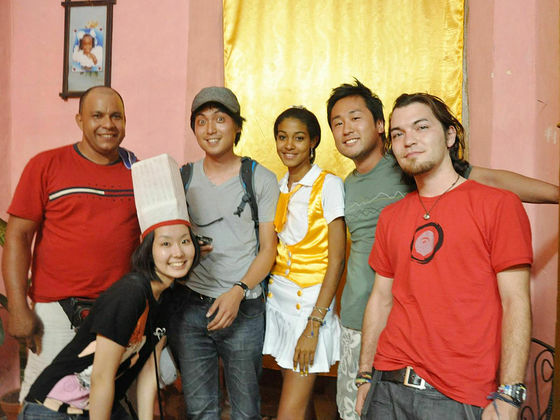 I met many people on a trip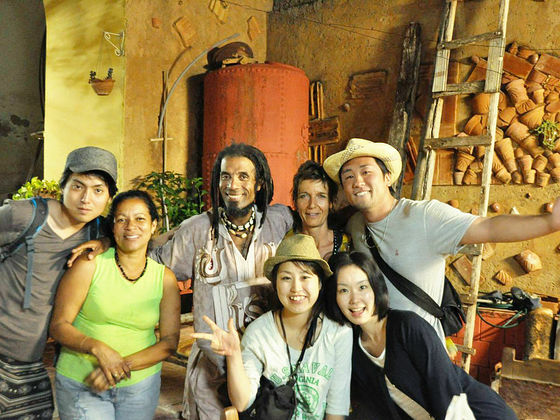 With partner Kyohei Yoshikawa.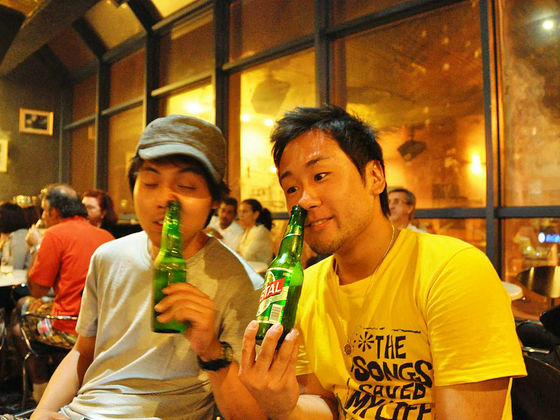 More than photos provided by Takuro Arimura

In this way the entrepreneurs decided at the cheap hotel in Panama. They embarked on a competition survey. At that time there were about six Spanish online learning services for Japanese. However, everywhere was not cheap, more than 1000 yen per one - to - one person. At that time, they pledged. "Let's be the cheapest in the industry".

And decided the deadline until the start of the service. "3 months". In October 2011, they returned to Guatemala to do it.

world:
Why was it three months?

Yes
I promised to sponsor. Sponsor who will support JICA project for usLenovo Japan,Evanew) Attached to me. Although I thought that "It is a nice talk about starting a business by stopping the project," even though I talked, I received a positive reaction "I am interesting. But I decided to decide the deadline because I thought that it was different to take too much time.

world:
I see. So, what did you start with?

Yes
First, we explored the needs of the supply side. I returned to Guatemala and asked the acquaintance's Spanish teachers. "I'm thinking of doing this kind of service, do you want to do it?" Then 9 out of 10 people said YES.

world:
It is surprising. I thought that it was more conservative.

Yes
The Spanish teacher in Guatemala is now in pain. Originally the language school industry is flourishing, but it is quite partly dependent on sightseeing. In short, most of the people who go to school here are travelers. Everyone wants to go to school to learn a little Spanish before traveling in Latin America. But, now, guatemalan tourists are slumping ass. In addition, as language schools became muddled, teachers increased, salary declined. The acquaintance's teacher is doing a side job of cleaning and sewing, not to say the school's choreography. It is also happening that not being able to work for more than one month lasts.

world:
How did you make the site?

Yes
Kuribayashi who was traveling together with the site, so it was a bright person so it was okay. But there was no human being who made the system. So I managed to find someone who says "I will cooperate" around me acquaintance.

world:
What is the key teacher?

Yes
Nothing we are Guatemala none, no connection ... .... I went to see the school principal by listing the schools that are likely to be affiliated. In short, let me show the data that online is coming, ask them to understand the merit, we can make a system, so why not do it together? When.

world:
How was the response?

Yes
Mostly I showed interest. The principal's teacher seemed to be keenly aware of the current state of the language school industry. After all, considering the risk of power outage during class, I selected one school for Antigua and Sierra (a lot of language schools as well as Antigua) as a partner. Then, two people interviewed the teacher. As two conditions, "Is there a net tolerance of using the system?" "Can you speak English?" Searching for sites and searching for teachers. I did this at the same time.

world:
It's launched in 3 months. no time.

Yes
If we do not turn several things at the same time, we will not make it in time. We listed the things to do and decided the priority, decided in advance which one should be turned from which time and which, by comparing the deadline of three months with the time until completion It was.

world:
By the way, Arimura-kun seems to have been to the United States since the end of October.

Yes
I went for a month to procure infrastructure such as computers, generators and routers. America has better performance and is cheap. The progress during that time was reported in Kyohei and Skype.

Cityscape of Antigua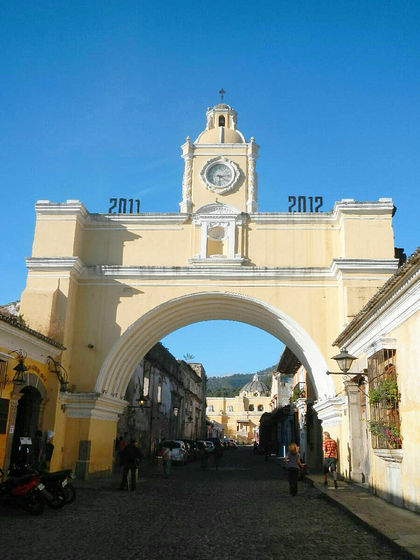 Ruins remain in the city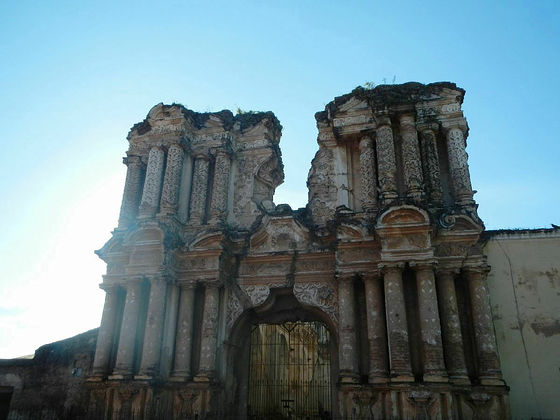 Batteries procured in the USA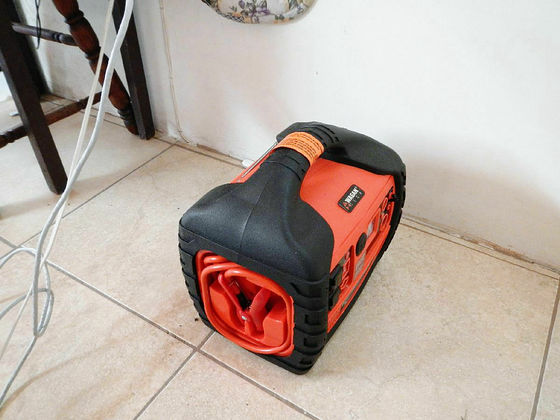 Material stored on the desk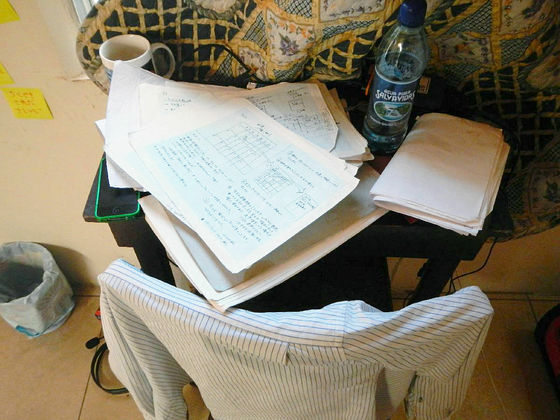 I also made a logo on our own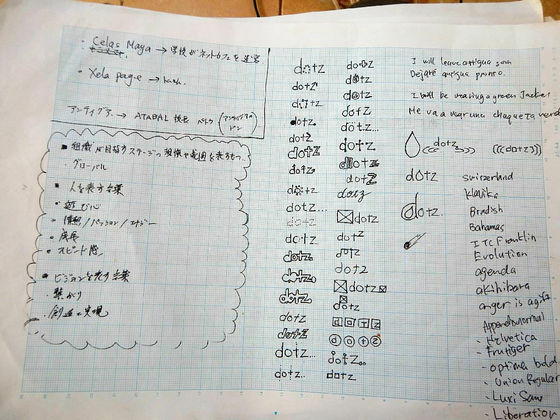 Website design drawing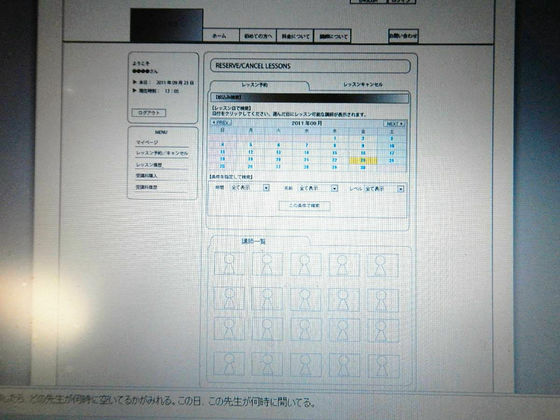 Infrastructure was set up at the end of November and HP was made. But there are piles of things to do from there too. And the biggest challenge in this entrepreneur awaited. It is a teacher's education.

world:
I heard that the training was given to the teachers, but what exactly is it?

Yes
We were divided into Sierra and Antigua for two people, and we had training for several days. That days it was hard. It was the purpose of filling in the way to master the system, and more fundamentally the "difference in doing business". While I was doing business, I felt that kind of "difference" after all, being loose on time compared to Japanese people. My family is the first guy for Guatemalans. It can not change. So, while continuing to express my understanding, I kept saying "I want you to be conscious".

world:
Even so, is it difficult to change your teacher's consciousness?

Yes
It is already (laugh). So, I'm thinking a lot of bonuses are issued just by coming on time on time in the system. Because their motivation is money at this stage. But that is useless. In addition, we decided to set up personal computers to be used for classes at the beginning of each school. But I will tell you that this will be possible at home if teachers get used to it. Can they use Spanissimo as a lifework? First of all, I want to win trust in this part.

world:
Have you approached the present soon? (Laugh)

Yes
There are other things to say in details ... (laugh). Currently, the site is pre-opened on December 21 and all the teachers are over for the Skype connection test with Japanese students.

world:
What do you have to do now?

Yes
I will continue the test in order for the teachers to get used to it even more. Also, I cooperated with partner schools to create a curriculum to guide classes, but that Spanish → Japanese translation. And from now on, using Twitter and Facebook, we will do full-scale web marketing towards the opening.

world:
Please tell us your future vision as Spanishmo.

Yes
"Speaking of online Spanish language is a spanish simmo" I want to do it. By doing so, we will create teacher's employment and the teacher's life will gradually ease. I'd like to take that situation. That is why we have to be number one in the industry. For that purpose, I also want to advance into the world (English-speaking countries) within the year.

world:
How much will it be for the service fee?

Yes
Final adjustment is in progress, but one lesson 50 minutes, at the lowest price is about 500 yen. I would like to challenge the price to the price. Of course the profit is considerably thin ... ....

world:
How did it start with this start-up?

Yes
It is around 500,000. A PC fee of 200,000 yen (6 units) is the largest. I think that it is considerably cheap as entrepreneurial funds. I did it all by themselves. For example, photographs of the homepage are taken by oneself, a model is asked to the traveler. It is an aluminum foil on a drawing paper by my own something like a photo shooting leaf plate (laugh). After that the system invested about 2,000,000.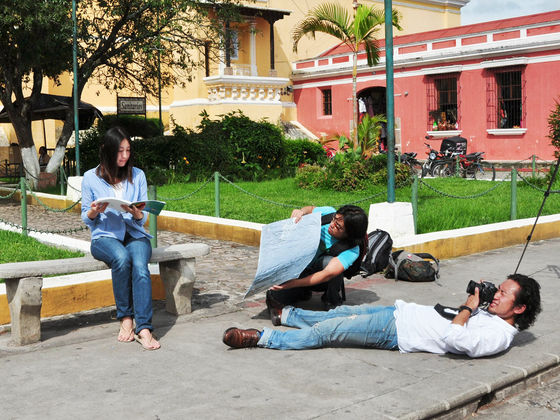 world:
What is the strongest feeling you have come up to this point?

Yes
I realize that the people who respond will surely come up and do it will open for the realization. Of course, thankfully to Kyohei which is the nearest, I thank every day, and I said straight to the existence of a friend who said "Please help me!" In Japan and "Do you like this more? Seniors. I was not able to do it by myself. Thank you very much.

world:
So ... what, what is it at this time (laugh). How do you travel?

Yes
I will do my best here until I can provide stable service. After that, I will resume the trip. Because we are travelers to the last.

Training landscape with teacher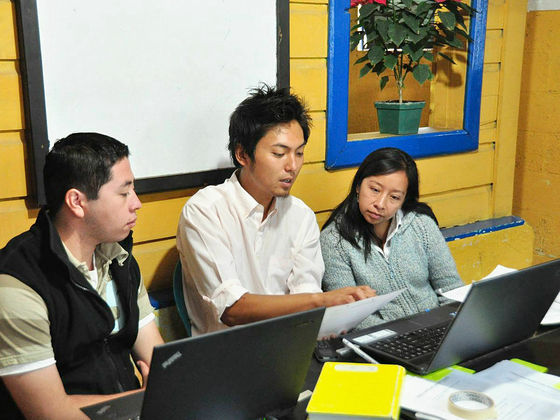 We telled everything that is assumed, such as how to use system reservation, how to send and receive files, emergency response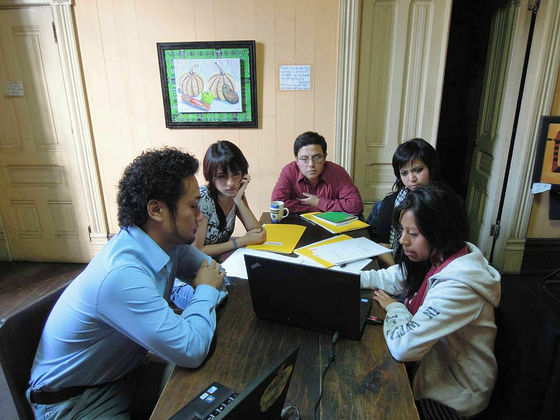 And they will also be back on a trip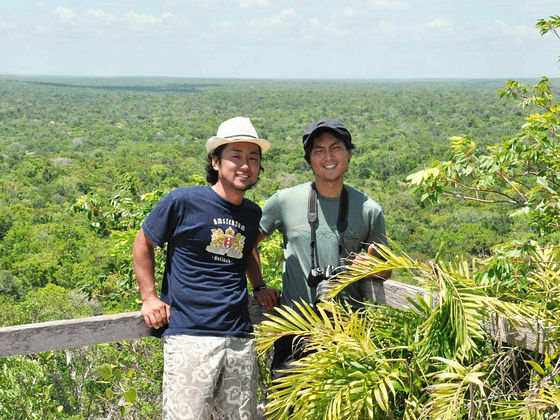 More than photos provided by Takuro Arimura

Spanishmo
http://spani-simo.com/

Takuro Arimura
Born in 1985. I am from Hyogo prefecture. Spend time in the United States from 3 to 7 years old. In January 2011, I leave Recruit Co., Ltd. and went around the world. Twitter:@ Muros

Yoshihira Yoshikawa
Born in 1985. I am from Hyogo prefecture. February 2011 We left Mars Japan Limited and went around the world. Twitter:@ Kyohei_today

(Sentence / picture: World Newspaper / Atsushi Matsuzaki
http://sekaishinbun.blog89.fc2.com/)