I tried going out to eat a special ramen "Tomato noodle of the sun" against Eva collaboration don


Originated from Kinshicho, "Tomato noodles of the sun" deploying 13 shops in the metropolitan area and 1 shop in Osaka started offering a collaboration menu with Evangelion New Theatrical Version. "A bowl to you"Because it was that we were also doing a campaign where special donburu suffered, so I immediately went to the shop.

New Arrival Information 2011.11.10 Tomato noodles of the sun × Evangelion New Theatrical Version Collaboration Decision!

Arrived at the shop, it was just lunch time and there was a queue.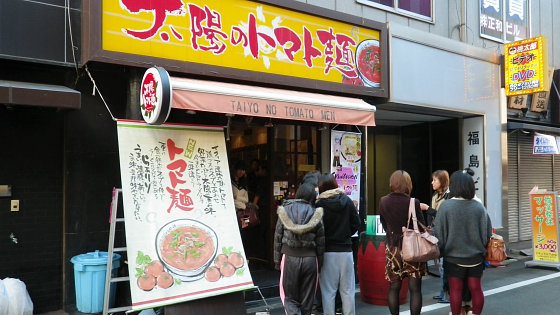 The main menu of sun tomato noodles is tomato ramen. In addition, "Lara Resol (ramen risotto)" which used the soup after eating is a specialty.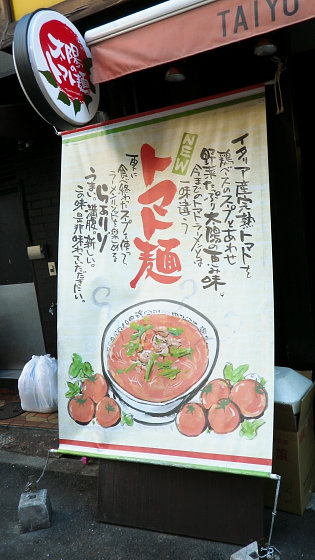 However, I came to eat this time. "Evangelion New Theatrical Version: Bowl of riceIt is a collaboration menu with Eva written as ".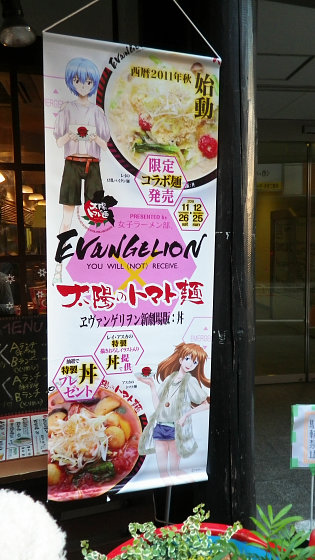 The offer period is from November 26th to December 25th. There are 2 kinds of "Asuka no Tomato noodle" (880 yen) which imaged Ayanami Rei "Ray soymilk pite noodle" (880 yen) and Asami · Asuka · Langley. Paiman noodles have garlic, corresponding to even without barbecued, there is also a little nice service for Eva fans.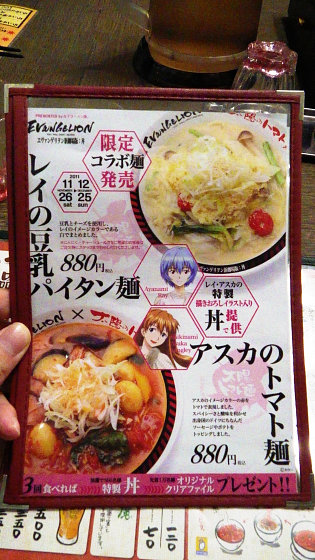 As for ramen, it was one item per person, so it was first from Asuka's tomato noodles.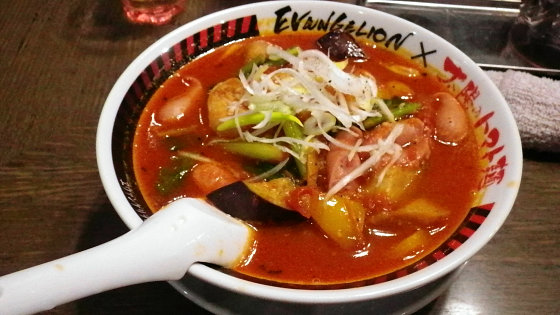 As Asuka is from Germany, I have topped with sausages and potatoes.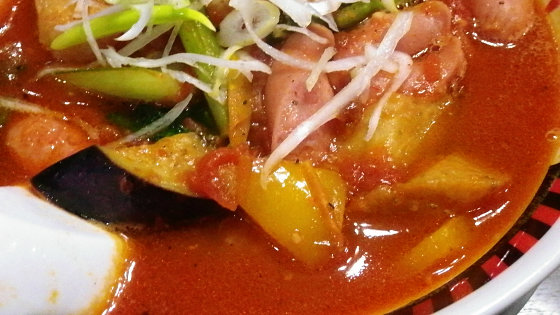 Its taste is spicy or quite dry. At first I thought it was a ramen with strong acidity of tomato and I was a little worried.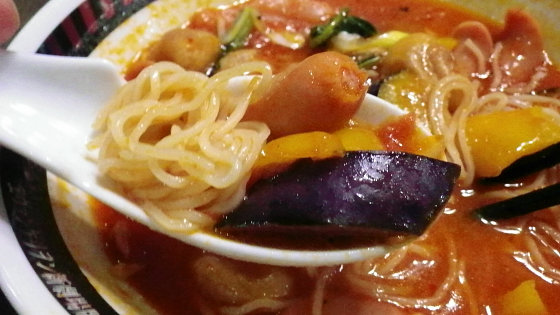 By the way, the bowl is of original design, so Ray and Asuka are drawn on the side like this.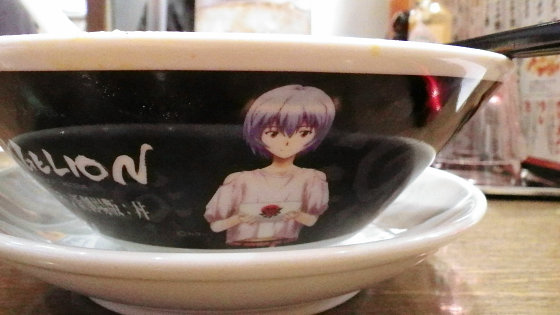 I am sorry that I can not see it while I am eating.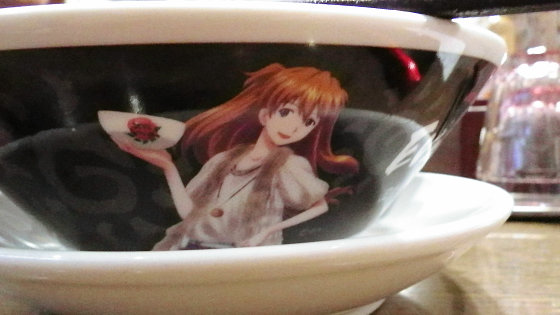 When I finish it ......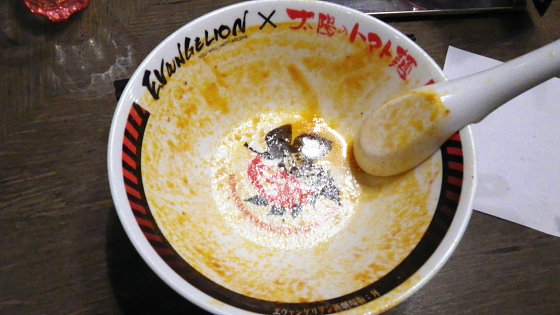 A logo of tomato noodles covered with fig leaves (Nerv 's logo mark) half at the bottom. And I got a message saying "I want everyone to shine at the thick Tama noodles".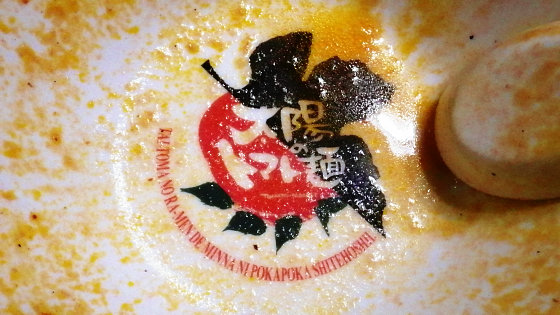 As a substitute for this message, I ordered Ray 's soy milk pie pie noodles instead.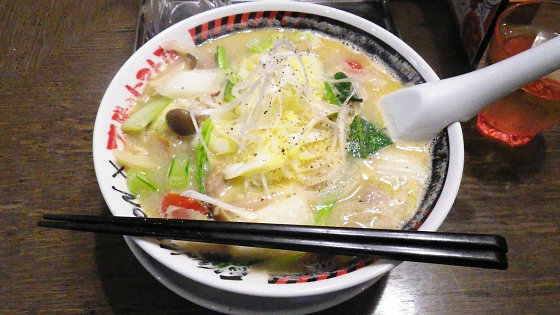 This includes chicken, onion, Chinese cabbage etc.



The soup is creamy and gentle, in contrast to Asuka.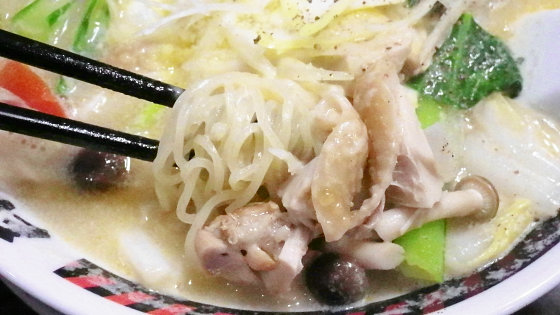 Plenty of powdered cheese gradually melted and saw noodles and ingredients, it was something Italian, not ramen.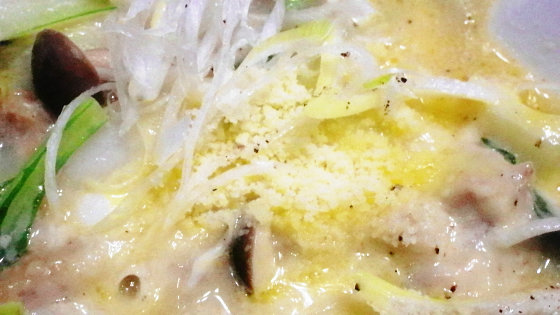 This special rice bowl will be presented to 500 people by lottery.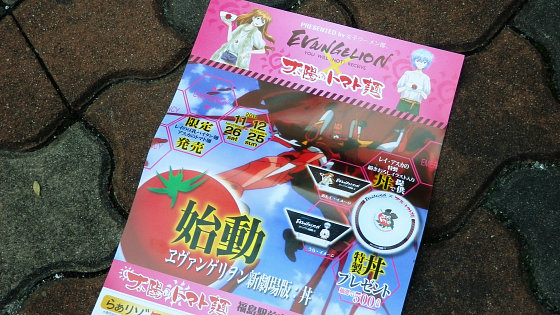 By saying "bowls to you", you get the right to apply if you eat 3 times with Ray's Soy Milk Paintan noodles and Asuka no Tomato noodles.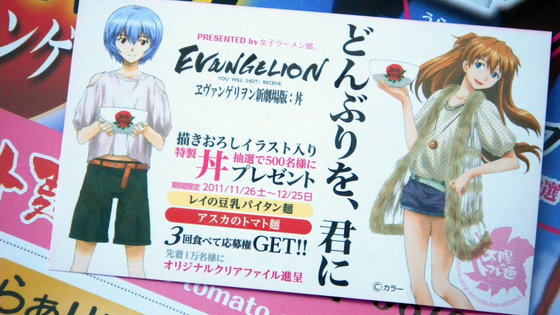 On the 27th of December, please draw 3 stamps and post them in the in-store application box. The original clear file will be presented to 10,000 first-come-first-served customers who gathered three stamps.



By the way, the customer base was quite extensive from family to businessman, high school students back to school, ordinary menus and collaboration menus were ordered at the ratio of about 3: 1.