Steamed chilled noodles steamed chicken & vegetables plenty added Mister Donut "Five Vegetable Cool Bamboo Tsukeme" "Sesame Soy Milk Cool Breeze" Tasting Review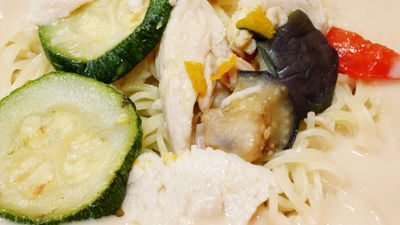 In addition to donuts and pie, Mr. Donut also deals with dumpling menus such as noodles and meat sorghum. From April 13 (Wednesday), cold Chinese noodles of "cold Chinese noodles" adapted to the season that gradually warms upCooled noodles to taste vegetablesTwo kinds are appearing. One year ago in 2015 is "Sichuan Ryora NoodleAlthough it was offered cool spirit noodle with a spicy flavor including the spicy flavor, etc. I decided to try eating it actually because I was wondering what kind of taste the cool noodles in 2016 had.

Rice bowls to taste vegetables | New items | Mister donuts
https://www.misterdonut.jp/m_menu/new/160413_001/index.html

Arrived at Mr. Donut's shop. There was no conspicuous announcement such as climbing and posters, but there were menu tables of two kinds of cool-air noodles on the shop front.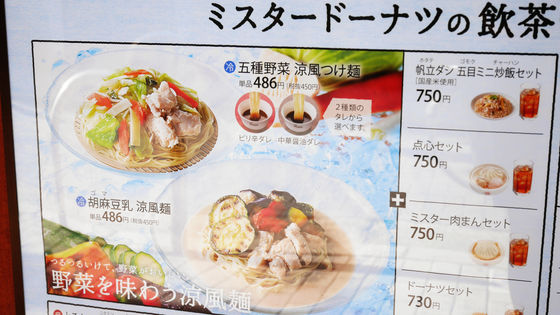 When entering and entering the store, cool noodles were delivered in about 5 minutes.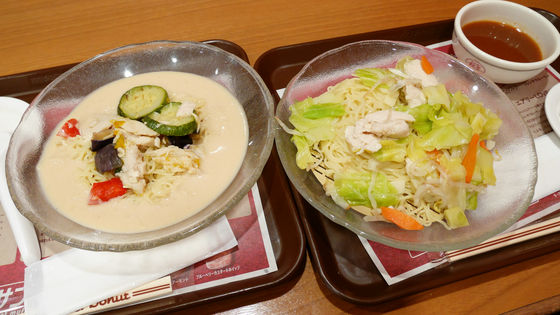 "Sesame soy milk cool breeze"(486 yen including tax) is a soup-finished cold soup finished in soy milk mellowly, summer vegetables such as zucchini, paprika, eggplant, pumpkin and steamed chicken.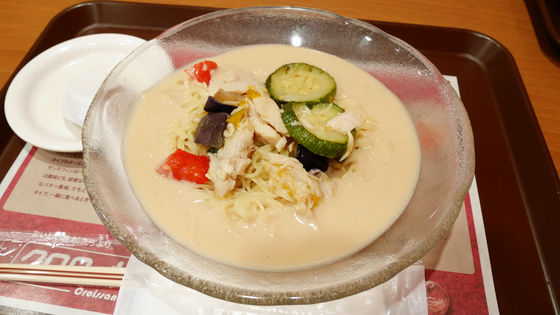 The ingredients that were cut to a large extent are rustling.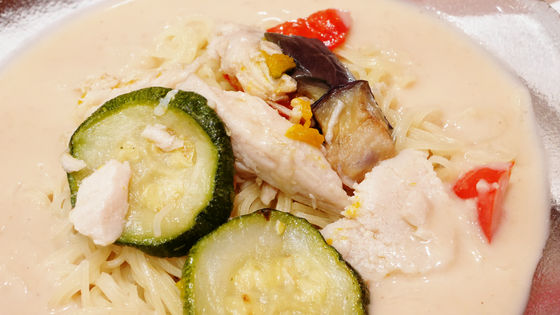 The soup is a whitish brown, with somewhat brown sesame floating in places.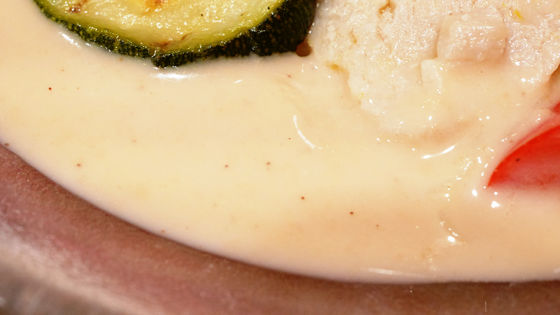 The noodles are narrow and thin and throat well, good texture like soft boiled somen a little longer. The soup is stronger than the sesame and the soy milk, the sourness of the vinegar is intense, it is refreshing taste perfect for the season when it gradually becomes hot.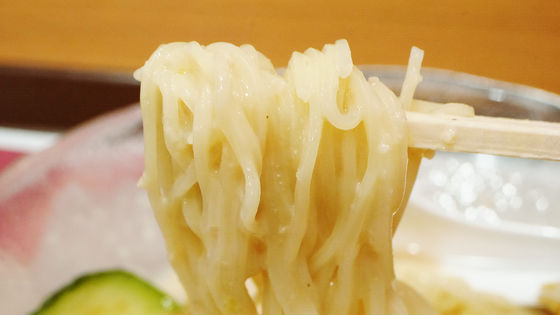 The steamed chicken is soft and steamed up, so it is easy to eat and it is large, so please eat it. Soup with sour taste is often entwined.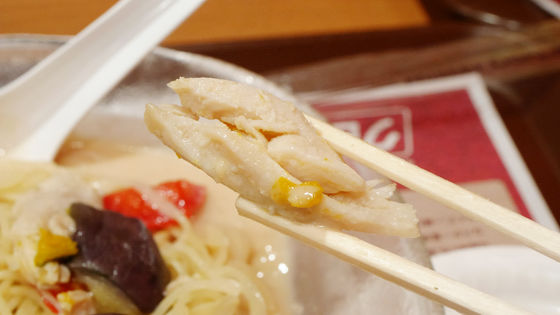 The soup was also frequently involved in vegetables such as zucchini, and the taste of the vegetables was standing out.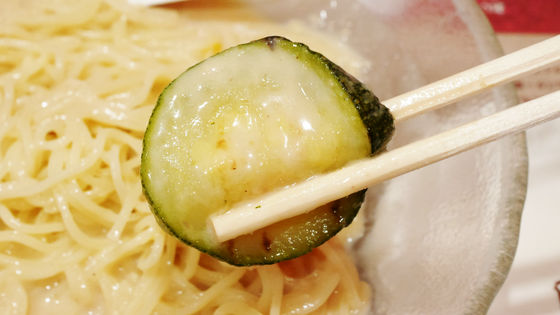 "Five kinds of vegetables Cool breezed Tsukemen"(486 yen including tax), plenty of vegetables such as cabbage, bamboo shoots, carrots, bean sprouts, and onions.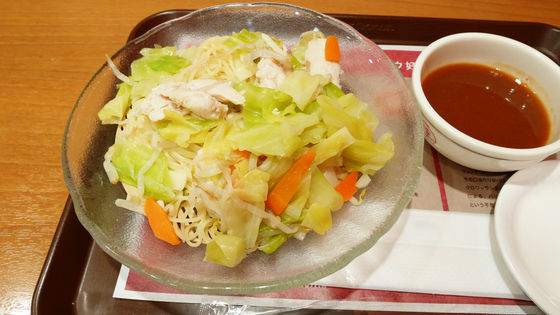 Like sesame soy milk cool noodle, big steamed chicken sticks with gorrot.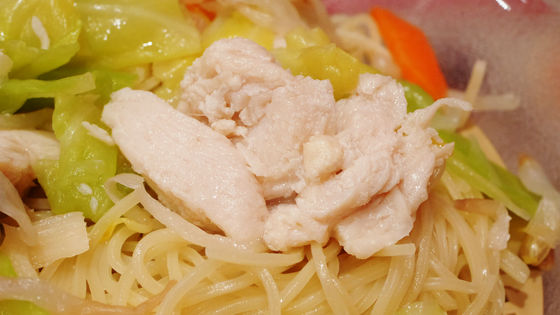 Because there are plenty of vegetables, at first glance it is like a Champon noodle.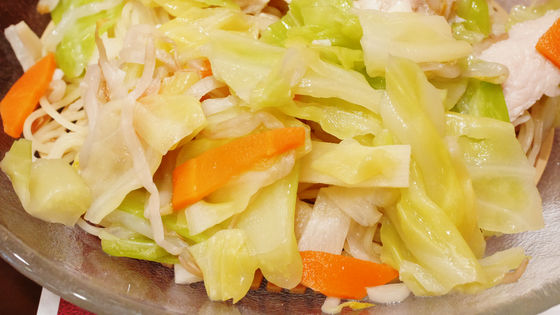 I could choose from two kinds of spicy sauce and Chinese soy sauce sauce, and I chose a spicy sag in this time.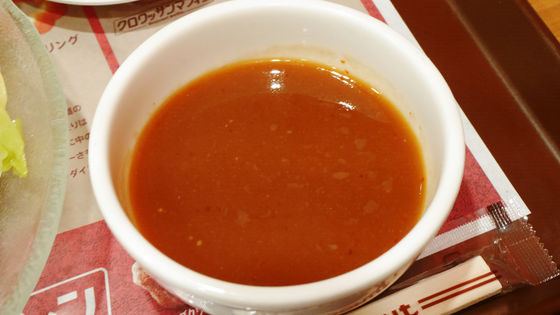 The spicy sagar is mixed with miso flavor and hot pepper soap, and it is very thick. The noodles are not too much soaked and you can enjoy a spicy spicy flavor just right if you eat it through quickly.



Vegetables are soft boiled and can be eaten by eating. Because most of the vegetables are unlikely to have a lower taste, when it is eaten with spicy sagging, the miso flavor was felt strongly.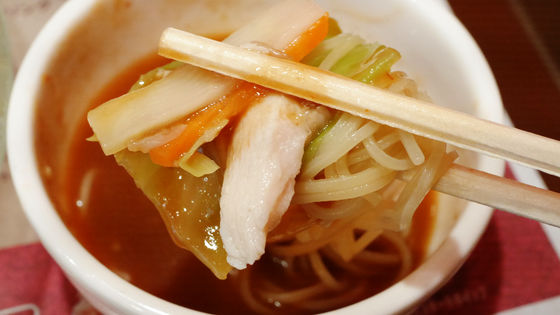 In addition, "Five kinds of vegetables Cool breezing noodles" "Sesame soy milk cool and cool noodles" are only offered at Mr. Donut's dumpling handling shop.