As of October 2011 the strongest antivirus software is determined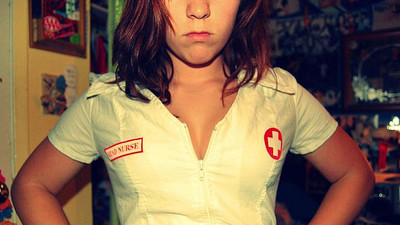 ByERICA

Third-party organization conducting operation verification of antivirus software "AV-Comparatives.org"Released a report on the detection power and the number of false detections of 20 types of anti-virus software.

AV-Comparatives.org is an authority on this test, and it can be said that it is safe to use it if it is software awarded as "ADVANCED +" in this test. Of the 20 types in this test, 10 types are selected as "ADVANCED +".

(PDF file) AV-Comparatives - Detection Tests On-Demand Comparative August 2011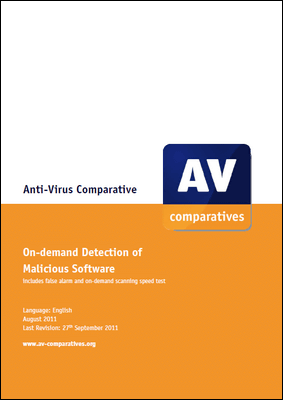 The following 20 anti-virus software used for this test.

·Avast! Free Antivirus 6.0.1203
·AVG Anti-Virus Free Edition 10.0.1392
·AVIRA AntiVir Personal 10.2.0.700
·BitDefender Antivirus + 15.0.27.319
·EScan Anti-Virus 11.0.1139.998
·ESET NOD 32 Antivirus 5.0.90.0
·F-Secure Anti-Virus 10.51.106
·G DATA AntiVirus 22.0.2.32
·K7 TotalSecurity 11.1.0050
·Kaspersky Anti-Virus 12.0.0.374 (abc)
·McAfee AntiVirus Plus 15.0.291
·Microsoft Security Essentials 2.1.1116.0
·Panda Cloud Antivirus 1.5.1
·PC Tools Spyware Doctor with AV 8.0.0.655
·Qihoo 360 Antivirus 2.0.1.1332
·Sophos Anti-Virus 9.7.4
·Symantec Norton Anti-Virus 19.1.0.21
·Trend Micro Titanium AntiVirus + 2012
·Trustport Antivirus 10.0.0.4796
·Webroot AntiVirus with spy Sweeper 7.0.11.25

Incidentally, of these, eScan, F-Secure, Qihoo 360 engines are based on Bitdefender, G DATA engines are based on Avast and Bitdefender, PC Tools use Symantec engine, Webroot engines are Sophos It is based on.

Here is the graph of the rate at which the sample could not be detected. Since the detection rate is opposite, lower values ​​are better.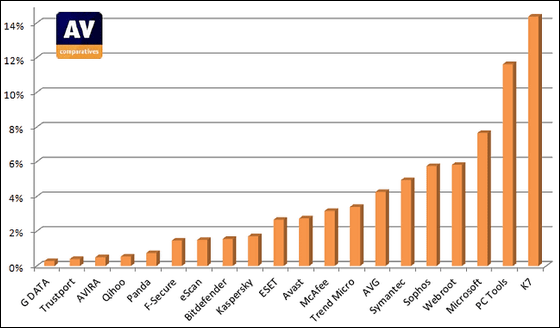 This is expressed as the detection rate. The first place is G DATA, 99.7%. Below, the four types up to Panda are in the 99% range, and the four types up to Kaspersky are in the 98% range. The detection rate of Microsoft Security Essentials is 92.3%, 13th overall.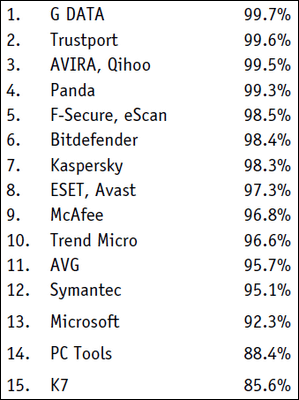 The contents of the test set used were 82.7% Trojan horse, 10% backdoor and bot program, 4.7% worm, and 2.7% other malware and virus.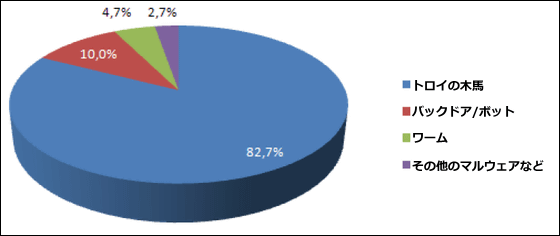 This is a graph of false detection number. Since it is the number that erroneously detected things that are not viruses, the fewer are better.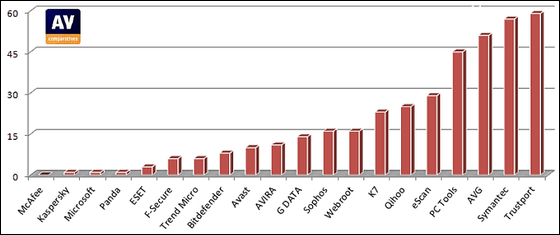 The top McAfee misdetection number is 0. Eight types up to Bitdefender were one digit, but some software that erroneously detected even 50 or more. In addition, Sophos and Webroot can also scan for cloud use, and the cloud part is omitted because it is not known how to use it properly.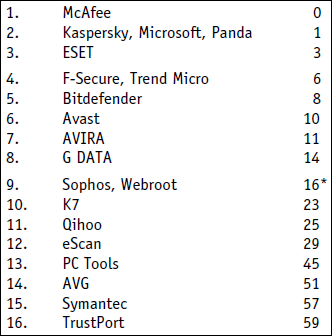 The speed test of the on-demand scan at the end. This is how fast the scan completes, so the faster you get better, that is, the better the software is in the upper part of the graph.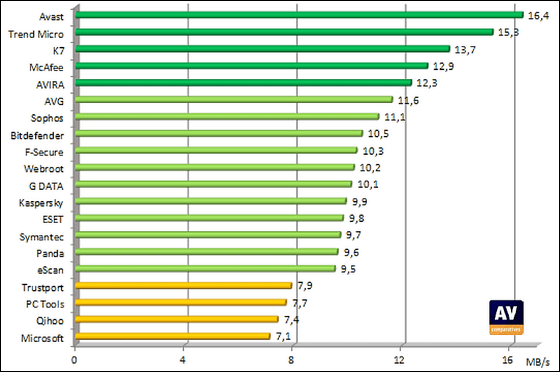 Since there is a difference in hardware and the file used, it is not possible to compare this test result with the speed test performed elsewhere or the numerical comparison with the test that will be carried out in the future. By the way, the test machine used this time is Windows XP SP 3, CPU is Intel Core 2 Duo E 8300 2.83 GHz, memory is 2 GB, SATA II HDD is used.

As a result of these tests, ten kinds of anti-virus software such as G DATA and AVIRA which were superior in detection rate and low number of false detections were awarded "AV comparatives ADVANCED +".