What is the strongest antivirus software ranking ranking August 2009 edition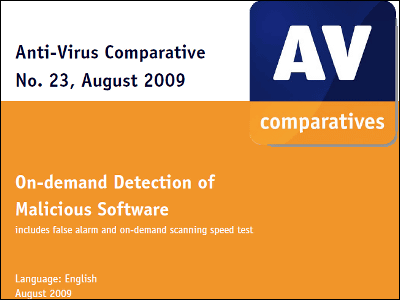 It is based in Austria and has an internationally authoritative independent virus test software organizationAV-Comparatives"Anti-virus software performance test result ranking August 2009 edition was announced.

The ranking of this time is targeted to 16 anti-virus software which has recognition to a certain extent globally and also recognized as high performance, and various viruses, worms, Trojan horse, backdoor, bot etc. Including a total of 1,560,000 specimens in total, it is a terrible thing to do a detection test. In other words, it is a test of choosing which is the strongest detection power. There are also other misdetection rankings and scan speed rankings, so we can respond to demand such as "there are no meaning even if we can detect a lot, reliable one with less false positives" or "anyway scan speed is life" I think so.

The August 2009 version of the ranking as to which of the strongest antivirus software is from the following.
◆ Detectability Ranking
First placeG Data AntiVirus(G Data Internet Security 2010): 99.8%
Second placeAVIRA AntiVir Premium: 99.4%
3rd placeMcAfee VirusScan Plus(McAfee): 98.7%
4thSymantec Norton Anti-Virus(Norton Antivirus 2010): 98.4%
5th placeAvast! Professional Edition: 98.0%
6th placeF-Secure Anti-Virus(F-Secure Antivirus 2010): 97.9%
7th placeBitDefender Anti-Virus(Bitdefender 2010): 97.8%
8th placeEScan Anti-Virus: 97.7%
9th placeTrustport AntiVirus: 97.6%
10th placeESET NOD32 AntiVirus(ESET NOD 32 antivirus): 97.2%
11th placeKaspersky Anti-Virus(Kaspersky): 94.7%
12th placeAVG Anti-Virus: 94.0%
13th placeSophos Anti-Virus(Sophos): 91.3%
14th placeMicrosoft Live OneCare(End of sale, Free version "Security Essentials"Successor): 90.0%
15th placeKingsoft AntiVirus(Kingsoft Antivirus): 86.4%
16th placeNorman Antivirus & Anti-Spyware: 84.8%

It becomes like this when it is graphed.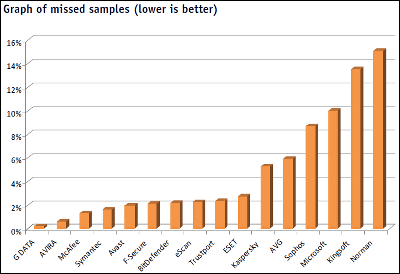 The evaluation table of each anti-virus software is as follows.

AVIRA AntiVir Premium, avast! Professional Edition, AVG Anti-Virus, BitDefender Anti-Virus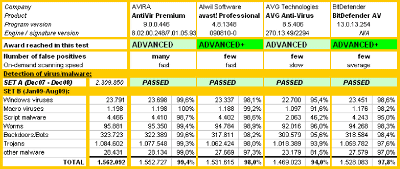 EScan Anti-Virus, F-Secure Anti-Virus, G Data AntiVirus, Kaspersky Anti-Virus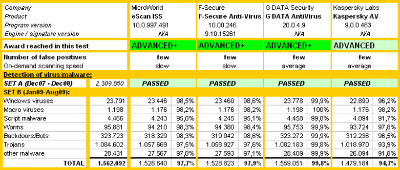 Kingsoft AntiVirus, McAfee VirusScan Plus, Microsoft Live OneCare, ESET NOD32 AntiVirus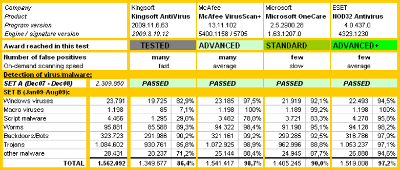 Norman Antivirus & Anti-Spyware, Symantec Norton Anti-Virus, Sophos Anti-Virus, Trustport AntiVirus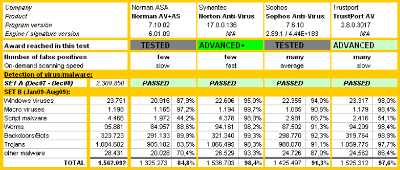 ◆ False detection ranking
On the other hand, the following is a ranking that erroneously detected a file which is not a virus as a virus as a virus. The smaller the number, the better it is that it is not erroneously detected, which is excellent.

1 place Bitdefender · eScan · F-Secure: 4
2nd place · Microsoft · Avast: 5
3rd place AVG · Kaspersky: 8
4th G DATA: 9
5th place ESET: 12
6th Symantec: 13
7th place AVIRA: 21
8th place Sophos: 26
9th place McAfee: 41
10th place Trusport · Norman: 42
11th Kingsoft: 47

It becomes like this when it is graphed.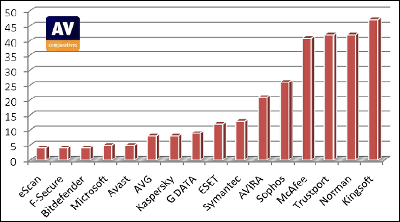 ◆ Scan speed ranking

The result of measuring the scan speed under the environment of Windows XP SP 3 OS, Core 2 Duo E 8300 / 2.83 GHz CPU, 2 GB memory and SATA II hard disk is as follows.

1st Avast: 17.4MB / sec
2nd Symantec: 17.2MB / sec
3 place Kingsoft: 14.5 MB / s
4th place AVIRA: 14.1 MB / s
5th Sophos: 9.5MB / sec
6th G DATA: 9.3 MB / sec
7th place ESET: 9.2 MB / s
8th Kaspersky: 8.7MB / sec
9th place McAfee: 7.5MB / sec
10th BitDefender: 7.2MB / sec
11th AVG: 6.8MB / sec
12th F-Secure: 6.7MB / sec
13th Microsoft: 6.6MB / s
14th Norman: 6.3MB / sec
15th Trusport: 5.9MB / sec
16th eScan: 4.2MB / sec

Looking at the graph, it looks like this.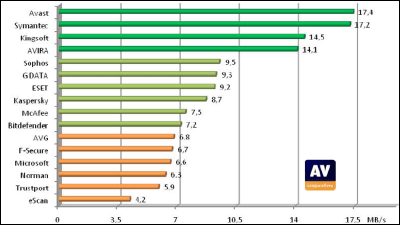 Final result
Results evaluated from stars 3 to stars zero are as follows.

★ ★ ★: G DATA · Symantec · Avast · F-Secure · BitDefender · eScan · ESET
★ ★: AVIRA · McAfee · TrsutPort · Kaspersky · AVG
★: Microsoft
Zero: Sophos · Kingsoft · Norman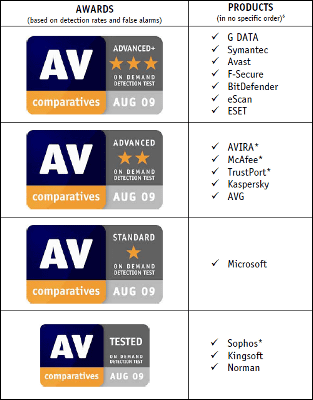 For details of measurement contents, measurement conditions, etc., please check the following PDF file.

PDF file: 374 KB
http://www.av-comparatives.org/images/stories/test/ondret/avc_report23.pdf

After that, if you decide on this result and budget, you can purchase convincing antivirus software.