NTT DoCoMo's public wireless LAN got free and reported, the three major companies finally got free of charge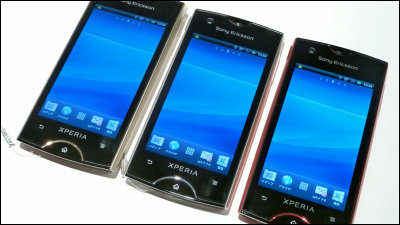 Public wireless LAN service NTT DoCoMo offers for a fee "MzoneIt was reported that it will be provided free from October.

By the way, the image above is Sony Ericsson's new Xperia "Xperia ray SO - 03C" released by the company.

DoCoMo "WiFi" free of charge High-speed communication with stations and cafes in October: Nihon Keizai Shimbun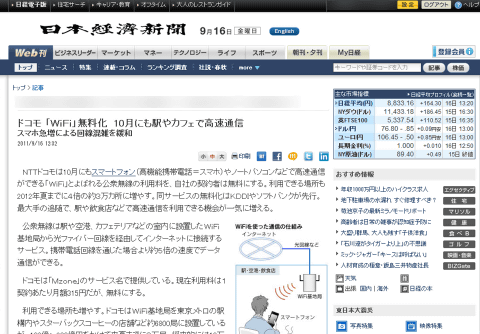 NTT DoCoMo's public wireless LAN service "Mzone" usage fee is available at various prices depending on the user's contract situation. A charge plan for smartphone users "sp mode" public wireless LAN service "is 315 yen per month for use of" Mzone "Sp modeBecause it costs 315 yen per month for the contract of itself, the amount actually paid is 630 yen per month.

Although it is said that the line usage fee will be free for all NTT Docomo contractors from October, it is not mentioned whether this free-of-charge includes the sp-mode monthly fee or not. Since there is no contract plan for smartphone users who do not need sp mode, the details of the utilization plan are about to be announced in the future.

Also, it is planned to increase the available space to about 30,000 places, which will be quadrupled by the summer of 2012. With the spread of smartphones and the expansion of data communication users for PCs, KDDI and SoftBank had previously taken public wireless LAN service free in order to alleviate the situation where congestion of mobile networks is inevitable, but the biggest NTT DoCoMo finally follows the competition.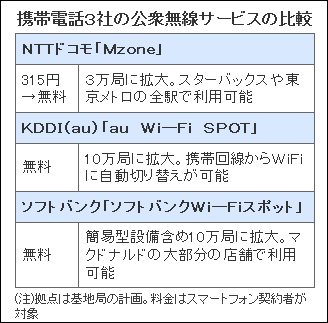 Softbank Mobile provides "Free iPhone" to users of smartphones Public wireless LAN service "SoftBank Wi-Fi Spot"Can be used at McDonald's and Starbucks stores nationwide. Public wireless LAN service which affiliated company of the company provides other than users of SoftBank Mobile "BB Mobile Point"You can also use it by making an optional paid contract.

KDDI 's public wireless LAN service "au Wi - Fi SPOT" is available for smartphone users for free.Settings are all unnecessary one-touch connection, automatic switching of 3G and Wi-Fi according to the communication situationIt is a big feature to do. For this serviceIt will be available at about 100,000 locations throughout Japan as of the end of March 2012is.

Also,We also use the "wire and wireless (Wi2)" network that develops public wireless LAN services that KDDI became the largest shareholder, and the UQ Communications network that develops "UQ WiMAX"And it shows the movement covering communication in wide area. Available areas are stations, airports, buses, underground shopping centers, commercial facilities, universities, au shops, etc.

NTT DoCoMo is aggressively developing new models of smartphones for general users, but connection to Wi-Fi is somewhat cumbersome and requires knowledge. I would like to expect from NTT DoCoMo, the industry's largest operator, how to arrange the connection environment and spread it to users.
in Mobile, Posted by darkhorse_log