In fiscal 2012, we aim to sell 250,000 units, marketing strategy of the robot vacuum cleaner "Rumba"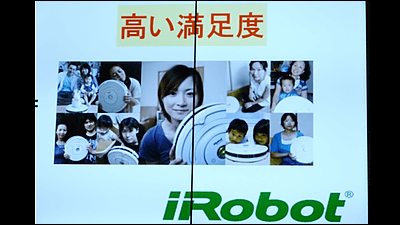 New series of robot vacuum cleaner "Rumba", 700 series newly releasedIn the latter half of the presentation, Junichi Tokumaru, a director of sales-on-demand corporation, Japan's agency, talked about marketing strategy in the latter half of the presentation .

Interesting stories such as "Rumba is loved all over the world", "What has made a breakthrough is due to an increase in dual-income households and an aging society" was talked with concrete figures. In addition, it was the first time to launch the Home Appliance & Interior Coordinator, which actually used the Rumba 700 SeriesSonoko ToiidaWith the household appliance conciergeKanbara SurreyA talk session by Mr. Masaru was also held.

Mr. Junichi Tokumaru, Director, Sales On Demand Co., Ltd.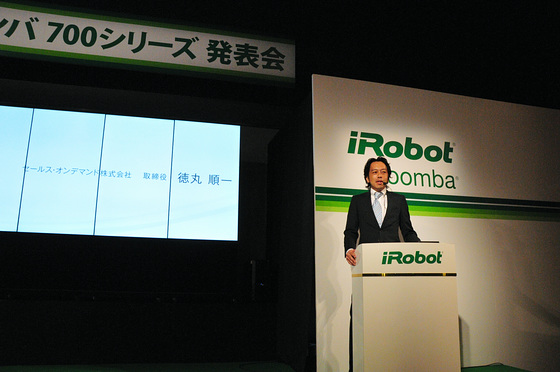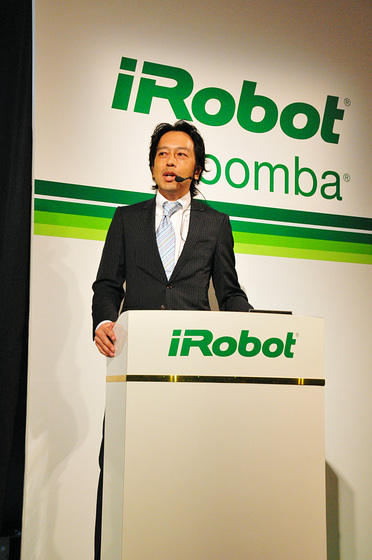 It is "Rumba loved all over the world" by introducing examples.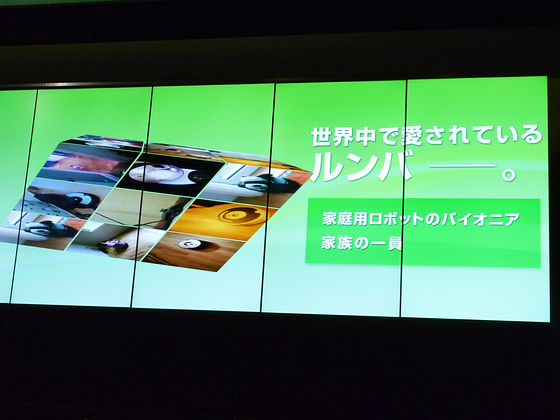 For example, YouTube has uploaded a video that treats rubrum as if it is a member of a pet or family,Cat's movie riding on the rubrumI was swept away.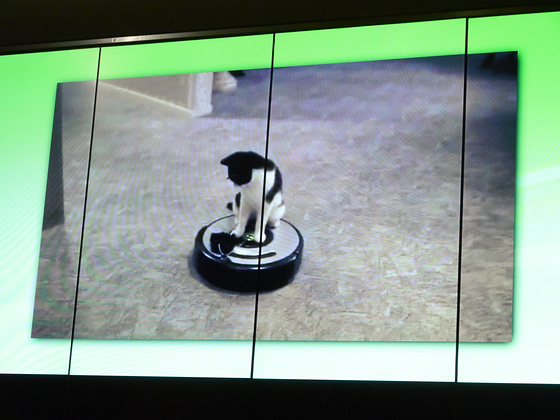 Rumba has sold more than 5 million units in 50 countries around the world.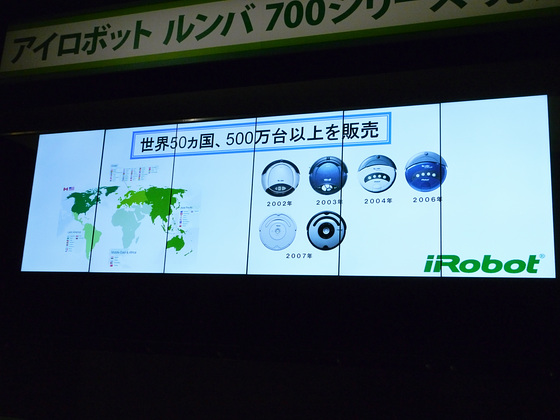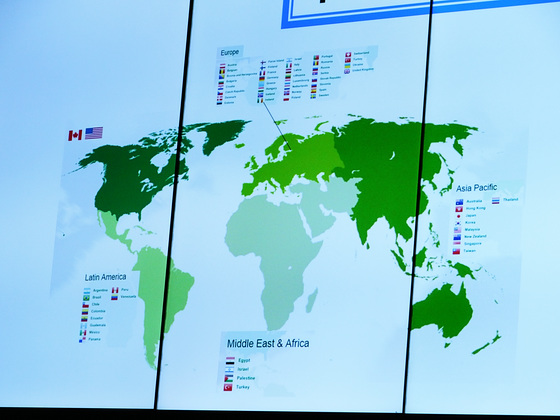 Graph of number of shipments of rumba in Japan. It was 30 thousand in 2008, but to 150 thousand in 2010. This graph is based on SODC (sales on demand).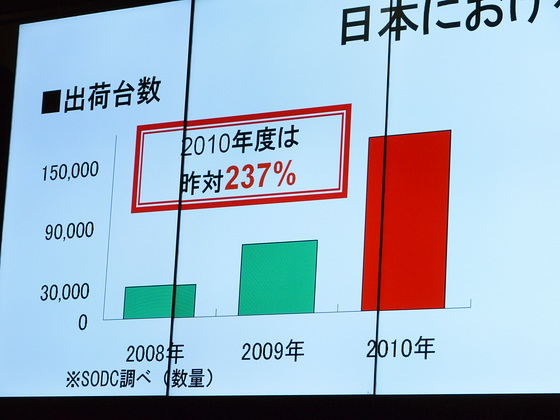 It is said that the cumulative shipments of SODC from April 2004 to August 2011 exceeded 350,000 units.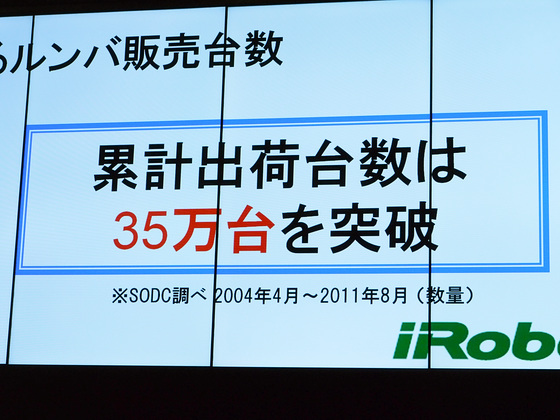 This is the structure of rumba leap forward.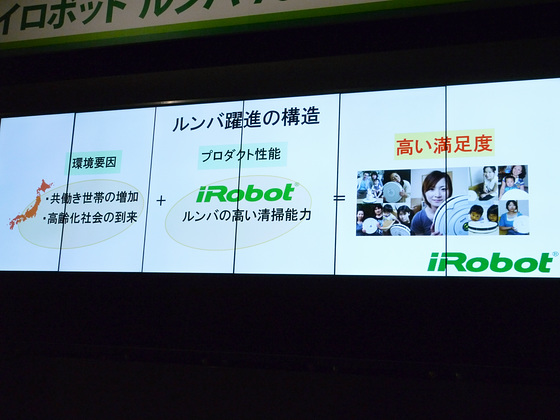 Environmental factors include "Increase in common-generation generation" and "Coming of aging society".



And rumba 's high cleaning ability.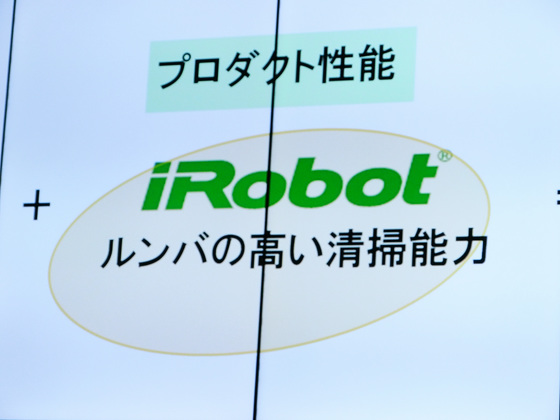 It is said that this is a combination of high satisfaction degree.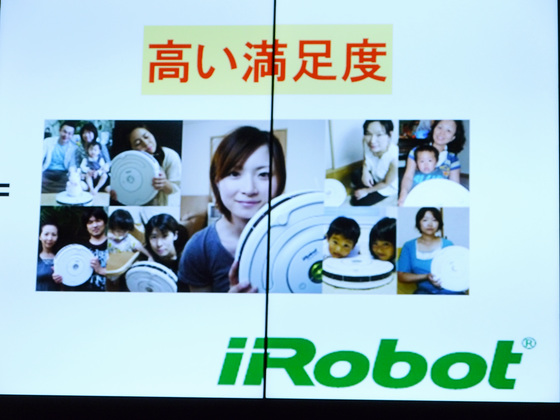 According to White Paper on Health, Labor and Welfare, the number of dual-income households with factor 1 increased from 614 in 1980 to 1114 in 2010.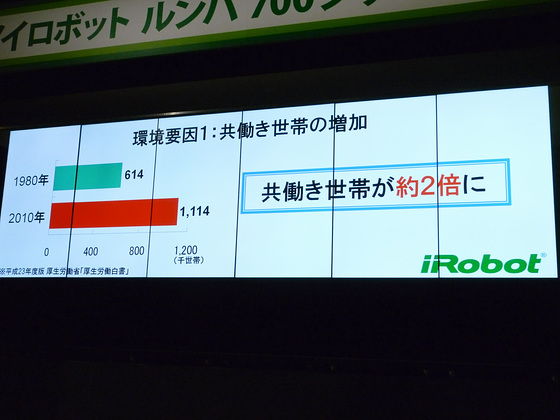 Regarding the aging society of Factor 2, this is a figure based on the White Paper on the Aged Society, but the aging rate is increasing year by year, 35 million people will be elderly in 2020, the aging rate will be over 30% It seems to be.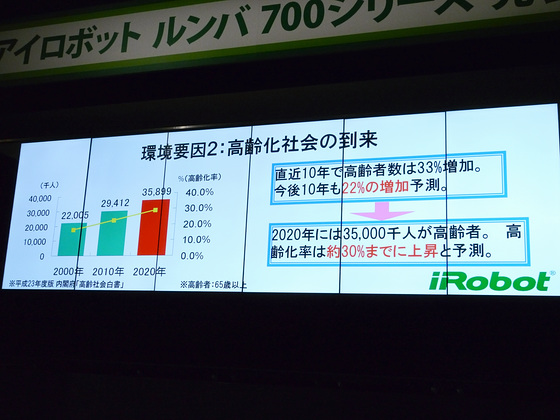 The content of the survey on product performance that SODC has made for 100 monitors is here. 71 people answered "satisfied" and 24 people answered "somewhat satisfied" in response to the question "Are you sure you are beautiful?"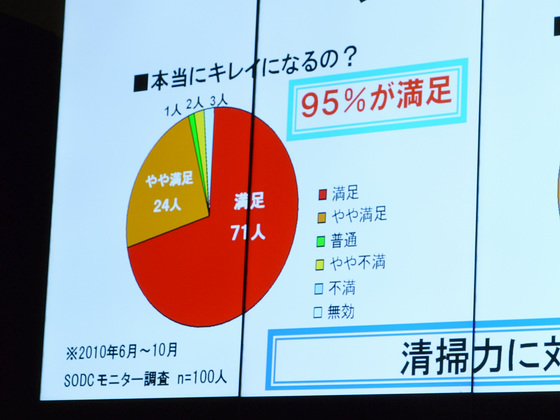 About "cleaning the corner?", 49 people answered "satisfied" and 35 people answered "somewhat satisfied".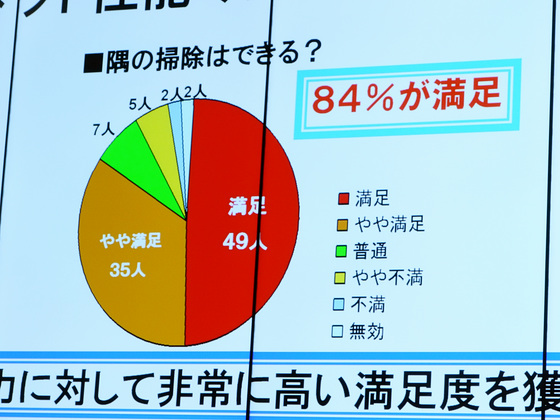 About 45 people answered "satisfied" and 30 people answered "somewhat satisfied" about "Can we clean furniture-rich rooms?"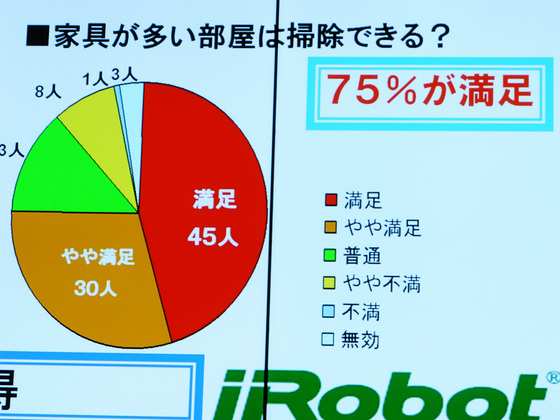 Rumba 's continuing intention.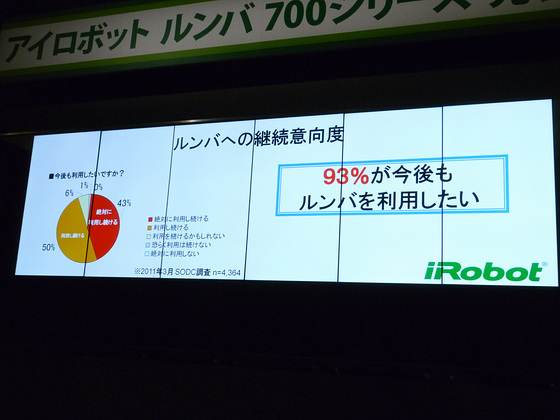 When asking 4364 people "Do you want to continue using Rumba?" 43% answered "Continue to use absolutely", 50% say "continue to use". A total of 93% responded positively to continued use.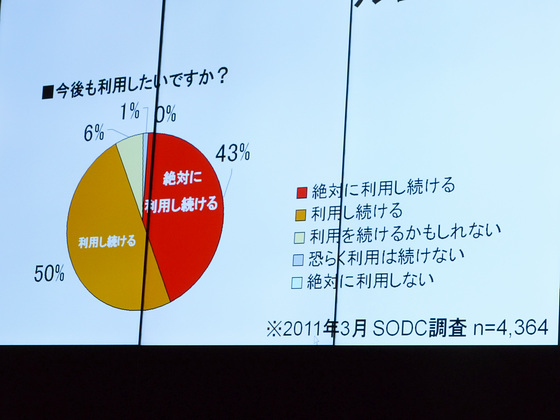 It seems that the vacuum cleaner market in Japan is about 5.5 million units annually, and it has continued to shrink for a long time, but 2010 has increased slightly to 107% compared to the previous year.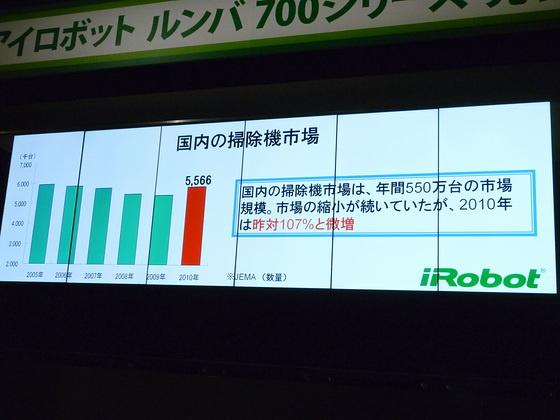 On the other hand, the robot vacuum cleaner market is growing. When we set the index of 100 for the index of 2008 to be 100, it is 500 in 2010, and the market size is about five times as large.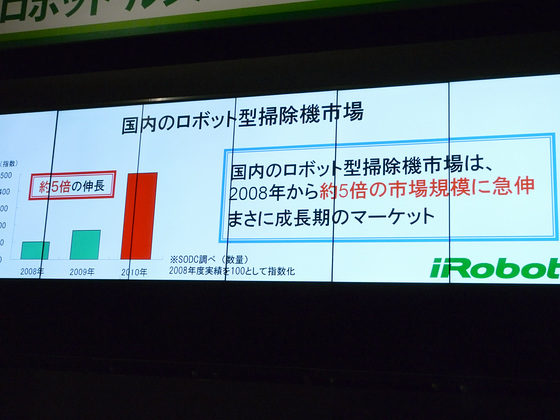 Among such circumstances, the Rumba 700 series aims to be "No.1 brand supported by high customer satisfaction". That means "robot cleaner = rumba".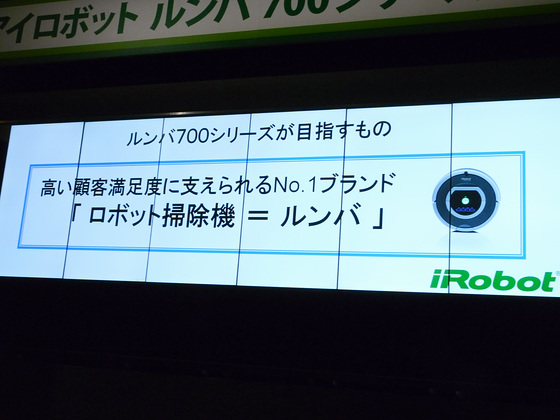 The Rumba 700 series was released on October 7, 2011. The sales are open price, but the reference sales sale schedule price (tax included) is Rumba 760 for 64,800 yen, Rumba 770 for 69,800 yen, Rumba 780 for 79,800 yen.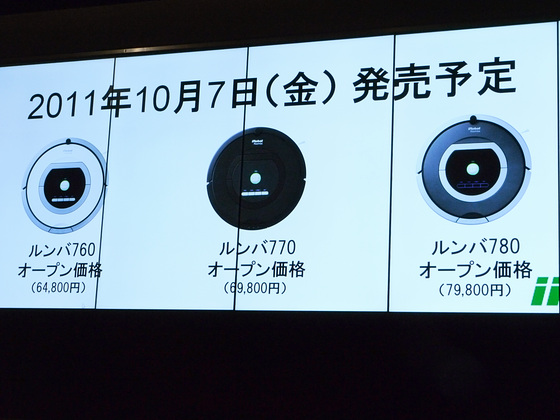 As a future marketing development, we will exhibit at CEATEC JAPAN booth from 4th to 8th October, and TV and newspaper advertisement will start to expand from October 7th release date. Special website will be released on WEB.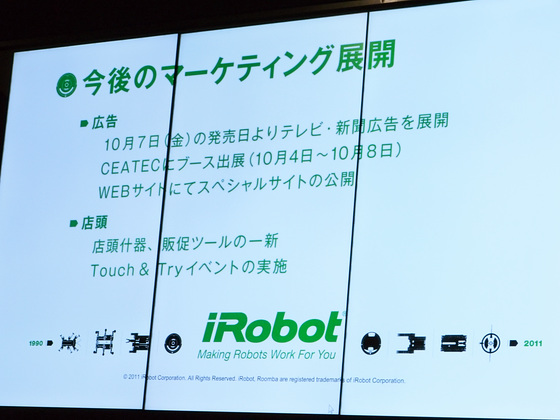 It is said that sales target in FY2012 is 250 thousand units.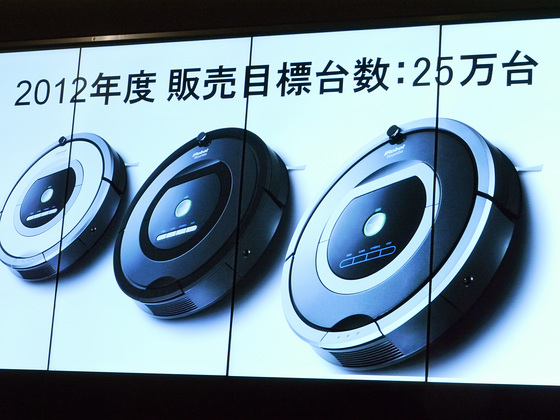 Next, after working on work related to interior at a major manufacturer, Sonoko Toida, an appliance specialist who appears in various media as an interior coordinator, and Sonobu Kamihara of a household electric concierge, independent as a freelance after working at a newspaper company Appeared. A variety of discourse was unfolded as a user of rumba.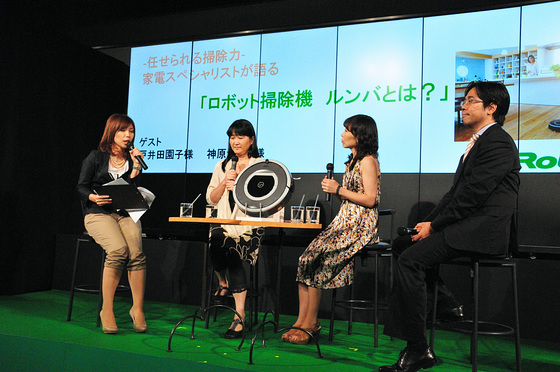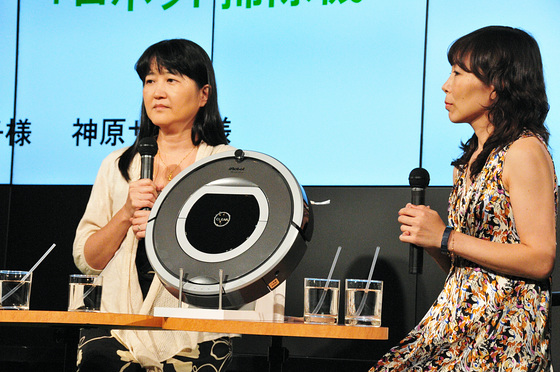 public relations:
Could you tell us about your reasons for using the room, etc. first?

Toida:
I have been using the model which was released in 2004, for about 8 years. In my opinion, I hate cleaning myself anyway (laugh), I have plenty of work patterns and vacuum cleaners, but I want you to do it even if you do not move it by yourself. That is the start. I use it when I am busy or when I do not want to clean up, so I try to do other housework accordingly.

Kambara:
I started using it since 530 series, so it's about 4 years ago. Actually, I first borrowed a week to write articles, but I am sorry, afterwards I bought it for mail ordering. Every day it is frustrating and I also dislike cleaning, so while I am going home and cooking, Rumba is doing a role sharing in the way that it is doing the cleaning.

public relations:
Rumba is beloved by both of the household appliance specialists, but from people who have never used it is often asked about (rumba's comfort). Among them, I introduce the best 3 of many questions and ask two people to answer.

Then, No. 3. "Is it okay with a room with plenty of space on the floor?Is that what you say, Kanbara san?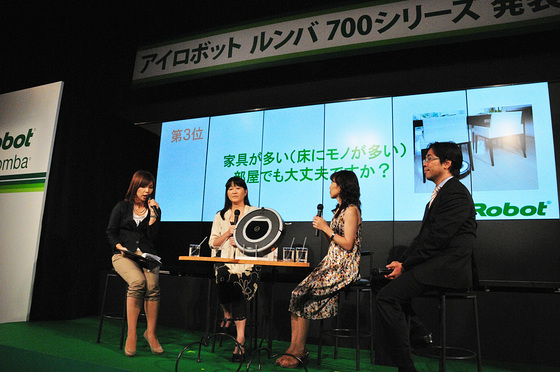 Kambara:
As I mentioned earlier (even for a presentation on the performance of the 700 series), when I saw the legs of the table, Rumba was able to judge whether this was an obstacle or a place to clean it up I will. Therefore, even if there are legs it will clean the surroundings neatly. Besides, as I mentioned earlier, it is a relationship like sharing housekeeping with rumba, so it's like a family like to want to clean up things falling on the floor. So, after cleaning up so as not to annoy the rumba, I will leave it afterwards.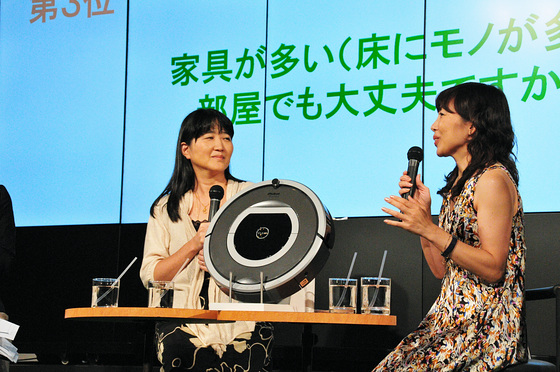 Toida:
To be honest, if there is an object in the floor (it is impossible to move the room), if you are using a room, you will feel conscious that your room will be cleaned widely. In our house, we prepare a "Tento box" to temporarily put things in, and before putting on a rumba, we put that box on the sofa. The biggest effect of introducing Rumba is that the room has come to it. Even if there are many things in the room, the way of life changes.

Nakanishi
I analyzed households all over the world for nearly 10 years, I made a database of where garbage gathers easily, and programming based on it, so the room rumba will clean up to the corner.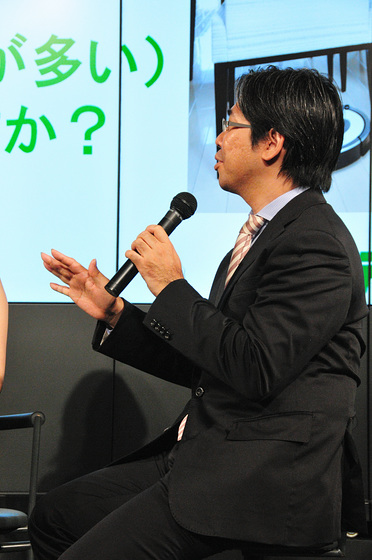 public relations:
Next, it is No. 2. By saying "Do you really want to be beautiful?" Mr. Toida, please.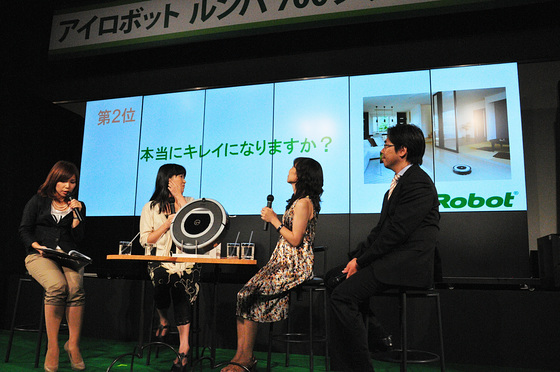 Toida:
I ask too much about this question, but ... It is cleaner than cleaning I do (lol) When there is one table and four chairs, its legs are 20 in total. It is not good to put the vacuum cleaner using all the gap nozzles between them, it is very troublesome. However, moving the room will make it clean. When you see the garbage that you took, you can see that it takes firmly at one time. In my house I keep pets indoors, but I firmly take their hair and I think that it is better than I am.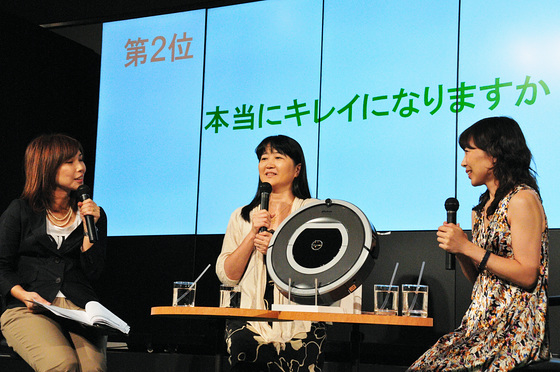 Kambara:
Rumba is a one-sided person. I am perseveringly cleaning the same place many times. However, it does not mean that we are spinning around the same place, but after doing this, we move on to the next, and the next will also do over there ... ... we have been cleaning the various places more than once. It takes more time than a human being, but as long as you want to say "I tried my best" I will clean up. So, the room is really beautiful.

Nakanishi
It's a robot that is ordered to "clean up," so I will clean up everything. I think that it is a finish that satisfies every home.

public relations:
Finally it is No. 1. "Can you clean the walls?" This is often asked because Rumba has a round shape, but how about this?

Kambara:
There is no problem there because the edge cleaning brush is attached. While the three tentacles are spinning, I will clean the other side without hitting the wall. As I am doing it to the best, I can surprise you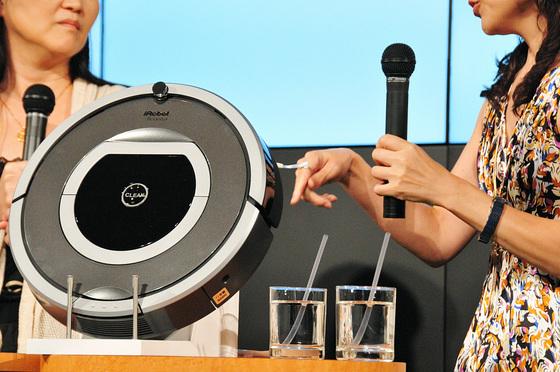 Toida:
Rumba is supposed to go straight ahead if it judges that the front is a wall. Wherever you can go straight ahead, go backwards and proceed as I lick it twice, three degrees from various directions. The inside of the room is not straight, there are places where the wall is curved in our house, but as you go along there, we take out garbage in the corner neatly.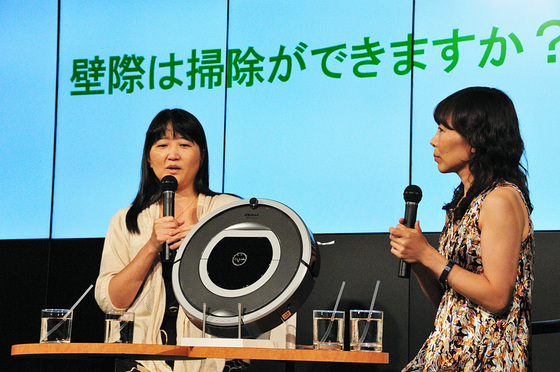 Nakanishi
The edge cleaning brush is one miso, and the rumba is programmed on the premise that there is a brush, so if you think that Kado is hit, it will work along there. That's why I can clean up to the point.

Actually the distance to the wall is also met. There is a wall sensor, taking distance sense between wall and rumba and taking an exquisite distance.

public relations:
We are using the 700 series announced today for the two of you as soon as possible, but how is your impression?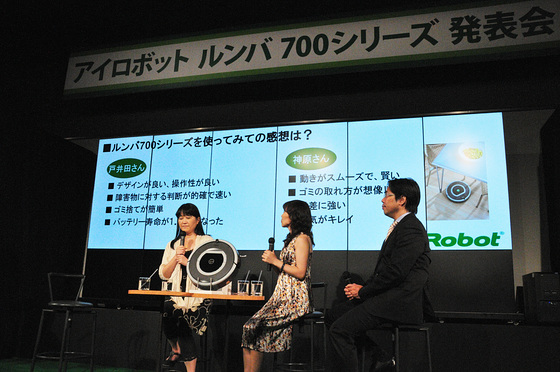 Toida:
First of all it looked, the face part became cool. I am using all the rumbas of the past, but when I judge that the 700 series is a thin thing such as the legs of the table, I will run around it, and if it is a flat wall I will run it straight. In the early rumba, there was somewhat lost in the judgment of that area, but this time we make an accurate judgment instantaneously. If possible, I would like to continue using the new model I am borrowing (laugh)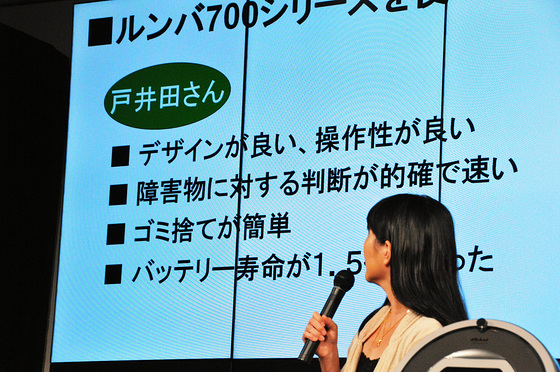 Nakanishi
The behavior you just said is due to iAdopt. Instantaneously convey information to "head" and reflect it in action. So smoothly entering the feet of the table etc.

Kambara:
As I felt using the 700 series, movement first became smooth. My child (Rumba) is a thing of two generations ago, and I used it for about 5 years, so the difference was quite impressive. It's smooth without wasteful movements, it's like "You've become better with your head" (LOL)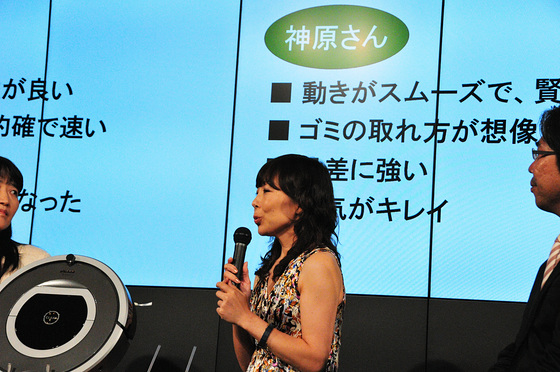 Also, it was more than I imagined how to remove garbage. In the 700 series, the dust box is slightly larger than before, but still the dust box will be full in a short time. I think that the shape of the brush may have changed.

The power to scrape the rubbish when cleaning the room of the carpet is so terrible that it does not merely trace the surface, it does not miss out dusting out. After that, I have overcome some level difference and I am doing cleaning without troubling. There are two filters, exhaust is cleaner than before, so there is encouragement there.

Toida:
Speaking of dust boxes, the structure has become one layer from the 700 series, making it easy to throw away.

Nakanishi
The structure of the dust box has changed, is a side effect of Aero Baku. I think that it is a place to notice it if it is a person who uses it everyday.

public relations:
In the 700 series, I put a copy called "Cleaning power that I can leave", but what would happen if I had two people (700 series) copied at the end?

Toida:
Cleaning, my job is men's job. Sometimes I have the power, I think that it is a men housekeeper, so the copy I thought is "beautiful Ikimen Robo" which is beautiful. From now on, with the thought that I'd like to have something like "cooking Ikemen Robo" as well. Face became a beautiful boy, so it is tough in that sense.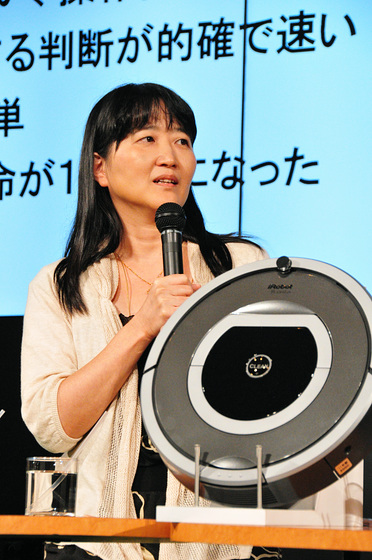 Kambara:
Mine is short, but it is "clever rumba, battle rumba". Since the movement was smoother than the existing model at home, I was able to realize the wisdom of the model anymore. I have something to rake out, and I am saved because it is strong against the steps.

There was a feeling that it was necessary to help a bit even during the cleaning at the successive rumba, but this time it is not at all. I got over some level difference, removed the garbage in the house, actively cleaning and face was not pretty sweeping robot with past love but it was very sophisticated and it looked cool.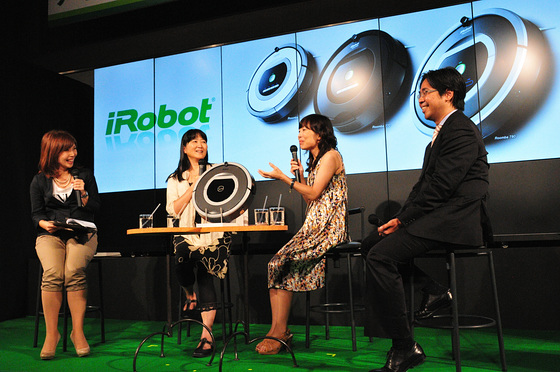 public relations:
Thank you for today.

The final question and answer. Mr. Tokumaru and Ms. Nakanishi were in charge of the answer.

· Nikkei BP company Nikkei Design
It was held in Germany the other dayHome Appliances Fair (IFA)LG's robotic vacuum cleaner "ROBOKINGAlthough it was also exhibited, this is Wi-Fi compatible and can be operated from a smartphone or monitored with a camera, is this kind of function also installed in the rumba in the future?

Tokumaru:
IRobot's robot is "single function" and it is designed with the idea that there should be an optimal shape in order to carry out a certain purpose. Actually, quite a long time ago I myself asked the same question as "Is it convenient if various functions such as cameras and arms are attached?" Then I got a response saying "Single function is the goal" (from iRobot).

The shape of the rumba is the ultimate form for cleaning. If it is round it will not strike anywhere as it rotates, because the thinner it is, the easier it is to get under the bed and furniture for cleaning. Regarding the current size, it is designed to pass through between the feet of the dining chair. If it is about 1 m in size it can be sweptly cleaned, but this time you can not enter the gap. However, if it is too small it will be too narrow and inefficient. Therefore, the current situation is balanced form and size. I think that it is because of functional beauty that the subsequent products of other companies will become similar.

· Nikkei BP company Nikkei Design
I will ask about design. As you probably know, Apple and Samsung are now beginning to fight about design patents. In Japan, the lawsuit was revealed last week, but LOB ROBOKING is quite similar to Rumba. I think that the way Apple and Samsung's lawsuits will be a big thing to change ideas on design and design issues, but do you have anything to think about from LG Electronics?

Nakanishi
Regarding the so-called design right, it is not where we comment (as an agency). There is no doubt that the design in terms of product design as well as appearance is led by Rumba, the forerunner of robot vacuum cleaners. It is frank opinion that those who follow it are obliged to be conscious of Rumba. Because it is a leading machine, we design everyone.

The other day, something I saw by a visually impaired person, I was able to understand the position and shape of the button intuitively at that time. I also used it for handicapped people, but I pushed the button without any problem. As a robotic vacuum cleaner for all people to use, I cited such a case. I do not know what kind of design the other companies are doing, but I think that it is nature's reason to naturally resemble functional beauty when considering doing thousands of people.

· Japan Logistics Newspaper
As for the new model, it is said that there is a characteristic that obstacle judgment is accurate and fast, that it is strong against steps, can you describe such strength with some number?

Nakanishi
As for so-called dust removal rate, we received data from a third-party agency because it is 99.1%. It may seem that that number is the same as the previous model, but it is actually the same.

It is because the dust removal capacity has already reached where it will be able to arrive in the laboratory environment. In addition, it is required to demonstrate its performance in any household. I think that if you can understand that there are places that it is difficult to express as numbers as it becomes kimo as to how much you can spread the robot vacuum cleaner.

· IT & amp; Home Appliances Business
This year the market of robot vacuum cleaners is expanding and it seems there is also competing sales warfare, but what is the "cleaning power" that Rumba thinks?

Nakanishi
Ruba's thinking "cleaning power" is keeping in mind that the cleaning ability is demonstrated at any place any place. It is a robot to clean, so you have to be satisfied with the finish.

You should decide the location and time of day you use. I think that it will become usability afterwards, but it is important to be able to clean it carefully even if there are many obstacles. Although I was not present in the presentation, I also have sound measurements from third party institutions. Measured by how much driving noise is leaking in the room next to the apartment or below, but data that you can hardly hear it even if you use it at midnight is coming out. I believe that is one of the features of "a vacuum cleaner that can be entrusted".

The last is photo & movie review of actual machine which was exhibited.

Existing aircraft and Japanese not yet released, "Rumba 700 Series" Photo & Movie Review