Professional who produces sound "The site of animation sound effect and future acoustic effect"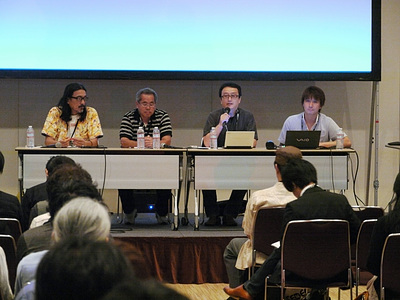 The sound effect is the part that is responsible for the sounds except for "serif" and "music" in anime. We produce a variety of sounds supporting animation such as environmental sounds, animals' barking sounds, and even robot moving sounds.

The session of CEDEC 2011Site of anime sound effect and future acoustic effects"Professional Masahiro Shoji, Mr. Akihiko Matsuda, Mr. Hidenoru Arai who appeared that professional, Fizz Sound Creation. A talk session was held with concrete methods on what kinds of works and how they produced sound effects.

NAMCO BANDAI GamesTetsuichi Nakanishi(Nakanishi):
I think that I will tell you this time by saying "the site of animation sound effect and future acoustic effect". Today, I will advance towards the host, Nakanishi of Namco Bandai Games. Thank you.

The protagonist of today is Okinawa here.Fizz Sound CreationMr. Shoji, Mr. Matsuda, Ms. Arai. Well then, Mr. Shoji, thank you for your explanation.

Masahiro Shoji (hereinafter Shoji):
Happy new beginning today. Although it has become quite cool even though it is hot, we are doing the sound effect of animation by Fiz Sound Creation.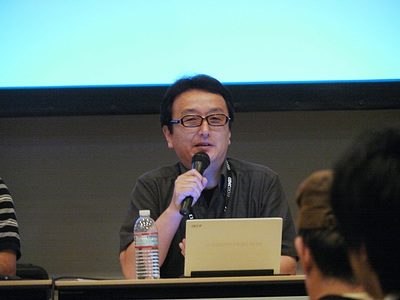 Although there are various ways of saying the sound effect of animation in one word, when attaching the sound of "not something" and "music other than" to the picture of animation. That will be the work as our sound effect. About that place, today I would like to try to put a bit of things from the place where he is Master and Mr. Arai, Mr. Matsuda and Mr. Arai, today, various things today, "Acoustic effects are anything" I think. Since I think that various stories will come out, if you listen happily, it seems that there are some people who are in charge of the sound effects of games, so if you add even a little bit, I think that it will be easier in the future Because it is.

I think that everyone knows this sound (the sound of the beam rifle). Our company Akihiko Matsuda.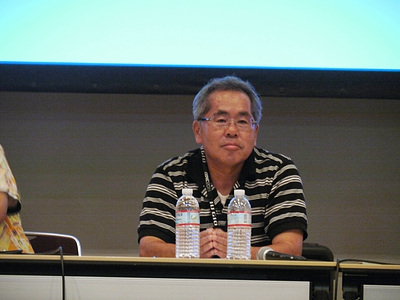 The masterpiece includes the first Gundam, Galaxy Railway 999, Millennial Queen, Chibi Maruko now or Crayon Shin-chan. Although it will be a while ago, I have made various works such as masterpiece series, Miyoshi Shiben, Yahoo or City Hunter. Matsuda is a leading figure since the founding of the FIZ Sound Creation, it is not an overstatement to say that this person exists in the sound effect of animation and a human being who has built up the age of sound effects. My hobby is garden teaching, especially in rose gardening, even in the area where I live, it is a little famous person. In addition, if you have time, you are straddling Harley Davidson and running round the Kanto area. In addition, as a hobby, I have also been playing football since high school, and now I am also a person who is the owner of the senior team. I am now 59 years old and I am doing active and active in various ways.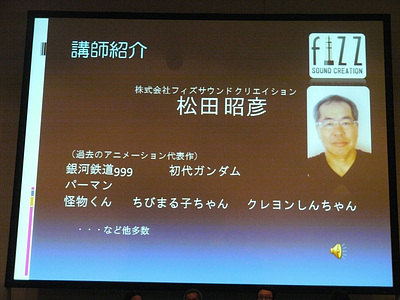 This is right next to you, Arai Akinori wearing glasses. This picture ...... I can not imagine it if I compare it with a little like this one, but I will shed it. It is Arai Shude.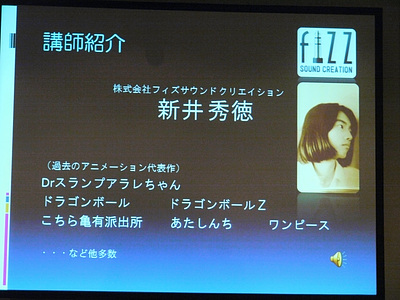 The masterpiece began with Dr. Slump, I played Dragon Ball, One Piece, Koko Turtle, and I also made a work called Washitan some time ago. During my high school days, my desire to have handsome dexterity and a rare sense of sense was felt, and when I was a high school I majored in the design department. In the future I thought about going to Taisei in art world, I went to Tokyo, but somehow I am in this job. In the past 30 years, I have been involved in sound effects, creating a unique Arai world. In addition, my hobby is, especially the banjo's masterpiece, I have been playing lectures several times a year, with band friends and live houses. It is no exaggeration to say that the sensitivity of music has a great influence on the sound effect created by Arai. Well, I will intend to talk about music from Arai later on about sound effects, but I think that music can not be removed in many ways. In addition, Arai is interested in off-road motorcycles in hobby, owns an off-road bike, and runs around the wilderness day and night. Currently 54 years old. Even now Arai World is a split.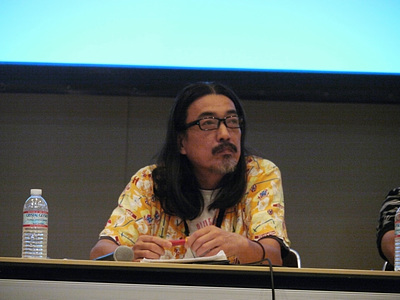 I, Mr. Masahiro Shoji, I am serving as representative of Fizz Sound Creation. I was born a farmer in Yamagata and have a relaxed personality who grew deeply in a wide rice paddy. There was a place where it seems like a bit rough that kind of fiddling with the Tonkachi if you have time, making your own toy yourself. There is such a feeling still now. Well, I think myself that the fact that I made various things using various materials as a child, is still reflected in my work's acoustic effect as well. My hobby is very general do-it-yourself carpenters, as well as Arai, now I am not riding a motorcycle, but motorcycle was a hobby and was riding an off-road bike. I think that I would like to ride if I have time in the future. Over, I explained the representatives of three representatives here.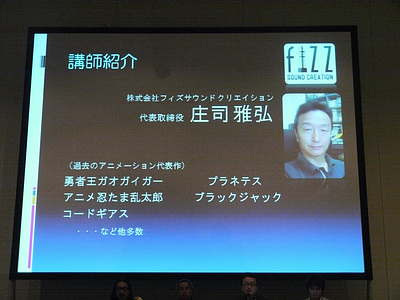 Nakanishi
Thank you very much. Let's go to the theme now. Since I think that you would like to have various stories from your experiences from the flow of an easy production site "until an animation sound effect is made", please.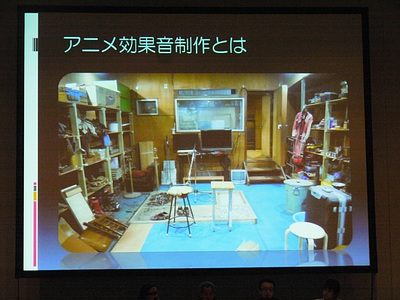 Shoji:
In the basic work, with the title "until the sound effect of anime is made", in the basic work, as I mentioned earlier, according to the picture, I will be able to do various sensibilities and wisdom and physical strength that I have, We will make use of it and create that sound. I think that it will be the most basic, but look at the image and the acoustic effect received from that picture, arrange the condition of the color of the sound. It will be a bit strange if too much sounds come into the work. It becomes a sound whose balance has collapsed, and it becomes hard to be heard. It is important or important to arrange the color of the sound of the neighborhood, I think that is also the basis of our work.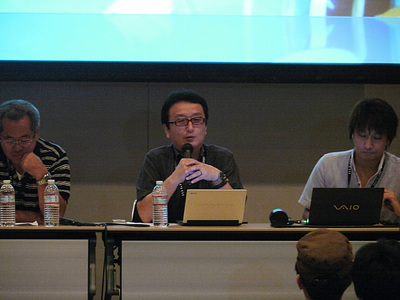 For example, speaking of the sound of a car, there are vehicles designated by that picture. I think that you will need to make that limited sound, of course, but rather than just using it ... ... It is necessary when needed, but that as a sound effect, To use it as it is I think that it may be necessary to twist his head a bit. That is why, when I turn on the car's sound, I use the sound of the car itself. Now suppose that Matsuda wears the same car model on the same day. Well, if you do the same thing also with Arai next door, it happens that the three people become similar sounds, do not you think? However, in the field of sound effects, even if that type of vehicle is limited, there is a sense of each, so cherish its sensitivity and how to appeal the sound of that car was instructed Whether to create sound is getting tremendously important. So, what I made and what Matsuda made, what Arai made, the picture is the same but the sound is totally different. Sound quality and timbre and so on are completely different. I think that it is work as a sound effect. It will never be the same sound. Because each person has a sensitivity, we do as a policy that we will never be the same sound when we do the work.

And then, the task of directing on making their own. Instead of being us and being in charge, it may be sometimes referred to as "like this" from being specified by the other party, but if you push all of your policies to the last, you can convince any director I think that will become. How is that neighborhood?

Hideki Arai (Arai):
Sorry, it's kinda hard, I'm sorry. Even though we are making most of our company there is a production of sound effects and a storyboard, mostly we are making it without permission. Where to pay attention on the storyboards is to make sounds by observing the director's intention, but I will make it almost like my own liking.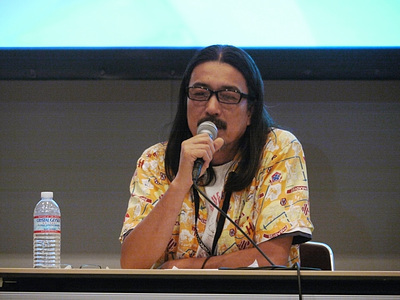 Arai:
Now I'm doing "One Piece", but by the direction I am doing, I will hold down the key points like "He likes this kind of thing" properly, I will make the rest in my favorite categories I will. I am doing dubbing about 516 episodes now, but since it is connected as a story comic all the time in the case of a one piece, although the sound heard and the current sound have changed, though, Edges are cheating and it makes it sounds that everyone can understand. In the case of Toei animation there is no sound production, so we are doing it with the director of the painting, so it is not stressful so much. Is not it?

Mr. Akihiko Matsuda (Matsuda):
It is not Toei animation now, Toei animation.

Arai:
Toei animation, sorry. The Toei Animation work has been doing since "Arale", but at the beginning the sound production was on, but after that there was absolutely none, almost let me do it at my dedication.

Shoji:
There was a nuance with music earlier, but please do also that one.

Arai:
I have been playing guitar and musical instrument for a long time since I was a little and still the banjo is playing. When I play "Arale", there were a lot of short cut and touch-like sounds, were not there? Akira Toriyama's work is American chick, I think that there was a sound of fanfare that flowed a while ago, can you show it out?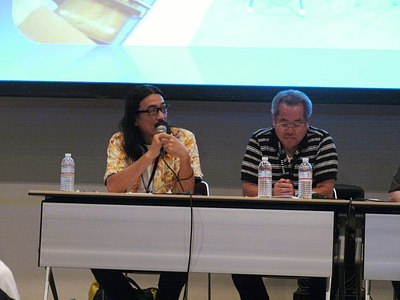 (Arare's SE)

This is the sound that Chihee wrapped up when invented, but that was made by myself together with the toy trumpet and cymbal. You first got the tape of music and assigned that key all right. I do not match the music when listening to the touch sound until I enter. There were only simple sounds such as "boyoun", "tan", "kan" and so on, at that time there were many people who did not do much work to put the sound effect according to the pitch and the pitch of music, I think that there were not too many people to play.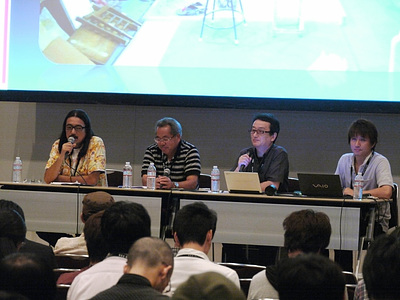 In the case of myself, in making a bridge-like touch sound in about 1 second to 5 seconds or so, in "Arale", Mr. Shunsuke Kikuchi is composing and composing C, D, G and A There are a lot of them, but the banjo I am doing also has a lot of keys around here. That is why I say that it matches, or "From the beginning I have to get a sound without discomfort even if I get on the music" My policy is from the beginning, sounds that will not feel uncomfortable when people with absolute pitch are heard I was aiming for making. Even now it is.

Sorry, there are people who can play the instrument in this, can you raise your hand? ……Oh. So who are you involved in the sound? ...... You are made in the first stage. It is basic. People who can play the instrument are quite different from those who can not play.

Matsuda:
I am sorry, I am not good.

Arai:
truly? Now it's easier to raise the pitch on a computer or something, but as we were doing it we were working with 6 mm tape, so we used a condenser to raise the pitch and do anything It was. In the technique of speed control I was doing the way to raise the voltage of the battery and increase the rotation speed.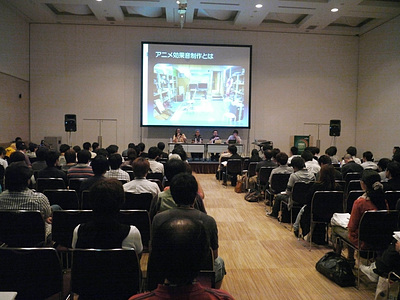 Matsuda:
The rest of the tape recorderCapstanThere are things that change gradually the number of revolutions. Move the parts around the axis of rotation.



Arai:
Yes Yes. Although it does not rise extremely, it says it will change slightly. Wrapping a splicing tape and making the axis thicker and increasing the number of revolutions. Also, the way to raise the voltage, a voltage like a big one like a transformer, but if you raise it up a spark will come out and a smoke will blow. Everywhere in the studio it was. Suddenly you will get a fire, so most studios will not be usable. I really made it in the analog world within that range, so I think that it is really easy if I say the way it is now. It's too easy, I'm too tinkering too, so I'm feeling that the whole is collapsing ... but the sounds of Hollywood are so. Because the sound of the American animation of the past was not such a thing, people of that era probably have not worked on the field almost yet. I think that will be the case in Japan. Because I am an absolutely resolved analog school, I think that I will keep it like this forever. I think that there is only a little more to do in this world.

Nakanishi
Please do not say such a thing (laugh)

Arai:
Because we are abandoning this industry itself.

(Venue lol)

Arai:
Because animation does not contain any picture any more. Today I go back and prepare, but in a state where there is no picture at all, I will insert one case (lol) This industry has done thirty years, but it has hardly changed. It has not changed since thirty years ago. It is a type of harassment that does not include pictures.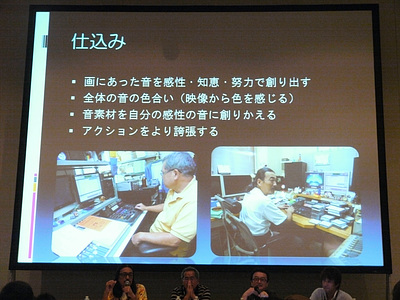 Nakanishi
If there is a story that something has changed.

Shoji:
From the direction of Matsuda for the time being ....

Matsuda:
Matsuda who can not play instruments (laugh). Matsuda speaks only about the recorder I did at elementary school but I can not use instruments. I think people who are here are those who are living in the digital world, doing work. Like myself, I've been involved in work from a super analog world to a somewhat digital world and I'd like to teach you how to make super analog sounds that returned to the beginning. Please give me some props, please wait a while.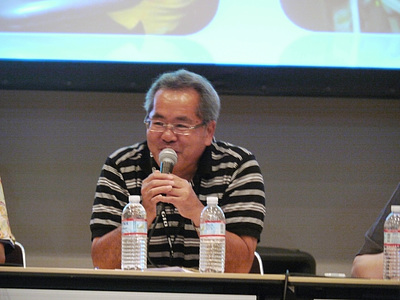 Arai:
I also heard it for the first time.

Nakanishi
The moderator is also very uneasy.

Matsuda:
I will teach you how to work that may be said to be the basic basis of super analog sound making. ...... This is one dish. It is a dish which does not mean anything inorganic. This dish will change to what there is, if you use something. Something is styrofoam used for packaging materials. This styrofoam is called foamed polystyrene magic and it has quite awesome power. As for how to use this, first lightly wets styrofoam with water. Is that okay? When this inorganic dish and styrofoam merge together ... What do you think sounds like when hearing it?



Arai:
Do you know who you are?

Matsuda:
This is a good idea of ​​the recipient. For example, if you give a small contact to a dish ... .... Can not you hear something like a little monkey? Actually this is "Asking my mother and sending me thousands of milesIt's Amedeo. When Amedeo performs acting too much, she is called by the director and "Tell me something, can not you do it well with the material," Mr. Takahata returns. Takahata-san said that everyone knows "Alps girl HeidiAlthough he is the one who supervised "something like that", he said, "Would not it be okay for an actor to do it?" "No, I do not get an impression" (laugh). "When the actor does it makes sense of incongruity." I was told that I wanted somehow to act as a small sub-ape with a sound effect, "When I ask the voice of a monkey, I do not have much to worry about," I suddenly I casually recalled Styrofoam.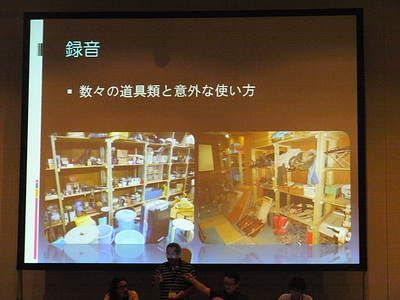 I have this recollection experience, but there is a scene where Styrofoam is similarly active in a certain number of stories when he is tied up with Takahata in "Alpine Girl Heidi". Suddenly, do you guys know what kind of scene you are? ............ Can not imagine a bit. Heidi came to the mountain of Alm and there are mountain huts. Fir tree is standing right next to the hut. When the fir tree trembles with the wind, the branches are squeaking. While the leaves named Sawawa are swaying, casually the sounds of branches are constantly heard. As for why it is important, there is a story that Heidi goes to Frankfurt and becomes homesick and becomes strange, but that story tells the sound of the carriage of a carriage running every day everyday There is a part that makes a misunderstanding about the sound of the fir tree of the mountain in the Alps becoming sick and becomes homesick. Even then, it is not effective just to put only the squeaky sound of the tree. When it says that it is impossible not to sound like pressure even psychologically, after all it is mysterious that foaming styrene roll magic will be demonstrated. You can make various sounds just by soaking it in water slightly. Although I can not do it alone, some people stand at once all at once in front of the microphone and they sound in various patterns. At the time, it was a tape recorder, but dropping the recorded sound shortly with 18 cm rotation would make the tree a symbolic sound like a squeak and mix it with the rough noise of the leaves, There is also a story saying there will be no sound.

I also used this styrofoam and Amedeo, but there are children of small killer whales in "Tycho in the Seven Seas" right? It is still possible to go with this foamed polystyrene magic. If you are a monkey like the previous Amedeo, you should just ring it like this, but when it comes to killer whales it will be a little troublesome.

Shoji:
Well, let's do it here.

Matsuda:
Could you do it? Let 's hear it.

Shoji:
It is the real whale that sounds from now, it is the dolphin's bark. ...... Although this is real, this work to match this with a picture, to match the dolphin's voice to play. It is very difficult to create from this original voice.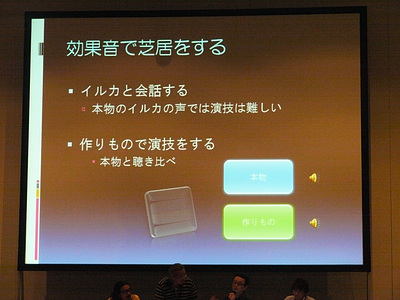 Matsuda:
I agree. If it is a real recorded dolphin voice, it will be like using the same sound every time, and there are no barks, expressions or expression. So what should I do? Trying to become a sound of a dolphin and a killer whale by themselves. So with this Styrofoam, I will be a dolphin, a child of a killer whale, and I will act strongly after putting in my feelings.

Shoji:
I will tell it from now. ... ... somewhat like a dolphin.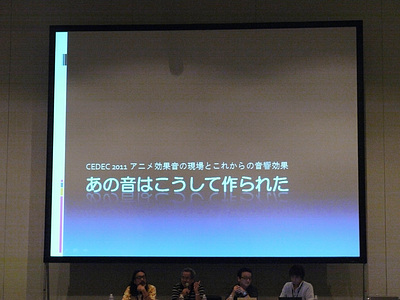 Matsuda:
Do not you feel like being cheated somewhat if you are not staggering? I think that it sounded like that, how is it? (Clapping at the venue ... ... this is it, I have been doing this work for 40 years, but it is also making things I learned from my previous generation. When you try a little bit on your own, when you are in trouble thinking by yourself, it is a sound that has been thought under that idea, but what is the origin of sound making yourself something Is to use sound to produce sound. Everything is okay, but with any instrument you can make a solid sound even with such an inorganic dish.

In the story of Amedeo, there is a place where a child monkey enters a milk bottle and plays a variety of things, usually finely. I think that it is a bottle after all thinking what to do in order to make that sense of presence. Bring me a cup and rub this in the cup. If you pick it up with a microphone, you will get a realistic sense of life. I'll do it in the cup so if you hang it with a little echo, it is not a tune sound, it is reflected on the air as it is without processing the original sound as it is. That kind of thing is possible.

So everyone, for the time being, I will sometime play the idea of ​​using something by moving my body and doing something like that .... If I do it everyday it is a bit of a problem, but something happens occasionally When doing a job with "feeling like this with play", I think that it is surprisingly developable and I think that I can make a unique sound. If you are going to use foamed styrene roll magic, please use it (lol)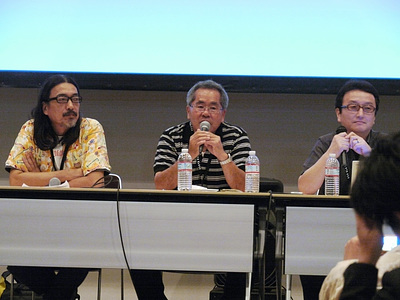 Shoji:
There are possibilities in various places. I will hear the sound from now. What is this work for everyone at the venue here? I hope you guess what kind of scene it is. First of all ......

(During sound effect playback)

Shoji:
Yes, who do you understand?

Matsuda:
Dr Slump Arale! (Lol)

Shoji:
It is regrettable! (Laugh) If you come, can you raise your hand?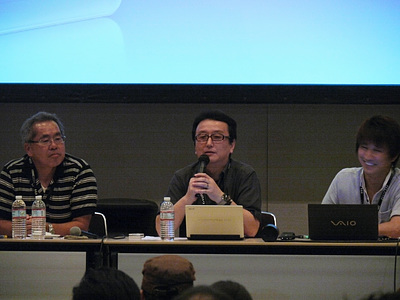 Matsuda:
Actually, it is the first thing I made of Dragon Ball ... (lol) Yes, it is the sound that Amuro rides for the first time on the Gundam in the first Gundam. Thank you very much.

Shoji:
Well then shall we go.

Matsuda:
No, no, we are not using Styrofoam for Gundam. I do not use this dish (lol) Although it may be used if there is a cracking scene, it is still mechanical sound with regard to Gundam. Although I am using a lot of synth sounds, the origin of the material of Gundam surely is mechanical because it is inevitable. So most of the material is a real sound.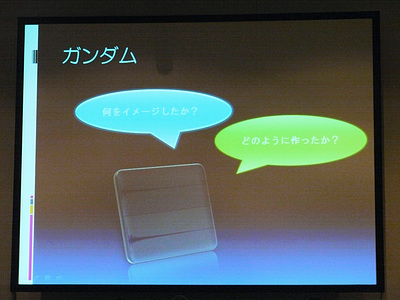 Although it becomes neta bashing, it may be good because it is 30 years since it is good, but now that the Gundam you've heard is the sound to launch, that is a mottled motor sound. If you just use the motor sound as it is, it is NG, so some machining through the machine, entering the motor sounds that are all pertinent in the machines that were at the time like Harmonizer and at that time, arranged in various ways, It was a way to create the sound to start up. The basic is really machine sound. I heard various machine sounds from the usual time and I thought that this motor sound could be used for this.

It is the most frustrating story, but hatch will open when Gundam goes out on a white base, for example. At that time I thought "Which machine sound should I play with?", But what is becoming a sound source is the sound of a vacuum cleaner, in fact. Recording the sound of a vacuum cleaner in any house, as it is, it is just the vacuum of the vacuum cleaner, so if you drop the rotation speed of the recorded sound to half, it will not be the sound of the vacuum cleaner. It is a strange and heavy machine sound. "I can not use this", so I tried to use the sound of this vacuum cleaner in the scene where the hatch opens. That's kinda story.

Nakanishi
Thank you very much. Well then I will ask you a little bit.

(During sound effect playback)

Those who understand this, please raise hands. ……that? There was quite a bit nodding before, but it's embarrassing (lol) Yes, there.

A:
Is not it a dragon ball?

Shoji:
Dragon ball is correct. Then please give some explanation.

Arai:
Description? Separately this is not something about what story, just making a little of this.

(Venue lol)

Arai:
It is true, I have not considered something so much

Let's explain. One piece a week, 20 minutes work, at that time it was only one and it had about 3 regulars, but it was chased out and it was chased and I have to make a sound Although it is clear, it is almost suitable (laugh). In my case I was doing it properly, but I guess that sort of thing like that is a good match. Overall head, total balance from opening to last, it and sound similar to music (sound of an ottoman) and finish. I made a great deal of importance on the part that the lingering finishes on the next note, so far I have made it.

The more music I want, the more my sound will be better, but the music is disturbing, so there are places I do not like. Even when I was playing Dragon Ball, I had a lot of stress, but I did not feel like playing music. Scenes of battle and so on.

(Venue lol)

Arai:
So, the thing that I thought most seriously is the sound of the aura. Everyone expresses with the sound "Shuwa Shashasha ...," but I made this seriously, and once I had an aura, even if I was talking and sweeping all the time, even while the light was on I have to keep ringing all the time. This is the most troublesome, but when I go out with a van, I get out with a van, but even if I retract it is constantly shuffing. At that time, a machine called Harmonizer entered into our company, I made it with a machine called a phase shifter and a harmonizer and a synthesizer, but I was making it with a feedback effect of 6 mm tape.

I do not remember mostly what I used, because I was doing various things. There are a variety of things, just this cycle has something like the sound of a train called Guggouw in the mother's womb, it is trying to be close to that cycle, this. That's why it sounds uncomfortable as the child listens. Because I liked science, I have read such books from long ago and I knew that sound is such a sound.

Also, as I mentioned earlier, music and sound effects are similar. That's why you have totally with the instrument, there are three elements of music. Melody, rhythm and harmony. After all the rhythm is a big influence on people, for example, it is a fricative sound like this "sushi", but if these things are connected forever, it will be imprinted in the head Or you do not have to listen so much, do you? That's why I made a lot of thought about that cycle. I have been doing my policy for "sounds that do not have a negative impact on children" and "making sounds that match music". I made it seriously, this is about the sound of an elimination (laugh) .......

(Venue lol)

Shoji:
I did not know that, that (lol)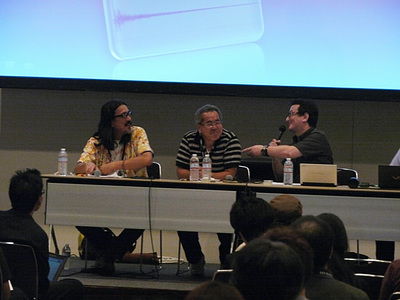 Shoji:
Well, I will go on next.

(Sound effect playback)

Shoji:
Is there anyone who knows what this sound is used for? I do not know, it's so maniac.

Matsuda:
It's maniac. I did not understand either. Is not it sounds of other companies? (Lol)

Shoji:
When revealing the seeds, it is the sound I attached to Mecha's action with "Code Geass", but this sound is based on my voice. It includes mechanical sounds, but basically it is my voice. As for what I recorded, I recorded several kinds of tapes with low feeling like "Ha" "Hee".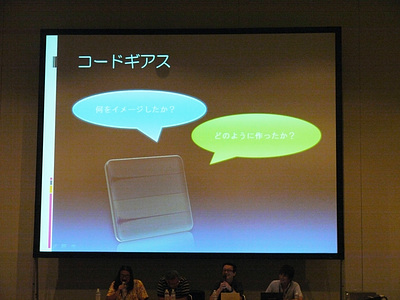 Matsuda:
It is Zaku 's pakuri.

Shoji:
That's right.

(Venue lol)

Arai:
Oh, it's a monkey's pakuri.

Shoji:
Oh, the monkey? (Lol)

Arai:
Otoko is my voice.

Shoji:
Oh, that's right (lol)

Matsuda:
Zaku's breathing sound is also my voice (lol)

Shoji:
It is on the basics, basically ....

Arai:
To say such a thing, the voice of an old lady of the penguin story is my voice. That was around 20's ... .... You are not credited, do you? Well, actually it is my voice. To this person, I did it because I could not play a part. Is not it?

Matsuda:
As expected, it was impossible for Styrofoam to be "one".

Shoji:
thank you for everything. There are quite a lot of work to process by using voice. It happens that I have put my own voice, a bit of mechanical sound, and the sound of animal crying in addition to this. There are various kinds of singing voices of the animals, as well as from Matsuda people earlier, although there are various things such as slowing down the rotation speed, basically it is a live sound as well. I make it based on it. There are quite a few, it is to make sound by voice.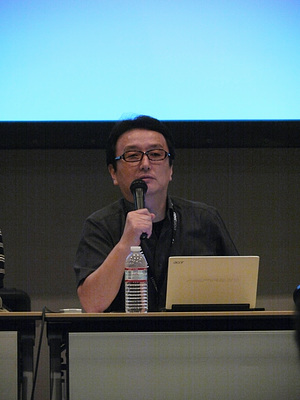 Arai:
When I was the earliest, there was a deer voice that was praised by President Ishida. It sounds like a high whistle like "key". I have made a missile sound at that.

Matsuda:
Join together?

Arai:
If you add a rotation to it, you will hear a sound called a huge sound.

Matsuda:
It looks like fireworks launch sounds.

Shoji:
Hey guys.

Matsuda:
Yes Yes.

Shoji:
The person named Arai is a person who is very good at making voices and making various things, I could not bring it today ....

Arai:
Truly, I used a lot of voices for many years. At that time the tape recorder was a 6 mm tape, which is an open reel in the general public, but it was able to adjust the speed in two steps, 19 ... ....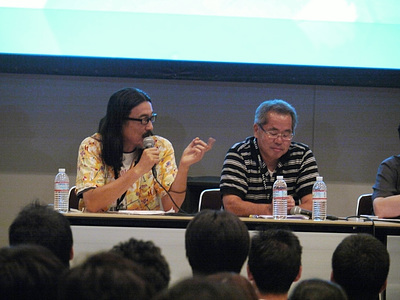 Shoji:
Sanpathi

Arai:
Because Sanpachi is the current guy. In the case of 707 it is under 19.

Shoji:
Oh, it is 7.5.

Arai:
That's right. It is 19 and 7.5. With 19 speeds and half of that. First of all, regular speed and two kinds to reduce the speed. And if you slow down the speed and extend it normally, the way that it will be twice as fast and reverse rotation. Turning the tape inside out makes the sound of reverse rotation. So, if it is "Pearn", the back stretches to feel like "Muho". I used to like to use only the reverse rotation part of my sound for a long time. I can do it with a computer now, but it was hard work. I edited with 6 mm tape and 16 mm cine tape.

Matsuda:
It is hand-rolling afterwards. When it is hand-crafted, I start making it as a material, and I will complete the sound, but is it almost handmade? It's hard to do with the current technology ....

Arai:
There is something like soft like 6 mm feedback echo. Guitar effectors and so on. I tried using it completely different. The tape recorder is said to have come out with a change when the three-unit Mosy has a feedback echo, turning a 6 mm tape, recording it, and then raise it with data, but that change comes out. The sound effect of America and Japan in the 1960s was actually made with it. It is an early guy, though. Even now it is still valid, as it is quite usable.

Matsuda:
Pretty ne.

Arai:
Maybe because I was doing music all the time, I like the sound of the 70's is the most impressive sound. Even for music, I think that the 70s is the best for the sounds of works in American movies, but are not all the sounds of Hollywood now?

Nakanishi
Yes.

Arai:
I do not have any punch. That's it, everyone talks about drinking and will do anything (laugh)

Nakanishi
(Lol)
(Receiving the hands) Yes, what is it?

B:
It is a question. Even if it is a Gundam, even if it is made as a sound of a machine gun, for example, the sound of a machine gun making genuine and somehow Japanese people is quite different. Is there policy on how to make sound around that?

Nakanishi
how is it?

Matsuda:
It is the difference between the lie's sound and the reality's existing sound. Basic, animation ...... Gundam may be the best if it says in the work. Everything is a way of entering sounds that start from the lie world. It does not matter what the listener thinks. I will be ashamed if I do not do it with a policy that I enter a lie's world and make sounds like this in this way. So when I do the fundamental work I will do it literally as myself if it is animation of SF-like, mechanic world. Therefore, the audience is not thinking at all what the reality is, rather than what the SF-like sound sounds like. When you think of listeners, you do not get the result of sound. Ten people, 10 people think that 10 people do not convince ten people to listen to the sound of Gundam's beam saber and convince them. Three of them are "making a little strange sound" or "if it will remain in my ear" if I get results, I am making a sound with a feeling that I am right for myself.

Nakanishi
How is Mr. Arai?

Arai:
I basically do not match the painting side, because it is a type of ear, it is unpleasant if it does not fit right. My "realism of animation" may be a little different from people, but thought that it would be like this if there really was such a thing, I made it my favorite sound I will. There are lots of disliked sounds. I can not say it, but it's another bastard ... .... I change the channel as soon as I see it. There are many disgusting sounds, but I guess the sound of us is the most interesting? Is not it?

Shoji:
Yes, that's right.

Matsuda:
It's deprived by the listener.

Arai:
Although I was 24 years old when I was doing the first Arare-chan, when I finished it all, I developed it with a cinecode tape recorder called cine tape, but I have to show it to seniors once. Yes. Both serifs and music are not at that time, so you only have to show it with SE. First of all, the first Kanmon gate was these people, the most scary people. It will be dented when you get out of here. So I did it very hard. I made it with a intention to say "I passed the seniors if they made me laugh." If everyone laughs at our company, we can do it at other studio. So, I did not think about the audience (laugh). I was just thinking about getting this awesome people uked somehow, around the time of my twenties.

Matsuda:
I am not that old anymore (lol)

Arai:
Career is here (Mr. Matsuda) is longer. Also Mr. Matsuda was still young and there was a president like a demon (laugh)

Nakanishi
Thank you very much. Is there anything else?

Shoji:
We are doing this work and it seems that there are so many things over this sound effect. Whatever you are crafting, whatever you hit, everyone feels the same way Today is this time, as I said, as well as me, both Matsuda and Arai are here You do not have a feeling that 'is not it?' I am considering various things about what to do with "future sound effects", but first of all it is not that something is missing from the basic point that we always make sounds with policies However, we are in the process of talking now, but how about that, Arai-san.

Arai:
Among these people, are you making only sound effects? How many people are in the game? ...... Oh, is that something like that? You guys, you came ahead of me Akan (laugh) How did you start in the first place when you first entered? Did you just use a computer? Is it a sound source?

C:
I am not specialized, but I think that it is how to make the sound of Star Wars, the sound of the light saver ... ....

Arai:
Is it okay to say a little? Well, you knew that way (how to make it) Yaro? I saw it in Yurakucho when I was 24. I heard the sound of the light saver and made it immediately after returning to the office.

C:
(I can not catch remark)

Arai:
You experienced the best part. Yes, that's right. When I made it back, when I made a synthesizer I got something like Boon and White Noise, connected the cabinet pipe to the cheap microphone with the sound from the speaker, swung like this in front of the speaker, While doing a 6mm feedback echo like I said earlier, doing it as a "bumblebun." I am using it even at Kuririn 's despair. (Laugh)

These people often make something with my material. Is not it?

Shoji:
Yes. That's right (lol)

Arai:
When I think of something on a daily basis without video, thinking "this sound, it is amusing", the more the amount that can be accumulated in my head, the more I actually wanted to make a strange sound , I can quickly think about various drawers by tracing the drawer. It is when you analyzed sound. I think that this sound should be heard in such a way as to add this sound and this sound and this sound. However, I do not know the sound of the game at all, so why not say it anything ...... Is it fun? (Laugh) (Receiving the voice "funny" from the venue) Interesting? Indeed, it is interesting ... .... Such sounds will change if you press a button, like that! (Laugh) Well, (the game in me) is over at Super Mario ... .... That is amazing. Because the matching between music and sound effects is amazing. I think that Super Mario is the greatest. Well ... Well.

Nakanishi
Mr. Matsuda, how are you?

Matsuda:
It is a part that I think is happy, in the case of animation, it will be about 20 minutes of work. I will make it all by myself. With no cooperation from anyone, I will make a sound by just one person. It is such a sense of accomplishment. There is no image of anyone. I do not know well how to make games in part part "This part is Mr. A, this part is Mr. B", I do not really know whether it will be completed or not, but the animation I am engaged now is an individual Happy feeling of finishing one piece with a work, there is satisfaction in making animation effect. Nobody is involved in this work, it is only I created. Such a feeling of accomplishment is that there is a mysterious thing, such as a picture does not enter for a moment, but there is something that is a fun work.

Shoji:
It will be the feeling of the last tightening, but now I have talked to various seniors in various ways, but after all, let's make an effort. Trying to make things a thought from such ideas to create something that does not reconcile with something, to create the original one. By doing that kind of thing from now on, I think that you can do more interesting things in the field of sound effects, if you think a little more, I think that you can do a lot of good things ... ... I think.

Matsuda:
No, that's not true. I think the current young people have a great talent. Take advantage of that talent, individual talent ... ... ingenuity and ingenuity. I am a super analog man, so it really is not enemies for the young people in the world of sound. I think that it will make wonderful sound even in the game world. Everyone there, I think that we can do better if we have one hidden taste like cuisine. I think that you can think about that hidden taste among you and live in this era.

Arai:
I think that young people have more to learn than I do. Again, music and culture we heard have been listening since the Showa 30s, but young people nowadays must go back to the neighborhood and study acan. Even though it is music, it is so, but I have history. So, I think that it is definitely a matter of learning to look back on the history of the past, not just in the present world, so please do various things.

Nakanishi
Today is your time. Everyone Thank you very much for today.