I feel that in a movie "Legend of Japanese anime, things that Mr. Iko Kaneda left in the game" Full preservation version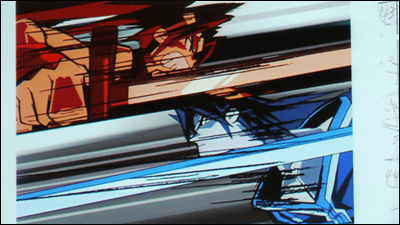 "Miya Kaneda, a star animator lost by the age of 57 at the age of 57, built a unique method called" Kaneda Perth "in the motion expression of Japanese anime world. What exactly did Mr. who gave a strong influence to many animation writers realized by transferring the field to the game? What did the game learn from Mr. by the game creator actually making a work with Mr.? How did Mr. Mr. work under the constraint of the game? I will introduce the difference between the animation industry and the game industry 's "difference" and the production direction and the cooperation method with the leading animator established from trial and error ", at CEDEC 2011, Mr. Masanobu Endo Mr. Tokita Takashi (graphic designer "FINAL FANTASY" "Half Mature Hero" "Makai Towager Sa · Ga" was produced, as a game designer "FINAL FANTASY" "Half Mature Hero ~ Oh, World Mature Famous ~") As a session "Legend of Japanese anime, things left by Mr. Iko Kaneda in the game"We will send the contents in full preservation version with movie.

SQUARE ENIX Senior Manager, Mobile Business Division Takashi Shimoda (hereinafter Tokita):
Takashi Tokita is a senior manager in the Square Enix mobile business. Thank you.

CEDEC Steering Committee Chairman of Mobile & Game Studios Board of Directors Masanobu Endo (Endo):
It is Masanobu Endo who is in charge of game design by CEDEC steering committee member. Thank you.

Tokita:
Mr. Endo got a call from me, Kaneda was Square Enix I got a job summary of the work of the game and I got a call to see if I can introduce it, but it's been quite a while since this opportunity We were extremely unhappy with the fact that we had come to this point so much, I thank you for this kind of opportunity. Today, I think that I can sympathize with everyone, looking back on the work in Kaneda 's game and also like things like various attitudes towards making things. I'm pleased to meet you, today.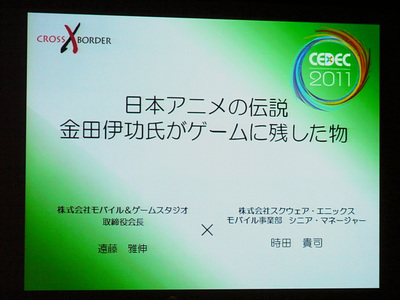 Tokita:
Well then.

Endo:
Yes.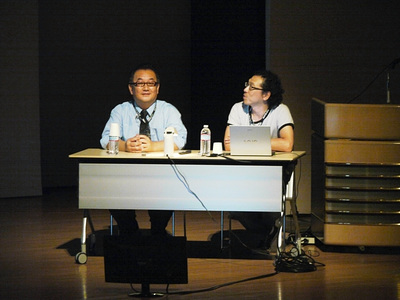 Tokita:
Of course, I think you all know Kaneda-san, but I thought that I would not look back for now, but I easily summarized it into myself. Can you raise your hand if you know Kanada? ...... Oh, as expected, everyone is a fan. I think that there are as many people as us in the generation. I first knew the name Kaneda as a work ... .... How long is Mr. Endo from?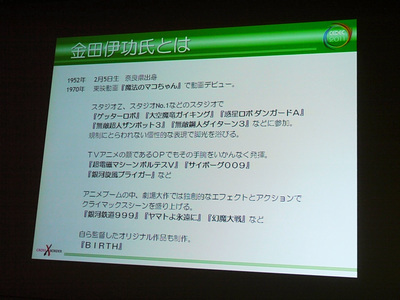 Endo:
I know that ... well, I know Gaiking and the neighborhood, but it is just like Nausicaa where the Maeve flies. It may be the first time to begin to worry about that time.

Tokita:
At this time, the animation boom was launched, and there was an animation boom, until then it was famous for the name of the main staff, character design or director of painting, but for one animator, I think that Mr. Kaneda was the first person who remembered his name as a person who was extremely uniquely individual and was concerned about the picture. I think that it is about an elementary school high school year or a junior high school first grader, but it is said that "There is some unique person". Thinking and retroactively, he says that it was Mr. Kaneda, "It seemed like there was such a scene even in Getter Robo.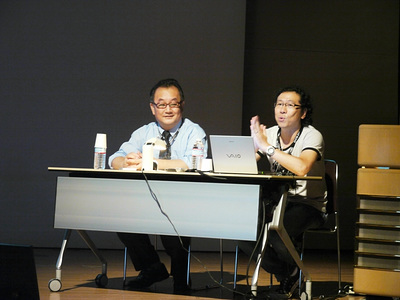 Tokita:
At that very moment, I did not dream of working with my teacher in the same game industry, but in the animation boom, I was having an opening or a theater, I really enjoyed part of the flower form of animation by Mr. Kaneda alone It was very interesting that I was doing the extension so much. I was also in charge of the original animation "BIRTH".

After that, going to Ghibli, Nausicaa, Laputa and Totoro are very scenes like Mr. Kaneda, it is full of life force, action plus humanity. What I like very much is Laputa's striking scene. It seems that it seems to be very fun to fight with each other's odds with fun while playing with each other, and I always watch it whenever I want to do it anytime.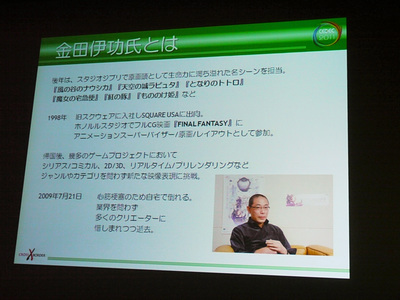 Tokita:
It was 98 years that he joined the former Square. I think that you are all familiar with Honolulu, but it was the opportunity to participate as animation super advisor, original picture, layout of "Final Fantasy" of full CG movie. Originally I was making a game called "parasite Eve" at the same studio, and at that time I had no direct involvement, but apparently it was becoming a rumor like "There is Kaneda-san under the same one shop floor" I had a pleasant expectation that there might be opportunities to work someday, but that will come in a few years.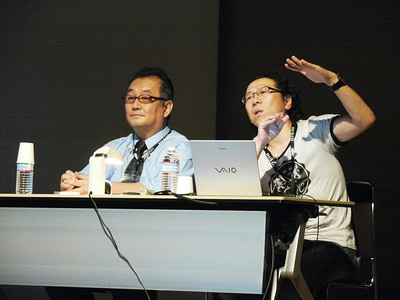 Since I got far away from it, I started participating in various game projects starting with Finalfantasy 11, so if I can introduce what kind of work I did specifically in this time together with representative videos etc. I think.

It was July 21, 2009 that died, it is a little two years since then. Meanwhile, it seems to be fast and seems to be short ... ... About a week before my death, I told that the staff who happened to make half-budding hero quit, so I drank about a week ago in a form like a farewell party, at that time I talked about when I entered the animation industry for the first time with Mr. Kaneda, a story such as how Mr. Kaneda became an animator, I was able to listen to what I was interested for the first time so I thought very much of my destiny I think that it was good to have such opportunity to say that it was attached. That's why I would like to introduce Mr. Kaneda's work at SQUARE ENIX to everyone. Thank you.

It is 2002, is after the CG movie comes back to Tokyo, it is an online game called Final Fantasy 11 MMO. With this character demo scene, I was working as an animation director of motion capture. The environment of this motion capture is the capture system called Lancer which we made at various CG studios, it is the animation direction of the introduction scene of the character using it. I make images and make direction of capture, and eventually it is camera data, and I am modifying the motion data, and there are also data that I made all by hand.



Endo:
He says that he was being himself.

Tokita:
Well, it seems they tried and tried various things. The movie you watch this time is a camera that seems to be very Kaneda san, and the sharpness of movement is effective. There is a very huge character called Garca, but when I look at it, I remember 005 at the opening of "Cyborg 009", but please have a look at that movie by all means.

* For the video aired on this part, the CEDEC steering committee is in negotiations aiming for complete archival, together with unpublished materials.

Such as. How was it?

Endo:
It is a heavy weight feeling.

Tokita:
This is a picture of nearly 10 years ago, but as you can imagine, the vividly lively places do not feel as old as 10 years ago as the etymology of "living, giving life" of animation. When I look at the model and texture or the background, I make it feel very time, but I think personally I wonder if the movement itself is being expressed even where CG has not come so far I will.

Next, this is a simulation RPG of a gag that I myself produced as a producer, but when I was about to make it with PS 2 for the first time in a while, Mr. Kaneda just finished FF 11, apparently Kaneda I guess there is a possibility that work can be done together. If so, because it was not possible to make a series for about 10 years since the title "Half-Mature hero" originally left out at Super Nintendo, it is more interesting to make it the concept of 2D and 3D with Kaneda as a banner than to make it full I guess.

At the time, it was very costly starting from PS2 to 3D, and at the same time it was good for 2D for us, when it was a very annoying time, that I could work with Kaneda by chance And, "If it is, then let's make the cost cut a concept," 2D characters try to make enemies in 3D, the movie also combines 2D and 3D, good places of animation, studied good points of 3D around here It is a plan of a concept called Miyou.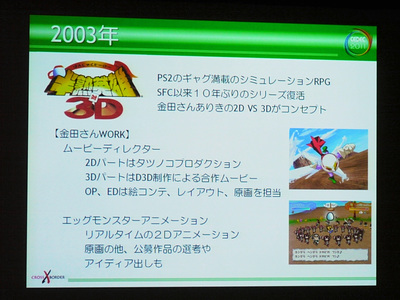 Mr. Kaneda is directed to movies, asking 2D part for another production, 3D part is a production production called D3D, it takes a very long time to split or synthesize a hybrid movie I made. Among them, opening and ending were responsible for drawing contests, layouts and original drawings. Other than that, there are monsters coming out of the egg called Egg Monster, but in their real time 2D animation also Mr. Kanada handled the original picture and also made a general public offering, but they made selections and ideas , I did a dubbing at an in-house studio, but having fun with the dubbing, having a chorus with everyone together there, I felt like having such a feeling like in-house handicraft and having fun together It was.

Let's introduce it concretely. This is a storyboard. In addition to the movie, I explained the story with ease as to what kind of game to play in the early pre-production of the game, but it is what you gave me the image of Mr. Kaneda. This neighborhood is the source of the movie.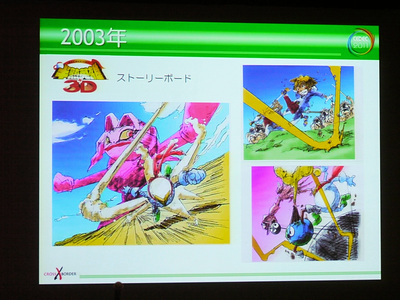 Endo:
The composition itself seems to be Kaneda-san.

Tokita:
I agree. This illustration on the left, where the horizon runs obliquely has a very scaly feeling, I think that you can also watch a movie just like this, please enjoy. This is a storyboard, the scene just before is a storyboard neatly. I draw a picture story by myself, there are about 40 pages in all.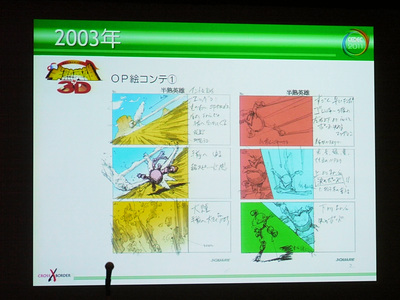 Endo:
I do not see such things quite easily on the table.

Tokita:
I agree. It was about a little introduction by capture books and so on. I think that you will experience this by all means that there is no such occasion that a storyboard, a storyboard, a movie will be seen step by step. I tried to extract some representative scenes. This is the scene where 2D egg monsters get into the 3D enemy warship. The back is 3D and the foreground is 2D, but it is an instruction there. Kaneda-san's unique effect is included, but I definitely asked for it in the form of 2D.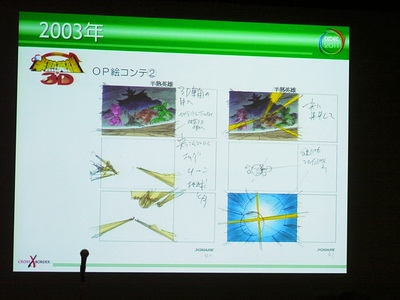 This scene asked the scene that the right side is a 2D character and the left side is the 3D CG character and these two people hit like a cross toy for "Tomorrow's Joe".



This is not a story, but it's a layer and original. It is a form that I drawn a reference draft of 3DCG, modeled it based on this, and made animation.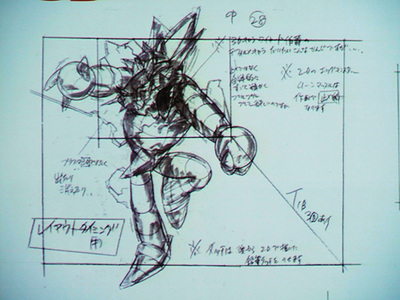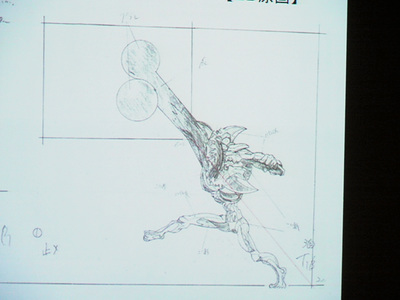 The completion scene looks like this. Putting is like 2D, but if you look closely it is 3DCG of wireframe. This is all about sticking the wire frame as a texture.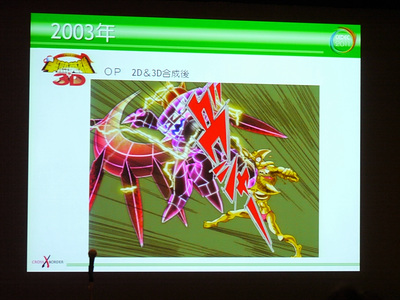 So please look at this opening video.

Mature Heroes vs. 3D OP - YouTube


Tokita:
Such as.

Endo:
It's amazing, is this again?

Tokita:
No, I guess I thought you were all bumped. Although I saw it after a long time, I wanted to see once again, the things Kaneda made for each scene together with the 2D 3 D people ... .... At first it was a feeling that I would like to make the 2D line more realistic. "No, because they are fighting clearly, they are different and not good, so I'd like to give" likeness "rather than anything", so I miss the place I was just making up momentum.

Now 3DCG itself can do awesome technically, but in terms of easy-to-understand fun, I could use this 2D and fight against 3D worked with Mr. Kaneda I am glad that I was able to have it.

Continuously, real time of actual machine. This was a 2D, so-called Super Nintendo Dot picture, but it's pretty much VRAM, memory has been increased, and I would like to draw an original picture by Mr. Kanada to try to do what it can do with the pattern of animation It was. For those who plan, the attacks are of three types, the specification of the sequence of victory defeat is finalized, asking Mr. Kaneda to paint the original picture and create a timesheet. Up to this point is the flow of normal animation, but from here we will make our own tools and make it into data, but I will explain it finely.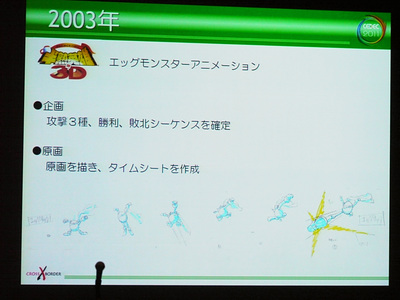 This is because I have to put the original picture that Kaneda painted in exactly in the memory called VRAM of the computer, but it is very wasteful if there is a gap, so divide it finely, put the color and organize it It is in the shape that it is. There is an Eggman in the middle, but there is no fuselage It is like touching the eggs to use it. As for those poses of this kick at that time, I think that it was a specification that used quite luxuriously, such that the size is totally different depending on the pattern, making use of the deformer so far.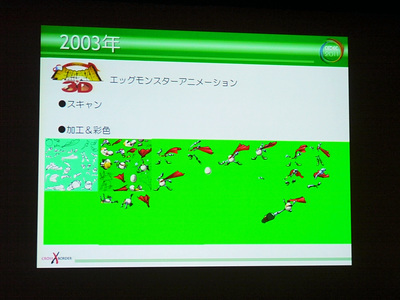 This is the actual texture. It is a form that I arranged the previous guy for an actual machine further. What is pretty disgusted is the animation tool introduced after this, as a result of devising patterns while cutting animation and using ingenious parts etc., it looks like an assembly diagram of such a plastic model It is. This tool not only plays 2D animation but also has the function of deforming the 2D pattern, for example. Kinda was looking at it as it got used to it because it was such a tool as to twist the vertex and paste the texture where to deform one polygon, "If it was this, I made the handwriting deformed by one piece I was doing it with the staff of the CG on site.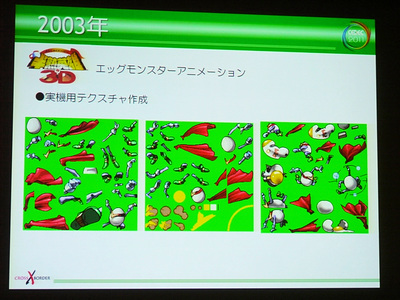 Endo:
Just around that time, its deformation tool ...... It was a very seasoned way as a method, as it was about time just as it came out something like a transformation object like a deformed object, not just a polygon.

Tokita:
It is the flow of work to take things that can check its axis with the tool on the PC, try trial and error, and finally confirm the actual machine with PS3.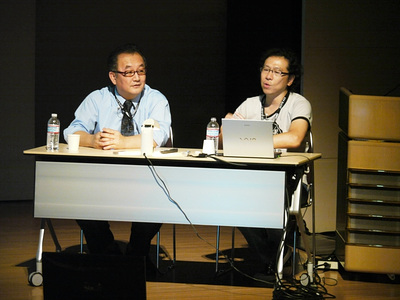 Tokita:
This is a tool screen on the actual PC, it is a development tool made by the main programmer, but young programmers worked hard and made it well. Since the animation pattern has come out in the lower part of the middle, when you looked at it, it was moving like this. I think that you will know that this square will stop at the texture data just before, so you can understand that you will make patterns as "Rotate this part here."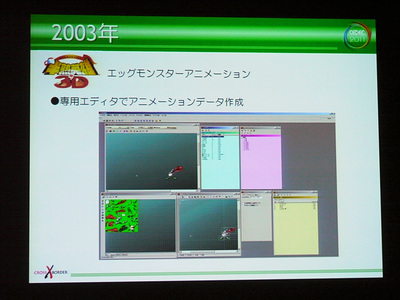 Some of the staff at the work site also pays attention and moves smoothly in between, but Mr. Kaneda assumed that "please do not hesitate, please do not worry. I was interacting with you many times.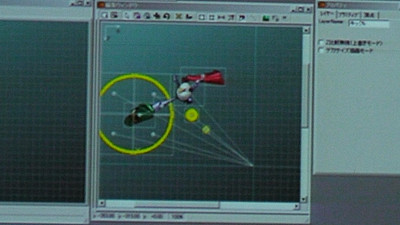 Endo:
It is Mr. Kaneda 's taste to taste that part.

Tokita:
Is there any way that CG tends to keep timing evenly, is it a technique that Mr. Kaneda is accumulating to add further sharpness in limited animation, is it to keep the timing. So please have a look at the video of this experiment.

* For the video aired on this part, the CEDEC steering committee is in negotiations aiming for complete archival, together with unpublished materials.

Tokita:
...... In the second half, there are 4 images of semi-divine hero's sequel, but even though Mr. Kaneda went out of its way to participate thereafter, the entire layout of the screen fostered in 3D It is an impression that you can do a lot of interesting scenes where the sharpness was very useful, as you can freely do with how to use the effect with the effect.

Endo:
Although it says many times, the effect is not a curve, right?

Tokita:
I agree.

Endo:
It is a straight line. It seems that Mr. Kaneda is over there.

Tokita:
I do not know the meaning of a subtle mix condition of a curve and a straight line even if I still look at it, but it is amazing that I feel comfortable when I move.

Endo:
Although I do not know why it will be so why viewing only a single picture, it is attractive that it is strange to have power when you move it.

Tokita:
Since it is often that the game is really made up in the division of labor, the effect and so on are prepared separately in a very reasonable way in the article, but the place like Kaneda's only feeling that it can not be reached by logical reason alone is the only one I think that it is two places.

Then it will be a work of 2005. It is an action RPG of PlayStation 2 called "Musashi Den 2". This is a work I produced by myself, but I asked Mr. Kaneda for an opening movie contest. Animation production was GAINAX, asking Mr. Imaishi of famous Gurren Lagann as a follower of Mr. Kaneda, realized with feeling like the old and new Kanada action collaboration.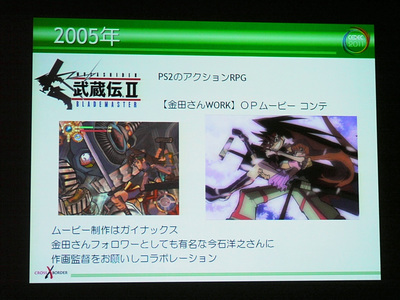 This is described as a comparison between the scene of the storyboard and the actual scene. It is a feeling that when the scene in the middle of the right side is completed it will become the one on the left. The storyboard itself was very freely like Kaneda-san, but since I had Mr. Imaishi more free to go there earlier, it was more edgy, the sharpness seemed to have increased It was an impression like Kaneda action.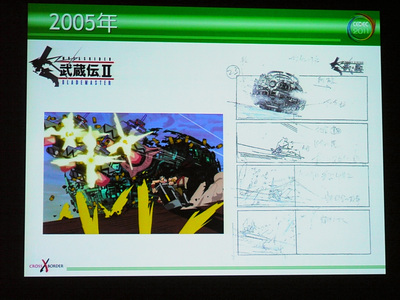 This is the main character Musashi and the enemy's Kojiro scene. Mr. Kaneda is ordered from the stage of the contest like this kind of cut splitting and a little movie touch action, and there is even more coloring from there, very sharp and modern, and also a little kitschy nori, It is the impression that such a nori was added to Mr. Ima Ishi of GAINAX and it became a very interesting scene.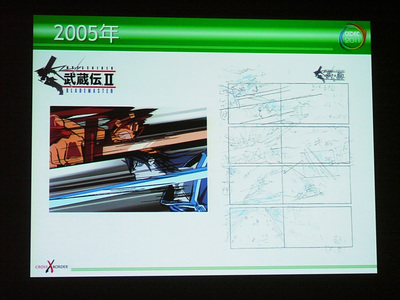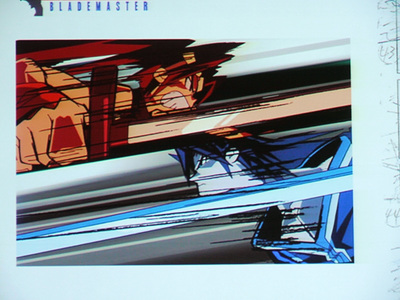 And the same year in 2005. This is a Nintendo DS work of the semi-mature series Egg Monster Hero, but this moved the semi-mature series from the Super Nintendo to the PS, and there were many 20- to 30-year players for the players, so let's explore a little older age That's why I made it with DS. I diverted the data of Egg monster made with PS 2 and made it RPG.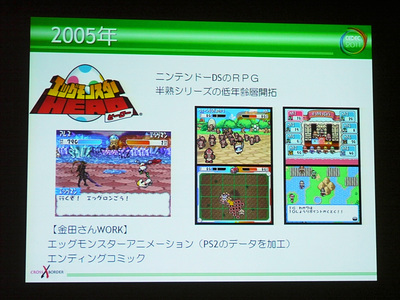 Thanks to the egg monster animation here I was in charge of a little strange thing called an ending comic.



I thought that this would be interesting if you looked like a book with DS screens vertically and looking back to read the manga for the game you played with ending. Kaneda used DS to draw a facing manga there in the form of not being able to introduce credits with something like Kaneda's animation stop picture, commentary. This is probably the first public for non-games.

Endo:
First public release in Japan. It seems like children are bought.

Tokita:
Yes, it seems to be serialized like a colossous car. I'm asking you to "Please do it as a series comic". The data on the left is the original picture and the right is the data colored to the one scanned it. The resolution to the right is very low, but I think whether it is still good deformation and a feeling of crowd is coming out.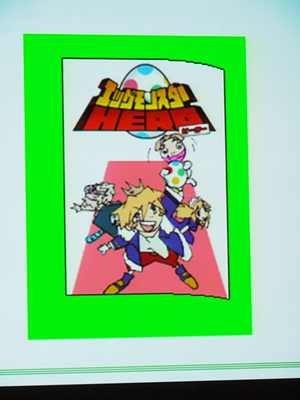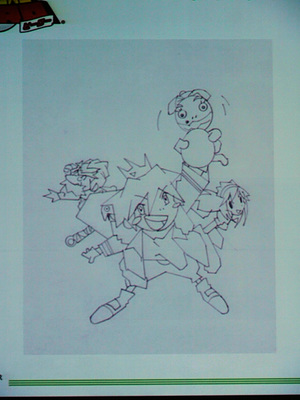 Since this is prepared several sheets, please look at raw. This is a digest of the story. The place where the hero travels and I want to meet the heroine is drawn in memory.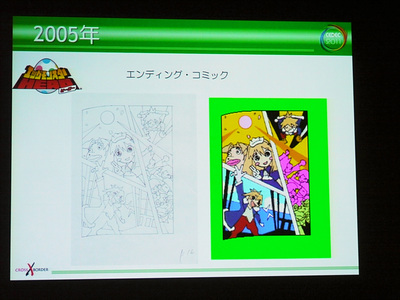 This is a place where you asked for a fancy scene with a spread. It is a scene like a hero who is suicidal in dynamite and knocks out the strongest enemy boss.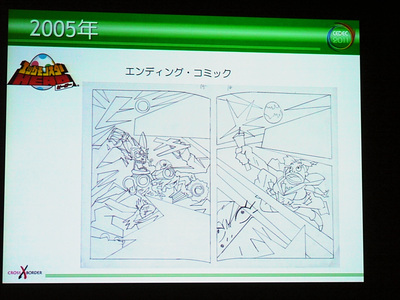 Endo:
Is Kaneda also good at drawing manga?

Tokita:
I agree. I was the first time to show things like this kind of comic books, but it seems that originally I was aspiring for a cartoonist and I liked Mochizuki Sanseiya very much. Does anyone who knows Sansei Mochizuki know?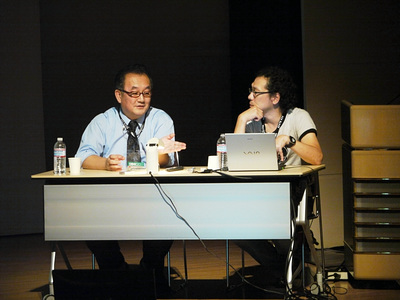 Endo:
Mr. Mochizuki Sansei san, "Wild 7" is not it.

Tokita:
As I was told, it was certainly the warmth 7 glamorous impression appeared like the size of the woman's buttocks and how to set up the male gun. I think that such a manga should now have been able to ask for more realistic touch. Please look at the data attached to this color. The name of the staff is included in this frame, it is about 30 pages in all. I drew it in such a way as to draw a bit of reading.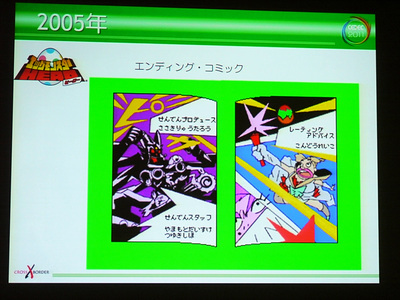 Endo:
It is interesting. Only fonts in the picture are like DS (lol)

Tokita:
I feel it just like a game there. The most interesting thing about making a game is whether I can capture various know-how such as manga, animation and game.

Endo:
It is still possible to do interactive contents, unique to the game.

Tokita:
I think that it is an interesting place in the game where a new platform will emerge around the period of about 5 years or so, and the change in the big age changes about 10 years, changing shape and creating various trends.

Endo:
That said, this is not a high resolution (high resolution) direction, is not it doing this kind of thing? Whether umami comes up in such a place, or is it interesting?

Tokita:
Goodness of manga analogue and things like dot picture quality. I think that various possibilities will come out every time there is something like something that it was possible to do because of two screens of DS and DS.

This is 2005, it was around this time that you were doing semi-mature series in a row. This is the sequel to '3D versus' I mentioned a little bit ago. Since we participated from the beginning of the project here, we asked for the overall image board and movie director, painting story, layout, original picture, and asked for egg monster design and animation.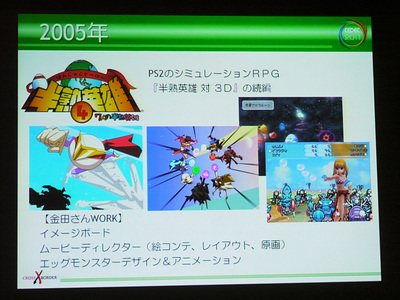 It is an image board. This is a subtitle called "semi-heroic hero", it is a story that we collect the heroes of the seven planets in the universe and finally come to the earth and fight the army. As the theme was "The nuclear missiles and shit monsters fight", I imagined there and drew an image like the Earth Defense Force vs. Monster. This is taken pictures, making images while compositing well with that, "Oh, Mr. Kaneda will process the photos and use it?"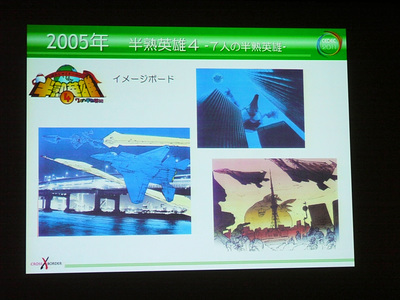 Endo:
Have you been taken for yourself?

Tokita:
I agree. Even some of the ending festival scenes used and processed photos taken by themselves. Now it's hard to use real images as moros, not just games. At this time as well, our fighter also fights and "Where can I take pictures I took"? There are places where it seems quite frustrating. It was hard, but it was a lot of fun. Egg monster's design, Egg monster was only Eggman 7 kinds, Mecha, Eyeglasses, Pink and so on. Iron Man, It's Momo Ranger (lol)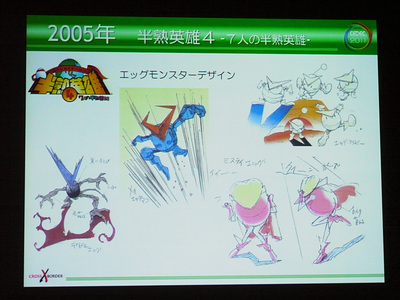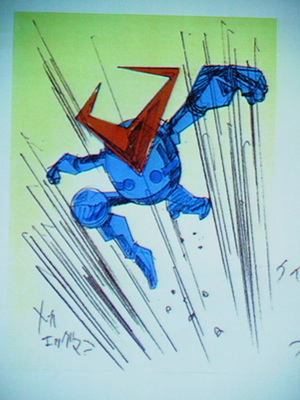 Endo:
It feels like you like it (laugh)

Tokita:
I thought that Kaneda was Mr. Kaneda though he was deformed but he was quite sexy. The buttocks are the point.

Endo:
The buttocks are pink.

Tokita:
I have written that you can see the buttocks.

Endo:
Here it is. It says that you can see the buttocks.

Tokita:
It seems to be crying with Queen Queen (lol)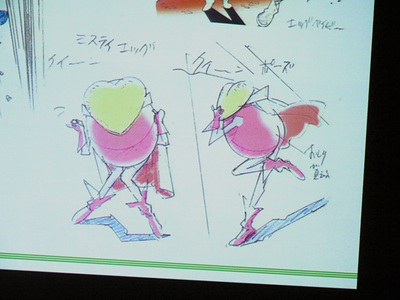 Endo:
People who write such a setting may become people of animation.

Tokita:
I agree. Or a little interesting idea in the picture. Again, I guess whether it is good to think while painting variously comfortably. This is the image board of the ending movie.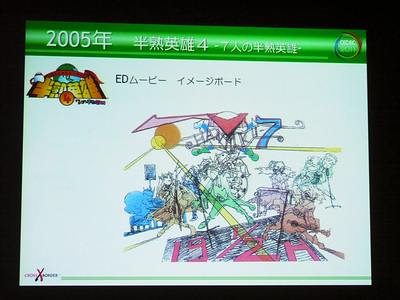 This is like a scene where you sing a rock by Mr. Isasa Sasaki and the main characters play together with rock bands. This is a movie made by asking Tatsunoko Pro.

Mature Hero 4 8-3-5 - YouTube


It is the next work. In 2006, it is the action RPG of PS2 called "sacred legend 4". This is a facial setting, I asked for a completely different job.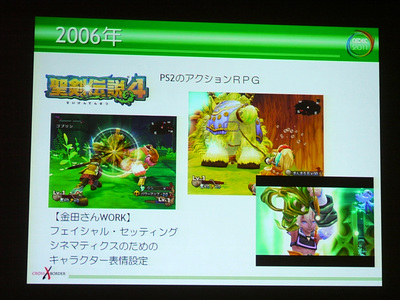 Endo:
Was not it introduced for the first time that this kind of work was done?

Tokita:
I agree. Because I think that it is not well known. On the other hand, does anyone know this work? Would not it be better?

Endo:
I do not think it is probably probable.

Tokita:
So I definitely would like to see it here. It's written as Cinematics's character expression setting. Cinematics is a directing scene using so-called 3D CG real time. Mr. Kaneda of character design watches each character setting and draws that "This is a kind of a guy like this, it will be such a kind of expression", CG modeler is modeling it based on it, so-called bone It's like saying "Wearing a model, making a animation making model based on facial expressions and setting it up", like where to move and where. In that sense, I think that 'the character setting for facial setting' is the official name. Then, please look at that image.

This is the main character, but this is the only main character. In fact, we have drawn more than twice the character of about 20 characters, including NPC.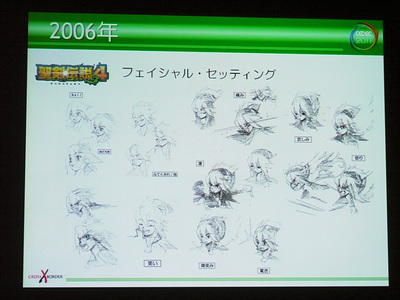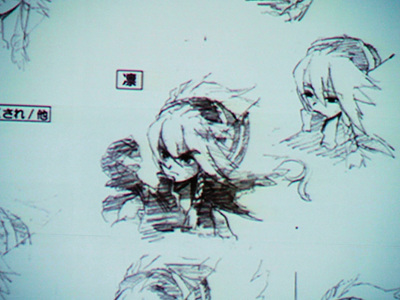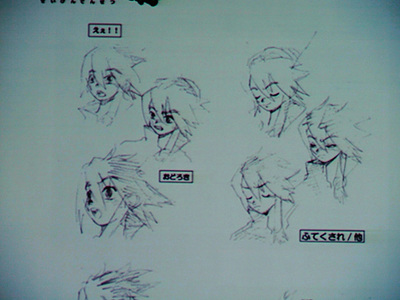 Endo:
It is very difficult to draw as many kinds of things as this number.

Tokita:
Basically it was a very short period. I think that it does not take 1 to 2 months, but I drew it during that time. It is the next thing which CG is making use of this image. I gathered representative things, but this cute grin, but it's a charming feeling, or a sad expression.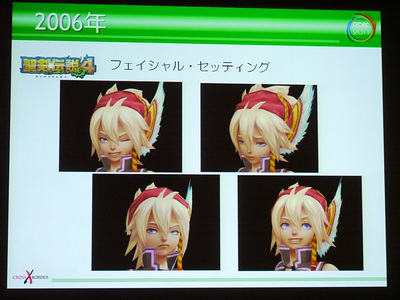 Endo:
This face is nice.

Tokita:
I think whether Kaneda's character-like character rise is appearing even if this neighborhood becomes 3D. This slightly swollen expression is not only swollen but also charming, ... ... this facial expression, I think that it is also very mouth battle. After all, eye and eyebrows and mouth are the feeling that it is about Pixar as animation which it was pretty good with 3D modeling so far.

Endo:
I agree. Around this time, facials are getting very much attention, as it is a time when the facials and lines are synchronized and severe timing. But did you like cutting edge things?

Tokita:
I agree. Kaneda thinks that each character is "acting like this guy", because I think that it is not easy to stick to the animation itself with the expression of the character so far. Through paintings, I can understand that looking back on what it means to be "a guy like this" without knowing 2D or 3D.

Then it is 2007. It is a full remake of "Final Fanatsy IV" in Nintendo DS. I also produced this, so I asked for an opening movie and a storyboard for a real time event. Mr. Kaneda was playing the original Super Nintendo version, and I got together from the painting story to show how to make 2D simple scenes in 3D real time.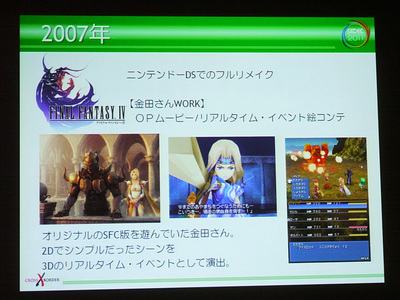 Endo:
Did Kaneda like the game?

Tokita:
When listening to the various talks around that, when Zelda of the disk system came out, he said he was doing Zelda all the time without working.

Endo:
Isao Kaneda was a geek geeky person (laugh)

Tokita:
I agree. When listening to the stories of various people at that time, it seems there was a time when animators were playing the game of NES game overnight, so if we look at it, "Why animators are playing games?" Sometimes, I wonder if the people with imagination can get in with the game like NES at that time.

Endo:
Is it that you can feel the world view in picturesque cheap things?

Tokita:
Especially, it seems that RPG of deformed character up to about Nintendo or Super Nintendo at that time seems to be located just like the cartoon and animation just like a manga. I was very afraid that people who can emotion into a small deformed character can be enjoyed enormously richly in such a way that they are in the middle of comics and novels and animation.

Please see the original game video of Super Nintendo in the meaning of how simple what was said "amazing at that time" was. It is departing scene. Just twenty years ago, it is almost a stick or a square, and the character is just moving so small though.

FinalFantasy 4 to Play 2 - YouTube


Tokita:
It is here that Mr. Kaneda made this scene a storyboard. Cecil and Cain ....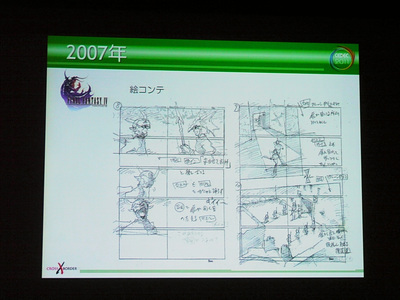 Endo:
It means that the current scene was converted in the brain that this kind of wind is like this.

Tokita:
No doubt I thought that Kaneda who had been playing at the time draw a storyboard and be able to do it in 3D after 20 years, so I was deeply impressed when I was able to do this Right. It is the next scene. White chocobo enters and goes out. When I look closely, there are birds flying away, turning the camera upside down, etc. I was in, but birds could not be skipped due to processing problems, but how did this become 3D We have prepared a movie that means that, please see.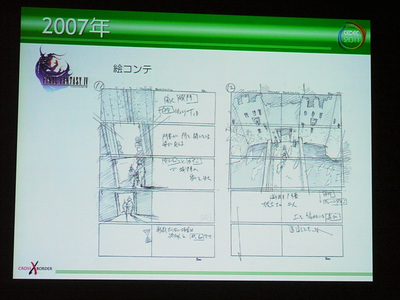 * The movie below is PV released at the 2007 Tokyo Game Show, and you can see the scenes of Cecil and Cain 's departure during the lecture from around 1: 08.
* For the video aired on this part, the CEDEC steering committee is in negotiations aiming for complete archival, together with unpublished materials.

Final Fantasy 4 DS - YouTube


Endo:
It is exactly the same thing as the weight which is moving a little, but I think that the feeling with time is quite different from the part where the time flows slowly.

Tokita:
And while two men are deciding to go on a journey, they are going to do this helmet together.

Endo:
It is also a nice thing to be able to show that detail.

Tokita:
It is a place that I adjusted it with Mr. Kaneda so that the timing of music and music is also a game. At that time, even when I made the original, I remember felt regret feeling that "I can make something like this" Osamu Osamu reminiscently about the timing of the organ and so on.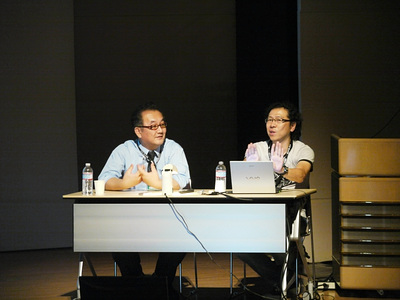 Endo:
How was Mr. Kaneda about music?

Tokita:
Regarding music, I think that it was a very important rhythm to say that it is a sound effect from the stage of the contest or according to the timing of music. Selection of songs, opening and ending, etc. I handed over to draw.

Endo:
Does that mean that the contest was also adjusted according to the song?

Tokita:
I agree. In accordance with the song, I had to draw a storyboard, and it was comfortable with editing, and it was matched with the songs in three stages of timing, so I was adjusting not only theoretical but also very sensuously. I think he was a hedonicist in the sense of hedonists or a pursuit of an instinctive feeling that is not unreasonable.

Endo:
That's why those who do not compromise will not compromise.

Tokita:
I agree. I think that the timing is definitely the most important rather than making a lot of materials, so it is surprisingly different that it feels good to be pleasant even if you are doing the same thing, that is not a reasonable experience but an experience value That is what I felt very well with working together.

Endo:
It's like cooking, is not it? There is material, it is not delicious at subtle timing, it gets bad.

Tokita:
It is a good analog point to say that it does not become delicious if it is in quantity. Then it is 2009, it has become a recent era at a stroke "FinalFantasy 13", but I think whether it is new to everyone's memory, but Kaneda was FF 13 The job is the in-house storyboard team That's the whole direction of being called. In charge of all the scenes' contests, such as pre-rendered movies, real-time cut scenes, summoned beast appeared effect scenes with event battle, and while being supervised, many contests were drawn by themselves more than anything else.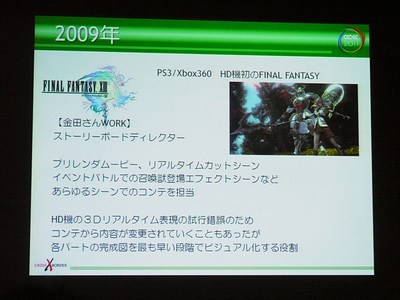 I heard from the staff at the site, but it was quite trial and error that it was pretty realistic of 3D of the Hidefu machine. For that reason, it was hard to present something like a blueprint seen in pictures, so it is the impression of the staff at the scene that Kaneda 's container took the initiative in taking the role. "Work that embodies an image" I think that it is a vision and not a technology but a force to embody it.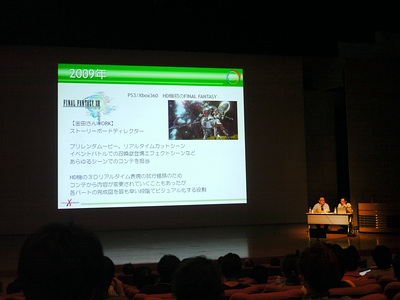 Endo:
In the case of moving pictures, it is only possible to express where the time is like in a time like a wall like a wall in the direction of production, so it is important to make that neighbor.

Tokita:
I was in the old squire as a trigger from the film of CG of Final Fantasy, but at that time it was still main pre-rendered CG and there was not much more technical possibilities, so it's quite difficult to use what Mr. Kanada's goodness is I think that there are also parts, but it has been nearly 10 years since then that it has become possible to realize it with real-time CG of gaming machines, but as I think about it, the evolution of this decade is amazing I guess it's kind of strange.

Endo:
I agree.

Tokita:
This is a typical scene specifically drawn by Mr. Kaneda, but it is the scene where the recalled beast Odin appears. The scene where the heroine's lightning summons Odin. It is a very symbolic scene, but this is also the place Kaneda is drawn.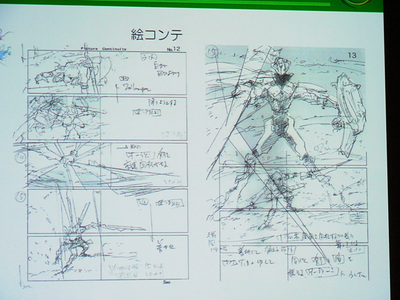 Endo:
Is not it drawn full of contour sheets? I think that the way to draw this neighborhood is also unique.

Tokita:
There is nothing I have heard properly, but it seems like a kind of manga's commentary, not just a container, "like decorate big sesame" like how you can use that nori.

Endo:
As it looks like an image board, it is very interesting to see this form.

Tokita:
There are also people who draw a storyboard exactly like a screen, but there are quite a lot of people who use their own grammar, ignoring the grammar of the story to express the space like comic books.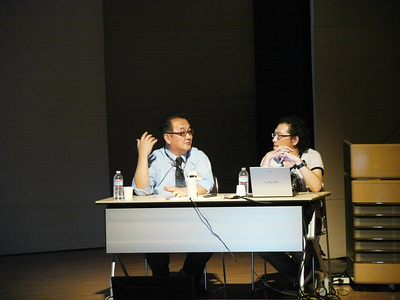 Endo:
I usually use it to make bread if it is normal, but it's not that way.

Tokita:
I think that it is really an image like the people in 3D who like this "decided sesame" with comic books spread. Yes, after that it is a pretty climax scene, I remember something like Yamato of Toei Motooi very much in the past, or the climax scene of the theater of 999 Galaxy Railroad something, but this is the so-called effect main scene of the climax of FF 13 . I was surprised to know recently that I have drawn such a place so far.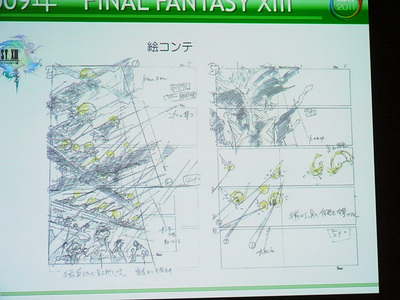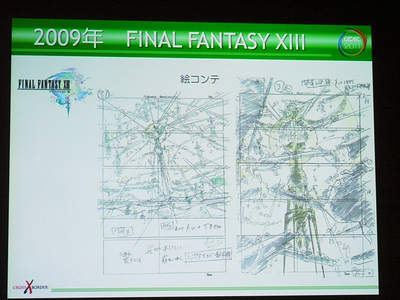 Endo:
The cloud effect, the one on the right ... ....

Tokita:
I think it is about how to express the image of the effect in the so-called layout, but I guess this explosion, or this angle and very Kaneda-san is like it.

Endo:
How do you make this neighborhood when actually making it? In common talks like orders for effects, there are many cases where you tell by onomatopoeic about "coming out" or "coming with you". Were they properly instructed?

Tokita:
It seems that the staff who saw this had left the place as to how to interpret each.

Endo:
On the contrary, let's leave that sort of thing, and then that is what we are shaping like adjusting.

Tokita:
On the contrary, if you try to do things like Mr. Kaneda's something with effects, it will be extremely troublesome. I draw a little around here but "Flame and explosion". This probably can not be done just by the so-called CG particle technology. If we decompose this into the technology of CG, the technology which is said to be so-called idiom and naturally physics will come in, and then it is control of gas and so on. It is necessary to adjust those sides and also do something like clay and how much it sticks. But it is not a matter of actual sticky water, so I think whether I do not feel this kind of feeling even if I do it as it is.

Endo:
Do you mean "with it" with a 3D machine?

Tokita:
I agree. Yes.

Endo:
Do not you do it in 2D?

Tokita:
In 2D, if the camera is perfectly fixed also in the scene of the effect, it puts 2D fine subtly.

Endo:
Oh, you still do something like that.

Tokita:
However, if you want to move the camera freely, you will have to do it in 3D, so I think the neighborhood will change a lot depending on whether the camera is fixed or whether it moves flexibly. This is also a climax scene. Although it is a symbolic scene, perhaps this is probably what you have seen, but please see the summon scene of Odin of FF13.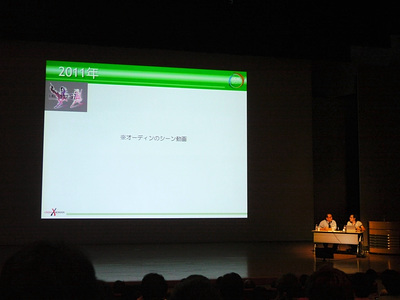 【PS3】 FINALFANTASY 13 Odin Summon Lightning 【FF13】 - YouTube


Tokita:
After all I think that there is a lot of image of Mr. Kaneda's painting story, such as the timing of the horses' pose or decided scene.

Endo:
I forgot to talk, but when I say "pose" or the like, there is still a possibility that Perth is stronger than it actually is. Even in this Sedec or interactive session, there is something called a multi camera camera rendered with Perth as a homage to Mr. Kaneda, but how did you realize this kind of technology when there is not it yet? Modeling?

Tokita:
As it gets about PS, since everything cuts a parse, it seems that the perspective, the depth of field was adjusted for each cut.

Endo:
So, is that on the camera side the main?

Tokita:
However, Kaneda perfection which Mr. Kaneda is good as expected can not be made profitable. I have to change it on a rendering basis as I go there.

Endo:
So there are things that you are doing in some models.

Tokita:
Strictly speaking, the perspective and the character should be different further. It seemingly is an ordinary Perth, but it seems that only characters are acting strangely. Maybe I do with modeling ... ....

Endo:
But with actual cameras doing multi-rendering, there are parts that are still realized. I can do that for the time being, anyway.

Tokita:
In real time, the scene looks like a model, is not it?

Endo:
I'd make something like a model with that specification.

Tokita:
I think that it is faster to make it. Or purposely to enlarge your hands. It is quite difficult to create a model for that scene when it comes to quality so far. In fact, I think probably if I can create a big model of hands and further fine-tune my perspective with parameters, I think I can draw more interesting drawings.

This FF 13 is in the form of the last work for the face, but in reality, this time, as a surprise, as I gathered various works internally, the work of Mr. Kaneda was still alive.



Mr. Kaneda's work left by the title "Final Fantasy 13 - 2" made by the staff of FF 13 will be realized as a form, let me introduce it last. I got a comment from Toriyama of 13 director. It is the scene of this contest. "In Kanada's concert, there was a wonderful production called Odin that emerges lightning, and I liked this director very much, but in 13 the result is that it has become unused as a result There was as a surprise, and in sequel 13-2 I was able to put in a scene close to unused that holds Lightning.Man Kaneda's living in 13-2 will definitely be with your hands Please check it. "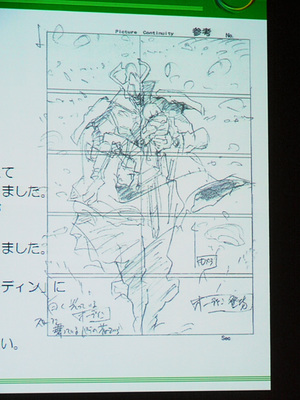 Thank you.

* For the video aired on this part, the CEDEC steering committee is in negotiations aiming for complete archival, together with unpublished materials.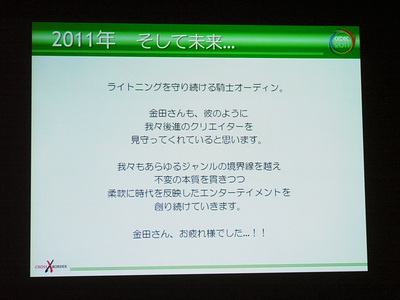 Tokita:
It was a form. This is my first time to show off at this venue for the first time this time.

Endo:
Is not released yet?

Tokita:
I think that I have not announced the release date yet (lol), which is scheduled for the end of the year, this scene is prepared by 13 staff for this CEDEC this time.

Endo:
I heard the story that the people of Square have cooperated in doing this.

Tokita:
There are truly various large and small projects, and when the project is dissolved, in a completely different work (original team) getting messed up, everyone has been busy recently for cost cuts (laugh). Because it is an era when you have to make things efficiently, it is very busy, there is a department that handles various tasks such as advertising staff and business department, not just development, because I'd like to summarize Kaneda's work this time However, I think that it is personality of Kaneda himself, in cooperation with the people of various sections there. Even when we worked, I was thinking "I'm a scary person" or "What if I'm a difficult technician type?" I thought it would be really frank if I actually met, and those who seemed to be enlightened It seems to be like, but, like drinking alcohol, it seems a little bit frustrating ... ....

Endo:
That's right, you hear a lot, do not you? Talk of drinking alcohol.

Tokita:
It was remarkably impressive to say that I enjoyed doing anything positively without complaining. We also have work that I want to do, work I do not want to do, I could not do all I wanted to do, and so on, but there are still a lot of things to enjoy. It was greatly encouraging that "I enjoyed what I won" was embodied quite a lot. The difficulty and importance of continuing. Because we continue, there are various encounters. When I think calmly, it is time to make games with young children who entered the company of games that we grew up watching Kanada's animation, grandparents, son, grandchildren and three generations Is not it?

Endo:
I agree.

Tokita:
Among the things that make it, everyone was appreciated by Mr. Kaneda's way of doing work and attitude that the fence of genres such as manga, animation and game is not related, that the fence of generations is not related I thought that.

Finally, I am going to enjoy attitude and respect rather than technology, I like making fun and making various kinds of work with various people, eating rice while realizing what I like, is still the origin of this work It is a part that Mr. Kaneda taught me very much. How is Mr. Endo?

Endo:
The reason I decided to do this session is that I am also doing an animation supervisor or the like, but at that time the director Mr. Koichi Chiaki of animator wanted to use Mr. Kanada But I can not get in touch. "" I should be in Square, why are you in the game industry? " I wonder who is very respected from people in the world of animation, what kind of work do you do to a new place called game? Regarding animation, there are various materials, pictures and so on are left behind and it is made public, but when it comes to games it really does not come up with a name or existence.

Although it is searching on the net in this era, although it comes out quite a lot about animation, only things that really wrote about Wikipedia about the game come out. It is not a proper record around that, but if you get something of the form that squared officially did this kind of work. At the beginning, when I went to ask you, it was like "Is it a little difficult?" Or "That's why ...", but because Tokiwa-san was doing "together," underwriting.

As I had to do someday or as a human being in the game industry I wanted to talk about the work of the neighborhood properly, so I tried something like this one. I got a lot of stuff and so on, but I also heard stories about other materials that you can digitally archive if you have the opportunity. I think that it will be conveyed as accurate information also when searching for that part later on the net.

I think that there are lots of fans among them, but even in interactive Kaneda-san's animation-like production or special perth or something like an effect, technology The time will soon come to be able to capture, it will actually be able to do such things. In the West, it means that Perth must also be realized, is not it? Or is it not a promise of production in exaggerated expressions that Japan possesses, or rather a singing dance It seems like Kiki's "looks". In the sense that the culture of the neighborhood flows to Japan a lot, I think that it would be if you want to inherit that neighborhood.

Tokita:
Well, it is style beauty or so-called "mold" or "between". Mr. Kaneda's work is indeed properly there, and I think that there is a place where there is a free range of playfulness there is wonderful. That is why I think that I could keep making works for all genres and categories. In addition, now that the change is so early, I can do anything with smartphones alone, "That is like Doraemon" It is realized that, even in such a time it is style beauty, even a little playful, I think that the era when games and animation was the place to make it made entertainment real. I think that the game will continue to return to the game, if there is a part to return to the game, there is also a part to sublimate as a form as a new entertainment, so it really is that everyone also enjoyed beyond various genres with Kaneda ism, "Truly in Japan I think that I should be able to rejuvenate Japanese entertainment again so that it is said that it is style beauty and playfulness.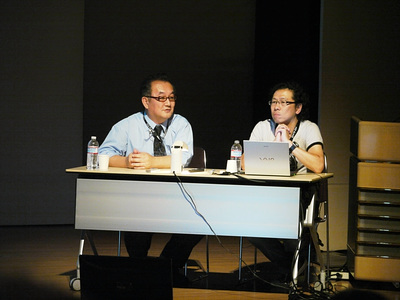 Endo:
So, is it about time?

Tokita:
I briefly introduced it with rush, but I think everyone enjoyed it today. Mr. Kaneda's work is a lot of fun and it was a lot of fun even if we introduced it now. I hope you all enjoy watching Kaneda's works. I am glad that I could have such opportunity this time.

Endo:
Every time I talk about "When such a meeting happens," every time I show it, "Wow! What is this !?" There is such a surprise.

Tokita:
It was like a clubroom in the university.

Endo:
That was it, it was really hard. I think that there was a part like "I wonder why the movie will not come out" partly because some things like "This can be done" and "There is no such thing" from among various materials, That is the circumstances of adults, in the form that you all understand.

Tokita:
I agree. But this time up to the limit.

Endo:
I was doing my best.

Tokita:
Rather, it is a story that the scale is not enough. If there is another opportunity, it looks like an all-night event.

Endo:
I was talking about similar things at the loft in Shinjuku, though.

Tokita:
With adults gathering and doing like a back festival. Thank you very much for today.