To the release of a pale blue meatball "Slime Meat Bin", 25th anniversary birth special project of Dragon Quest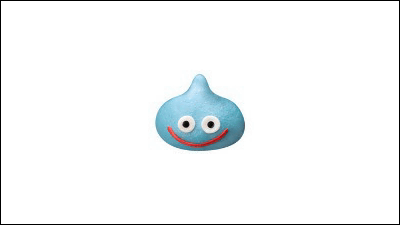 Today Square Enix will be the 25th anniversary of Dragon Quest's birth "Dragon Quest X Awakening Five TribesAlthough it announced, "Slime Meat Bamboo" which shaped the popular character "Slime" of this series will be released.

2011-09-05 FamilyMart × Square Enix Dragon Quest 25th anniversary birth Special project "Slime Meat Bin" is released! | News Releases | Corporate Information | FamilyMart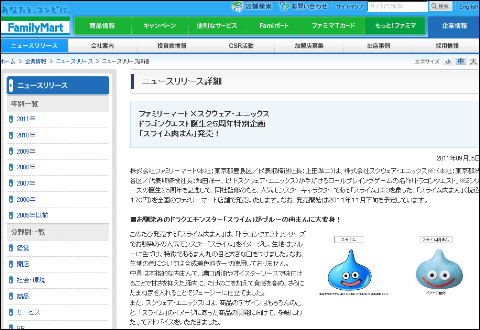 According to FamilyMart's press release, the company is a family mart nationwide and it is said that "Slime meat bean" will be released from late November 2011. The price is 170 yen including tax.

"Slime Meat Bin" is an image of the popular monster familiar in the Dragon Quest series "Slime", coloring the fabric to blue, attached with eyes and a large mouth that is characteristic. For the color of the fabric we are not using any synthetic coloring.

In addition, the ingredients in the ingredients have become full-fledged meat and beef tailored to be juicy by adding bamboo shoots to pork with reduced sweetness by seasoning with thick soy sauce or oyster sauce to enhance the texture and further onion , He told me that he underwent a wide range of supervision from Square Enix for the development of products that were in line with the image of "Slime" as well as product design.

This is slime meat bean (right). It is exactly what it looks like "slime has appeared!"



By the way, about slime last summerSuntory and Square Enix collaborated "Dragon Quest Sloth of Dragon Quest" DrinkWas released and it was inevitable to evaluate that "I want to drink a bite and give me a hand when I hand it over with marathon's water supply" and "after-drinking finished aftertaste is the worst class", but this time it is full-scale Because it is regarded as a meat bean, it is a place I want to have a hope of a line.