Samsung's "Galaxy Tab", in response to Apple's appeal, will also be discontinued in Europe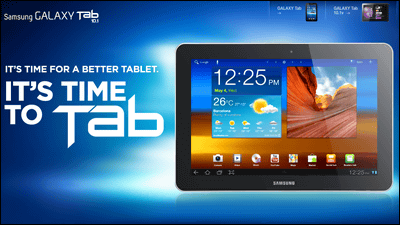 In early August"Galaxy Tab" to be discontinued in AustraliaAlthough it became, following that, in Europe it was decided to take measures to discontinue sales.

Samsung Galaxy Tab 10.1 blocked in Europe - Telegraph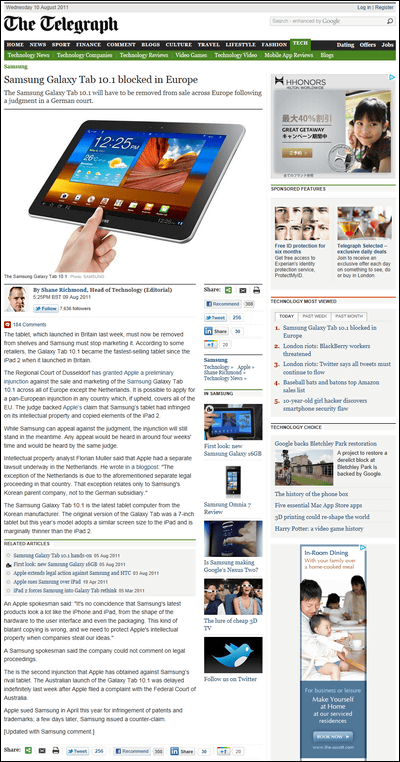 Apple wins Samsung in Europe "Galaxy Tab 10.1" to stop selling - ITmedia news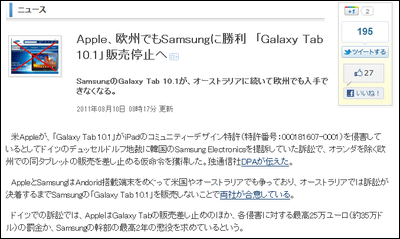 Android tablet developed by Samsung "Galaxy Tab"Apple's"IPad 2It is regarded as a problem as if it closely resemblesThe Galaxy series itself is being sued as a copy of Apple products. On the contrary,Samsung sues Apple and returns itAlthough it is in a state that I do not understand the reason, Apple's appeal was approved in August, sales of "Galaxy Tab" was canceled in Australia.

Following this, the District Court in Düsseldorf, Germany, acknowledged the appeal seeking to suspend Apple's sale of "Galaxy Tab 10.1" in Europe (excluding the Netherlands). The court said that Galaxy Tab supported the claim that it is an imitation of iPad 2, Samsung can appeal, but a sales injunction order will be ongoing for the time being.

According to Florian Muller, a close analyst with intellectual property, the Netherlands are excluded from the subject of the injunction this time because Apple has another lawsuit in progress in the Netherlands. By the way, this case is a lawsuit with Samsung headquarters, Samsung subsidiary in Germany is not concerned.

Apple's PR is "From the shape of the hardware to interfaces and packages, Samsung products closely resemble iPhones and iPads, such blatant copies are not quite the right thing, other companies steal Apple's idea I will keep it until I do it. " On the other hand, it seems that comment was not obtained from Samsung's PR.