Employee suicide successively Foxconn, to introduce a robot not tiring and complaining


Foxconn in Taiwan, which contracts and manufactures various electronic products such as Apple products such as iPad and iPhone, laptop computers from manufacturers, game machines such as PS3, Wii, Xbox 360, etc. However, due to harsh labor conditions etc Suicide by employees including jumping has been ongoing one after another.

In the meantime, it became clear that we plan to introduce robots instead of employees.

Foxconn's Terry Gou Tells Employees "The Robots Are Coming" - Arik Hesseldahl - News - AllThingsD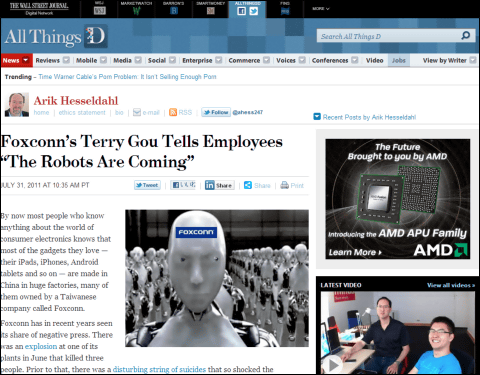 According to the article of AllThingsD, Foxconn CEO (CEO) Terry Gou is planning to introduce 1 million working robots to its factory in China over the next three years at his own dance party It is said that China's state-owned Xinhua news agency reported.

In general, robots are efficient and tiring, and although certain maintenance is necessary, they do not express dissatisfaction with the working environment or do not need to take a break, so it is convenient for Foxconn who suffers from labor problems Although it can be said that, there is concern that workers may lose their jobs.

The company currently has about 1.2 million workers and it seems inevitable that unemployed people will be born by mechanization and it is uneasy that there is a possibility of causing unexpected chain reaction everywhere in the Chinese economy It is being viewed.

Furthermore, after the employee's suicide became a problem in the company,I let the factory worker sign the pledge to "Do not commit suicide"In addition to the report that there is an accident such as one of the factories exploded and three people died in June.
in Note, Posted by darkhorse_log